This post may contain affiliate links. If you make a purchase through links on our site, we may earn a commission.
Homemade french fries are perfectly golden and so crispy. In just minutes, you can enjoy easy homemade fries that make a great side dish or try them for a tasty snack.
The other day I wanted french fries to go with my cheeseburger and we were out of frozen fries. I had a new bag of Russet potatoes so I just made some homemade fries in oil.
They were super easy and so much better than the frozen french fries I had intended to cook. I used to make homemade fries all the time and this was a great reminder of how easy it is!
These homemade french fries are delicious and you might also like our onion rings, Homemade Corn Dogs Recipe, and our fried pickles.
Ingredients:
Russet Potatoes
Vegetable Oil for Frying
Salt
How to make homemade french fries:
First, peel and cut the potatoes. You want each strip to be as close to the same size as possible so they cook evenly.
Second, soak the potatoes once cut in cold water in a large bowl for at least 30 minutes.
Then add oil to a saucepan for deep frying. Heat the oil to 350 degrees. I think 350 degrees works perfectly but any temperature between 300 degrees to 400 degrees. I normally use at least 3 inches of oil in the pan.
Finally, put the fries in the oil. Make sure they are in a single layer.
Cook them for 8 to 10 minutes and the fries are a nice golden brown color. Cooking time will vary depending on the thickness of your fries.
Depending on the size of your pan, you may have to cook the fries in batches.
No deep fryer needed. You can use what you already have.
Line a plate with paper towels and place the fries on it once cooked.
Sprinkle with salt and pepper. Enjoy!
If you want crispier fries, try to double fry the french fries. Allow the fries to cool completely. Then refry them. You can double fry french fries toe get delicious and crispier french fries.
How to bake homemade fries:
If you are looking for a healthier alternative, try baked french fries instead. Wash, cut and soak the potatoes as above.
Preheat the oven to 425 degrees. Then place the fries on a baking sheet sprayed with cooking spray.
Drizzle oil over the potatoes so they are lightly covered. You may need to toss them to make sure each one has oil all over it. I have a basting brush that is perfect for this.
Normally I use about ¼ cup of oil. They bake for about 25 minutes. It is best to turn them over or toss them about half way through while baking.
Homemade french fries in air fryer:
Cut and soak the potatoes as instructed above. Coat the french fries in just enough oil so that they are lightly coated. This is normally ¼ cup or less.
Put them in the air fryer basket at 380 degrees. You may have to do several batches depending on the size of your air fryer.
You don't want to overcrowd the fries and they should be in a single layer. If you toss all the fries in at once, you will not get crispy french fries.
They take about 15 minutes and should be tossed half way through.
Why do you need to soak the potatoes?
I have tried this fries with soaking and not soaking the fries. I have found that soaking the fries for at least 30 minutes prior to cooking draws out the starch.
This make the fries more crispy so don't skip this step.
Best Potatoes for French Fries
Russet Potatoes are the most commonly used for deep fried french fries. They result in crispy fries inside and out.
If you like the inside to be less crispy, try using Yukon Gold potatoes.
How Many Potatoes Do You Need?
You need to use 2 large russet potatoes per person. If you are using smaller potatoes, adjust the total accordingly.
What is the best Oil for Frying?
Vegetable oil or canola oil work great for making french fries. You want to use an oil that has a high smoke point.
Homemade Dips for Fries
We love to dip them in homemade ketchup. It's easy to make and tastes better than store bought ketchup.
Ranch dressing is another favorite dipping choice.
Give it a try. I think your family will love it.
Variations to try:
Seasoning Salt – If you like extra seasoning, try sprinkling seasoning salt on the fries. If you are using this, omit the plain salt in the recipe so that it isn't too much.
Make cheese fries – Top with shredded cheese, crumbled bacon and chopped green onion. Bake until cheese is melted.
Garlic – add garlic to the oil before coating the fries. You can use garlic powder, garlic salt or even minced garlic.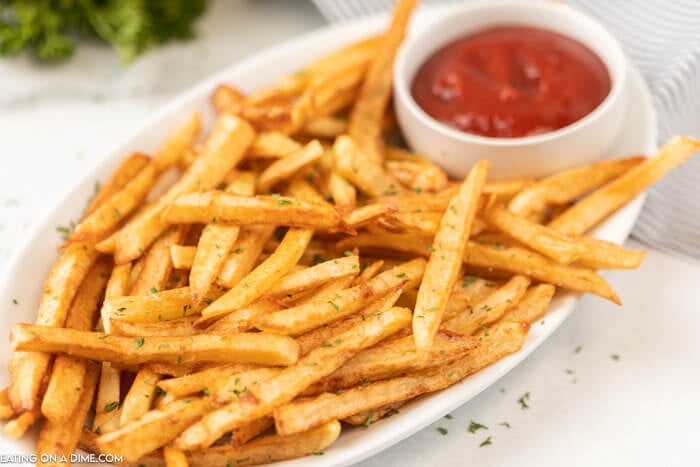 How to store leftovers:
If you have any leftovers, store in air tight container for up to 5 to 7 days. Reheat in the microwave, oven or air fryer.
How to Freeze:
You can freeze the cooked fries in a freezer bag for up to 3-4 months. To reheat, I would place in hot oil for 2-3 minutes to heat them up and make them crispy again.
You can also freeze the potatoes before frying as well. To properly store the potatoes, blanch the fries (dip them in the boiling water for 2-3 minutes) and them freeze. Then you can fry the potatoes right from the freezer to make homemade fries in even less time.
Homemade fries are delicious.
The ideas are endless for homemade fries. I think you will really love it.
Make some today and watch them disappear. Kids love these and so do the adults.
This homemade french fry recipe make a great side dish that everyone will enjoy. They make an easy side dish but also perfect for snacking, Game Day, and more.
If you don't want to fry your french fries, try our Air Fryer French Fries Recipe.
Print the recipe for homemade fries:
Homemade French Fries
Easy Homemade Crispy French Fries is a quick, fresh recipe that are so easy to make with just a few ingredients. Homemade French fries are delicious and simple to make.
Ingredients
3

lbs

Russet Potatoes

Vegetable Oil for Frying

1

tsp

Salt
Instructions
Peel and cut the potatoes into strips of similar size. Then soak the cut potatoes in cold water for at least 30 minutes.

Then fill a saucepan with the oil to at least 3 inches deep in the pan. Heat the oil to 350 degrees F.

Place the fries in the oil in a single layer and cook for 8-10 minutes until the fries are a golden brown color. You may have to cook in batches depending on the size of the sauce pan used for frying.

Move the fries to a plate lined with paper towels.

Season with the salt and serve with your favorite dipping sauces.
Nutrition Facts
Calories
492
kcal
,
Carbohydrates
41
g
,
Protein
5
g
,
Fat
37
g
,
Saturated Fat
30
g
,
Polyunsaturated Fat
1
g
,
Monounsaturated Fat
4
g
,
Sodium
399
mg
,
Potassium
946
mg
,
Fiber
3
g
,
Sugar
1
g
,
Vitamin A
2
IU
,
Vitamin C
13
mg
,
Calcium
30
mg
,
Iron
2
mg
More easy potato recipes to try: