This post may contain affiliate links. If you make a purchase through links on our site, we may earn a commission.
This Easy Crock Pot Sloppy Joes Recipe is a family favorite. Homemade sloppy joes is one of my favorite meals. Plus with only 4 ingredients your family can have it on the menu anytime of the week!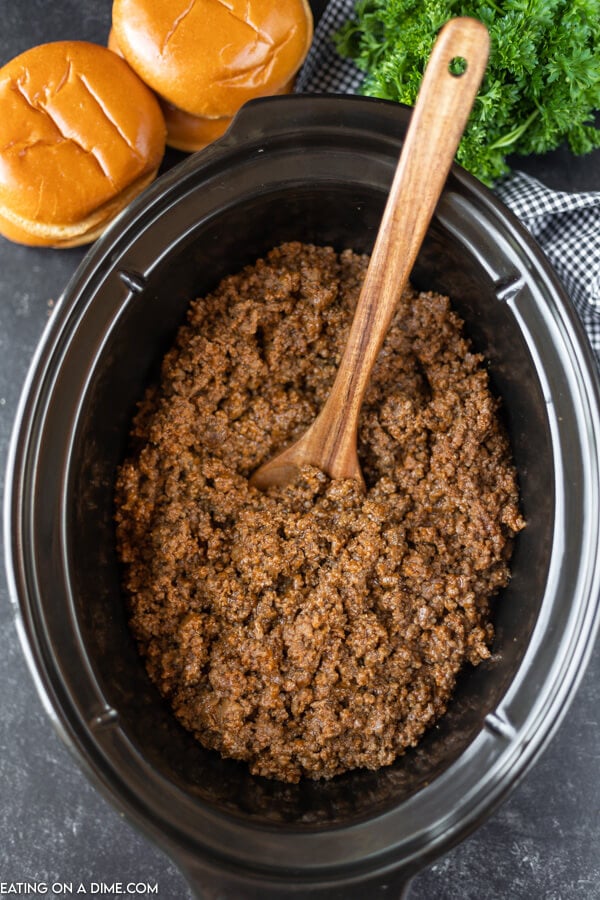 Slow Cooker Sloppy Joes Recipe:
The slow cooker sloppy joe recipe is perfect anytime of the year! It is also great for your next get-together or birthday party.
This recipe easily can be double or tripled for your next party. It is our go to party recipe! From family gatherings to birthday parties this crockpot sloppy joes recipe is so easy to make!
Sloppy Joes is a great meal for family time. If we want something quick, we love making our Pepperoni Pizza Sloppy Joes! My kids love pizza so combining the two, pizza and sloppy joes, makes a great family time meal. Just a few more ingredients, including tomato sauce and we will have dinner on the table.
How to make Sloppy Joes in the slow cooker:
I know you will be shocked with the simple ingredients, but I don't like to complicate things. Sometimes the easiest recipes are the best recipes. At least, that is true for me.
I think you will love how easy this 4 ingredient sloppy joe slow cooker recipe is to make.
The crock pot does all the work with this dinner. I come home after a long day and dinner is done. The family loved this easy crock pot dinner.
We love slow cooker recipes just for this reason. I love to be able to put all the ingredients in the crock pot in the morning and know it will be ready for my family after a long day of school and work.
Ingredients
Lean Ground beef (or you can use ground turkey)
Brown sugar
Mustard
Ketchups
Hamburger Buns
How to make Crock pot Sloppy joes:
First brown the meat beef until no longer pink over medium high heat. I really like using a multi-cooker crock pot because I can brown the ground beef right in the slow cooker. Only one pan to clean in a big plus.
Add remaining ingredients to the slow cooker. Stir to combine.
Cover and cook on low for 3-5 hours or cook on high for 2 hours.
Serve on hamburger buns.
This recipe will make 8 to 16 servings depending on how big your hamburger buns are. We like the bigger ones, but we also like the small buns as well. It works great for younger kids and for parties.
Have you tried making sloppy joes in crock pot?
I remember making this sloppy joes in the crock pot for the first time and my father was like… where are the seasonings? Because not ever salt and pepper is needed in this recipe!
And I responded, "Trust me, it is going to taste amazing." After one bite, he agreed. He is a fan of the traditional sloppy joes on the stove top but I think I may have changed his mind.
Can you put raw ground beef in a slow cooker?
Yes! If you in the market for a new crock pot you should check out the Instant Pot Aura. This makes it so nice to cook the ground beef right in the slow cooker and then put the rest of the ingredients in the crockpot and dinner is done.
You can still cook your ground beef and then place everything in a regular crock pot if you do not own one with a browning option. Both ways, your slow cooker sloppy joes will be delicious!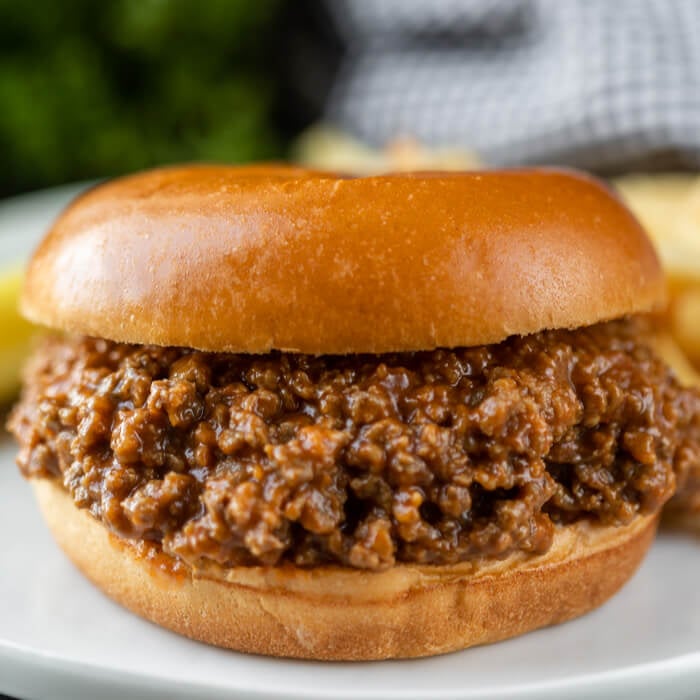 Can I use ground turkey or chicken?
Yes! If you are wanting a healthier twist to the traditional sloppy joes try making it with ground turkey or ground chicken. My guess is your family won't know the difference and you can serve them a little healthy version to a classic recipe!
Sometimes, I also sneak in some onion and bell peppers and the kids don't even taste them since they cook all day long in the slow cooker but they still get all the nutrients from them.
Sloppy Joes Side Dish ideas:
If you are going to make this easy sloppy joes crock pot recipe then you definitely should try some of our delicious sides. I love to serve this with our microwave broccoli or our delicious grilled corn on the cob recipe.
With these easy sides, dinner takes about 30 minutes to get done! Which means more time with family instead of in the kitchen.
How to freeze sloppy joes
You have two options when freezing sloppy joes. You can freeze all the ingredients uncooked and place in it a freezer bag. Then on cooking day you will just add the bag to the crock pot with about a cup of beef broth.
The second option to freezing is to freeze your leftovers. I like to cool the slow cooker sloppy joes and then place in freezer bags. You can freeze the entire set of leftovers or freeze them individual servings for quick lunch ideas
Skip the canned sloppy joes
Now I'm not a big fan of the pre-made sloppy joes, and once you try this easy crock pot sloppy joes recipe I think you will understand why. However, I love the convenience of sloppy joes on a busy weeknight.
In a pinch serve it with salad and some chips and dinner is done. No need to go through the drive through when you have this simple recipe up your sleeve.
Plus after trying this delicious sloppy joe slow cooker recipe, I think you will be staying clear of any pre-made sloppy joes in the future.
Print this Crock Pot Sloppy Joes recipe: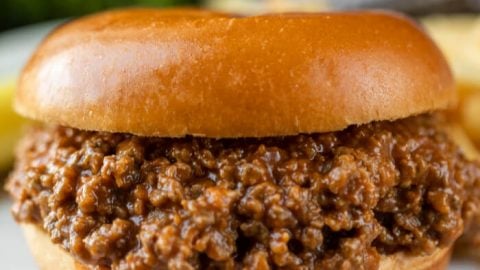 Easy Crock Pot Sloppy joes Recipe
You have to try this Easy Crock pot Sloppy Joes Recipe! With only 4 ingredients, this Sloppy Joe Slow Cooker Recipe is still packed with flavor.
Instructions
Brown the ground beef and add to the slow cooker.

Add in the rest of the ingredients to the slow cooker. Stir to combine.

Cook on low for 3-5 hours.

Serve on hamburger buns.
Nutrition Facts
Serving
3
ounces
,
Calories
352
kcal
,
Carbohydrates
31
g
,
Protein
17
g
,
Fat
16
g
,
Saturated Fat
6
g
,
Cholesterol
53
mg
,
Sodium
500
mg
,
Potassium
333
mg
,
Fiber
1
g
,
Sugar
11
g
,
Vitamin A
105
IU
,
Vitamin C
1.5
mg
,
Calcium
97
mg
,
Iron
3.1
mg
More Sloppy Joes Recipes:
More Crock Pot Beef Recipes: