This post may contain affiliate links. If you make a purchase through links on our site, we may earn a commission.
Easy cheeseburger sloppy joes is the perfect dinner idea for a busy night. You will love this delicious recipe that is a yummy twist on the traditional Sloppy Joes Recipe.
Cheeseburger sloppy joes
Does your family love Sloppy Joes? They are going to go crazy over this Bacon Cheeseburger Sloppy Joes Recipe! It has all the delicious flavor of the traditional recipe but with bacon, cheese and more!
It's absolutely amazing and will be a hit with everyone. It's perfect for when you need a quick meal idea.
Give this a try and you will not be disappointed. They will be scraping the skillet clean. The sauce is that amazing and always a crowd pleaser!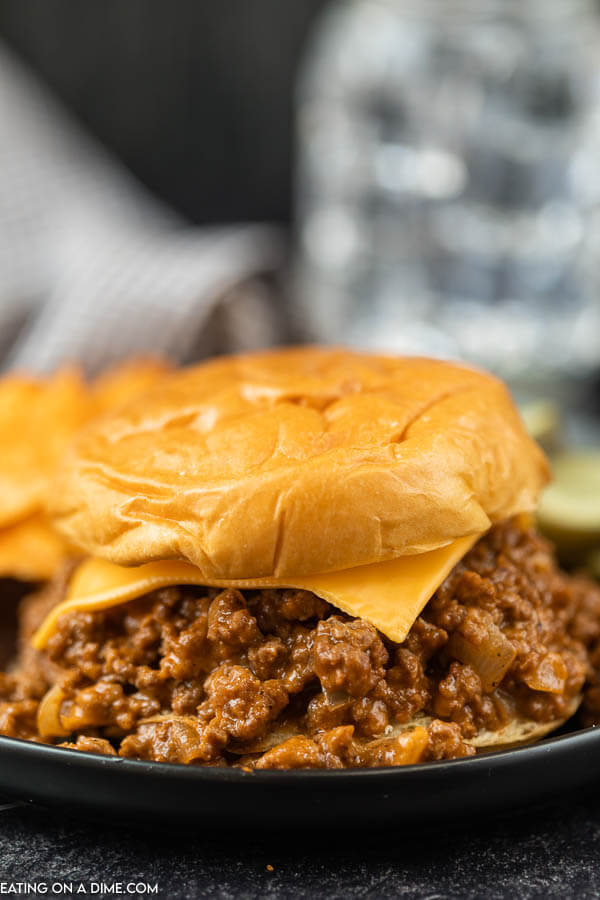 Ingredients:
Ground Beef

Onion

Ketchup

Beef Broth

Mustard

Pepper

Worcestershire Sauce

Cheddar Cheese (shredded)
Buns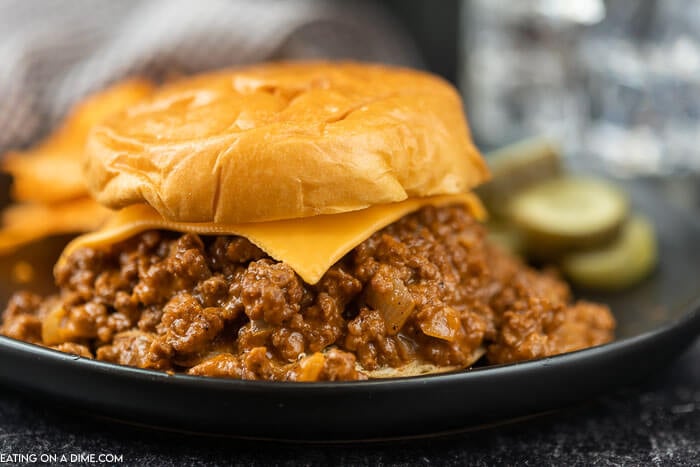 How to make cheeseburger sloppy joes: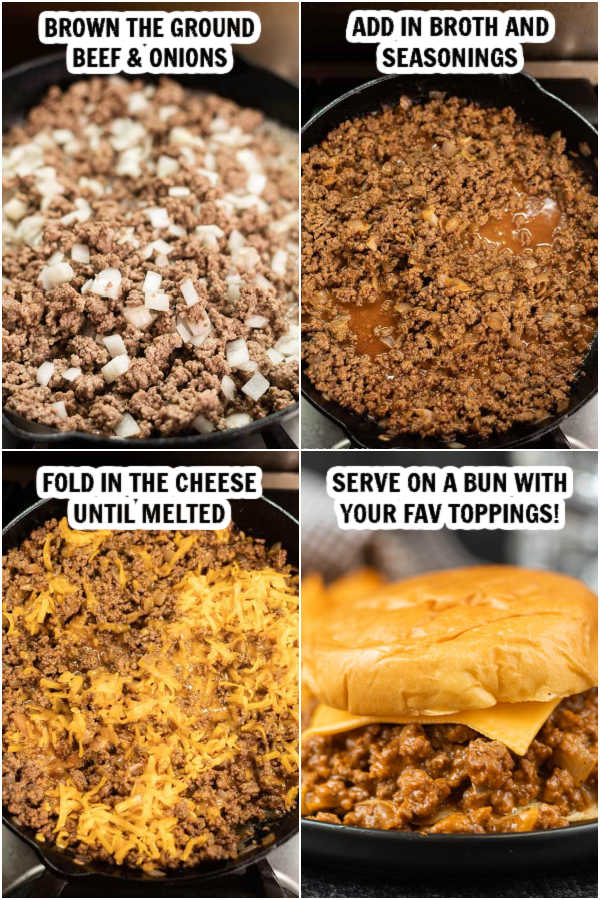 First, brown the ground beef and onion together in a large skillet. Cook this over medium high heat and make sure to drain the excess grease.
Second, add the beef broth, ketchup, mustard, Worcestershire sauce and pepper. Stir this all together.
Finally, cook this mixture together uncovered for a few minutes.
At the last minute, fold the cheddar cheese into the meat until the cheese is melted.
Enjoy!
We serve warm on hamburger buns. Yum! For even more cheese flavor, top each bun with slices of cheese. My kids love cheese so always want the extra slices.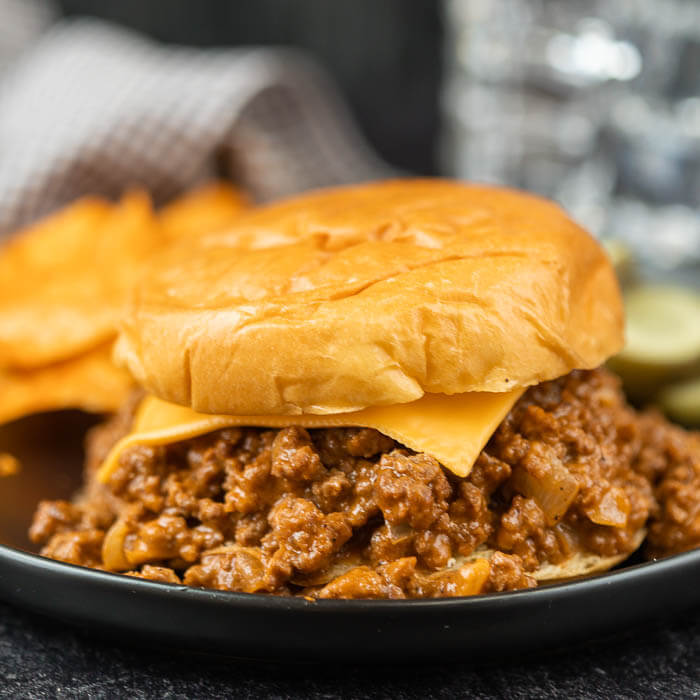 Side dish ideas:
If you want a simple side dish idea, try serving this with Crock Pot Baked Beans Recipe. So good! We also like to grill corn on the cob.
We don't always serve dessert but when we do, everyone enjoys this Easy Cheesecake Brownies Recipe.
How to make this in the slow cooker:
This can also be a slow cooker recipe instead of using a large skillet. You can easily throw this in the crock pot for a party! You don't need anything fancy, but I sure do like this programmable crock pot.
Which ever crock pot you use, I definitely recommend using crock pot liners. They make clean up a breeze! It's so nice to just lift that liner right out and not have to scrub a crock pot. That defeats the purpose of a quick meal.
Brown the ground beef. If you have a Ninja slow cooker , you can brown it right in the slow cooker. Only one pan to clean in a big plus!
Add in the rest of the ingredients to the slow cooker. Stir to combine. Easy!
Cook on low for 3-5 hours.
A few minutes before serving, add the cheese until melted. Serve on hamburger buns.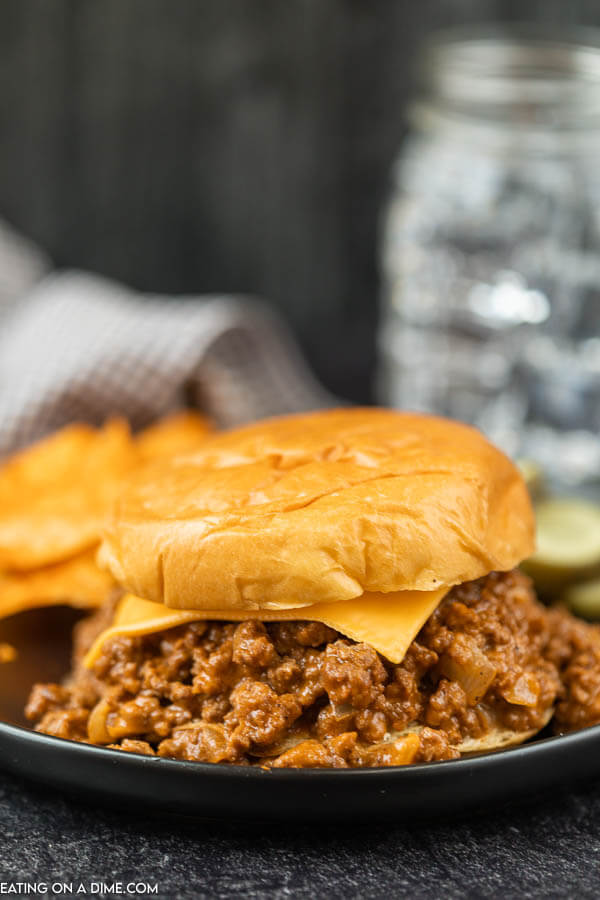 More ideas:
Sliders. Another idea is to serve this as sliders. I think that would be perfect for parties or to feed a crowd. We love BBQ Chicken Sliders so I bet Sloppy Joes would be a hit as well.
Double the recipe. This recipe is easy to double if you are having a crowd over. Everyone will enjoy it.
Freezer Friendly: This recipe will freeze great! Just double your recipe and freeze the left overs. All you have to do is re-heat and you have an even easier dinner in the future.
Bacon cheeseburger sloppy joes – Add bacon slices to the buns when serving to change up the flavor.
You will love this Cheeseburger Sloppy Joe Sauce!
Cheeseburger Joes are a hit with the entire family here! I even fixed this for a get together and everyone wanted to know the Sloppy Joe Sauce Recipe! Give this Bacon cheeseburger recipe a try and I promise you will all love it.
It is one of our favorite main dishes. The beef broth gives it such a rich and amazing flavor. We like to toast our buns but you could skip this step if you prefer. However, I think it really adds something to the recipe with the hot and toasty buns.
I hope your family enjoys this Bacon Cheeseburger Sloppy Joes Recipe!
We all love it and it's nice having a quick meal on the menu plan rotation. I can always count on this recipe to be easy and please everyone.
I'm sure you Mom's know what I'm talking about….It's hard to find a meal idea that every single person in the family will enjoy. This recipe is a hit and it's such a relief to know that I can file this recipe away to use when I need something yummy and quick.
Print the Best Sloppy Joes Recipe below:
Cheeseburger Sloppy Joes
This bacon cheeseburger sloppy joes recipe is a big hit with everyone! You will love easy sloppy joes! This is truly the best sloppy joes recipe. Give Cheeseburger sloppy joes from scratch a try. The bacon and yummy sauce are amazing!
Instructions
Brown the ground beef and onion in a large skillet over medium high heat. Drain off the excess grease.

Add in the beef broth, ketchup, mustard, Worcestershire sauce and pepper.

Cook uncovered for approximately 5-10 minutes.

Fold the cheddar cheese into the meat mixture and heat until the cheese is melted.

Serve warm over the hamburger buns and enjoy!
Recipe Notes
Serve this easy sloppy joes recipes with your favorite hamburger toppings: lettuce, tomatoes and even bacon! 
Nutrition Facts
Calories
606
kcal
,
Carbohydrates
34
g
,
Protein
35
g
,
Fat
36
g
,
Saturated Fat
17
g
,
Trans Fat
1
g
,
Cholesterol
120
mg
,
Sodium
1028
mg
,
Potassium
498
mg
,
Fiber
1
g
,
Sugar
6
g
,
Vitamin A
491
IU
,
Vitamin C
2
mg
,
Calcium
311
mg
,
Iron
3
mg
More sloppy joes to try:
More sandwich recipes to try: