This post may contain affiliate links. If you make a purchase through links on our site, we may earn a commission.
Make this delicious egg salad sandwich recipe for a quick lunch or a picnic dinner that everyone will love. Not only is it budget friendly and easy to make but it tastes amazing.
Egg salad sandwich recipe
Whip this together in just minutes for a great meal. It is super easy to make this egg salad sandwich recipe. I try to keep some in the fridge for quick meals during the week.
It is perfect for sandwiches when you need an easy meal. With just a few simple ingredients, this egg salad could not be any simpler.
Check out this video to see how to make this Egg Salad Sandwich Recipe!
On Sunday, I try to do meal prep for the week and this is usually one of the things I make. I love having it ready in the fridge for a quick sandwich.
Another quick meal we love to make is Cucumber Chicken Salad Sandwich Recipe. This is another fast and easy recipe that can be ready in just 10 minutes.
Easy Ways to boil eggs:
Try some of these fast and simple ways to boil eggs. This will help even more with meal prep and make this recipe even easier.
Get perfectly boiled eggs every time when you make Instant Pot Hard Boiled Eggs. You will not believe how quick and easy this is!
You can also learn how to make Air fryer hard boiled eggs in minutes if you prefer to use your air fryer.
We also love to make hard boiled eggs in the oven. I tried it once, and now I have been making them this way for years.
Now I know that boiling eggs is not hard. However, when you need to make a large quantity, it is much easier to use one of the methods above.
Plus you'll still get the same delicious hard boil eggs without all the extra work or mess. Also, if you have a large family like we do, this is just easier.
The kids love hard boiled eggs and can easily eat 2 or 3 at a time. I just don't have a pot for the stove to boil a lot of eggs at a time.
Try one of these easy ways to make hard boiled eggs and let us know what you think!
What to serve with egg salad sandwich:
I like to keep it simple and just have some cut up veggies and fresh fruit or this fruit salad recipe. This is perfect if I am eating on the go.
We have packed a picnic or had a few friends over and served it with some of these:
Just keep it simple. All of these are easy and delicious choices.
Egg salad is also great for bridal showers, luncheons and more. It is so easy and a great meal idea when you need frugal, quick and easy!
Let's get started making this delicious recipe!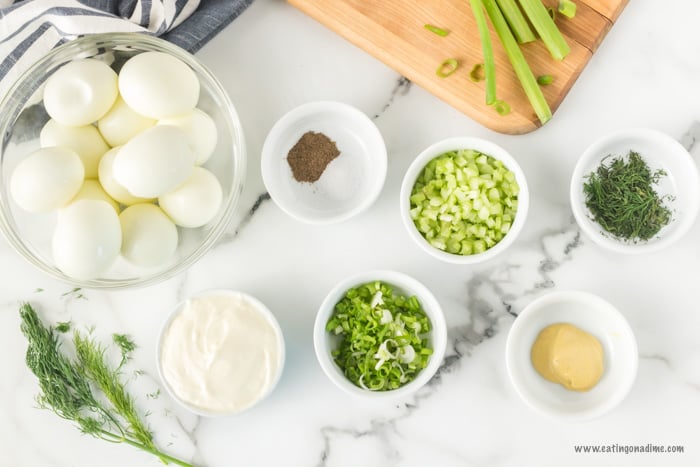 Egg salad sandwich ingredients:
eggs hard boiled and cooled
mayonnaise
djion mustard
green onion thinly sliced
rib celery finely diced
fresh dill chopped
salt and pepper
romaine lettuce
wheat bread
How to make egg salad sandwich:
Cut eggs in half. Remove yolks and chop whites.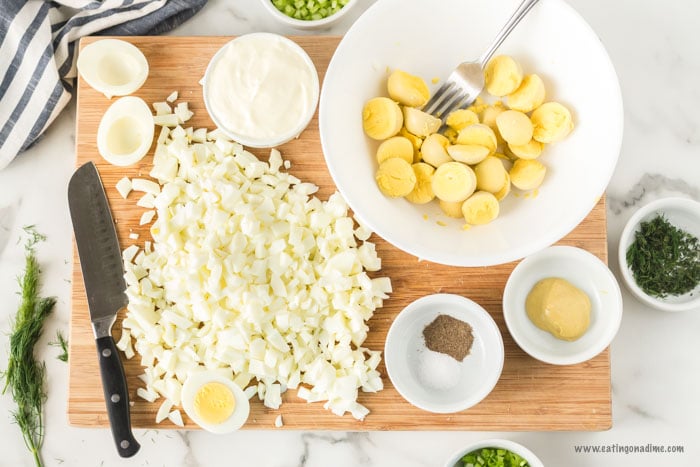 Mash yolks with mayonnaise, mustard and salt & pepper to taste until smooth and creamy.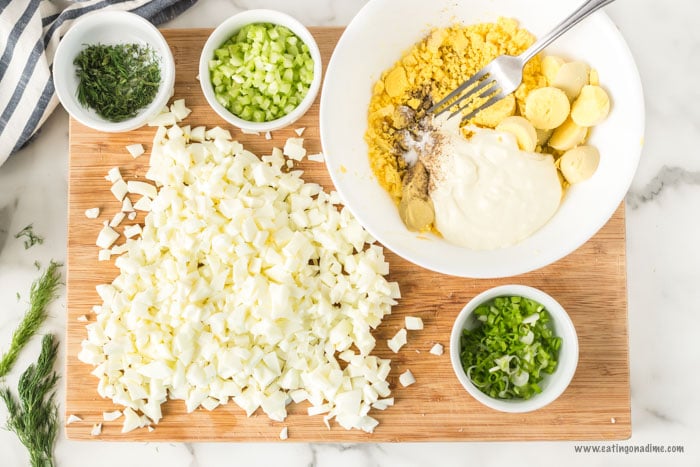 Add remaining ingredients and stir well.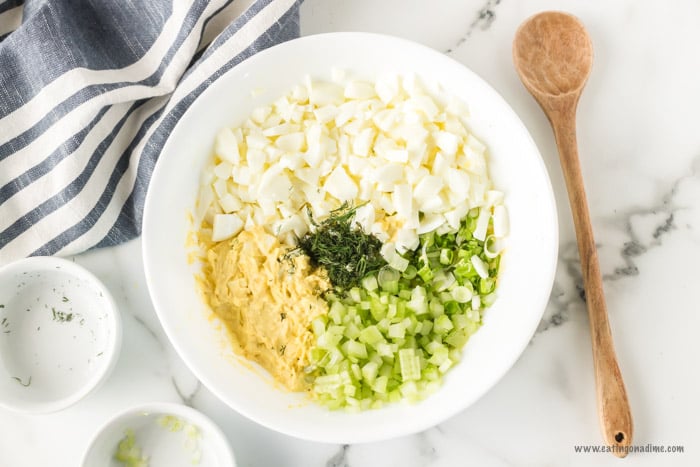 Serve on bread with a slice of lettuce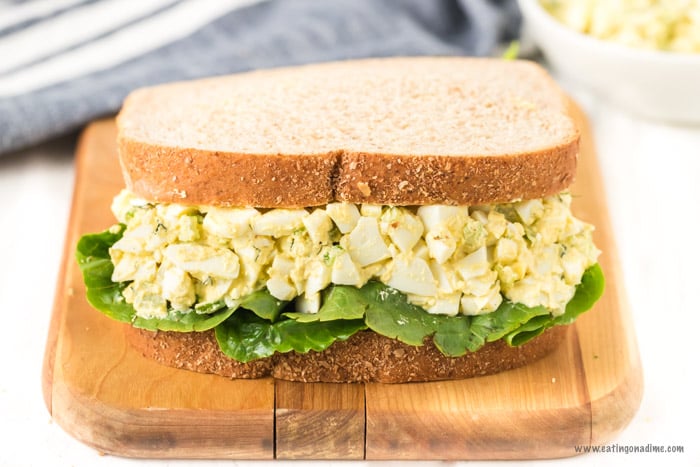 This is the best egg salad sandwich ever!
We love this easy egg salad recipe. If your family likes deviled eggs, they will really enjoy egg salad. It makes for such a quick lunch or dinner and we all love it.
You can serve this on bread, croissants or even rolls. If you are trying to eat low carb, skip the bread and serve this in a lettuce wrap.
It is amazing topped with just lettuce but sometimes I add red onion and pickles as well. Lemon juice is also delicious.
This is definitely a must try recipe!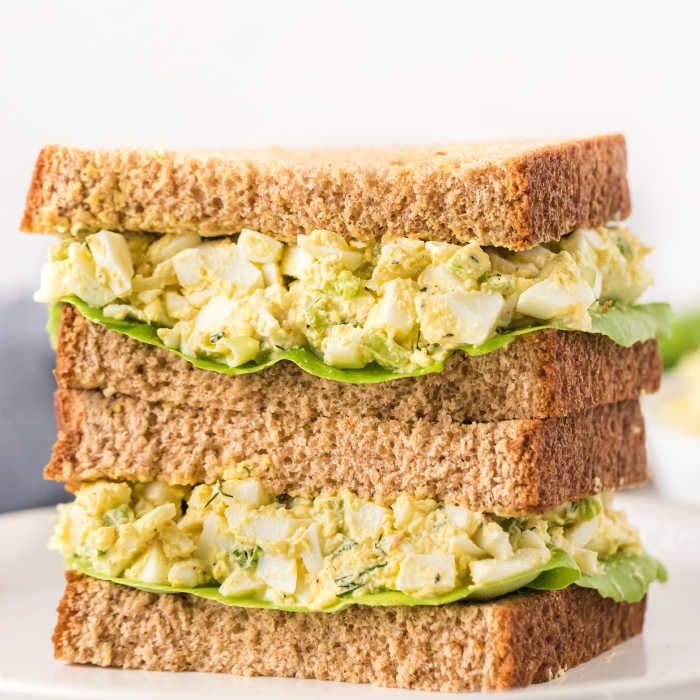 This recipe is budget friendly.
Eggs are inexpensive and an excellent source of protein. You can easily make egg salad for very little. We have even doubled the recipe to feed guests and everything was very frugal.
If you meal prep and keep boiled eggs on hand, this recipe is even easier to make anytime you feel like it. I love recipes that are so easy and frugal.
That sure is a great combination. 🙂 I love being able to serve my family delicious meals like this.
Let us know what you think about this egg salad sandwich once you make it. I really think you and your family will love it!
Can you freeze egg salad?
Yes, egg salad can be frozen, but there are a few things you need to know. See can you freeze egg salad to learn more.
Print this easy egg salad sandwich recipe below:
Egg Salad Sandwich recipe
Make this delicious egg salad sandwich recipe for a quick lunch or a picnic dinner that everyone will love. It is budget friendly and easy to make.
Ingredients
Instructions
Cut eggs in half. Remove yolks and chop whites.

Mash yolks with mayonnaise, mustard and salt & pepper to taste until smooth and creamy.

Add remaining ingredients and stir well.

Serve on bread with a slice of lettuce
Nutrition Facts
Calories
392
kcal
,
Carbohydrates
24
g
,
Protein
19
g
,
Fat
24
g
,
Saturated Fat
5
g
,
Cholesterol
335
mg
,
Sodium
583
mg
,
Potassium
260
mg
,
Fiber
4
g
,
Sugar
4
g
,
Vitamin A
487
IU
,
Calcium
109
mg
,
Iron
3
mg
Find more easy sandwich ideas: