This post may contain affiliate links. If you make a purchase through links on our site, we may earn a commission.
Enjoy a delicious and flavorful Philly Cheese Steak without all the work when you make this Crock Pot Philly Cheesesteak Sandwich recipe. Come home to dinner ready and waiting thanks to this amazing Slow Cooker Philly Cheese Steak Sandwich.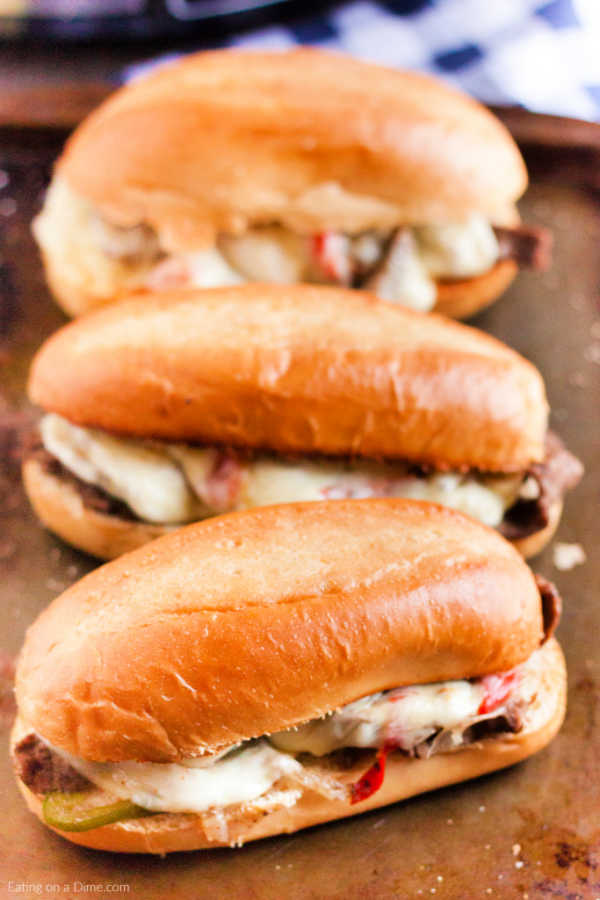 Crockpot Philly Cheesesteak Recipe:
We all love to eat a tasty Philly Cheese Steak and thanks to the slow cooker, this meal is now even easier. Toss your ingredients into the crockpot and come home to all that you need to make an amazing Crock Pot Philly Cheesesteak Sandwiches for dinner.
This is the perfect meal for busy weeknights. We are always running from sports to other activities and this meal is simple and easy.
All of the kids love it and it is so easy to make. I know that I can get dinner on the table quickly and easily when this is on the menu plan!
What is Philly Cheesesteak?
The Philly cheesesteak is known for its thinly sliced steak topped with melted cheese and served on a hoagie. We love to add in bell peppers and onions for that added flavor.
This recipe makes it so easy by tossing everything in the slow cooker. Easy seasoning is added to make the best philly cheesesteak sandwiches.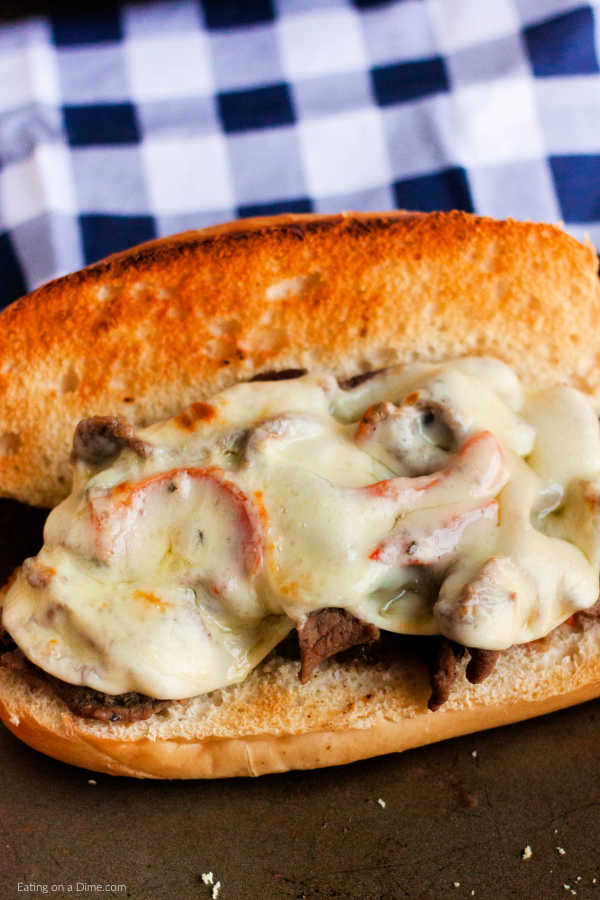 Philly Cheese Steak Sandwiches Recipe is a crowd pleaser!
We love to use hoagie or sub rolls to make the sandwiches. You can also make sliders for another fun idea. Those are great for little hands if you have younger children and also great for parties.
If you are eating low carb, you can still enjoy this fabulous recipe. Just skip the bread and it is still so delicious. I love meals that the entire family can eat and enjoy. It makes dinner time much less stressful around here.
Ingredients:
Round Steak
Green peppers
Red pepper
Onion
Minced Garlic – You can also use Garlic Powder.
Salt
Black Pepper
Italian seasoning
Beef Stock – You can also beef broth.
Provolone Cheese
Hoagie Rolls
With only a few ingredients you can have an amazing dinner everyone will go crazy over.
How to make Slow Cooker Philly Cheesesteaks:
This recipe is so incredibly simple! Once you make Philly Cheese Steaks in the crock pot, you will never make them any other way again.
Place ingredients in the Crock Pot – Everything goes into the crock pot except the cheese and rolls.
Cook Ingredients – Cook the meat and veggies for 6 hours on the low setting on your crock pot and shred the beef. It will be so tender. You can also cook on high for 3-4 hours.
Serve and Enjoy – Serve on hoagie rolls and top with provolone cheese.
Crock Pot Recommendations:
If you are needing a crock pot recommendation, we are really loving this Instant Pot Aura.
We love the many options that it offers including being able to program the crock pot. This allows you to program the crock pot to come on and turn off as scheduled.
Tips for Philly Cheesesteaks:
Melt the Cheese – You can put the sandwiches on a cookie sheet and place in the oven to let the cheese melt. Sometimes, I put an extra slice of cheese and it is so delicious all melted.
Onions and Mushrooms – Adding in onions and mushrooms adds flavor to the liquid and beef.
Brown the Beef – Some recipes call for browning the beef, it is not necessary but you can if you prefer.
Dip Sandwich – The liquid from cooking the ingredients is so good. It is great for dipping or spooning of your hoagies.
Butter the hoagies – For a crispy, hoagie butter them before placing the oven on a baking sheet. We love the crunch it gives.
Variations for Philly Cheesesteaks:
Change the meat – We used round steak, but you can also use beef chuck roast. Both meats come out tender and full of flavor.
Cheese Options – Traditional a philly cheesesteaks are served with provolone, Cheez Whiz or American cheese. You can also use Mozzarella or cheddar cheese.
Bun Options – We use hoagie buns, but you can easily use rolls or even just loaf bread. If you are looking for a low carb option, serve it without the sub.
Worcestershire Sauce – Add in Worcestershire sauce for an added smoky flavor.
What to Serve with Philly Cheesesteak in Crockpot?
When we serve Philly Cheesesteak sandwiches we like to keep it simple. These sandwiches are so hearty, that we like to serve easy and light sides.
Sweet Potato French Fries – Oven Baked Sweet Potato Fries are so quick and easy to make. We love how amazing they taste.
Rice – Instead of hoagies, I like to add a side of white rice. It taste amazing when we drizzle some of the Philly Cheesesteak liquid.
Steam Broccoli – Steamed broccoli is a great side for just about anything. It is light and easy to make.
Potato Chips – Honestly, we have also served this with chips on really busy nights running from lots of activities.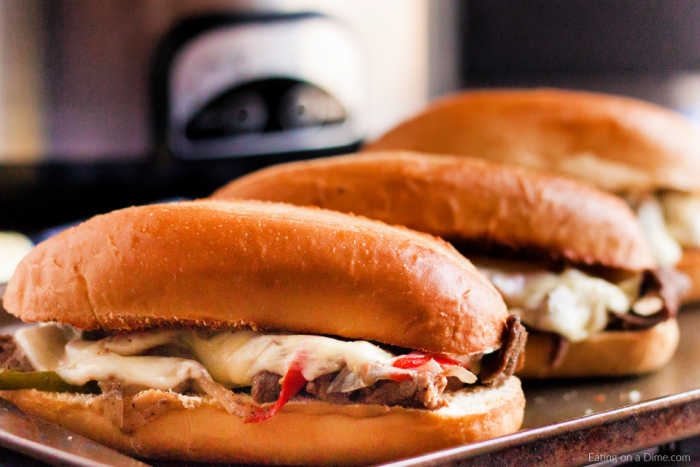 Can I make in the Instant Pot?
Yes, this is the perfect meal to make in the Instant Pot. Instant Pot Philly Cheesesteak Sandwiches is the perfect weeknight meal. It takes about 10 minutes to make in the Instant Pot.
All ingredients are place in the Instant Pot and then cook on high for 10 minutes. This is the perfect meal to take from your freezer. Then placed in the Instant Pot and dinner done in less than 20 minutes.
Try Crockpot Philly Cheese Steak Recipe with chuck roast.
We used thinly sliced round steak but chuck roast would also be delicious for these Philly cheese steak sandwiches. The pepper and onion, Italian seasoning and onion powder blend together to give the philly cheesesteak an amazing flavor.
It is so easy to make these sandwiches with different cuts of meat. You can use what you already have in the freeze or what is on sale that week at the grocery store.
It will all be tender and delicious. These sandwiches have the best flavor.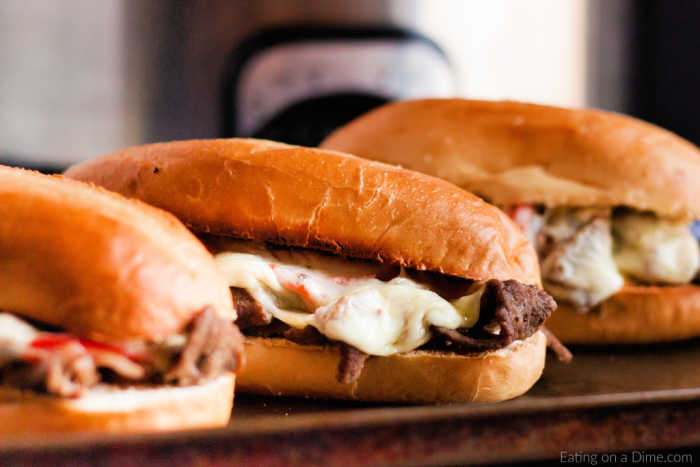 How to Store Philly Cheesesteaks:
Store leftover beef and peppers in a air tight container. Place in the refrigerator for up to 3-4 days. When you are ready to serve, place on a hoagie and top with cheese. Place in the oven to heat up and melt the cheese.
Philly Cheesesteaks leftovers are a great option to make for lunches. We love to serve over rice with a side of vegetables.
Print this easy Authentic Philly Cheese Steak recipe below:
Crock pot Philly Cheesesteaks Sandwiches
Enjoy a Crock Pot Philly Cheesesteak Sandwiches with little effort. These Philly Cheesesteak Sandwiches taste great and everyone loves them.
Instructions
Combine everything but the cheese and rolls in the crock pot.

Serve on hoagie rolls and top with provolone cheese

You can place the hoagie rolls under a broiler to get the cheese melted quickly.
Recipe Notes
Serve with your family's favorite chips or even some sweet potato fries.
Nutrition Facts
Calories
508
kcal
,
Carbohydrates
37
g
,
Protein
48
g
,
Fat
17
g
,
Saturated Fat
7
g
,
Cholesterol
114
mg
,
Sodium
1093
mg
,
Potassium
748
mg
,
Fiber
2
g
,
Sugar
6
g
,
Vitamin A
940
IU
,
Vitamin C
42.7
mg
,
Calcium
263
mg
,
Iron
14.5
mg
More Cheesesteak Recipes: