Tender steak topped with sautéed onions and gooey cheese make these Philly cheesesteaks amazing. Get dinner on the table in minutes with this easy recipe.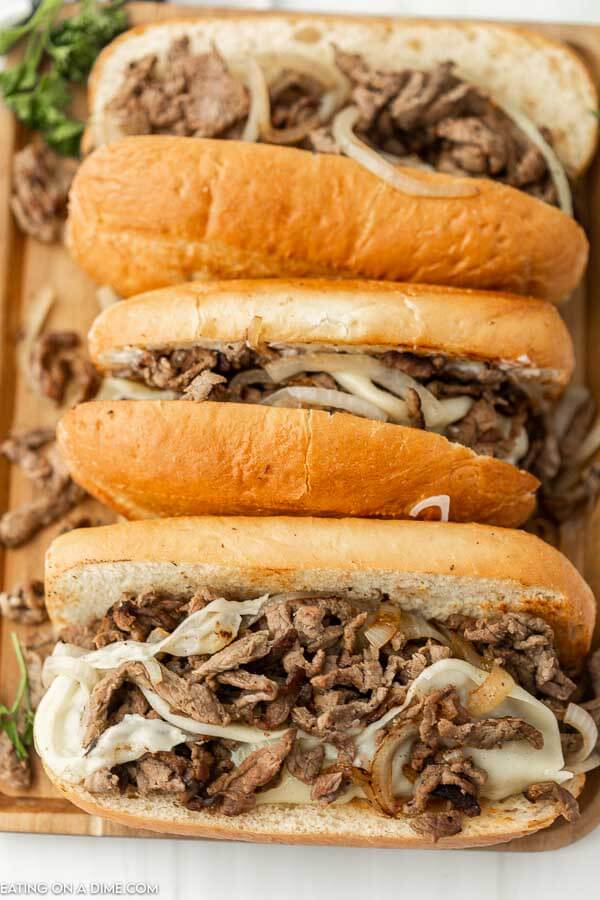 Philly Cheesesteaks Recipe
It is so simple to make restaurant style Philly Cheesesteaks at home. This easy skillet meal is extremely easy. The results are the best sandwiches and extremely budget friendly.
You can make a huge batch of these for a fraction of the cost of ordering out. The results are fantastic and your family will go crazy over this meal.
If you are going to be away all day, try making this Crock Pot Philly Cheesesteak Sandwich recipe.
What is a Philly Cheesesteak?
It is a tasty sandwich that originated in Philadelphia, Pennsylvania. From the perfectly flavored tendered steak to the tender onions and yummy cheese, this recipe is a crowd pleaser. Everything is piled on a hoagie roll.
The steak and onions require minimum seasonings but turn out delicious.
This classic menu item is always a hit and now you can make it at home. Give it a try for an easy and delicious dinner idea any night of the week.
Ingredients
Steak (thinly sliced)
White Onion, sliced
Garlic Powder
Salt and pepper
Provolone Cheese
Hoagie Rolls
Avocado Oil
Butter
How to make philly cheesesteaks
Preheat a large skillet or griddle. We used medium heat at approximately 400 degrees F).
Coat the pan. Add the oil and butter to the middle of the griddle or skillet. Spread it around so that it can melt.
Add the onions. Place them in the skillet or griddle. Toss them to coat them in the oil and butter.

Sauté for 3 to 5 minutes using high heat until the onions are cooked to your preference. Remove them from the griddle or skillet to a separate plate.
Add the steak. Put the steak in the same griddle or skillet. Spread it out to a thin layer. Season with the garlic powder, salt and pepper.
Sear the steak. Let the steak sear for 3 to 5 minutes until the juices start to flow. Flip and then use your spatula to chop into smaller pieces.

Continue cooking the steak until is cooked through. This normally takes about 2 to 3 more minutes.
Combine the steak and onions. Then add the onions back into the same pan or on the griddle. Top the steak and onions with the sliced cheese. Cover with a lid and allow the cheese to melt.
Toast the hoagie rolls while you wait for the cheese to melt. This makes the sandwiches even better.
Top the rolls with the mixture. Use a spatula to scoop and lift the cheesy steak and onion mixture onto each of the toasted hoagie rolls.
Serve the hoagies and enjoy. They are best served immediately while warm.
What to serve with philly cheesesteaks:
French Fries. Crispy and delicious homemade fries pair nicely with cheesesteaks.
Deep Fried Onion Rings. These homestyle thick cut onion rings are amazing.
Pasta Salad. This recipe is packed with fresh ingredients for the perfect side dish.
Toppings:
Traditional cheesesteaks include just the sautéed onions and cheese.
However, it is also tasty topped with lettuce, tomato and mayo along with the traditional toppings.
Ideas for leftovers:
Pasta. Mix leftover steak, onions and cheese into pasta for an easy way to enjoy leftovers.
Omit the bread. Enjoy the leftovers without anything additional. This is a delicious low carb option.
Stuffed Peppers. Use the meat mixture to stuff bell peppers with. Top with cheese and bake for another great meal.
How to store:
These are best served immediately while warm but you can store the leftovers in an airtight container for up to 3-4 days.
Make sure to store the leftover meat mixture separately from the buns. This will prevent soggy bread.
We do not suggest freezing leftovers. The veggies will become mushy and the texture just isn't the same once frozen.
Best meat for Philly Cheesesteak
We used thinly sliced sirloin for these cheesesteak but you can easily use thinly sliced round steak or ribeye steak as well.
I don't recommend using flank steak or brisket. These cuts of meat are tough and the sandwich will not be as tender.
Feel free to use what you already have or can get on sale. I pick up extra when it is on markdown and put the steak in the freezer.
It is so handy to already have it when the craving strikes to make this cheesesteak recipe.
The key to the steak is thinly slicing it. This is easier to do if you freeze the steak. Then use a sharp knife to carefully slice the steak into thin slices. Make sure to remove any fat from the steak as you cut it.
If you are menu planning and purchase the meat, another tip is to get the butcher to cut it thinly. This will save a step at home.
Best cheese for Philly cheesesteak
Provolone cheese is a popular choice for Philly Cheesesteak. The flavor is tasty and it melts well.
Another good option is white American cheese. Some restaurants even use melted cheese or cheez whiz on top.
Just use the type of cheese you prefer the most. You can even combine different types.
Variations:
Sauté mushrooms with the onions for even more delicious flavor. I love the combination of the veggies together.
Substitute thinly sliced chicken for the steak. This is also yummy and a great way to change the flavor. .
Tips and tricks:
We used avocado oil but you can easily use vegetable oil, canola oil or coconut oil instead.
Peppers and onion pair nicely with cheesesteak. Feel free to add bell peppers to this recipe. Cut into thin slices with a sharp knife. Sauté with the caramelized onions.
Thinly sliced steak is best in this recipe. It also helps to stretch the meat for the cheese steaks.
Season with salt and pepper to taste.
Use hot dogs instead of steak. It is tasty with the grilled onions, peppers and melted cheese.
When toasting the buns, feel free to add a little butter to each side. It keeps the hoagie rolls from drying out and gives it extra flavor.
You want to use good cuts of meat and quality cheese. It makes a difference in the final product.
Enjoy this easy recipe.
It is so simple to make and tastes delicious. The entire sandwich is just packed with loads of flavor. The meat is hearty and the melted cheese on tops takes it up a level.
You are going to love being able to enjoy this popular menu item at home. The entire recipe is super easy and loaded with amazing flavor.
Everyone will want this on the regular menu plan rotation. It is so yummy and tasty.
Print this Philly cheesesteaks recipe below:
More Philly cheesesteak recipes: