This post may contain affiliate links. If you make a purchase through links on our site, we may earn a commission.
We absolutely love this Easy Philly Cheesesteak Sloppy Joes Recipe! It's packed with amazing flavor. The peppers and onion are delicious with the melted cheese. So good! I know that I can put this on our menu plan and it's a hit every time.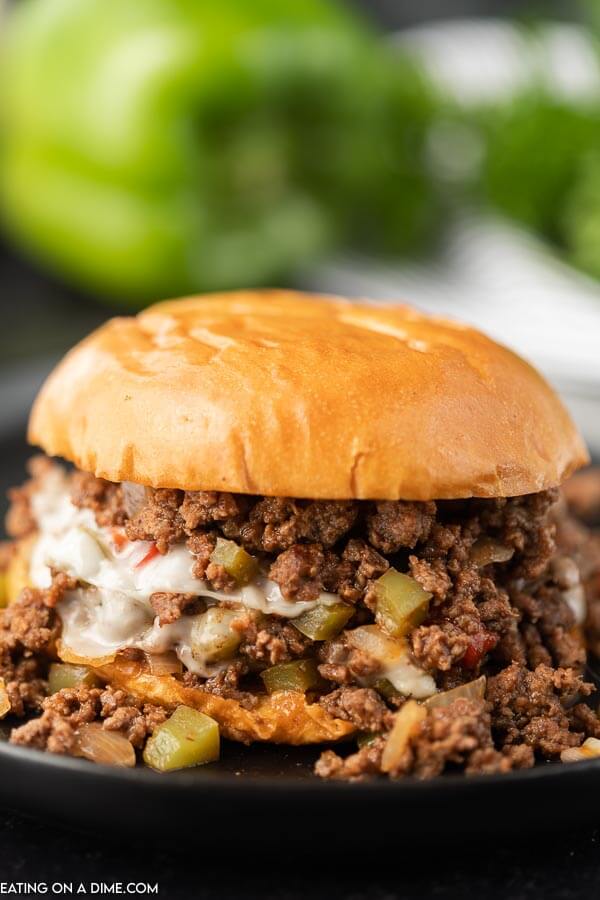 Easy Philly Cheesesteak Sloppy Joes Recipe
This Easy Philly Cheesesteak Sloppy Joes Recipe is delicious and VERY frugal friendly. I am giving you a double recipe to help with busy nights.
I normally make 2 pounds worth and freeze the other pound in a freezer bag. Then I have another dinner ready that only needs to be heated through! If you only want to make one dinner just cut the recipe in half.
You can serve this on any type of bun, but I usually serve them on hamburger buns but you can serve them on any buns you have on hand including hot dog buns too!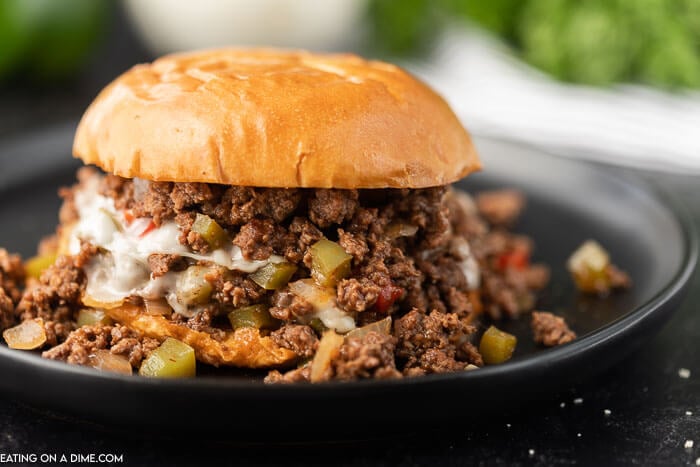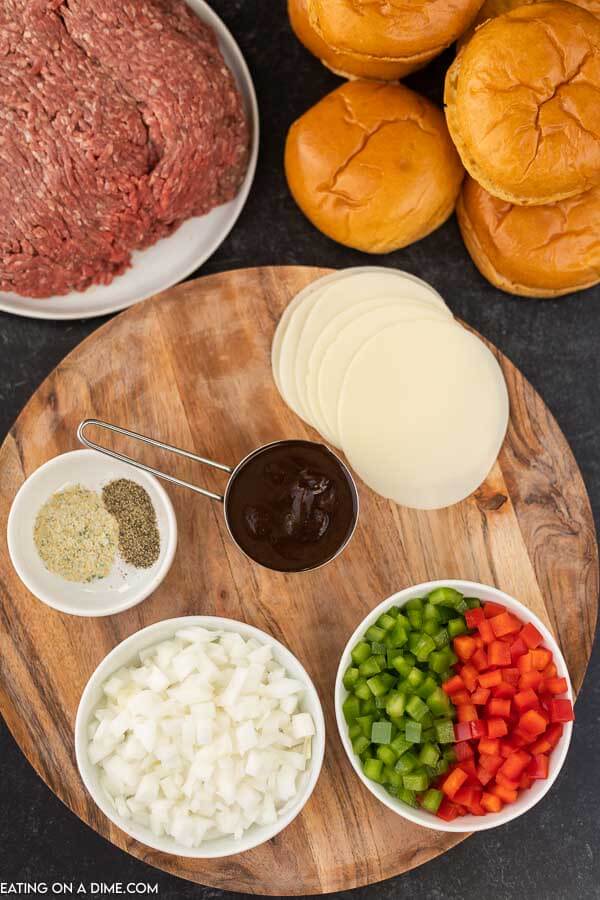 Ingredients:
Ground Beef – You can also use ground turkey or ground chicken.
Onion
Green Bell Pepper
Red Bell Pepper
A1 Steak Sauce – Any steak sauce would work great in this recipe!
Beef Broth
Pepper
Garlic Salt
Provolone Cheese – You can use any of your favorite type of cheese.
Buns of your choice for serving
How to make Philly Cheese Steak Sloppy Joes:
You won't believe how easy this recipe is to make and it can easily be made in under 30 minutes!
1. First brown the beef in a large skillet over medium high heat. (You can also use a cast iron skillet for the beef mixture) Once the beef has been browned add in the diced onions and bell peppers.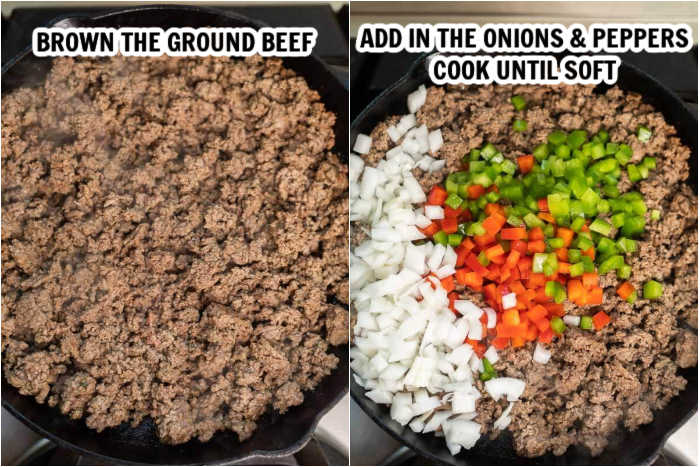 2. Cook the meat mixture on medium high heat until the meat is cooked through and peppers are slightly soft (1-2 minutes). Next mix in the rest of the ingredients at this time.
3. Bring the mixture to a slight boil. Once the mixture starts to boil, cover the skillet and let the mixture simmer for approximately 10 minutes.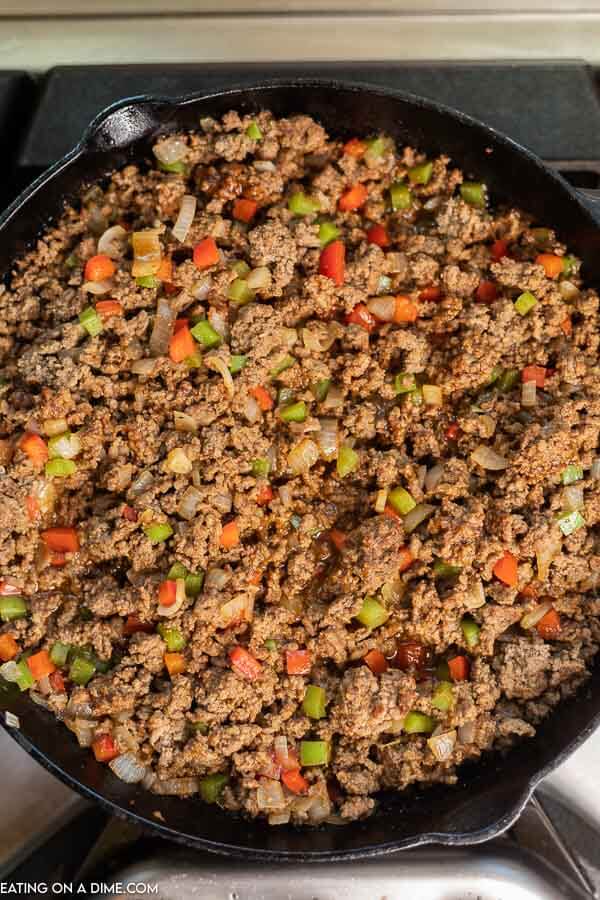 4. After the cooking time, spoon the meat mixture onto the buns of your choice. Top with the cheese, melt it in the microwave for a few seconds and enjoy!
If you are watching your carb intake, just do away with the bun! The sauce is amazing, You could even use a lettuce wrap instead of a bun and it would still be delicious!
What is the traditional cheese on a Philly cheesesteak?
Generally, a traditional Philly cheesesteak is topped with either white American cheese or provolone cheese. Either will work for this recipe but I prefer the provolone cheese.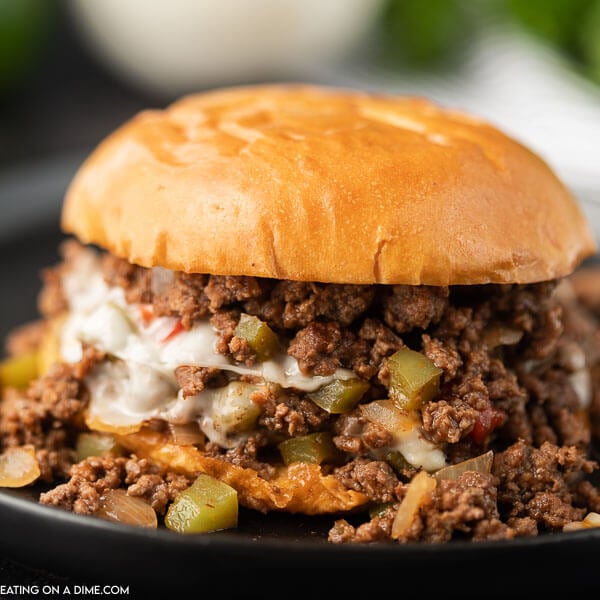 Can you make this in a slow cooker?
Yes, you can easily combine all of the ingredients in the crock pot for a party. Brown the ground beef in a skillet and then place the ground beef in a crock pot with the other ingredients (except for the cheese and buns).
Let the ingredients cook on low for 6 hours or on high for 3 hours. Then all you have to do is serve the mixture on buns and enjoy!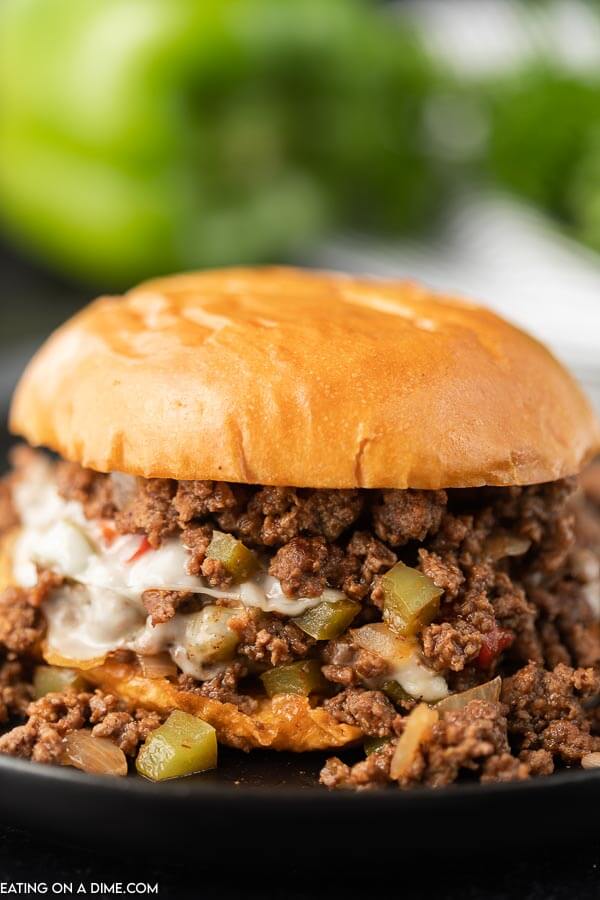 Can you freeze it?
Remember that this is a double recipe. After the sloppy mixture has cooled at room temperature, place the half the mixture into a freezer bag. Label it correctly and place in the freezer.
Then to use, just run hot water on the bag to loosen it. Dump the frozen mixture into a pot on the stove. Cook on low/med heat until it is heated through. That is one EASY dinner!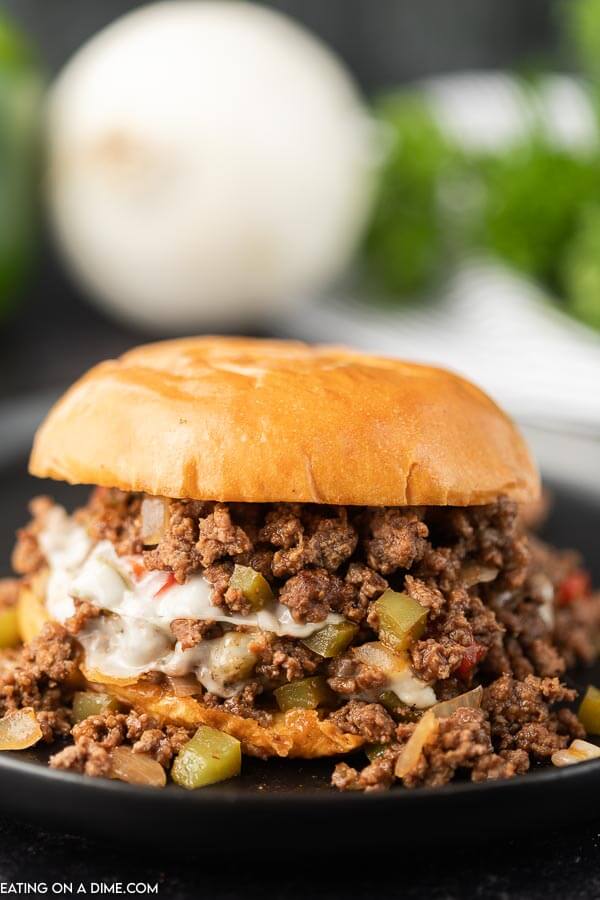 What to serve with Philly Cheesesteak?
It's really good served with Grilled Corn on the Cob.and Oven Baked Sweet Potato Fries.
I also love serving this with sloppy joe recipe with a fun easy salad recipe. Here are a few of my favorite that are easy to make too!
Check out What to Serve with Sloppy Joes for more easy sloppy joe side dish ideas.
Print this easy Philly Cheesesteak Sloppy Joe Recipe below:
Philly Cheesesteak Sloppy Joes
Try this Easy Philly Cheesesteak sloppy joes recipe for a quick dinner! Everyone will love Philly cheese sloppy joes. The onions, peppers and cheese are so good! Philly cheese steak sloppy joes is so simple and cheap to make. Make this Philly cheesesteak sloppy joe recipe today!
Instructions
Brown the ground beef in a large skillet over medium high heat. Brown, drain off the excess grease and stir in the onions and peppers.

Cook on medium heat until the peppers are soft. Mix in the rest of the ingredients.

Bring the mixture to a boil, cover and simmer for 10 minutes.

Spoon onto the bun, top with the cheese and enjoy.
Recipe Notes
Crock Pot Directions:
You can also make this in the crockpot. Brown the beef and then add all the ingredients to the crock pot and cook on low for 6 hours or on high for 3 hours. 
Nutrition Facts
Calories
623
kcal
,
Carbohydrates
36
g
,
Protein
38
g
,
Fat
36
g
,
Saturated Fat
15
g
,
Trans Fat
2
g
,
Cholesterol
120
mg
,
Sodium
1375
mg
,
Potassium
712
mg
,
Fiber
2
g
,
Sugar
4
g
,
Vitamin A
921
IU
,
Vitamin C
44
mg
,
Calcium
188
mg
,
Iron
4
mg
Be sure to check out all of our delicious Crock Pot Recipes here. We love quick and easy meals!
More easy Sloppy Joe Recipes:
More Philly Cheesesteak Recipes: