Creamy cucumber salad is the perfect side dish for your next cookout. It is creamy, tangy and budget friendly. Serve it with grilled hot dogs and parmesan grilled corn for an easy and delicious dinner.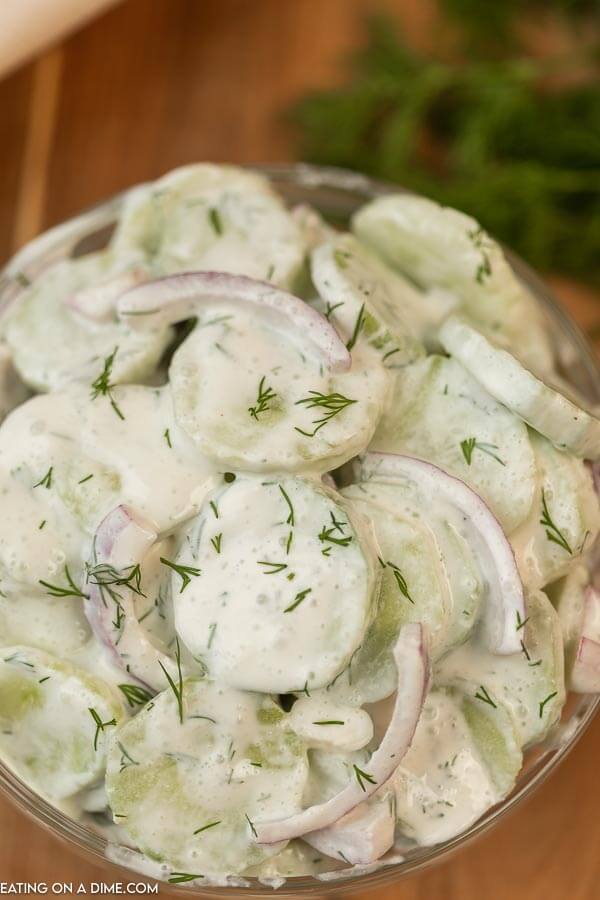 Creamy cucumber salad is so easy!
I love cucumbers and we almost always have some in the fridge. We often make this easy Cucumber Salad and it's always a hit. However, I was in the mood for something creamy one day and this Creamy Cucumber salad was born!
It turned out really delicious and most of the ingredients you probably already have. Not only is it easy to make but very inexpensive. This dish can easily feed a crowd while sticking to a budget.
The next time you need to bring a side dish, sign up to bring this! It is a guaranteed hit and won't blow your grocery budget. Yeah! If you like the idea of a creamy salad, then try this Creamy cucumber tomato salad.
Let's make creamy cucumber and onion salad.
Ingredients:
How to make creamy cucumber dill salad:
First, peel the cucumbers. I like to use a fork to score the edges. It is so easy and the cucumbers look so pretty. Just run a fork down the side of the cucumbers to do this.
Second, slice the cucumbers into 1/4″ slices. This is not necessary but I like to use a mandoline slicer to slice the cucumbers. It is so handy and you definitely will get a lot of use out of this.
Next, combine the sour cream, dill, vinegar and other seasonings together in a small mixing bowl.
Finally, add the cucumbers and red onions with the dressing. It is that easy!
CAN YOU MAKE IT IN ADVANCE?
Yes, it actually tastes best if it is made at least 2 hours in advance and refrigerated to let the flavors combine. You can easily make this ahead to save time and then just grab and go when you are ready to serve.
Plus, it gives all the flavors time to combine and tastes amazing!
HOW LONG DOES IT LAST?
Cucumber salad will last 3-4 days in the fridge if stored inside an airtight container. However, it is best fresh.
Variation ideas:
What goes with creamy cucumber and onion salad:
Everyone will love creamy cucumber dill salad.
The fresh dill gives this creamy cucumber salad the best flavor. The red onions add so much flavor as well.
I can't wait for you to try this easy cucumber salad with sour cream. The creamy dressing has the perfect blend of everything needed to make this salad a winner.
Make this for your family and watch it disappear. It is definitely going to be a hit. Try it today and see how easy it is.
Print this Easy Creamy Cucumber salad recipe:
More easy Salad Recipes: