This simple and inexpensive Cucumber Onion Salad Recipe is simply fabulous! The flavor is amazing but it is just so easy to prepare.
Bring this dish to your next potluck, cookout or family gathering for a side dish everyone will love.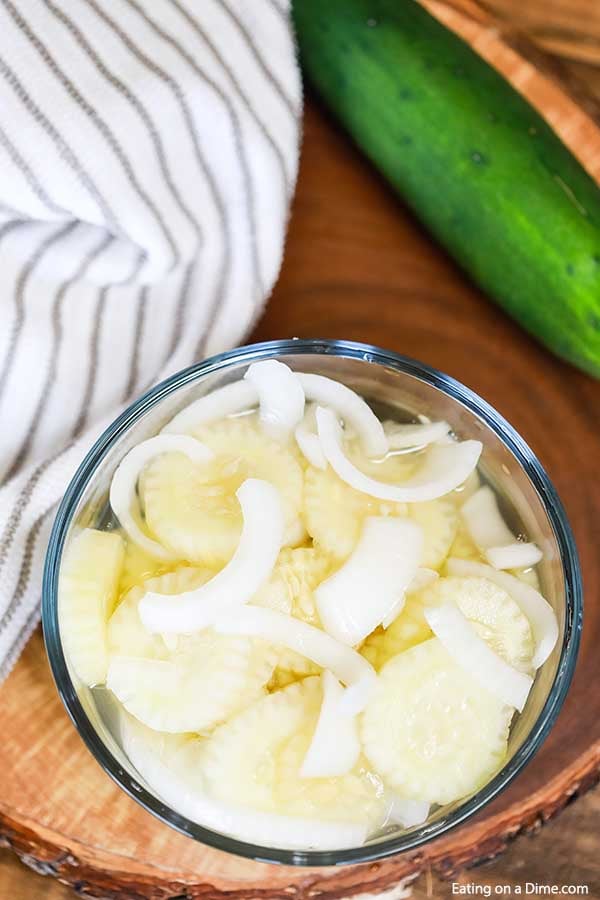 We are addicted to Cucumber Onion Salad Recipe!
Lately cucumbers have been really cheap. My husband's grandma used to make him cucumber and onions and since she has passed he has continued asking me to make him some.
Check out this video to see how to make this Cucumber Onion Salad Recipe!
I had no idea what he was talking about, so finally I gave it a try. I just love the flavor and I finally understand why my husband loves it so much. 😉
This salad is perfect for any BBQ, family gathering, or for a summer snack. Really… we keep this in our fridge all the time when I can get cucumbers cheap.
It is so good that everyone gobbles it up quickly. I love that it is healthy and delicious!
Tip for cucumber onion salad:
To make your life easy, make sure you buy a mandoline slicer (if you don't have one yet). We just LOVE ours and it makes slicing cucumbers and onions a breeze.
I can slice them all in half the time with my slicer. You definitely want one of these!
Also, check out some of my favorite tips on how to cut onions without crying.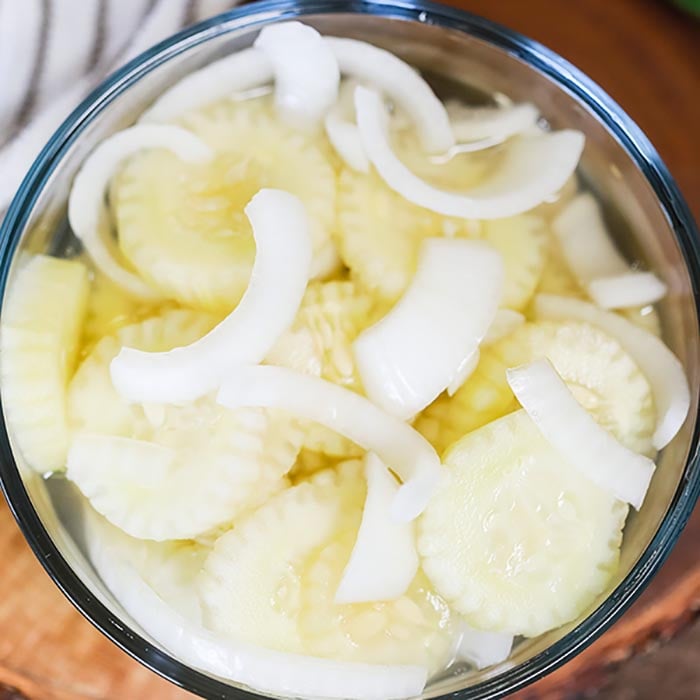 How long can you store cucumber salad?
It will stay good in the refrigerator for at least a week. I know it is really simple, but if you love cucumbers, you will love this easy salad.
Oh and yes… we have been guilty of eating it directly out of the fridge.
Our salad never lasts that long around here because even my kids go crazy over this salad. We all love it so much that we snack on it all week!
What can I do with extra cucumbers from my garden?
This recipe is one of our favorite ways to use up extra cucumbers from the garden or when we can get them cheap at the store. It is so easy and cheap to make.
You can't go wrong with this recipe.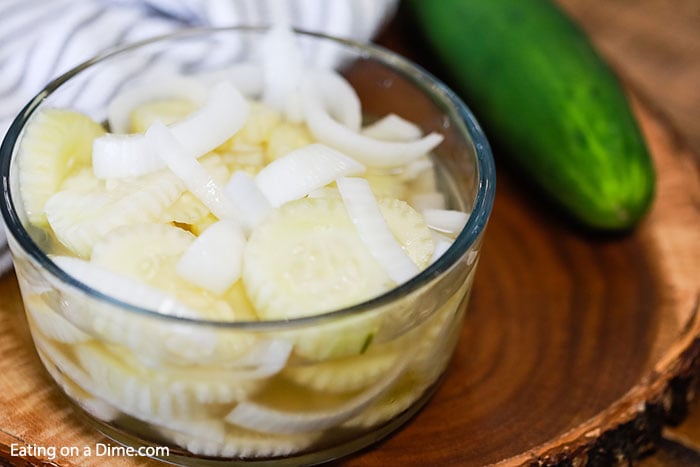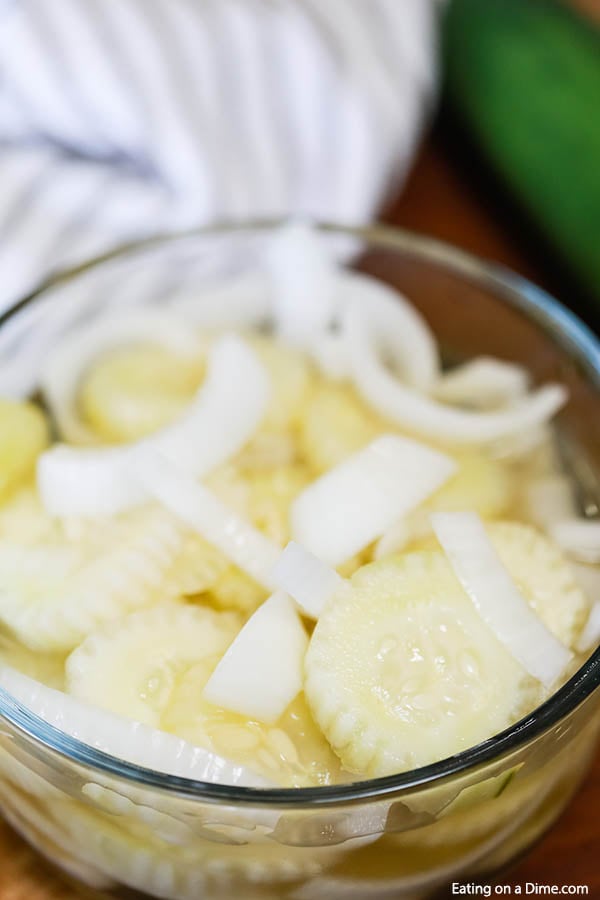 We also like tomato cucumber onion salad apple cider vinegar variation.
Just add tomatoes to the recipe and you have a gorgeous burst of color and even more flavor. You can add the tomatoes to the recipe as is or try also substituting apple cider vinegar for the white vinegar.
This so delicious and we often just use what is in season or on sale at the grocery store. This is a great way to help your budget and it will still turn out perfectly.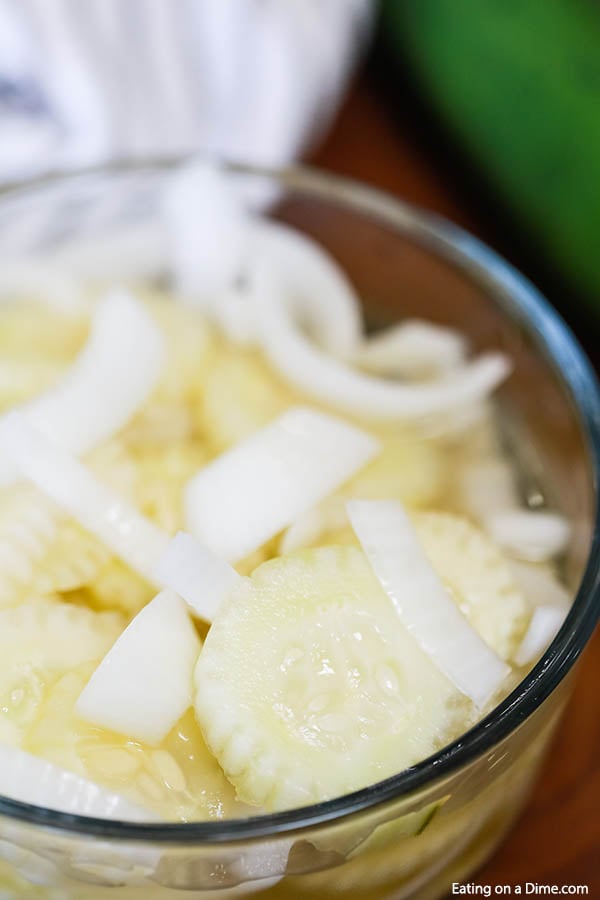 Both options are awesome. Just use what you have.
I am all about using what is on sale at the grocery store or that I already have in the freezer. I cut our grocery bill by 50% off by following these 8 Tips for for Saving Money on Groceries by Menu Planning! Save that money for something else or to give you family wiggle room in the budget.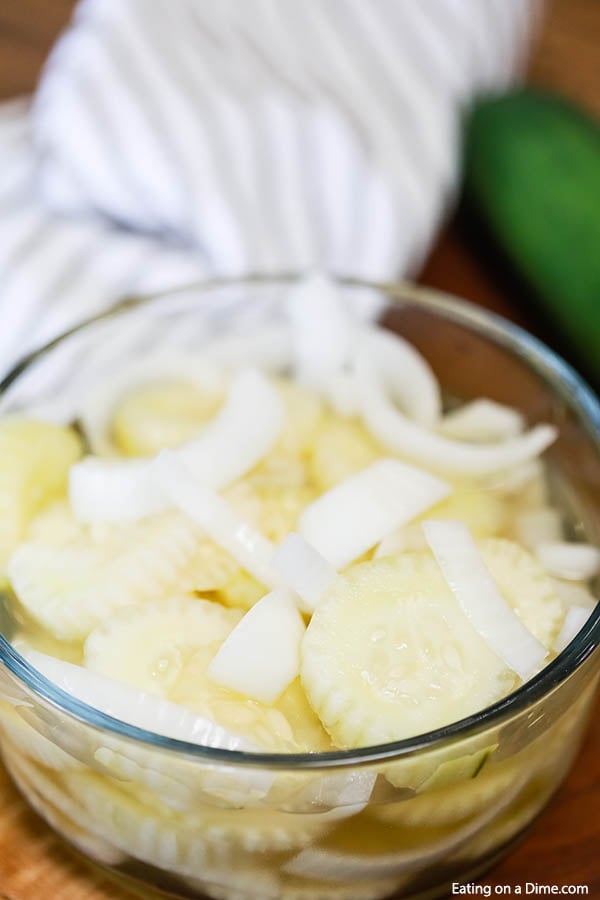 What do you need to make cucumber and onion salad:
cucumbers
onion
white vinegar
sugar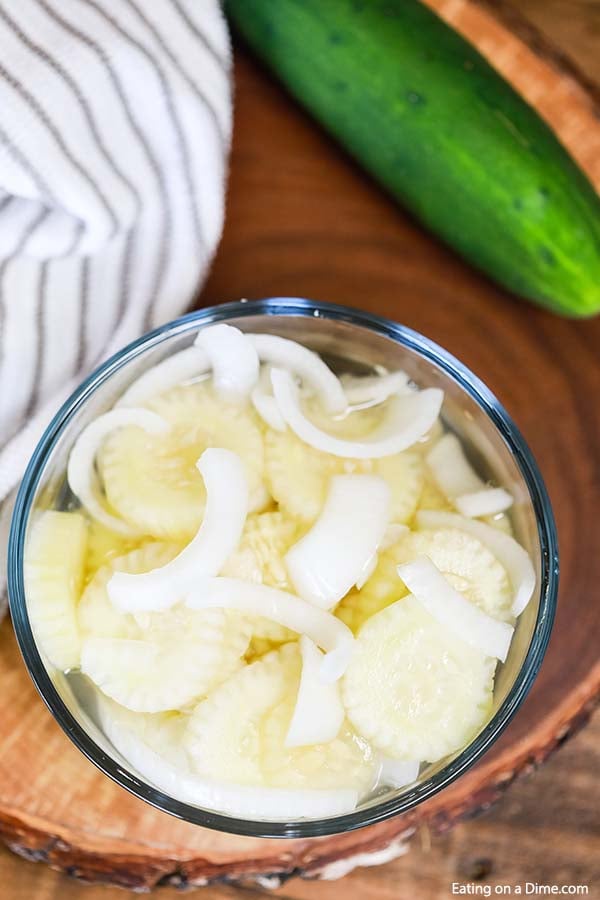 How to make Grandma's cucumber and onion salad:
Peel and slice the cucumbers really thin. This is when the mandoline slicer comes in handy.
Next, slice the onions really thin.
I like to use a container with lid to mix the vinegar, sugar and water. It is so easy to just add the cucumbers and onions and then just use it to store the salad in.
You have less mess and less clean up!
Put your salad in the fridge and leave it for a few hours before eating.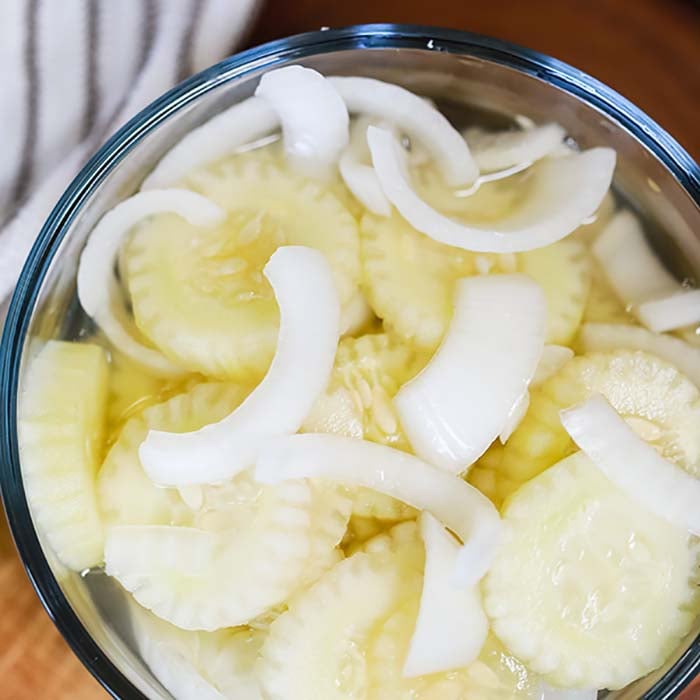 It is so good! Keep reading for the full recipe.
Try this old fashioned cucumbers and onions in vinegar!
I love that something so simple is so delicious. Not only is this recipe so easy to make but it is so inexpensive as well.
Our entire family loves it and it is always a hit wherever I bring it. I have added tomatoes and even left off the onions because I was out and it was still amazing.
I don't think I have ever had a variety of this salad I didn't like. It really is so versatile and so good however you make it.
Serve this cucumber onion salad recipe any day of the week!
This goes really well grilled chicken. We just love it!
Make it your own and try fresh dill or even add sour cream to make a creamy cucumber onion salad.
Try sweet onion or red onion for a change. They all go so well with the cucumber slices and vinegar sugar mixture.
You can also try wine vinegar with the cucumber tomato salad. We have used regular cucumber or English cucumber and it was amazing.
Seriously, you can't go wrong with this!
Print this cucumber onion salad recipe below:
Cucumber Onion Salad Recipe
You just have to try this easy Cucumber Onion Salad Recipe next time you find cucumbers on sale. This easy salad recipe is perfect for a summer BBQ or a snack.
Ingredients
3

Cucumbers

1

Onion

1

cup

Vinegar

(white or apple cider)

1

cup

Water

1/4

cup

Granulated Sugar
Instructions
Peel and slice the cucumbers into thin strips.

In a container (with a lid) combine the water, vinegar, and sugar.

Stir until combined.

Add in the cucumbers and onions. Place lid on top and shake.

Place in the refrigerator and let it cool for at least a few hours before eating.

Eat with a fork… or your fingers!
Recipe Notes
This simple and inexpensive salad is simply fabulous!
Nutrition Facts
Calories
65
kcal
,
Carbohydrates
13
g
,
Protein
1
g
,
Sodium
6
mg
,
Potassium
230
mg
,
Fiber
1
g
,
Sugar
11
g
,
Vitamin A
110
IU
,
Vitamin C
6.2
mg
,
Calcium
28
mg
,
Iron
0.4
mg
Make this easy Snicker Apple Salad with hardly any effort at all but everyone will go crazy over this dish.
Learn how to make homemade croutons in minutes.
Easy ramen noodle salad recipe comes together in minutes for a crispy and flavor packed salad.
Find more easy Salad Recipes below: