This post may contain affiliate links. If you make a purchase through links on our site, we may earn a commission.
Everyone will love this Easy Greek Salad Recipe full of veggies, feta and more. This creamy salad recipe is the perfect side dish or quick lunch sure to please the entire family.
Easy Greek Salad Recipe:
I have always loved a Greek salad. The flavors are so amazing and it has always been one of my favorite salads.
There is just something so delicious and refreshing about the tomatoes, cucumbers, peppers and more blended with lots of olives and feta cheese. Yum!
The flavor of the Greek Salad simply can't be beat. However, one day I wanted to try something new and turned my traditional Greek Salad recipe into an Easy Creamy Greek Salad.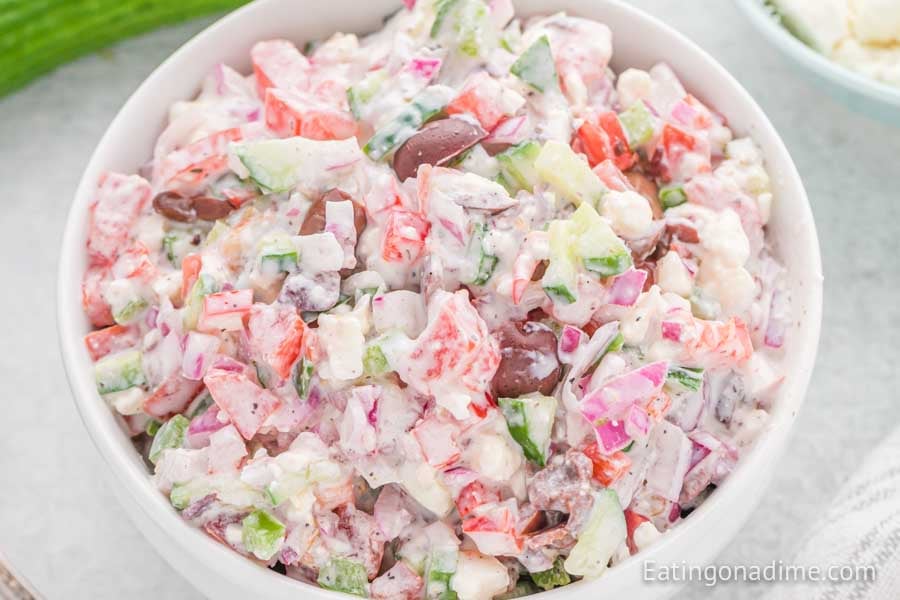 What is Creamy Greek Salad Dressing Made Of?
The creaminess is just out of this world and so good! If you love Greek salad, this creamy version is a must try. Now, don't get me wrong, I still love the traditional style as well but this new creamy style Greek salad is just SO good.
The combination of the Greek Yogurt, Lime Juice, dried oregano and minced garlic gives it that creamy texture without a lot of calories.
Greek Salad ingredients
Plain Greek yogurt
Lemon Juiced
Minced Garlic
Dried Oregano
Salt
Pepper
Tomato – diced
Cucumber – diced
Red Onion – diced
Green pepper – diced
Red Pepper – diced
Crumbled Feta Cheese
Greek Olives – chopped
How to make Greek Salad Recipe:
Place all ingredients in a large bowl – This is such a simple recipe. Just combine all the ingredients in a bowl. This includes the ingredients to make the creamy dressing.
Combine Ingredients – Stir to combine all ingredients until everything is well coated.
Refrigerate Salad – Cover your bowl and refrigerate for one hour so that the flavors can combine.
Serve and Enjoy – This part is worth the wait because everything really combines for the most amazing salad. Season with salt and pepper. We like using black pepper.
Variation Ideas:
Add Pasta – You can add in cooked pasta like rotini, penne, or bowtie pasta. If you add in pasta make it has cooled before adding to your salad.
Slice Black Olives – Toss in some slice black olives. Most of my family and friends love black olives, so I like some in. Kalamata olives is another option.
Add in other Vegetables – I make this creamy Greek salad a lot because I can use what I have. This is a great way to use up vegetables that might be going bad. Cherry tomatoes would be a good substitution.
Dressing Options – You can also use a red wine vinegar with lemon juice or olive oil.
Greek Salad is a Crowd Pleaser:
The pasta salad style is perfect for pot lucks, BBQ's and more. If you need to bulk up a meal and feed a lot of people, this salad is the perfect idea. Throw in some pasta and you have a really delicious meal to feed a crowd.
We love that it is a light salad that can be served at many different functions.
What to serve with Greek salad?
This salad is delicious alone. I have this for a light lunch or dinner frequently. It always hits the spot.
Grilled Chicken – However, if you want to serve it with something, it is so versatile. We love it with this Easy Grilled Chicken Kabob Recipe or Grilled Balsamic Glazed Chicken.
Smoked Turkey – Turkey is another option that pairs well with this salad. It really is delicious with lots of things.
Serve with Sandwich – You can serve this salad as side to your sandwich. It is also great on a sandwich.
Top of a Green Salad – You can even top this salad on a green salad.
Tip for making this easy Greek salad:
Perfect for Grilling Season – The flavors go well with grilled chicken and it is the best meal. During the summer months when I try not to heat up the kitchen, this salad and grilled chicken are on our permanent menu plan rotation.
Chop Vegetables in advance – This recipe calls for diced onions and bell peppers. Use a small food chopper or food processor to quickly and easily chop the onions and peppers in advance.
Let Pasta Cool – If you are adding pasta to this salad, make sure to let it cool.
Cook Pasta – When preparing pasta, let it cook a little longer than al dente. It will firm up as it cools.
Perfect Leftover Salad:
I try to always make extra of this salad so I can make sure to have leftovers. Everyone goes crazy over it so if I don't double the recipe, there won't be any left.
It makes the perfect lunch during the week and so easy because you can make it once and enjoy it multiple times. This Greek Salad is one of those meals that I don't get tired of having.
Print the best Greek salad recipe below:
Easy Greek Salad Recipe
Everyone will love this simple and Easy Greek Salad Recipe full of veggies, feta and more. This creamy salad recipe is the perfect side dish or quick lunch.
Ingredients
1

cup

plain greek yogurt

1

lemon

juiced

1

teaspoon

minced garlic

1/2

teaspoon

dried oregano

1/2

teaspoon

salt

1/2

teaspoon

pepper

1

medium tomato

diced

1

small cucumber

diced

1

red onion

diced

1/2

green pepper

diced

1/2

red pepper

diced

1/2

cup

crumbled feta cheese

1/4

cup

greek olives

chopped
Instructions
Combine all the ingredients in a bowl.

Stir to combine.

Cover and refrigerator for one hour to allow the flavors to combine.

Serve as a salad or to top your favorite grilled chicken or turkey.
Nutrition Facts
Calories
89
kcal
,
Carbohydrates
8
g
,
Protein
6
g
,
Fat
3
g
,
Saturated Fat
2
g
,
Cholesterol
12
mg
,
Sodium
436
mg
,
Potassium
261
mg
,
Fiber
2
g
,
Sugar
4
g
,
Vitamin A
630
IU
,
Vitamin C
36
mg
,
Calcium
122
mg
,
Iron
0.5
mg
Find more easy Salad Recipes below: