This post may contain affiliate links. If you make a purchase through links on our site, we may earn a commission.
If you are making a recipe that calls for Fresh Dill we have gathered The Best Fresh Dill Substitutes for you to use. These substitutes will work rather you are out of fresh dill or dried or dill seeds.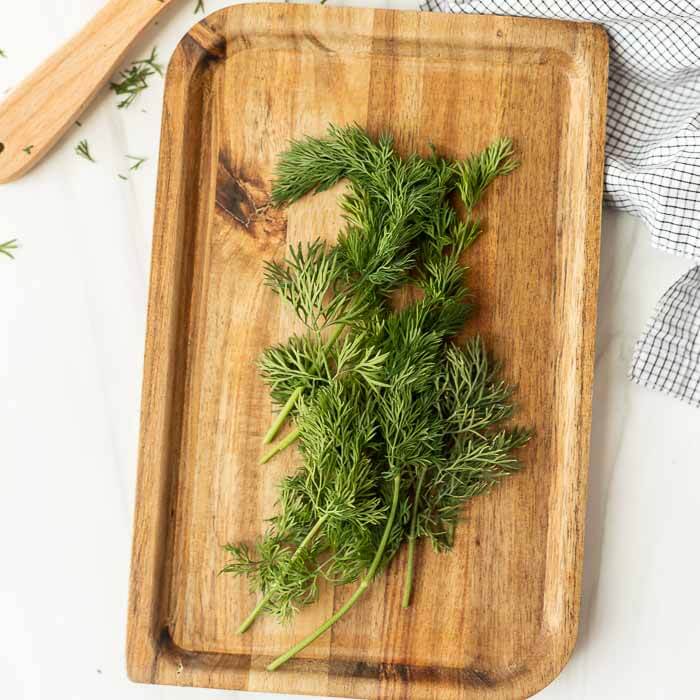 Fresh Dill Substitute:
Fresh Dill Weed is hard to replace because of it distinct herb flavor. Dill is a member of the parsley family. Which includes these dried herbs – cilantro, anise and fennel. Part of the unique flavor of dill is the flavor profile qualities of licorice.
There are some people who do not like the flavor of dill and your are wanting to replace it with something else. These substitutes should fit your needs rather you are out or just don't like the flavor.
Best Substitute for Fresh Dill:
This feathery fronds dill plant herb is a great addition when garnishing your dishes. Its distinct flavor is great with your potato salad and seafood recipes. There are also many dip recipes such as yogurt dip and ranch salad dressing.
When trying to find the best substitute it all depends on the specific qualities that you are trying to replace. If you are trying to replace its licorice flavor, then you would be safe to use one of the herbs in the parsley family.
But if you trying to move away from its distinct flavor then and herb from a different family might be a better choice.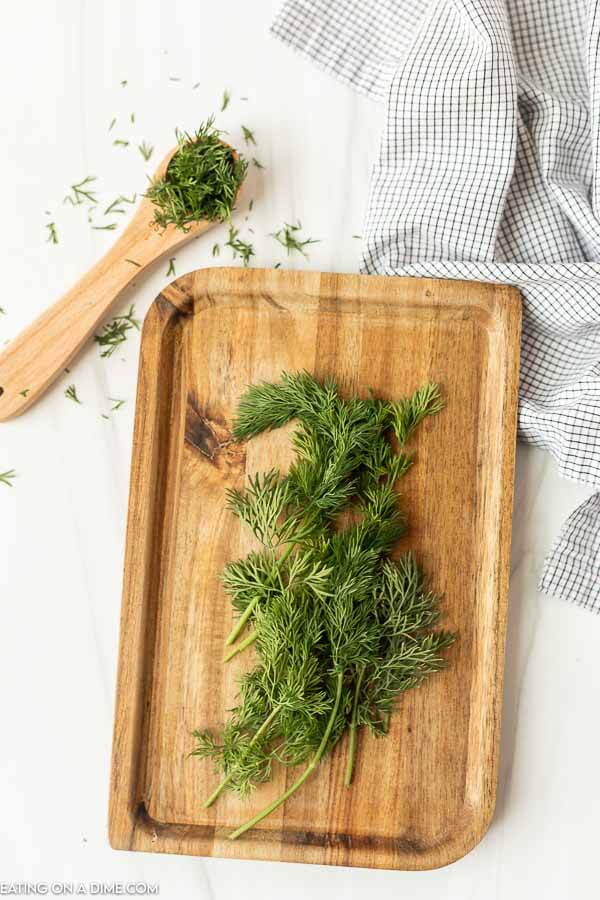 1. How to Substitute Dried Dill for Fresh:
If you are looking for the best substitute for fresh dill use dried dill. It has the best flavor match and you probably have it in your spice rack. Dried dill is more concentrated than fresh dill so you will use a lot less when adding to your recipes
For 1 tablespoon of fresh dill use 1 teaspoon of dried dill or vice versa
Dried dill is the perfect substitution especially if you need to garnish a dish.
2. Fennel Fronds:
The best substitute besides dried dill is Fennel Fronds. The looks of fennel fronds is similar to dill because of its feathery leaves. It is also similar in flavor. Because of the licorice flavor its pairs well with ingredients in the same way dill does.
Easy substitute with a 1:1 ration when substituting for fresh dill
3. Tarragon:
Fresh Tarrago was used a lot by the French. It has similar profile flavor to fresh dill so it is a good substitution. One of the main difference between fresh dill and tarragon is that tarragon holds up better in the heat.
Substitute 1:1 ration for fresh dill.
4. Rosemary:
Rosemary can be used as a replacement for fresh dill. Rosemary is a common ingredient added when making potatoes, lamb, chicken or pork. Keep in mind rosemary has its own distinct flavor.
Rosemary would be a good choice if you need to add a fresh herb, but don't like the taste of dill.
5. Parsley:
We normally use parsley as a garnishment for our recipes so this is an herb that we always have. Parsley comes from the family as fresh dill, it does have a milder, earthy flavor.
It is a good substitute if you wanting a milder flavor for your recipe. You can substitute with parsley 1:1 ratio.
Other Dill Substitutes:
These are some others that could work if you don't have the other substitution listed.
Mint – This substitution pairs well with similar foods, but it does have a sweet taste.
Caraway Seeds – This is a great substitution especially when making soups.
How to Store Fresh Dill:
To store fresh dill, loosely wrap the dill in plastic wrap and place in the refrigerator. It is best to use fresh dill within 1 to 2 days after placing in the refrigerator. If not, then you run the risk of the dill wilting and drying out.
Favorite Recipes to Use Fresh Dill:
The following are our favorite recipes to use Fresh Dill.
More Ingredient Substitutions: