This post may contain affiliate links. If you make a purchase through links on our site, we may earn a commission.
Take traditional sloppy joes to the next level with this delicious and easy Buffalo Chicken Sloppy Joes recipe idea. Loaded with lots of amazing flavor, Buffalo chicken sloppy joes recipe will not disappoint and it is perfect for busy weeknights.
Easy Buffalo Chicken Sloppy Joes
We love anything with buffalo flavor and we love sloppy joes so this recipe seemed like a great idea to try! The entire family loved it and it is now on our permanent menu plan rotation. It is that good.
Our family never gets tired of buffalo flavor styled meals include buffalo wings. I love coming up with new and delicious ways to incorporate something we all love into more dinner ideas.
Plus, this recipe is so quick and easy that you can't go wrong making it. I can make this even on busy weeknights and put together a great meal for my family to enjoy.
Ground Chicken Sloppy Joes are so easy to make!
We love that this Buffalo Sloppy Joe Recipe is so easy to make. It can be made a variety of different ways. This recipe is made with lean ground chicken. We also sneaked in some chopped carrots and cauliflower for that added health benefits.
These ingredients are mixed together with buffalo sauce for a nice little kick. You can grab some regular buns or gluten free buns and top with this amazing sloppy joes mixture.
This family favorite weeknight dinner is requested all the time. That means that everyone loves it and everyone clears their plate. I can dinner prepped and on the table within about 30 minutes.
Ingredients:
Ground chicken
Onion

Carrots

Celery Sticks

Olive Oil

Minced Garlic

Tomato Sauce

Hot Sauce

Hamburger Buns
Ranch Dressing
Crumbled Blue Cheese
How to Make Buffalo Chicken Sloppy Joes
Heat Oil – Heat the olive oil in a large skillet over medium high heat.
Cook the Vegetables – Add in the onions, carrots and celery. Cook for 5-7 minutes until the vegetables are soft and the onions are translucent. Then add in the garlic and cook for 1 minutes until aromatic.
Stir in the Ground Chicken – Add in the ground chicken. Break if up into pieces. Cook until the ground shredded chicken is brown.
Mix in the Sauces – Stir in the tomato sauce and hot sauce. Allow it to simmer on low for about 5 minutes to combine the flavors.
Spoon the chicken mixture on the buns and top with the ranch dressing and the crumbled blue cheese.
Variation Ideas:
Here are some other ways to serve or change this Buffalo Chicken Sloppy Joe Recipe.
Sandwiches – This is our top way of serving this recipe. Get creative and using different types of bread. Make it gluten free but using gluten free options.
Make it into a Wrap – I love wraps. You can pile everything in a tortilla and wrap it up. They have many different specific diet tortilla's to choose from or you can even wrap it un a lettuce.
Bake Potatoes – Pile Buffalo Chicken high in a bake potatoes. Bake potatoes are easy to make. You can make them in the oven, crock pot or even the air fryer.
Top it on a Salad – Top your favorite salad with buffalo chicken. Add in some vegetables and crumbled blue cheese for an amazing salad any day of the week.
Serve if over Rice – If we are out of bread, then rice is my second option. We serve with a side of broccoli and we have a well balance meal.
Sweetened – If you prefer for the buffalo chicken to be a little sweeter, add in some brown sugar.
Slow Cooker – This recipe can also be made in the slow cooker. I would still brown your chicken and then toss everything in the crock pot. Cook on low for 4-6 hours.
Add in some Spice – If you want it a little spicier, you can add in a teaspoon of chili powder.
Change the Meat – You can use ground beef or ground turkey for a traditional sloppy joe recipe.
What to serve with Buffalo Chicken Sloppy Joes:
There are many different side items that go great with Buffalo Chicken. These are our favorites:
Corn on the Cob – It's really good served with Grilled Corn on the Cob. Grilled Corn is easy to make and it an excellent side dish.
Chopped Vegetables – You can also cut up celery and carrots and serve with blue cheese or ranch dressing. Those also go really good with the buffalo chicken.
French Fries – My family loves when I make Homemade French Fries.
This budget friendly meal can be prepared in several different ways. Use what you already have in the freezer or what is on sale that week at the grocery store. We save a lot of money cooking based on what is on sale.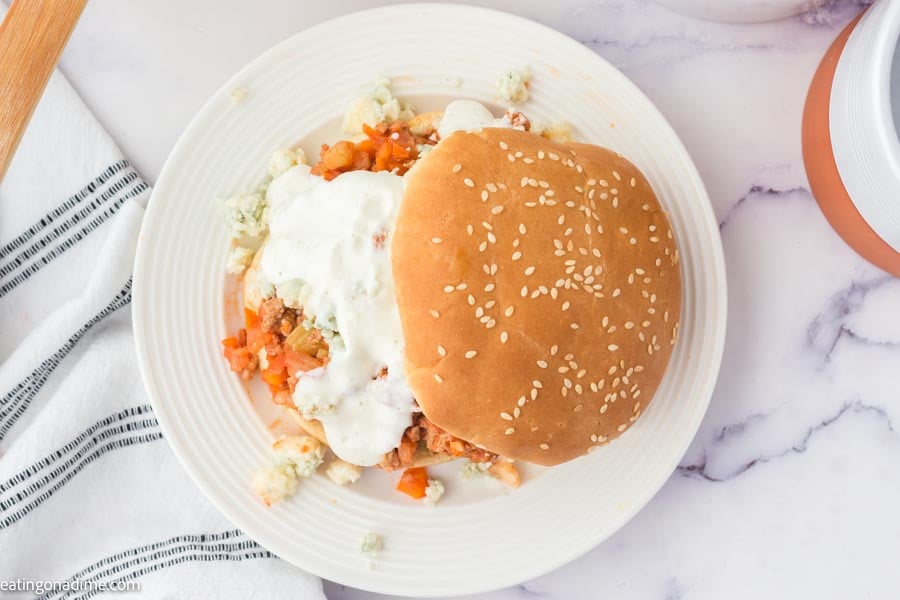 More Buffalo Recipes to try
Find more Sloppy Joes Recipes here: