This post may contain affiliate links. If you make a purchase through links on our site, we may earn a commission.
Skip the canned sloppy joes and make this easy and hearty BBQ Sloppy Joes Recipe. Not only will you save money but it tastes better than anything at the grocery store!
Everyone loves BBQ Sloppy Joes Recipe.
Sloppy joes are a family favorite at our house, and this BBQ sloppy joes recipe is no different. Let me state though – We are not a fan of canned sloppy joes, we love homemade sloppy joes.
You miss out on so much flavor and it is actually cheaper to just make it yourself. I love this BBQ sloppy joes recipe because they are easy to make and they are very frugal.
This recipe cost me just $4 to make for my family of 6. Now this is an older post that I'm updating. I refigured the cost and for my family of 10 now I can make it for about $8.
Due to the size of my family, I just simply doubled the recipe. I have some serious eaters in our family now. But still…. $8 for 10 people. That is super awesome!
You are going to save money and get a better dinner too. This is definitely a win for Mom!
Ok let's talk about how to make this quick and easy dinner idea. It is seriously a game changer!
Equipment you need:
Ingredients:
How to make homemade sloppy joes with bbq sauce:
1. First, brown the ground beef until no longer pink. This is when the Ground beef Separator comes in so handy.
2. Second, add the onions and seasonings to the ground beef.
3. Next, add the BBQ sauce, ketchup and water. Stir together the sloppy joe mixture.
4. Finally, let simmer for 5-10 minutes so the flavors can combine. Enjoy! Serve on hamburger buns with cheese.
The results.
My pickiest child gobbled her sandwich up in no time and said it was the best dinner ever! I say that means this is going on our regular menu now!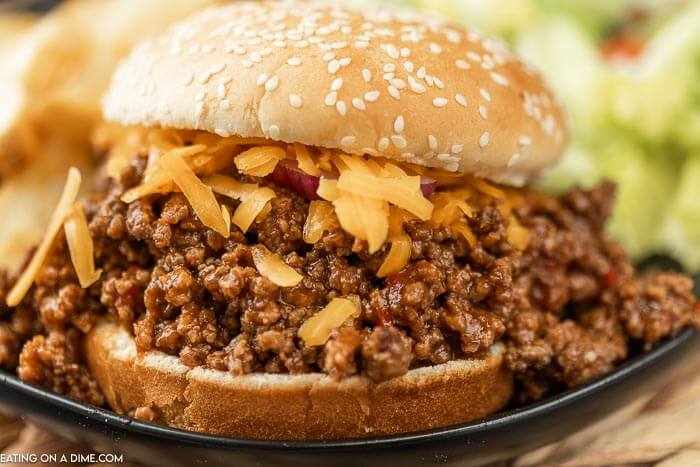 What to serve with barbecue sloppy joes?
These are just a few ideas that we love. Check out What to Serve with Sloppy Joes for more easy side dishes for sloppy joes.
More tips:
Make this easy recipe tonight!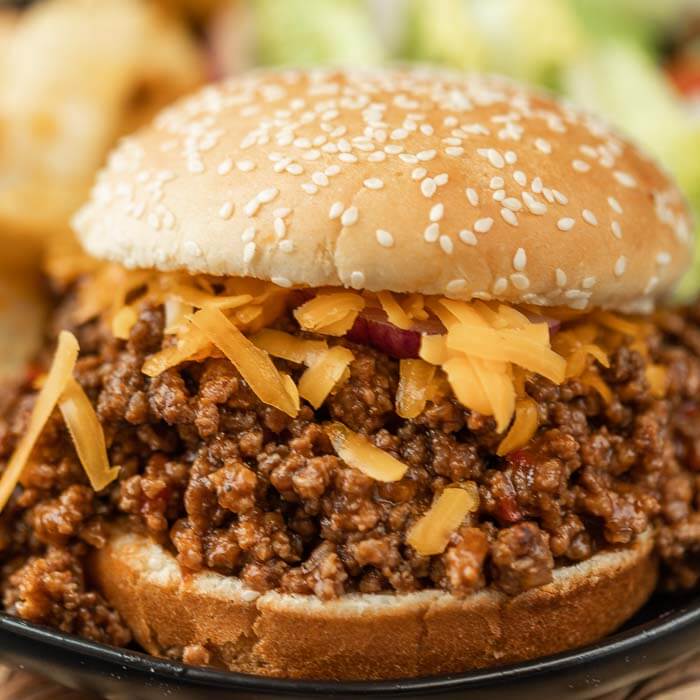 Print the best bbq sloppy joes recipe below:
BBQ Sloppy Joes Recipe
Homemade sloppy joes recipe is quick to make, and this bbq sloppy joes recipe is delicious! How to make sloppy joes that taste like a BBQ sandwich.
Instructions
In a Medium skillet brown the ground beef and drain off the excess grease.

Then add in in the onions, red pepper, and seasonings.

When soft mix in the barbecue sauce, ketchup, water and salt and pepper.

Cook on low uncovered for 5-10 minutes to allow the flavors to combine.

Serve on the hamburger buns topped with the shredded cheese.
Recipe Notes
These are great made with your favorite type of barbecue sauce to get the flavor that you know you will love! 
Nutrition Facts
Calories
584
kcal
,
Carbohydrates
45
g
,
Protein
29
g
,
Fat
31
g
,
Saturated Fat
13
g
,
Trans Fat
1
g
,
Cholesterol
100
mg
,
Sodium
1184
mg
,
Potassium
558
mg
,
Fiber
2
g
,
Sugar
22
g
,
Vitamin A
659
IU
,
Vitamin C
15
mg
,
Calcium
252
mg
,
Iron
4
mg
More sloppy joes recipes to try: