The best Turkey Sandwich recipe is simple to make with roast turkey, deli cheese and your favorite toppings. This classic sandwich is filling and always a hit with everyone.
Best Turkey Sandwich recipe
Never underestimate how delicious a simple turkey sandwich is. Whether you are using deli meat or leftover turkey, it never disappoints.
This makes a quick and easy lunch or dinner any day of the week. We also love to pack this type of sandwich for picnics and more. It isn't messy and holds up well if you plan to eat it later.
I'm going to show you my favorite way to make a classic turkey sandwich. Keep reading though because I will also give you some tasty variations to try.
You only need a few minutes and a handful of ingredients to make this yummy sandwich.
Ingredients:
Whole Wheat Bread
Mayonnaise (See The Best Mayonnaise Substitutes)
Sliced Deli Turkey
Provolone Cheese
Green Leaf Lettuce Leaves. You can also used shredded lettuce.
Tomatoes, thinly sliced
Red Onion, thinly sliced
Salt and Pepper, to taste
How to make a turkey sandwich?
Add mayo to the bread. Evenly spread the mayonnaise on each slice of the bread.
Layer the meat and cheese. Take one piece of bread and put the sliced turkey and provolone cheese on it.
Add toppings to the sandwich. Now, add the tomato slices, lettuce and onion. Salt and pepper to taste.
Top with the other slice of bread. Cut the sandwich in half. Enjoy!
Keep reading for complete directions and nutritional content including saturated fat.
What Bread is Best for Sandwiches?
Rye
Wheat
Pumpernickel bread
Artisan – This type of bread is great for making Grilled Cheese with turkey.
White bread
Croissants – I like to use these if I am serving them for something special. The turkey looks pretty in croissants for a baby shower, bridal shower and more.
Any of these would make delicious options. I like to use a good and hearty thick type of bread.
It doesn't get soggy and can easily hold the condiments and toppings you choose. You do not want to use a really thin bread or it will result in a soggy sandwich.
What cheese goes on a turkey sandwich?
Provolone
Swiss cheese
Monterey jack
Muenster
Cheddar
If you really like cheese, try combining several different types of cheese. It is really delicious. My favorite is provolone and Monterey Jack.
What condiments go best on a turkey sandwich?
Mustard – Brown, Dijon, Spicy and Honey Mustard make good options.
Mayonnaise – Regular or Chipotle Mayonnaise is tasty.
Guacamole – This is great alone but you might also like it with bacon too.
Cranberry sauce. Any form of this is great with turkey. Whether you have whole berries or congealed, The combination is tasty.
Pickles. You can use sweet or dill pickles slices based on your preference.
Turkey sandwich variation ideas:
Turkey club – Toast the bread and add bacon to make this a club sandwich.
Grilled Cheese – Jazz up a typical grilled cheese by adding turkey. It is so hot and cheesy. I love this with honey mustard.
Turkey Salad – If you like chicken salad, you will enjoy turkey salad. Make a batch with thanksgiving leftovers. Turkey salad is great on croissants or rolls.
Turkey Cranberry – This is a delicious combination bursting with flavor. You can toast the bread or leave it plain. Either option is super yummy.
Open faced Turkey Sandwich – This type of variation is served hot with the two pieces of bread separated. It is topped with turkey and gravy and served with mashed potatoes.

This variation is best with white bread but feel free to use your preference.
This is an easy classic recipe. You can easily mix it up with your favorite variations for turkey recipes.
The ideas are truly endless and they are all simple to make. I think you will love this classic sandwich recipe and all of the options to make it.
Serving ideas:
These are great ideas and always tasty. We have also just cut up some fresh fruit and veggies to serve alongside it. Kettle chips are great too.
You can easily serve this with many options and it will be amazing.
Make a turkey sandwich today.
The beauty of this recipe is how simple and delicious it is. It is super tasty served classic style. However, it is easy to jazz up with other toppings and variations.
This is such an easy meal and inexpensive as well.
Let us know your favorite way to enjoy this meal. Leave a comment below.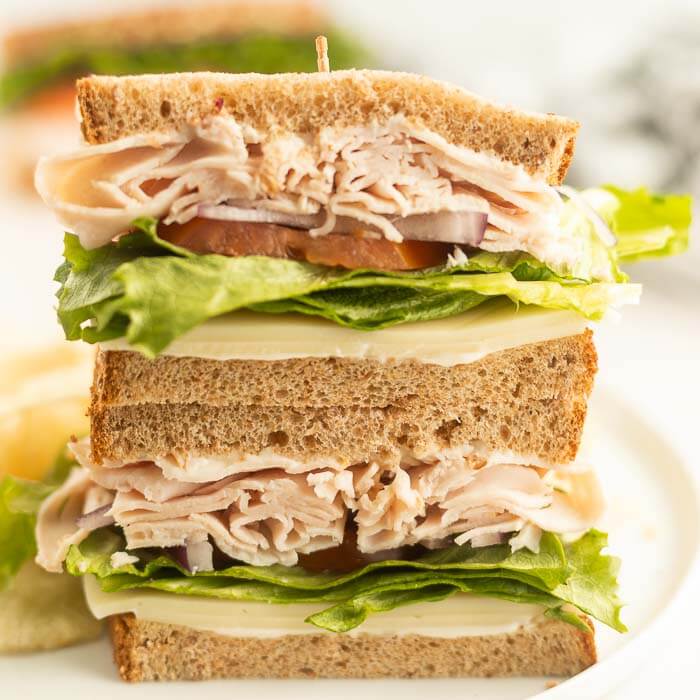 Print this turkey sandwich recipe below: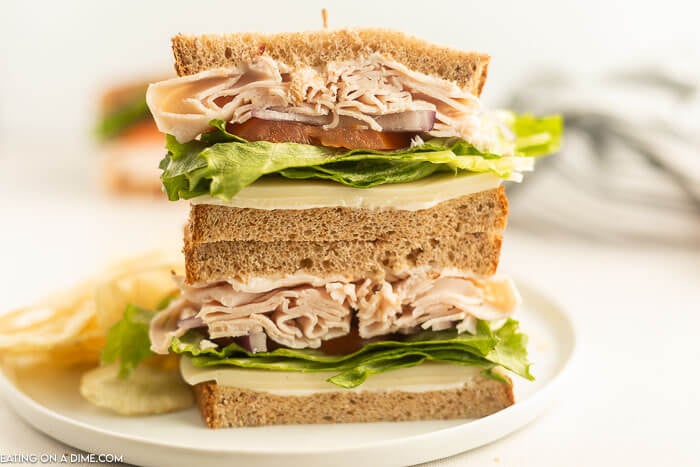 More Sandwich recipes: