We have 38 Easy lunch ideas for kids that will make lunch time a breeze. These easy lunch ideas are frugal, quick and so delicious.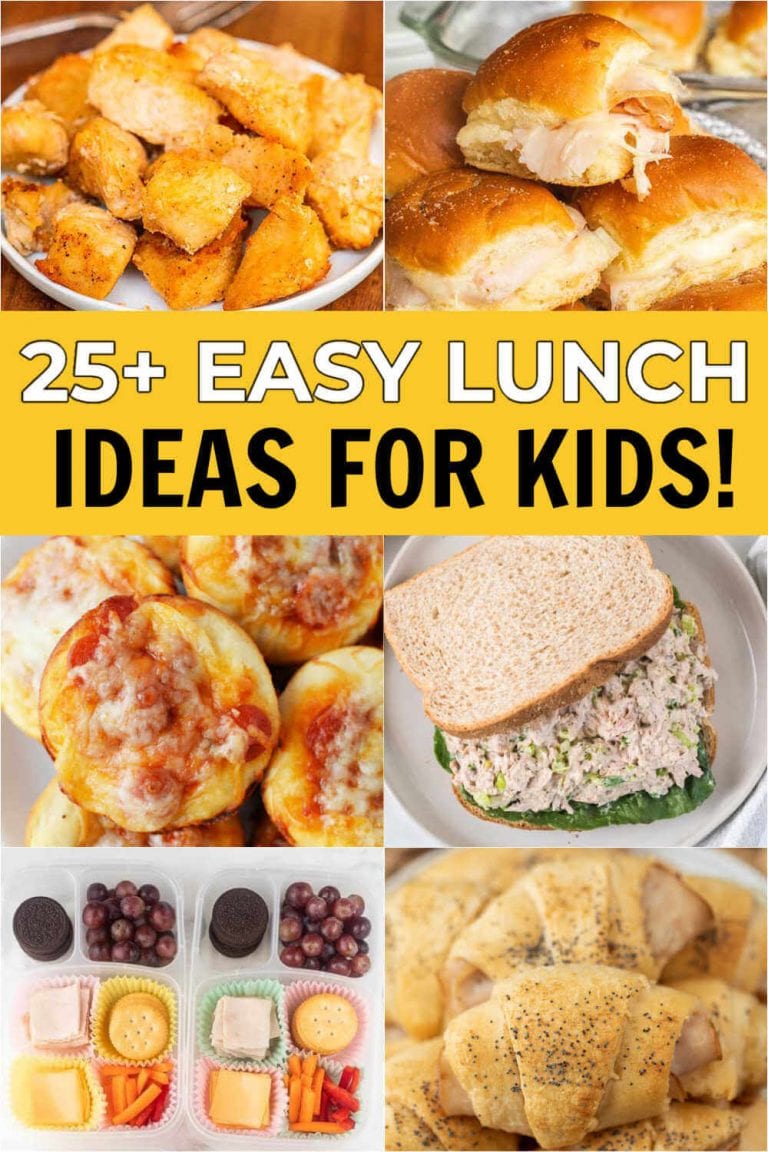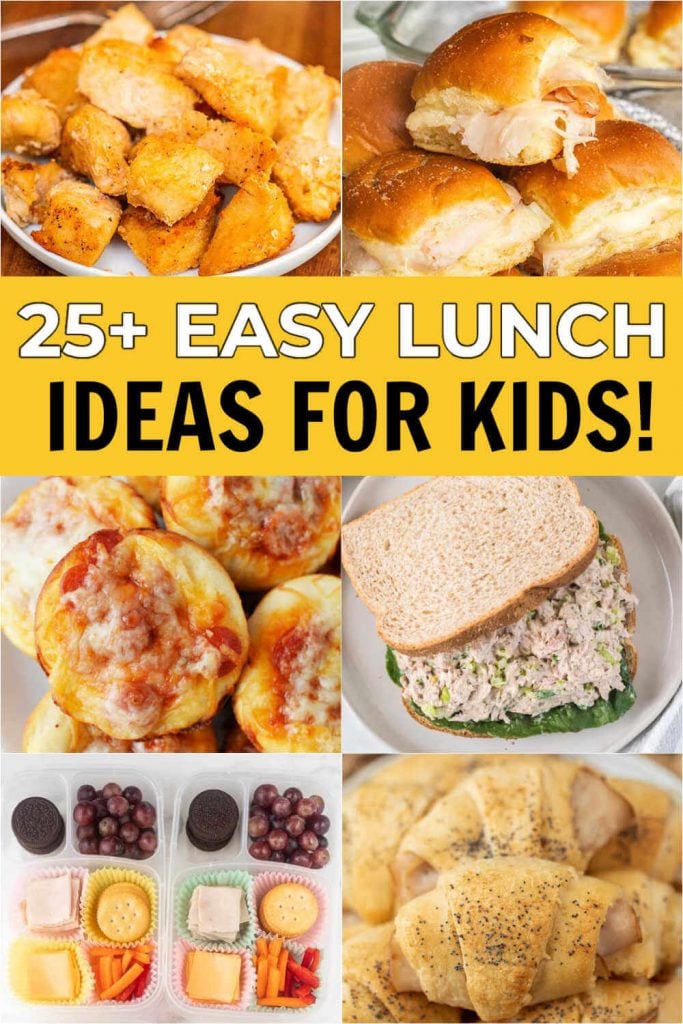 Quick lunch ideas:
Not only are these lunch ideas for kids easy but your kids will want to actually eat them. We have included healthy lunches to enjoy at home as well as for a packed lunch.
These ideas are really yummy and the best school lunch ideas. I like to add bell peppers, apple slices and other fruits and veggies.
Healthy lunch ideas for kids:
I really like to send my kids off to school with a healthy lunch. It makes me feel like I am helping them stay focused at school. It is easy to meal prep with these ideas:
Turkey & Cheese Roll-up
Fresh Fruit
Yoqurt
Granola
Trail Mix
Protein Bars
Chicken Salad
Pasta Salad
Table of Contents
1. Air fryer chicken nuggets
Chicken nuggets are always a kid friendly idea and super easy. This meal goes from air fryer to table in under 15 minutes.
We have been using the air fryer more these days. I love the way it cooks the food and my kids like how fast it cooks.
2. Cookie Cutter Sandwich
It is so easy to make fun imprints on your sandwich with cookie cutters. When my kids were little, they loved to see what design I sent them to school.
Their friends are curious too! It makes them smile and that just warms my heart.
3. Baked apple chips recipe
These are perfect to put in your kids' lunchboxes. Apple chips make a delicious low-calorie treat and they dry easily in your oven so you don't need any fancy machines.
4. Chick-fil-a Grilled Chicken Nuggets recipe
Save a ton of money and learn how to make these tasty chicken nuggets at home! Your kids will love getting to eat these for lunch.
My kids love Chick-fil-a, so I decided to make a copycat version at home. It saves me time not having to go through the drive-thru and saves me so much money.
5. Hard boiled egg lunch ideas
Kids will love these delicious bento style lunch ideas with fruit, boiled eggs and more. They are so simple but always a crowd pleaser. They fit great in your lunch box.
Hard boiled eggs have some much protein and my kids love them. This is a very easy lunch idea.
6. Turkey sandwich crescent rolls
Everyone will love the crescent rolls and you can use leftover turkey or deli meat. It's so easy and your kids will actually be excited to open their lunchbox.
7. Homemade Uncrustables
You will save so much money making homemade uncrustables. They are freezer friendly and so easy to make.
8. Tuna salad sandwich recipe
Packed with protein and delicious as a sandwich, you can't go wrong with tuna salad! Plus, it is quick and easy to make.
9. Easy Pizza Cupcakes Recipe
These little pizza cupcakes are so frugal and tasty. Let the kids choose their favorite toppings for a great lunch.
10. How to make breakfast sandwiches
These are so yummy and inexpensive to make. They are the perfect grab and go meal.
11. Peanut butter and jelly sushi rolls
This easy "sushi" recipe is so fun to make and eat. They will quickly become one of your favorite lunches.
12. Easy fruit and yogurt parfait
Layers of creamy yogurt, granola and fresh fruit come together for a great lunch. Make parfaits in advance for a quick meal.
13. Biscuit Pizza
Make this fun and tasty biscuit pizza recipe with all of your favorite toppings. They are small and perfect for toddlers or younger children.
14. How to Pack Tacos for lunch
Packing tacos for lunch is one of our kids favorite lunches because it is completely different than the regular "boring" sandwich. It is also a great way to use leftovers.
15. Air Fryer Pizzas
Kids love pizza and this recipe for Air Fryer Pizza is quick and easy. Choose your favorite toppings and enjoy.
16. Hawaiian turkey and cheese sliders
You can make a bunch of these inexpensively. Hawaiian roll turkey sliders are our go to recipe for hungry teens! They come together quickly and are great hot or cold!
17. Hawaiian Ham and Cheese Sliders recipe
Always a hit and always easy, this sliders recipe is delicious. You can use leftover ham to make this recipe for sliders even easier.
18. BBQ chicken quesadilla recipe
Use leftover chicken to make this delicious BBQ quesadilla. It is so tasty and super easy for a quick lunch.
19. Walking taco frito chili pie
Enjoy chili pie with corn chips for a quick lunch. It does not get any simpler than this and only takes minutes to pack. Tortilla chips would also work.
20. Pita pizza recipe
The kids can enjoy pizza in minutes with the toppings of their choice. Make pita bread pizza for a quick lunch that is kid friendly and frugal.
21. Grilled Cheese Sandwich Recipe
Each bite is loaded with melted cheese that is creamy and amazing. Your kids will love it once you learn how to make the best grilled cheese.
22. Homemade chocolate pudding
Kids love pudding and this is so rich and creamy for an amazing treat. It is actually very easy to make homemade pudding and you won't ever go back to store bought!
23. Homemade flatbread pizza recipe
Everyone loves pizza and these are ready in just 15 minutes. This flatbread pizza recipe will be an instant hit and everyone can add their favorite toppings. My son loves when I give him pepperoni pizza.
24. Homemade Lunchables
Lunchables are so easy to customize for each child and really yummy. My kids love taking lunchables to school.
25. Hawaiian Roll Pizza Sliders
We love having sliders are our house for dinner. Try this fun Hawaiian Roll Pizza Sliders recipe today for a fun twist on a pizza without all the work.
26. Walking tacos
Everything you love about tacos gets combined into a yummy bag of Doritos! This is a great lunch idea and Walking Tacos are always a lot of fun.
27. Chick-fil-a Grilled Chicken Cool Wrap
Enjoy everything you love about your favorite wrap at Chick-fil-a at home. With only 4 ingredients, it is so easy to make.
28. Easy Burger Sliders
Sliders make the perfect size for lunches and everyone loves burgers. The flavor is delicious.
29. Crack Chicken Sliders
The creamy blend of chicken, cream cheese and more combine for delicious sliders.
30. Bacon Wrapped Hot Dogs
Jazz up plain hot dogs with bacon. This is easy to cook with several different methods.
31. Smash Burger
This burger has thin patties that are packed with flavor and loaded with all of your favorite toppings.
32. Chick-Fil-A Charcuterie Board
Anyone can easily make a tasty charcuterie board with all of your Chick-fil-A favorites.
33. Skillet Chicken and Rice Burritos
The delicious blend of chicken, salsa, rice and more combine for a great burrito recipe.
34. Freezer Breakfast Burritos
Breakfast Burritos are loaded with your favorite breakfast items. They are freezer friendly and super easy.
35. Beef Burrito Recipe
This recipe is so easy that it is perfect for busy weeknights. We love to freeze some for quick meals.
36. Grilled Ham and Cheese Sandwich
You can add extra protein by layering ham with the grilled cheese. It is ooey gooey and wonderful.
37. Turkey Sandwich
Everyone loves a classic turkey sandwich. It is so easy to load with your favorite toppings.
38. Pizza Grilled Cheese Sandwich
Combine pizza and grilled cheese into the best sandwich. It is delicious and a kid favorite.
The best lunch ideas for kids.
More easy recipes: