This post may contain affiliate links. If you make a purchase through links on our site, we may earn a commission.
If you need a quick meal on the go, try Walking tacos! Everything you love about tacos gets combined into a yummy bag of Doritos! This is a great meal for parties or when you need a quick meal. Clean up is a breeze and everyone loves this delicious meal.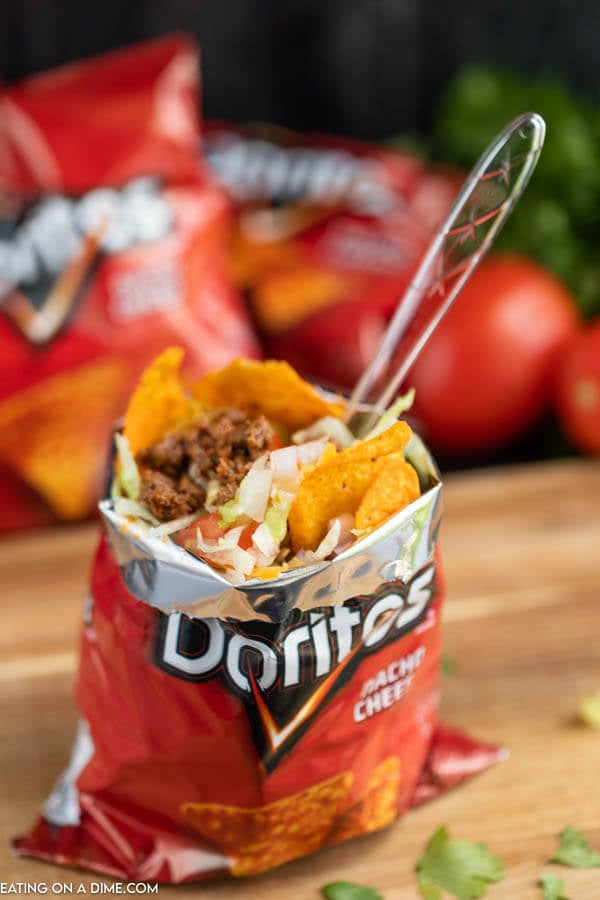 Walking tacos
We have had some family stuff and our friends have been so kind to bring dinner to help us. One of them brought us walking tacos, and we loved them. So… of course, we made them again.
Yes… it is tacos in a bag!
I just had to share with you this easy walking tacos recipe because our family simply loves them. Last time you all loved my Walking Taco Recipe with Fritos!, but today we are making it with Doritos! It is so easy too!
The kids just love the fact that they are eating tacos in a bag. The first time they had them, they kept asking, "So no plate? No bowls?" It was hilarious. We kept telling them, nope. We just are eating tacos in a bag.
Once they get used to it, they loved it! Plus, I love that I don't even have dirty plates to wash!
It is the perfect dinner for crazy busy weeknight meal… or a family party… or just because. 🙂
What is a Walking taco?
I have been asked several times what are walking tacos, and the answer is simple. You just need a single serving of chips, some kind of meat, and some toppings.
You cut open the chips and pour in your ingredients and enjoy! Yes, it is that simple. We make these on busy nights and for birthday parties.
Usually we end up with left over taco meat or left over chili and I make this walking taco recipe. If I have leftover meat, I often freeze it.
It's perfect to pull out of the freezer on busy nights for this meal. Having a few things in the freezer has really helped us. Dinner time can be so hectic but not with this easy meal!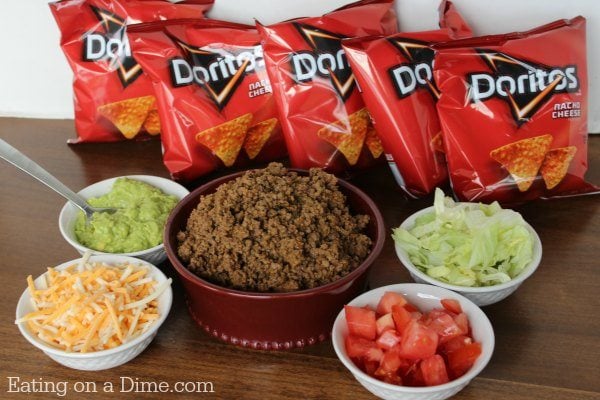 Ingredients:
How to make Walking Tacos:
Change up the classic Walking Tacos Recipe:
This Walking Tacos recipe is easy to change up, just by changing your chips.
We have eaten them with regular Doritos, but you can try the Cool Ranch Doritos, or even Fritos. One of my kids wanted to make them with some Flamin' Hot Cheetos, which I bet would be good too.
The fun thing about this Walking tacos recipe is that everyone will love it and they can make it their way just by changing the chips and by adding in what they want.
Plus Mom will love it, because the clean up will be less. 😉 At least, that might be my personal favorite part.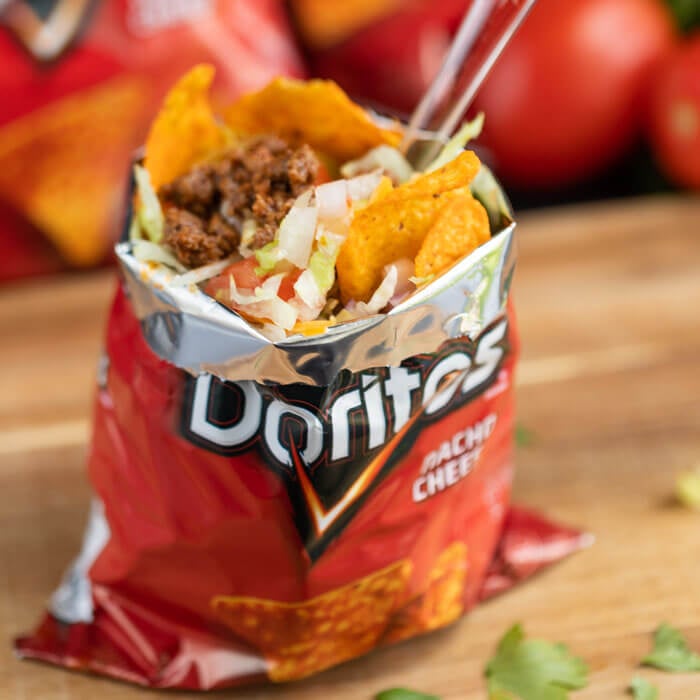 What to serve with walking tacos:
This is such a fun recipe for parties! Everyone can grab an individual bag of Doritos. I like to put out lots of different taco toppings. Everyone can grab a chip bag and add what they like. It's super easy. I usually put out sour cream, green onion, salsa, shredded cheese, shredded lettuce, guacamole and hot sauce. Just use what you have on hand and that you know everyone likes.
We love to make a Walking Taco Bar!
Sometimes I will put out different bags of doritos so people can choose. Even with these different options, it's still so simple. It's the perfect party food.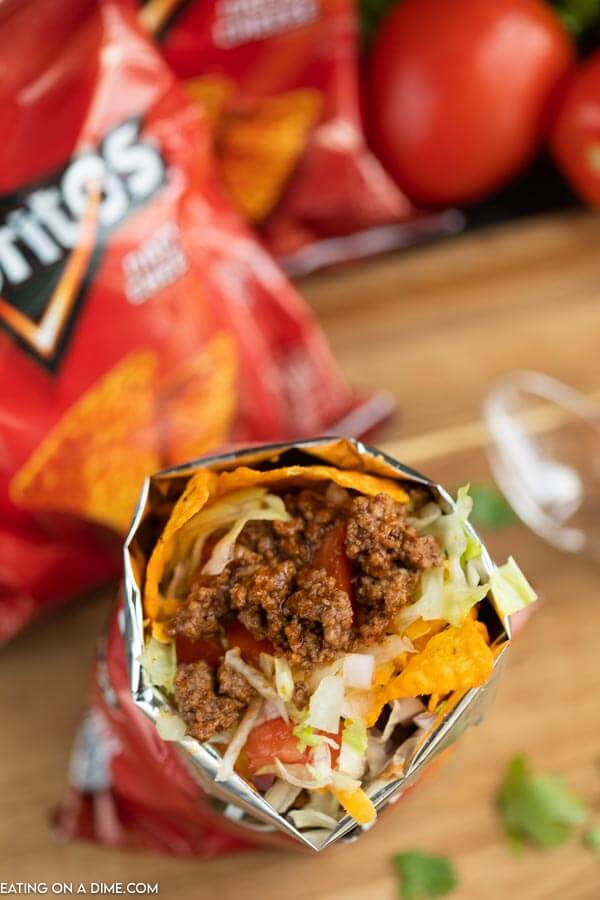 Walking Taco Bar Ideas:
I use divided serving trays. These work perfect to put all the various toppings in. Guests can stop by each platter and grab what they like. It really makes it so easy. Another great idea is to have a Nacho Bar for parties. So fun!
I love ideas that allow me to actually enjoy the party or my guests. No one wants to spend the entire party or event in the kitchen preparing and getting ready.
With simple meal ideas like this, you can enjoy the party with all of the other guests. Make memories and enjoy your time with everyone! It's sure to be a great party.
Time Saving Tip:
Make your taco meat ahead of time. Toss it in the crock pot with ¼ cup of water and your taco meat will stay fresh, warm, and delicious! Then it is ready when you are ready to eat. This is a great tip for those of you throwing a party or family gathering too.
If you don't have a crock pot yet, here are some nice ones on sale. I love the programmable crock pot for when you are not at home. It's great so that you can have it cook for the perfect amount of time. I love coming home to dinner waiting!
Print your Walking taco recipe below: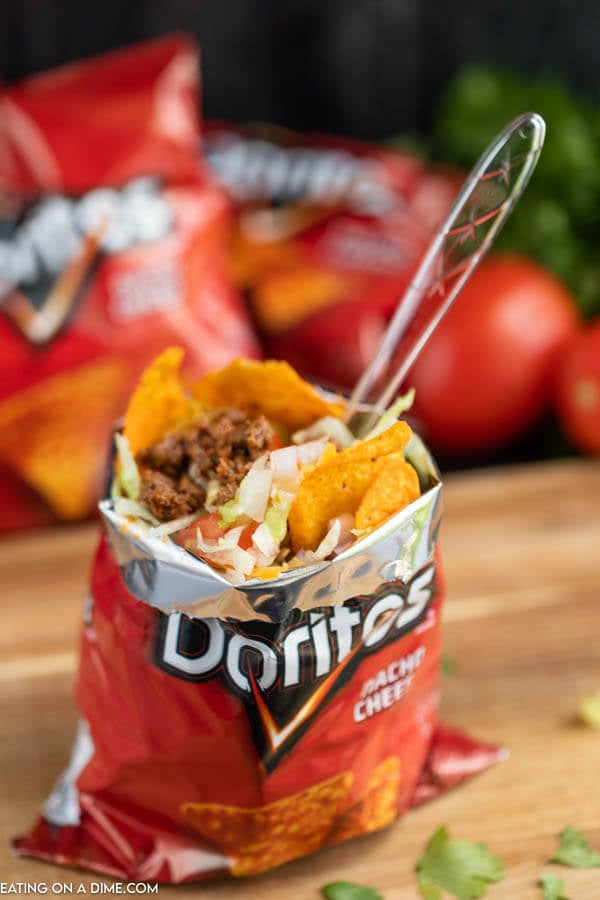 Walking Tacos are simple and tasty!
It's perfect for tailgating or you can do walking tacos camping food and more! Birthdays, holidays and just any get together! You will love how easy these are. They take little to no work and everyone loves them.
Plus, clean up is so easy. It is truly a taco in a bag! Whatever type of chips you prefer, it's sure to be a big hit! It's also budget friendly! We even like it with Cool Ranch Doritos. You could put out lots of different bags!
It's a great idea for football games and so much more. You will be amazed at how tasty a little bag of fritos is with lots of delicious toppings. Everyone is always thrilled when they find out it's walking taco night!
It's nice to have a meal that is easy, budget friendly and everyone enjoys. That is a mom win for sure.
Quick & Easy Walking Tacos Recipe
What is a walking taco? You are going to love this walking tacos recipe. It is easy to make and the entire family loves Walking tacos. Learn how to make a walking taco. We love making a walking taco bar for parties!
Ingredients
single serve bag of Doritos

or Fritos – one person

2

lbs

of taco meat ready

we use our homemade taco seasoning mix

Favorite taco toppings

chopped lettuce, tomatoes, homemade guacamole, shredded cheese, or sour cream
Instructions
Prepare your taco meat. We like to use our Homemade taco seasoning mix recipe and I even like to add in ¼ cup of salsa to our taco meat.

Prepare the taco toppings.

You will need at least one bag of single serve Doritos for every person. We buy ours in bulk at Sam's or online on Amazon.

Each person will crush their bag of chips to crunch up the Doritos.

Cut open the bag of Doritos down the side.

Spoon the Taco meat inside and then top with your favorite taco toppings.

Stir with a spoon and eat straight from a bag!
Nutrition Facts
Calories
317
kcal
,
Carbohydrates
4
g
,
Protein
28
g
,
Fat
20
g
,
Saturated Fat
9
g
,
Cholesterol
96
mg
,
Sodium
245
mg
,
Potassium
399
mg
,
Vitamin A
215
IU
,
Calcium
176
mg
,
Iron
2.8
mg
Try some of these other taco recipes: