This post may contain affiliate links. If you make a purchase through links on our site, we may earn a commission.
Guacamole has never been easier than this Easy Guacamole Recipe with Salsa. Your family will be making this easy guacamole recipe every chance you get. Enjoy it with tortilla chips or straight out of the bowl.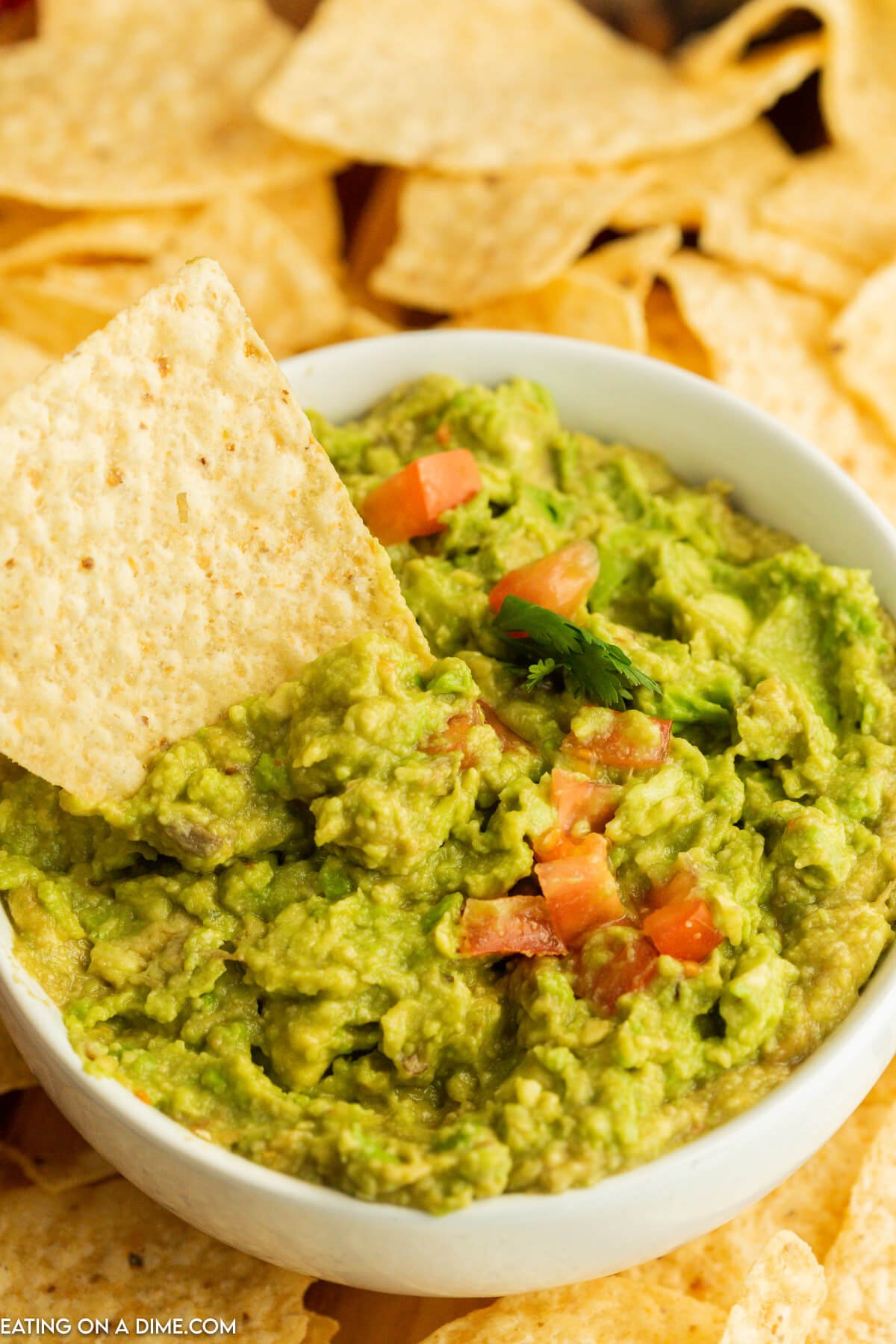 The key to amazing guacamole is keeping it simple. It really is all about combining 4 basic ingredients and creating a flavorful dip. There is nothing complicated or fancy about it.
My husband loves this very simple guacamole recipe, and quite frankly, I have grown to love it, too. Growing up I was a picky eater, so I never would have thought that I would think green dip could be so good.
Guacamole is now my go-to Appetizer Recipe when we have family gatherings. Other family favorites are our Best Mexican White Cheese Dip Recipe or Rotel Dip Recipe.
How to Choose the Best Avocado:
Fresh ingredients make all of the difference in homemade guacamole. Make sure your avocados are ripe. You want them soft enough that you are able to easily mash the avocado, yet firm enough that they aren't mushy.
When picking out your avocados, try to get ones that have the stem still attached. Cup it in your hand and gently press on one end. There should be a slight give to it.
Ingredients: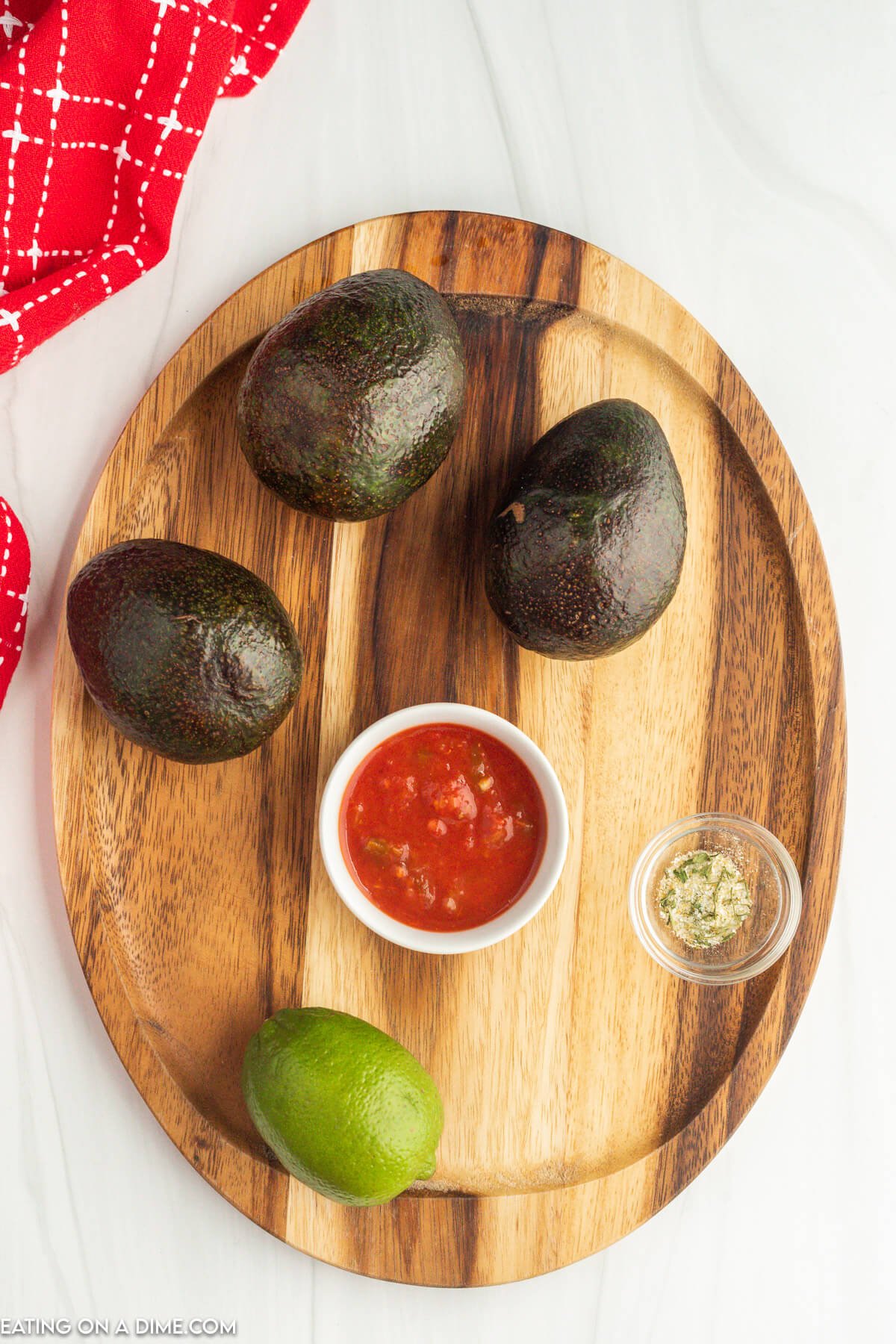 Scroll to the bottom for the full recipe and ingredients in the recipe card.
Variations Ideas:
Vegetables – For an added pop of color and crunch feel free to add in red onion and tomatoes. This adds the perfect amount of flavor with the salsa that is added.
Pico-De-Gallo – Another easy variations is you can add in Pico De Gallo.
Jalapeño – We love adding in chopped jalapeno for added flavor to this salsa guacamole recipe.
How to Make Guacamole with Salsa: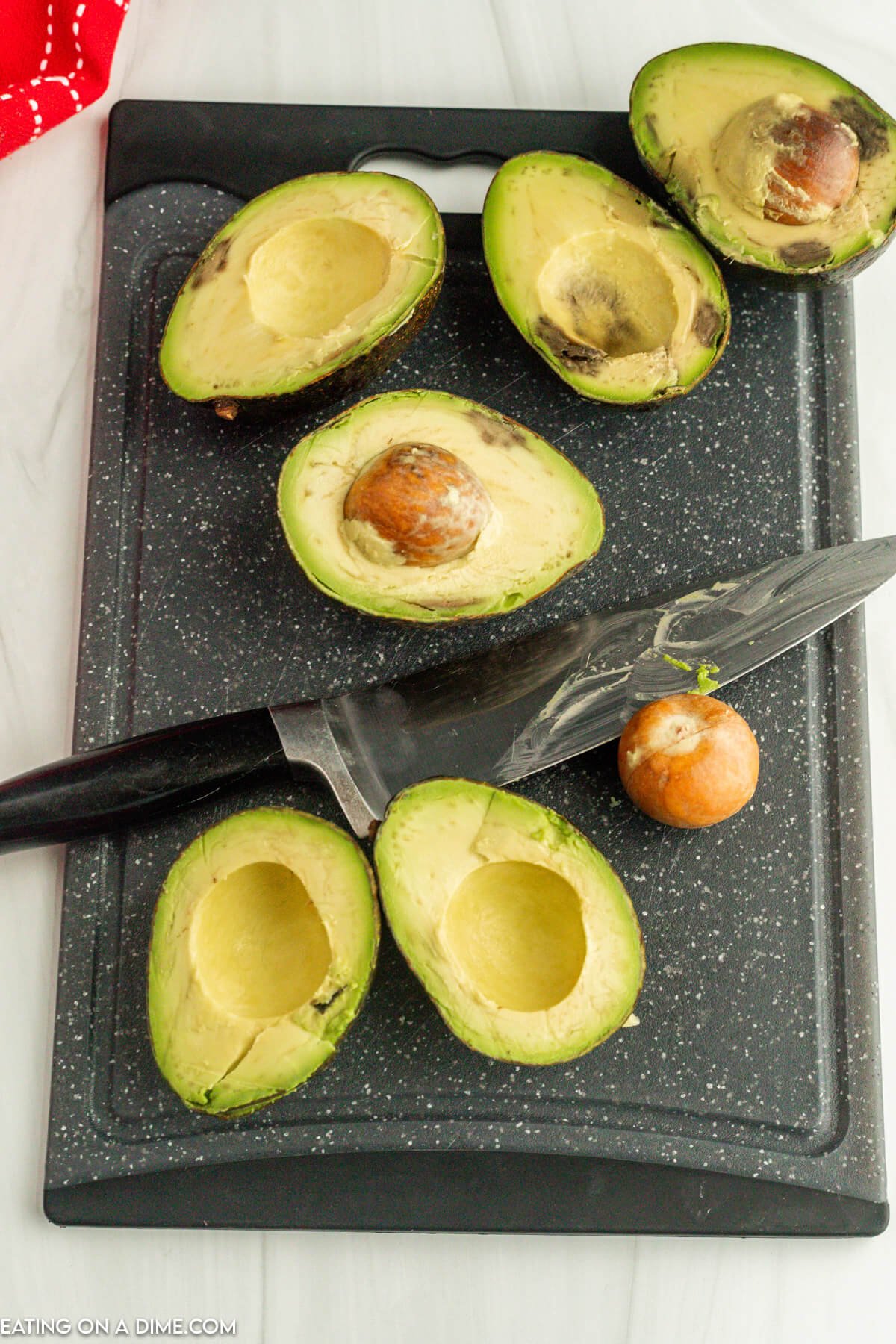 Step 1 – Cut the avocados in half, remove the pit.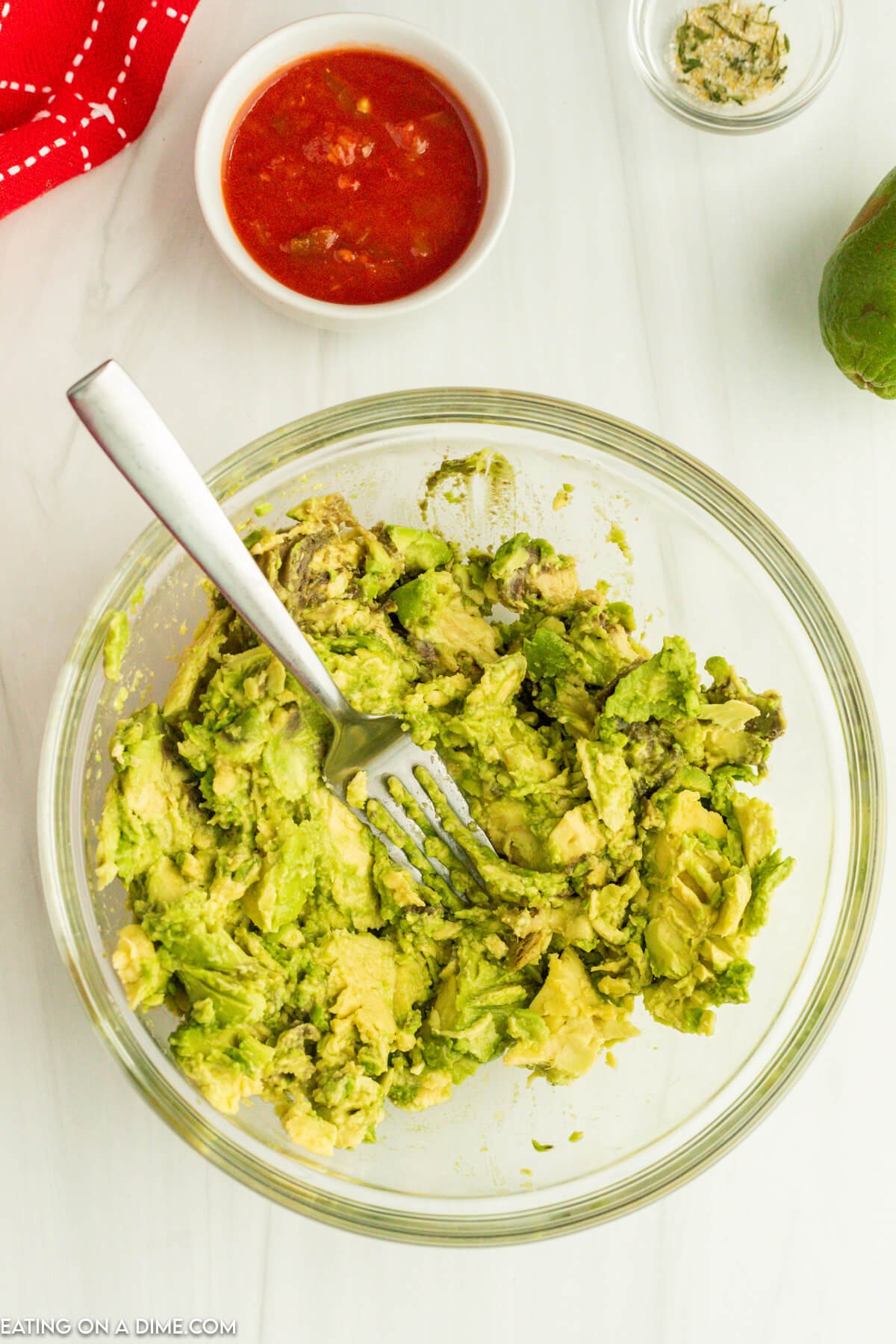 Step 2 – Place avocados in a mixing bowl. With a fork or potato masher begin to gently mash them up.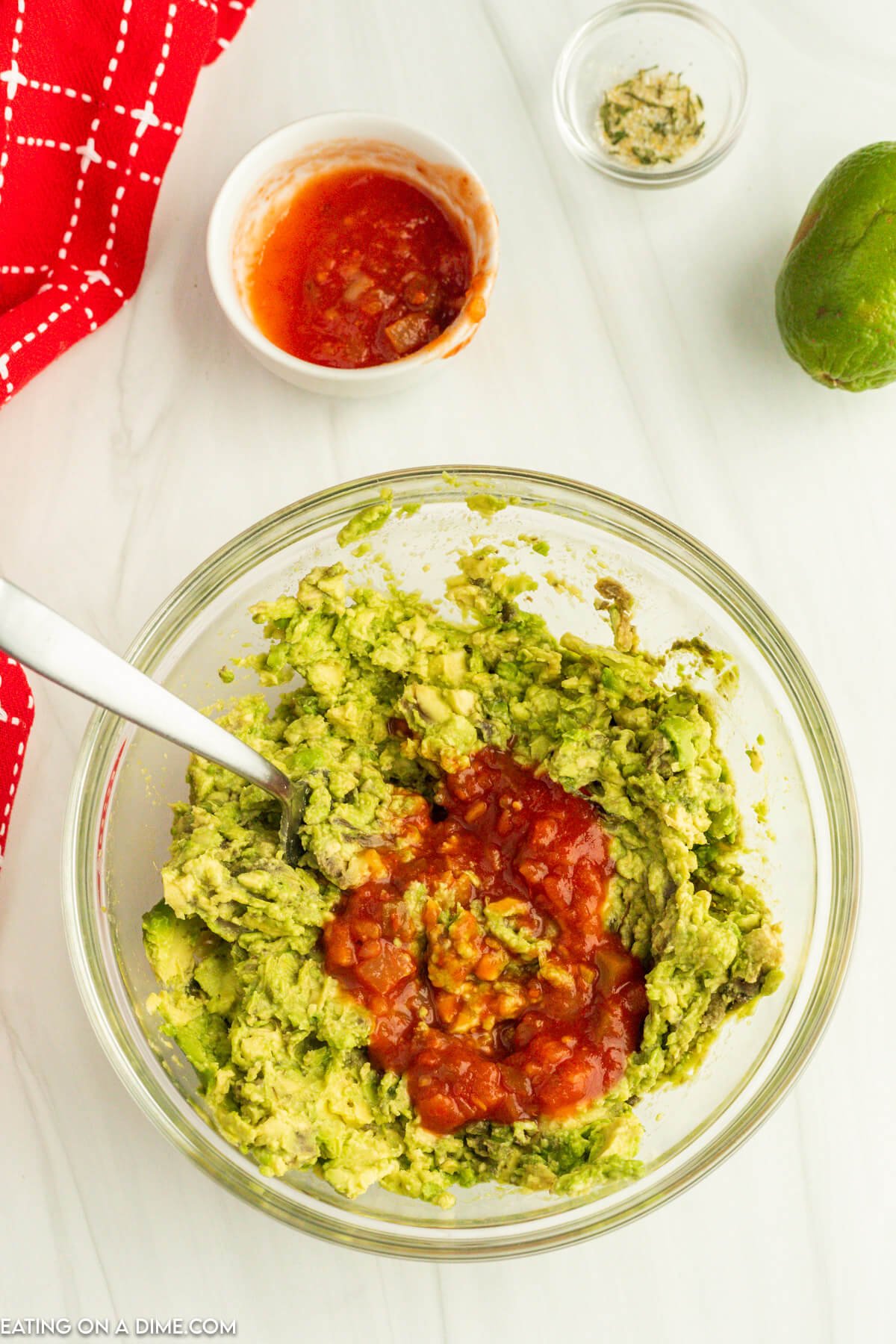 Step 3 – Add salsa by the heaping spoonfuls. Stir and slowly add more to your liking. I would say you need about a ¼ cup.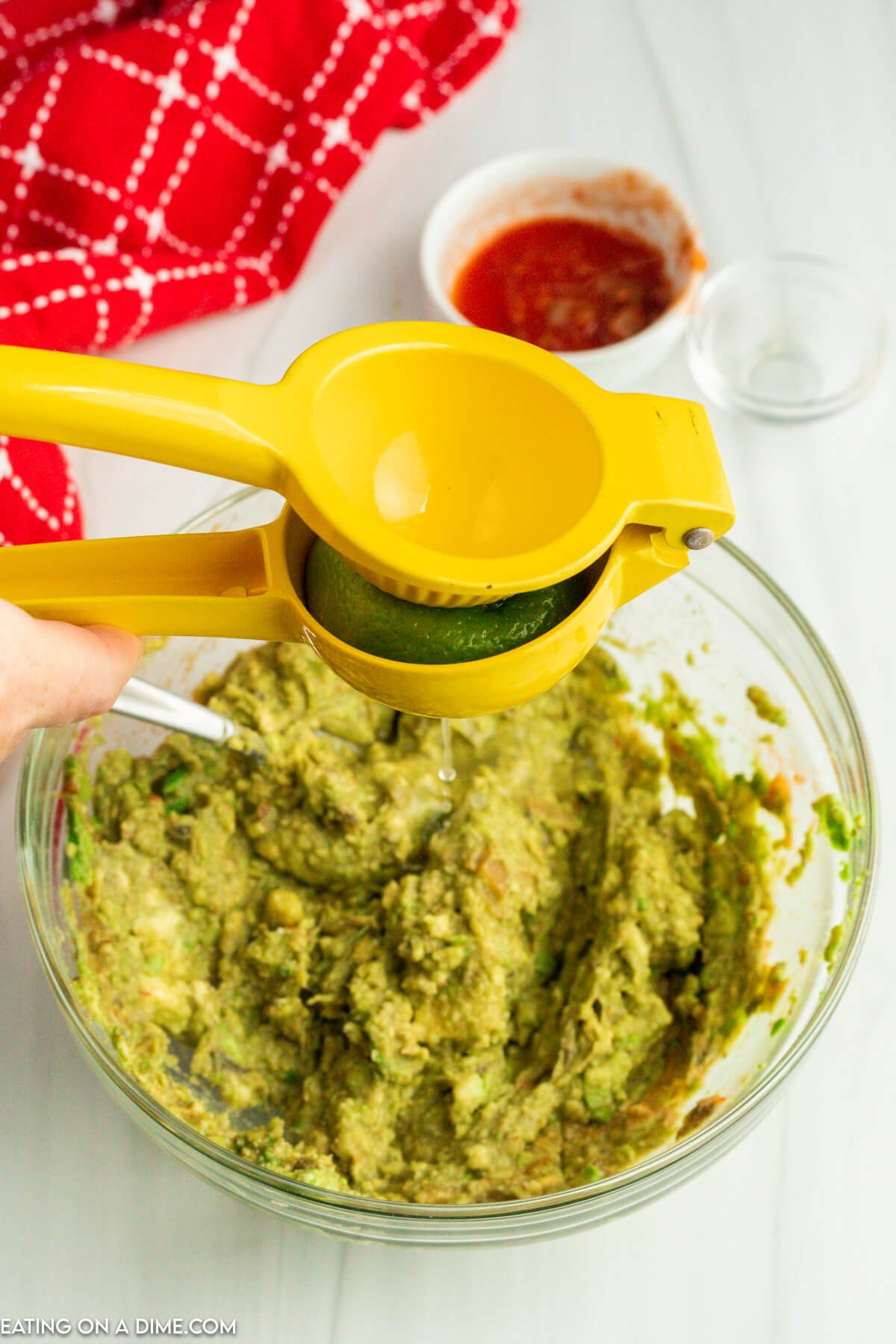 Step 4 – Once it is to the desired consistency, squeeze the lime all over the avocados (this helps prevent them from browning so quickly). You could also use lemon juice. Make sure to add garlic salt to you desired taste.
Recipe Tips: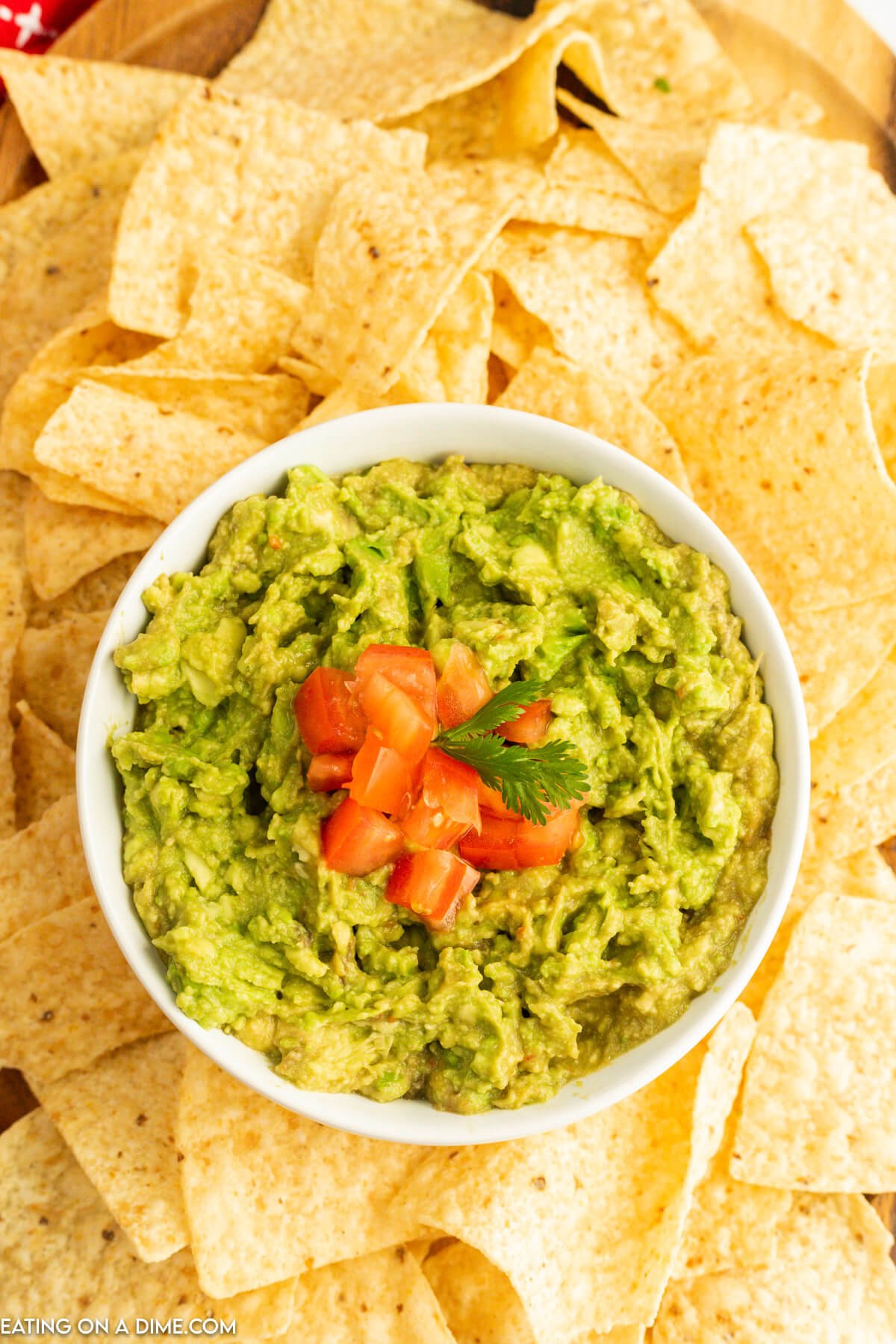 What to Serve with Guacamole:
After Making the Guacamole Salsa Recipe, garnish with finely chopped tomatoes, cilantro, and red onions. We even like to top with salt and pepper.
This guacamole is delicious with our favorite Mexican dishes which includes Easy Mexican Casserole, Slow Cooker Mexican Chicken Corn Chowder, and the Best Mexican Chicken.
We also always serve it with our Ground Beef Tacos and Enchiladas with a side of tortilla chips and queso.
How to Store Leftover Guacamole:
Avocados are known for turning brown quickly after being exposed to the air. So how do you keep your guacamole looking green and fresh?
The addition of lime juice in this simple guacamole will help quite a bit. Additionally, when you go to store any leftovers you might have, cover with plastic wrap directly on top of the leftover guacamole. This helps to prevent any air to get to it. Then store in the fridge.
Another tip I found but have not tested is to pat down the guacamole in the bowl and add a little cold water to the top and place the lid on. When you're ready to eat the rest of the guacamole, simply drain off the water and stir!
Also see Can You Freeze Guacamole for freezing tips.
More Avocado recipes:
More Easy Dip Recipes
We love hearing from you. If you make this Guacamole Recipe with Salsa, please leave us a comment or a star review.
Easy Guacamole Recipe with Salsa
Don't be afraid of making homemade Guacamole! This easy guacamole recipe with salsa is perfect every time.
Ingredients
3

Ripe Avocados

1/2

Lime

(juiced)

1

tsp

garlic salt

1/4

Cup

salsa
Instructions
Cut the avocados in half and remove the pit.

Remove the avocados into a mixing bowl.

Mash the avocados with a fork making it as chunky or as small as you prefer.

Stir in the lime juice, garlic salt and salsa.

Taste test the guacamole and add more garlic salt based on your preference.

Serve with chips and enjoy!
Recipe Notes
To store any leftovers, cover the top of the bowl tightly with plastic wrap and refrigerate for 1-2 days. The top of the guacamole might turn slightly brown. Remove the top brown layer, stir and then it's ready to enjoy.
Nutrition Facts
Calories
163
kcal
,
Carbohydrates
9
g
,
Protein
2
g
,
Fat
14
g
,
Saturated Fat
2
g
,
Sodium
7
mg
,
Potassium
487
mg
,
Fiber
6
g
,
Vitamin A
145
IU
,
Vitamin C
12.5
mg
,
Calcium
15
mg
,
Iron
0.6
mg