This post may contain affiliate links. If you make a purchase through links on our site, we may earn a commission.
Try making this easy Pico de Gallo Recipe for the perfect addition to your tacos, grilled chicken and more. Grab some chips and learn how to make pico de gallo that is authentic and delicious.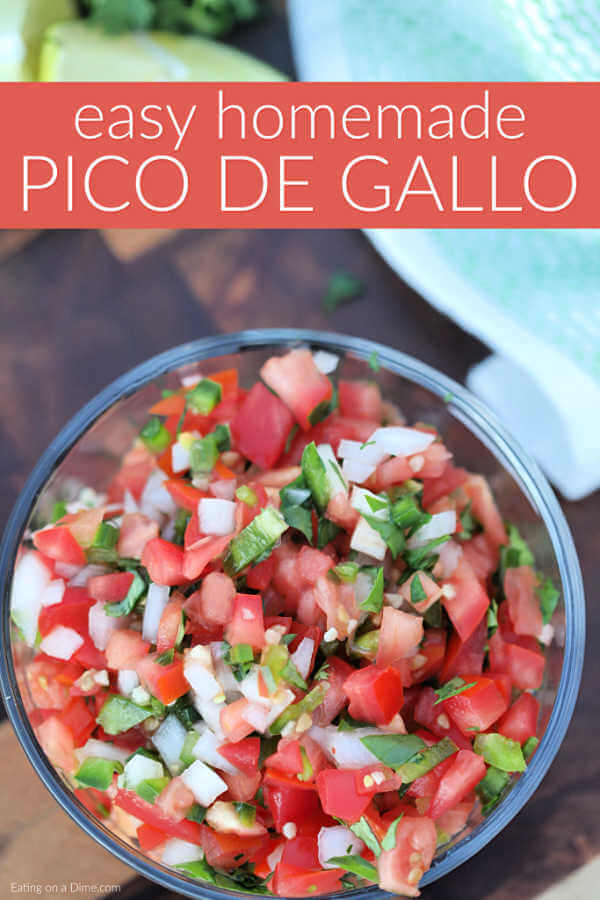 Easy Pico de Gallo Recipe
We love ordering Pico de Gallo when we go out to eat. Learn how to make pico de gallo for a fraction of the cost and just as tasty.
This delicious recipe is so incredibly simple and the flavor is authentic and amazing. It makes the best dip for tortilla chips and we love to serve this at parties.
It is amazing served with The Best Crockpot Chicken Tacos Recipe and Crock Pot Taco Salad Recipe. Jazz up plain chicken and turn it into something amazing with this easy recipe for pico de gallo.
This great recipe is so easy to make with simple ingredients.
What is Pico de Gallo?
We love pico de gallo and it is has the best flavor and texture. It is known as a salsa fresco because the ingredients are all super fresh and chunky.
Pico de gallo is uncooked and loaded with chopped fresh tomatoes, onion, garlic, jalapeno and more.
We love Mexican food and fresh salsa is even better. My family loves when I serve this pico de gallo.
These easy pico de gallo recipe is full of tomatoes, onion, cilantro, and more for an amazing recipe. This easy pico de gallo uses fresh tomatoes, lime juice, red onion jalapeño for the best salsa recipe.
It is so quick and easy!
What is the difference between salsa and pico de gallo?
Pico de Gallo has the same base ingredients as red salsa. But they are prepared different. Salsa has a thinner and more liquid consistency. Also, salsa is more blended together.
Pico de gallo salsa uses raw ingredients, chopped ingredients. The ingredients are super fresh and not at all blended together. It has a chunky texture and great for all of taco recipes.
You can really see each ingredient in Pico de gallo whereas in salsa it all gets blended together. They are great served together or eaten separately.

The Secret for the Best Pico de Gallo:
The secret to the best Pico de Gallo is letting it rest. Resting in the fridge for a day is best, but a few hours works. It allows the ingredients to really blend together since you are using fresh ingredients.
Pico de Gallo adds fresh ingredients to many different recipes. The blended ingredients are great on your Mexican recipes and even on top of grilled chicken.
What is in Pico de Gallo?
It is very simple and you only need a few easy ingredients. Everything comes together for such an amazing blend of flavor.
Roma Tomatoes – When purchasing tomatoes, make sure they are ripe. We have used homegrown tomatoes and they worked out great. Especially since it is the main ingredient for this recipe.
White Onion – We usually use white onion. It adds the perfect sweetness but you can use any type onion.
Cilantro – Cilantro really makes this recipe. It add so much color and flavor to this recipe that it really can't be substituted or skipped.
Jalapeno Peppers – We used jalapeno peppers and kept a few seeds in them as my family likes it to have a little kick to it.
Limes – We recommend only using fresh lime juice.
Garlic Salt – Adds so much flavor to this recipe.
How to make Authentic Pico de Gallo Recipe:
Chop onion and tomatoes- Make sure to finely chop your onion and tomatoes. We like to make sure that we remove the seeds from the tomatoes.
Dice Jalapeno Peppers – Mince the jalapeno in small pieces so you don't have big chunks. If you want your salsa to have a little bit of kick, keep the seeds with the jalapeno. For a milder mixture, remove the seeds.
Chop the Cilantro – We love cilantro adding in a lot of cilantro to our mixture. Chop and add to the mixture.
Add the Garlic Salt and Lime – Squeeze in the fresh lime and add in the garlic salt.
Mix Together – Combine everything in a medium bowl. I told you it was incredibly simple to make.
Refrigerate – Refrigerate for an hour to allow flavors to combine. We like to refrigerate overnight for the best results.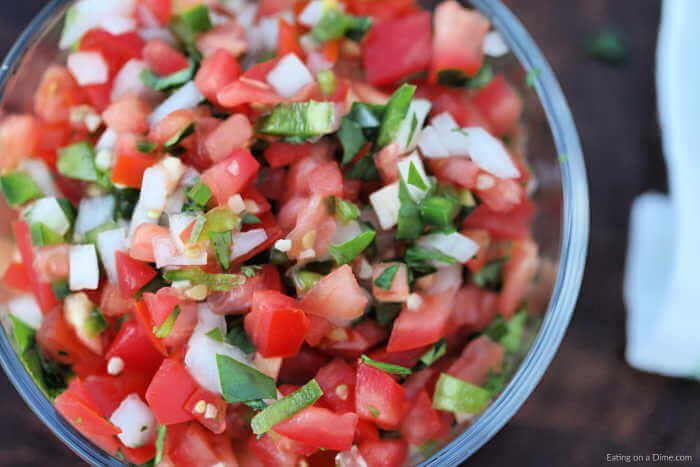 Tips for the Best Pico de Gallo recipe:
Use a Juicer – I used this juicer to juice the limes over the pico. It was a big help.
Food Chopper – I also love using a small food chopper or food processor. This allows us to quickly and easily chop the onions and chopping the tomatoes. It is such a time saving gadget to have around.
Evenly Chop Ingredients – Since I use a food chopper, it ensure that the ingredients are chopped closely the same size. This way you don't have a big chunks of onion but small pieces of other ingredients.
Let Pico Rest – Let the pico de gallo rest after you have blended the ingredients. This allows for all the flavors to marinate together.
Serve with a Slotted Spoon – Because you are using fresh tomatoes, they produce a lot of moisture. Therefore, we recommend using a slotted spoon to serve.
Don't Skimp on the ingredients – It is known for chunks of ingredients. So when you chop your onion and cilantro make sure you add plenty.
Use Fresh Lime – Make sure when to use fresh limes. Bottle lime juice does not work with this recipe.
How to serve Easy Pico de Gallo:
Pico is so good on multiple things. We love to serve it with chips. Serve it with tacos, burrito bowls, nachos, soups, and even over grilled chicken or steak.
We love it over these recipes as well:
Pico de Gallo Variations:
Slice an Avocado – Simply add in one diced avocado to the recipe and that is it! Simple! We love avocado so we often add it to this recipe and it is amazing!
Add in Corn – Try adding corn to this recipe for another twist on the classic pico de gallo recipe. It is so delicious with the lime and other wonderful ingredients.
Extra Spicy – Try adding extra jalapeno peppers to the recipe if you like more heat.
Dice up fresh fruit or vegetables – Our favorites to add in are bell pepper, cucumber, mango and peaches.
What are the best tomatoes for Pico de Gallo?
Roma tomatoes are the best type of tomatoes to use when making pico de gallo. You can use other tomatoes like grape tomatoes, cherry tomatoes or larger tomatoes, but roma tomatoes are the best choice.
How do you keep it from being watery?
If you have problems with your pico being watery, try adding salt and draining the tomatoes. We have drained the tomatoes before adding it to the mix and it cuts down on the liquid.
Why is it called Beak of the Rooster?
There are two reasons why it is called roosters beak is because of the following?
It is because of the coloring as it resembles the rooster beak.
People used it pick it up with a finger and a thumb which resembles a roosters beak.
This is the best Pico de Gallo recipe!
Your family will love having homemade pico de gallo and you will love how easy it is. Take your tacos and other Mexican recipes to the next level with this homemade pico de gallo.
Once you make this and see how easy it is, you will make it all the time. It is perfect for Mexican Monday, Taco Tuesday or any time of the week.
Sometimes we make some of this just for movie night to snack on. It is that good and the kids request it again and again.
How long will Homemade Pico de Gallo Recipe last?
Pico de Gallo will stay fresh up to one week if store in the refrigerator. Place in a bowl and cover or store in an air tight container.
How to Store:
Store you fresh pico de gallo in an airtight container in the refrigerator. After a few days, I like to squeeze in a fresh lime to freshen up the flavors.
It is great leftover for a light lunch when I make grilled chicken or have a burrito bowl.
Pico de Gallo is a crowd pleaser!
We make this recipe all the time. Anytime I make Mexican food or grilling chicken, this is always a fresh side to include. When I have friends for a swim day, this is a light and refreshing snack to share.
The ingredients are simple and easy to make. Everyone loves it and I look forward to making it. It is better to make ahead of time. Which saves me time when my guest arrive.
Print the best pico de gallo recipe below:
Pico De Gallo Recipe
Try making this easy Pico de Gallo Recipe for the perfect addition to tacos, grilled chicken and more. Learn how to make pico de gallo that is authentic.
Ingredients
6

roma tomatoes

diced

1/2

white onion

diced

2/3

cup

cilatnro

diced

2

jalapeno peppers

cored, deseeded and finely diced

2

limes

juiced

1/2

teaspoon

garlic salt
Instructions
Combine everything in a medium bowl.

Refrigerate for an hour to allow flavors to combine.
Recipe Notes
I used this juicer to juice the limes over the pico – https://amzn.to/2Hm1PV8
Serve over grilled chicken, on tacos, with chips, or any of your favorite Mexican dishes.
Nutrition Facts
Calories
23
kcal
,
Carbohydrates
5
g
,
Sodium
198
mg
,
Potassium
203
mg
,
Fiber
1
g
,
Sugar
2
g
,
Vitamin A
700
IU
,
Vitamin C
21.7
mg
,
Calcium
16
mg
,
Iron
0.3
mg
Try these other delicious dips: