This post may contain affiliate links. If you make a purchase through links on our site, we may earn a commission.
I have a fresh and delicious recipe for you today – Homemade Salsa Verde. Now, I have not usually been a fan of verde salsa, but when I tasted this I was hooked! This salsa has the perfect blend of sweet and spicy and is easy to make too.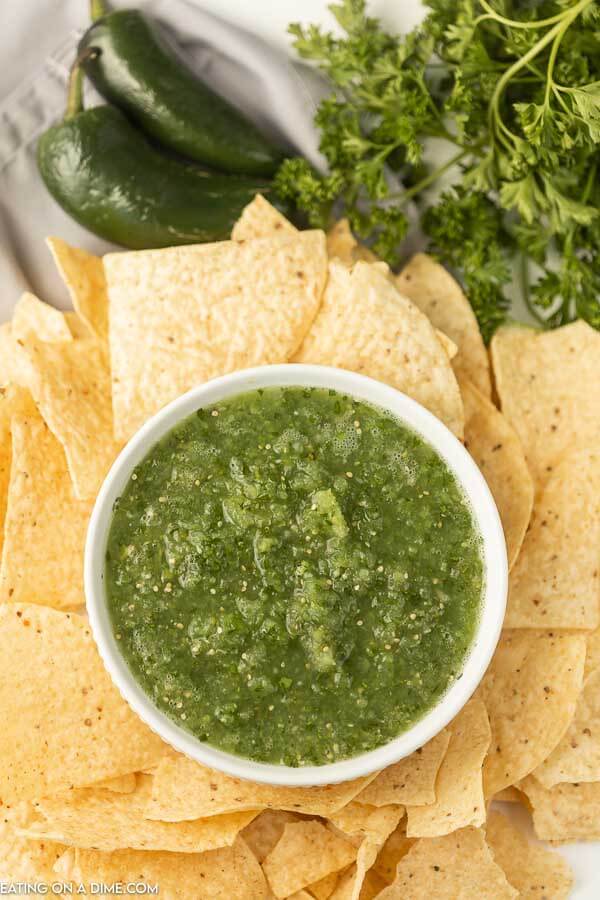 Homemade Salsa Verde Recipe:
I love to make this salsa and serve it along side my Mexican White Dip (queso blanco). This tastes great with any Mexican dish, too. Some of my kids like to put this on their tacos and others like to add it to their burritos. I love to eat this Mexican salsa straight out of the dish with tortilla chips.
My husband even eats it on his eggs. Weird, right?
Give this salsa recipe a go. I am confident you will love it too as much as my family and I do!
What is the difference between red salsa and salsa verde?
The main difference between the 2 type of salsa is that red salsa is made with red tomatoes and salsa verde is made with tomatillos that are green.
Since this salsa is made with tomatillos instead of tomatoes, the salsa has more of a zesty, tangy flavor as opposed to a traditional red salsa.
A tomatillo looks like a small un-ripe tomato with a papery husk wrapped around it. To use, you want to remove the husk completely and then cut it the same that you would cut a tomato.
Supplies needed for this recipe:
To make this salsa verde de tomatillo very quickly and easily I used my food processor. You can use a blender, but I really prefer the food processor.
Also, I do try to put it in a cute salsa dish – that makes me feel a little better about eating it all myself. However, this is definitely not a required supplied but is great for serving this tomatillo salsa verde recipe.
Ingredients:
This is all you need to make this fresh salsa recipe!
Jalapeños
Garlic
Fresh Cilantro
Lime
Salt
Onion
How to make Tomatillo Salsa Verde:
First husk and rinse tomatillos. Then remove stem and seeds from the jalapeño peppers.
Next place the tomatillos (I diced them into large chunks), jalapeños and minced garlic in a blender or food processor and process until pureed.
Then add in the onions, cilantro, fresh lime juice and salt to the food processor. Blend well until all the ingredients are well combined and then enjoy!
This salsa verde de tomatillo is so easy to throw together and it is just so tasty. Give it a try the next time you make your favorite Mexican dish. I can't wait to hear what you think about this easy green salsa recipe.
How do you make salsa verde from scratch?
Making any salsa from scratch is actually really easy. All you need to do is throw the ingredients in a food processor and blender and then blending until all the ingredients are combined.
Making salsa from scratch is easy to do in usually under 15 minutes and tastes so much better than store bought salsa!
Also, you can make roasted tomatillo salsa!
You can also make roasted tomatillo salsa by roasting the tomatillos before adding them to the food processor.
To roast the tomatillos, husk them and place them on a baking sheet. Toss the tomatillos with a small amount of olive oil and bake at 425 degrees F for 15-20 minutes flipping them halfway through the cooking time.
The tomatillos will be soft and then let the roasted tomatillos cool completely before adding them to the food processor. The rest of the process is exactly the same!
What to make with homemade salsa verde?
I love cooking with salsa verde. It adds a tons of flavor to various different recipes. Here are a few of my favorite recipes that you can make with salsa verde.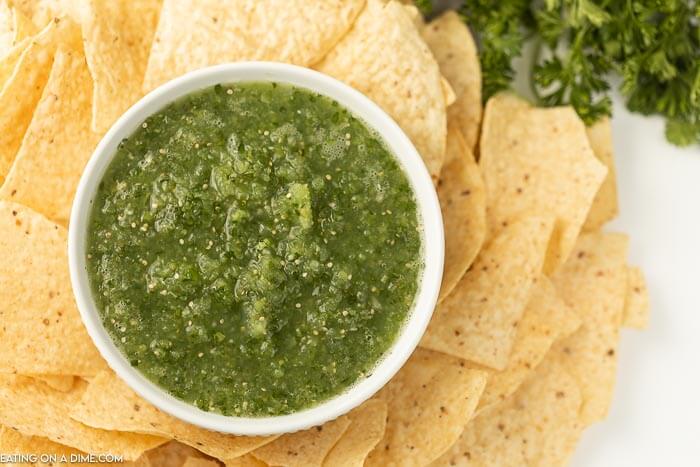 How to store homemade salsa:
After this has been made I store it in the refrigerate in an air tight container. I love using mason jars to store this recipe so I can easily make a double batch and cook with it and snack on it all week.
How long is homemade salsa verde good for?
As long as the sauce is stored in the refrigerator, it will last up to 1 week.
You can freeze leftover salsa as well. To freezer, place the homemade salsa in a freezer safe storage bag. Get as much air as possible out of the freezer bag, seal tightly and freeze for up to 6 months.
To defrost, place the freezer bag in the refrigerator until the mixture is completely defrosted. Stir to re-incorporate the salsa and then you are ready to serve!
Great Substitution Ideas:
Jalapeño Peppers – You can easily use your favorite type of chile peppers instead. I love using serrano peppers for a little more heat in this recipe!
Minced Garlic – I usually use store bought minced garlic as I always have that on hand. However, you can mince your own garlic cloves. 1-2 garlic cloves depending on their size is usually equal to 1 tsp of minced garlic.
Print this Salsa Verde Recipe Here:
Salsa Verde de Tomatillo
Try this easy salsa verde de tomatillo recipe. This simple salsa verde recipe is amazing. We eat it with chips or serve it with our tacos.
Ingredients
1.5

lbs

Tomatillos

1-2

Jalapeño Peppers

1

tsp

minced Garlic

1/4

cup

Cilantro

(chopped)

1/4

cup

Onion

(diced)

1

Lime

juiced

1/2

tsp

Salt
Instructions
Husk and rinse the tomatillos.

Remove stem and seeds from the jalapeño peppers.

Place the tomatillos, jalapeños and minced garlic in the food processor and process until pureed to the consistency that you prefer.

Add in the onions, cilantro, lime juice and salt to the food processor. Blend well. Enjoy!
Recipe Notes
Use 1-2 jalapeño peppers depending on their size and how spicy you like your salsa.  Add more jalapeño peppers to make the salsa spicer!
Nutrition Facts
Calories
44
kcal
,
Carbohydrates
9
g
,
Protein
1
g
,
Fat
1
g
,
Saturated Fat
1
g
,
Sodium
196
mg
,
Potassium
336
mg
,
Fiber
3
g
,
Sugar
5
g
,
Vitamin A
205
IU
,
Vitamin C
20
mg
,
Calcium
15
mg
,
Iron
1
mg
More Dip Recipes to Try: