With just a few simple ingredients you can make this easy Crock Pot Salsa Verde Chicken Recipe. This delicious chicken is frugal and budget friendly while sure to impress your family.
Crock Pot Salsa Verde Chicken Recipe
If you enjoyed our Salsa Verde Baked Chicken, you are going to love this Salsa Verde Chicken Crockpot version. The crockpot does all the work and your family can come home to an amazing dinner ready to enjoy.
You only need a few simple ingredients and this Crock Pot Salsa Verde comes together easily for the most amazing meal. Your family will love this!
This meal is healthy and delicious while being so easy. It is sure to be a hit.
No complicated ingredients or time consuming recipes here. We are all for keeping it simple. Enjoy over rice, on tortillas or enjoy all on its own for an amazing meal.

What all do you need to make Salsa Verde Chicken Crock Pot?
It is so easy and you only need a handful of ingredients!
How do you make Slow Cooker Salsa Verde Chicken Recipe?
This is one of the easiest recipes! You simply toss everything in the crock pot and that is all!
I told you it was SO very easy!
Feel free to try chicken breasts instead of chicken thighs.
Add all that delicious seasoning. Yum!
The jalapenos give just enough heat to make this recipe amazing but not so hot that the kids can't enjoy. It is perfect for everyone.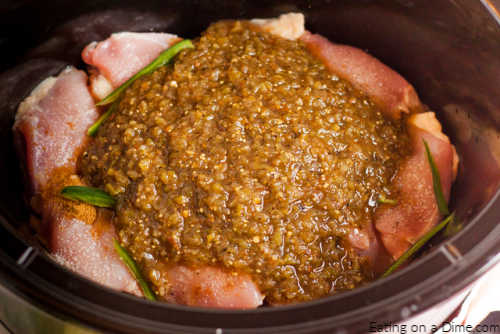 The slow cooker does all the work and dinner will be ready when you come home.
Keep reading for the full recipe.
How to serve Crock Pot Salsa Verde Chicken?
We love to serve this delicious chicken over white rice. Make it even quicker and learn how to freeze rice and you can make this meal even simpler.
I love to grab the rice from the freezer in the morning and when we come home it is all ready to reheat and serve with this this chicken.
We do this for lots of meals and it helps put together a quick meal. If you are not freezing rice, you should be.
If you are eating low carb, just skip the rice and you have a really simple but delicious meal you can enjoy as well. It is so nice having recipes that are easy to make work for the entire family.
You can also top with any optional toppings that your family loves. We have topped it with cilantro and crushed tortilla chips or even a teaspoon of sour cream.
The kids really love the crushed tortilla chips on top. So good!
However you decide to enjoy this easy Salsa Verde Chicken, it is a meal sure to be a hit with the entire family. We don't have time to make a bunch of different meals to suit everyone and this can easily work with low carb or not.
It is great for everyone and one of my favorite recipes to fix for the family. The kids gobble it up and ask for me to make it all the time.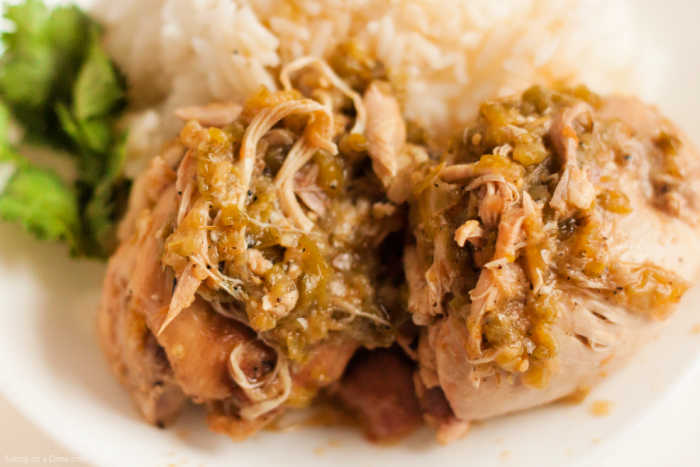 Try Crockpot Salsa Verde Chicken Enchiladas for another tasty meal idea.
This chicken makes delicious enchiladas. Shred the chicken and load up the enchiladas for an amazing meal.
We all really enjoy it this way so it is worth trying for sure! Top with all your favorite toppings and your kids will love it.
You can serve this for guests or parties and it is so simple but delicious. We love to put out a topping bar and everyone can get what they like the best.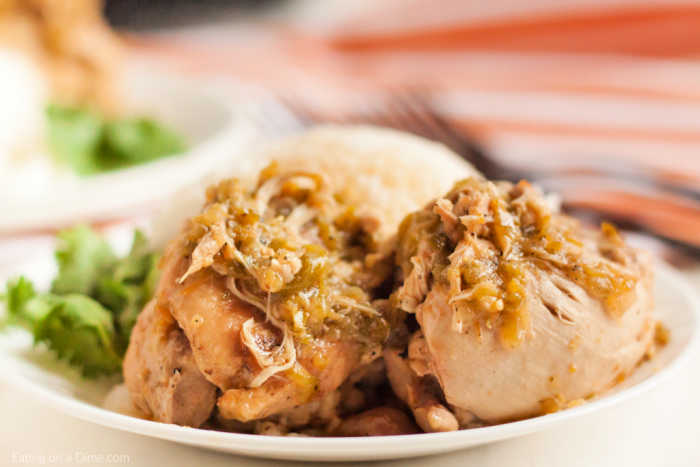 We also love Salsa Verde Chicken Casserole for an easy and delicious dinner.
Combine the tender chicken and rice and top with more salsa verde for an amazing casserole idea. This is a great way to use leftover chicken and turn it into another fabulous meal.
You can also use strips of corn tortillas or flour tortillas to make a casserole style dish with this chicken.
Crock Pot Salsa Verde Chicken Recipe is easy to make with what you have!
Feel free to also try boneless skinless chicken breasts instead of chicken thighs. We have even used a mix of the two and it was delicious.
Use what you have and make this amazing and tasty meal. It is so delicious!
We love this recipe and it has always turned out great. Once you shred the chicken, make a chicken taco or other chicken recipes.
Add black beans or other things your family likes. You can also use the instant pot if you need dinner quickly.
Make sure you have a good slow cooker to make Salsa Verde Chicken and Rice.
One of my favorite slow cookers is this programmable crock pot for when I am am not at home all day. I love coming home to a nice meal ready and waiting!
If you are in the market for something new, I also love my Ninja cooker. We use this one frequently because you can brown the meat in the same slow cooker for recipes that call for that.
It cuts down on pans to clean and just makes thinks really simple. It has become of my favorite kitchen appliances.
I also really like this crockpot as well. I use this all the time and it's great for lots of recipes.
My favorite feature is that you can lock the lid down. This is awesome for when you need to take the crockpot somewhere.
I often use the slow cooker to take dishes to potluck events and this feature is amazing! There are several others on sale here.
I also like to use crock pot liners to make clean up a breeze. These are worth every penny and save a ton of time.
Trust me! Buy the crock pot liners if you don't already have any because they will save you so much time.
Print this Slow Cooker Chicken Verde recipe below:
Crock pot Salsa Verde Chicken Recipe
With just a few ingredients you can make this easy Crock Pot Salsa Verde Chicken Recipe.  This delicious chicken recipe is budget friendly and amazing!
Ingredients
12

chicken thighs

1

teaspoon

kosher salt

1/2

teaspoon

black pepper

1

teaspoon

cumin

1

fresh jalapeno sliced thinly

1

can

14 ounces salsa verde

1

lime juiced
Instructions
Place everything in the crock pot. Cook on low for 6 hours.

Serve over white rice.
Recipe Notes
With this recipe, you can easily substitute with any chicken you have on hand.
Nutrition Facts
Calories
496
kcal
,
Protein
36
g
,
Fat
37
g
,
Saturated Fat
10
g
,
Cholesterol
221
mg
,
Sodium
562
mg
,
Potassium
469
mg
,
Vitamin A
175
IU
,
Calcium
21
mg
,
Iron
1.7
mg
Try Crock Pot Creamy Parmesan Chicken Recipe for a delicious twist on classic Chicken Parmesan.
Crock Pot Mango Salsa Chicken is an amazing flavor packed meal. The mango salsa blends perfectly with the chicken for the best sweet and spicy flavor.
Homemade Salsa Recipe is so easy that you will not believe it and it only takes a few minutes.
This is one of our favorite Herdez Salsa Verde Chicken Recipes.
You will love these other tasty recipes to try.
Try these other Mexican Crock Pot recipes:
Find more crock pot recipes below: