This post may contain affiliate links. If you make a purchase through links on our site, we may earn a commission.
We love Mexican food around here. A family favorite is Crockpot Shredded Chicken Quesadilla Recipe. The chicken is so tender that it falls apart and it's packed with flavor. It's the perfect recipe for busy nights.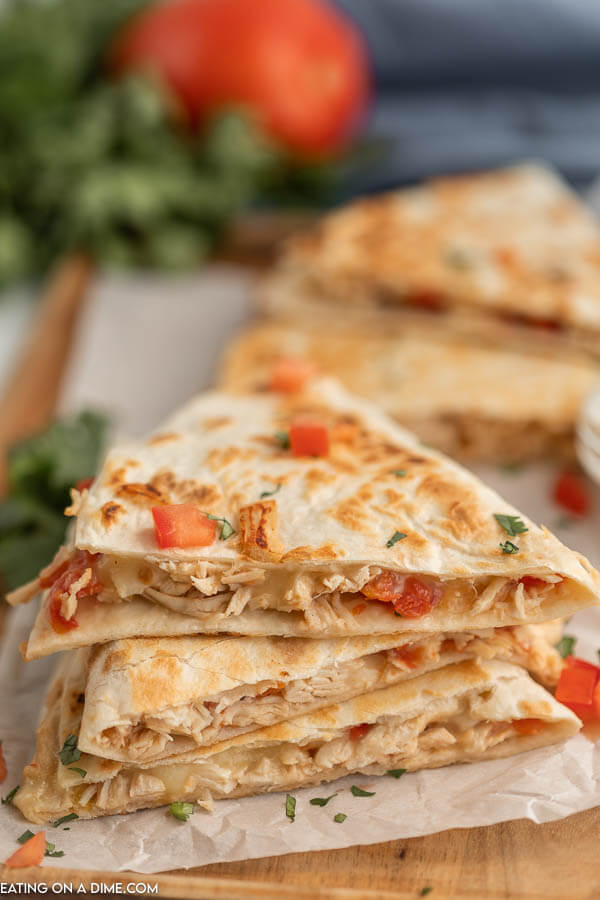 Crockpot Chicken Quesadilla Recipe
This recipe is incredibly simple! Just throw all your ingredients in the crockpot and let the chicken cook all day. When you come home, all that you will need to do is shred the chicken and make each quesadilla.
It's so fast and the entire family enjoys this recipe. I love knowing the bulk of the work is done and I can get dinner on the table fast. Another favorite recipe is Crock Pot Shredded Chicken Tacos Recipe. Only 3 ingredients and you are done!
You could also use the leftovers from Crockpot Chicken Quesadilla Recipe for tacos later in the week. I have even froze the leftovers and taken them out later for quesadilla's or tacos. This is such a time saver for this delicious recipe.
More Quesadilla recipes
What to serve with Chicken Quesadillas?
This is yummy served with Spanish Rice. Did you know you can also freeze rice? I love making a double batch and putting some in the freezer. It's so nice to be able to just take this out of the freezer.
Now this is totally optional but my kids love when I make The Best Mexican White Cheese Dip Recipe. They like to eat this with some tortilla chips. Some of the kids even like to pour a little on their chicken quesadilla. Yum!
See What to serve with Quesadillas for more ideas.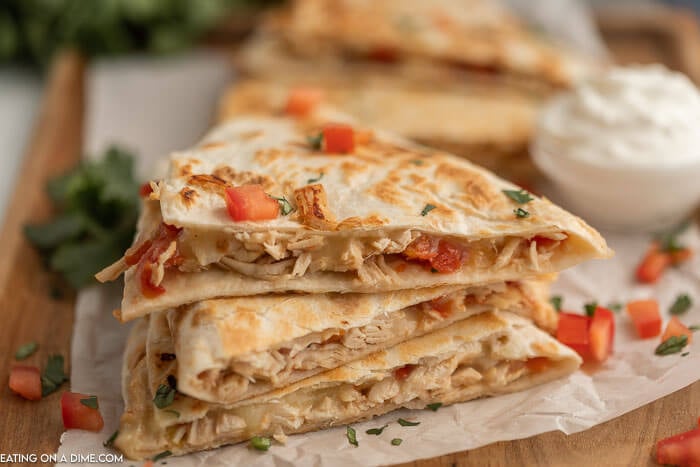 How do you cook chicken to be shredded?
My favorite way is to cook chicken in the crockpot. It takes so little work and it's very easy to shred once the chicken is finished cooking.
We love using our crock pot to cook everything from chicken to soups.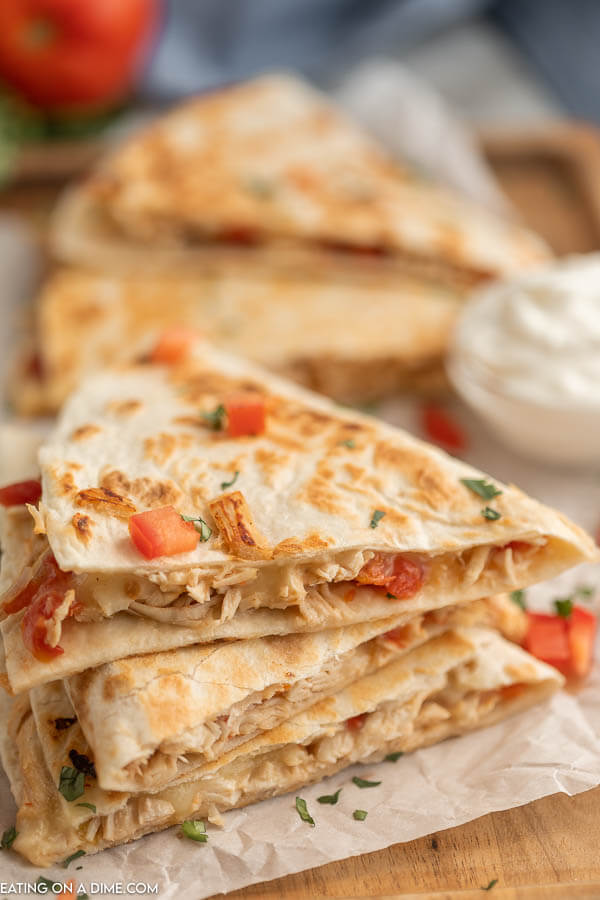 Money Saving Tips for Chicken quesadilla recipe:
We love recipes that can be changed or altered a bit to use what we have or to stretch the meat to go further. I have a big family, so I need to make sure that I have plenty of meat to feed my hungry boys.
We like to add beans into this recipe to stretch the chicken mixture.
It will feel you up and make this recipe go further. You can also put rice in the mixture to really stretch the meal. Spanish rice is really delicious.
Another money saving tip is to use chicken thighs instead of chicken breasts. Or you can use a little of both.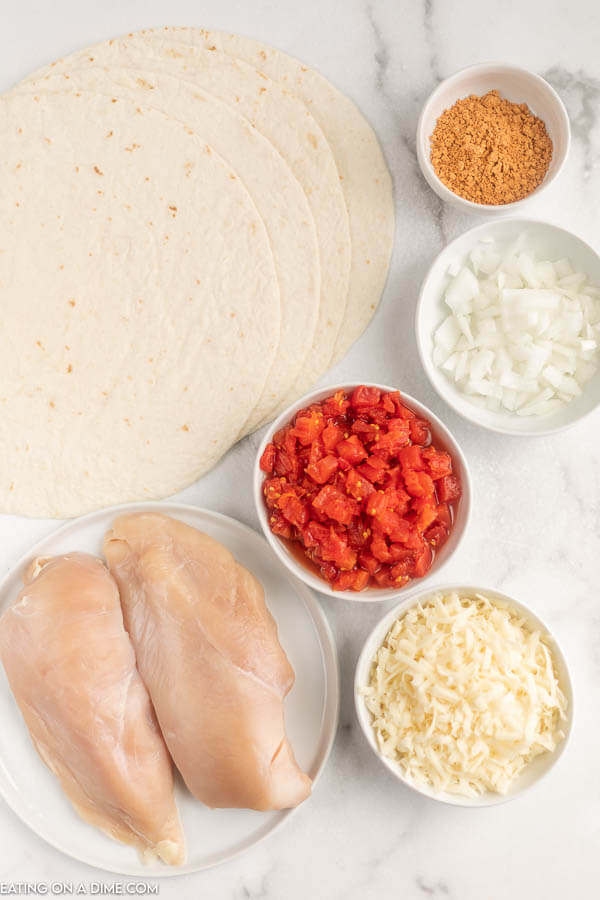 Ingredients for Slow Cooker Chicken Quesadilla Recipe:
Boneless Skinless Chicken Breasts frozen – You can also use chicken thighs or mix thighs in with the chicken breasts
Dice Tomatoes with Green Chilis
Taco Seasoning – Make Homemade Seasoning and use 2 Tablespoon
Onion chopped
Flour Tortillas
Monterrey Jack Cheese
You can also add in some cream cheese for creamy chicken quesadilla. It is so good.
How to make Crock Pot Chicken Quesadillas:
Add chicken, tomatoes, taco seasoning and onions in the crockpot. Cook on low for 6 to 8 hours, or high 3 to 4 hours.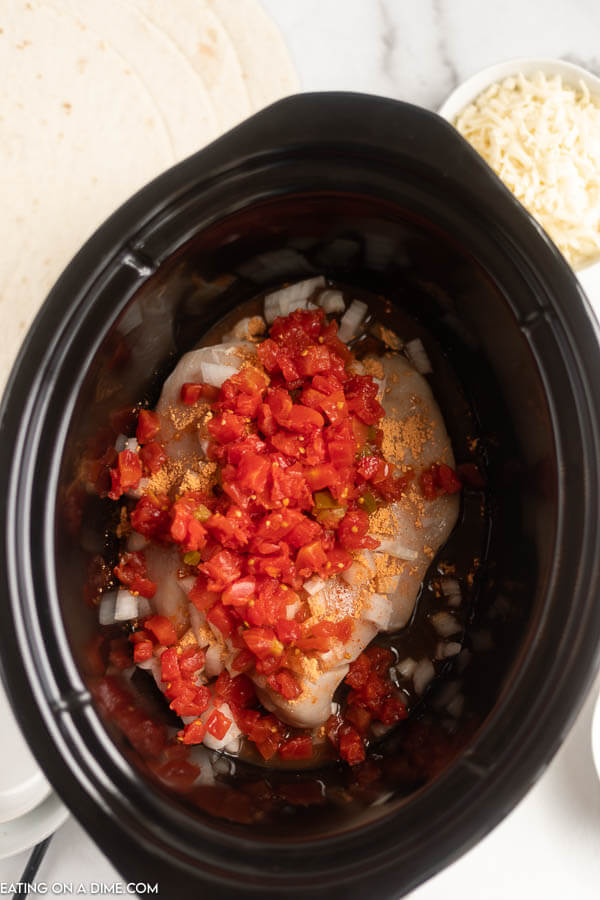 Shred the chicken pieces and stir.
Heat up a large skillet over medium high heat and spray with cooking spray. Place down one flour tortilla. Top with the cheese and the chicken mixture.
Place another flour tortilla on top. Cook for about 2 minutes per side until they are golden brown and cheese is melted. Continue until you have made enough for your family.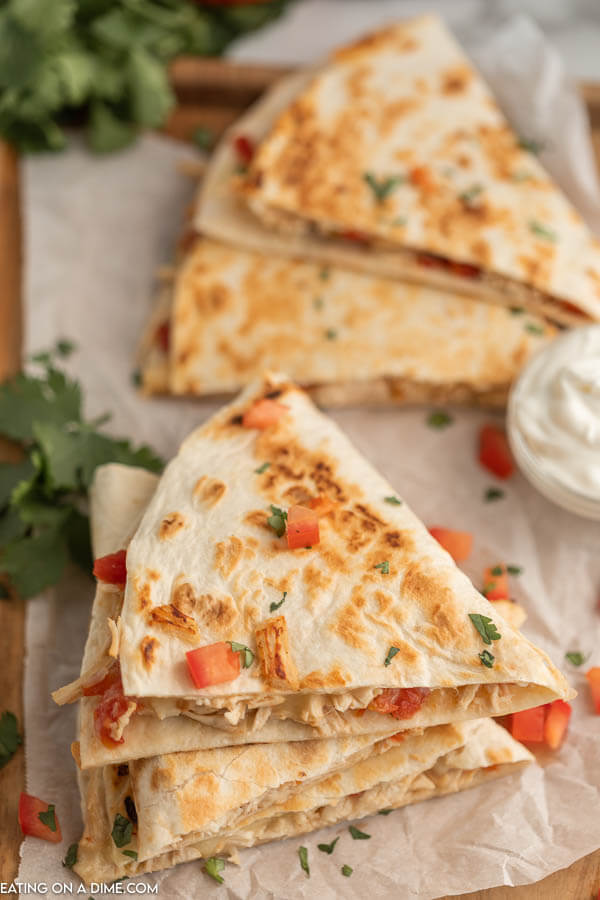 Chicken Quesadilla Variations:
The options are endless when it comes to making quesadilla's. They are just the perfect snack or meal idea anytime of the week. They are also perfect for your game day party. You can fill your chicken quesadilla's with:
Try other types of meat – pork or beef
Black Beans
Rice
Spinach
Different types of Cheeses
Diced Bell Pepper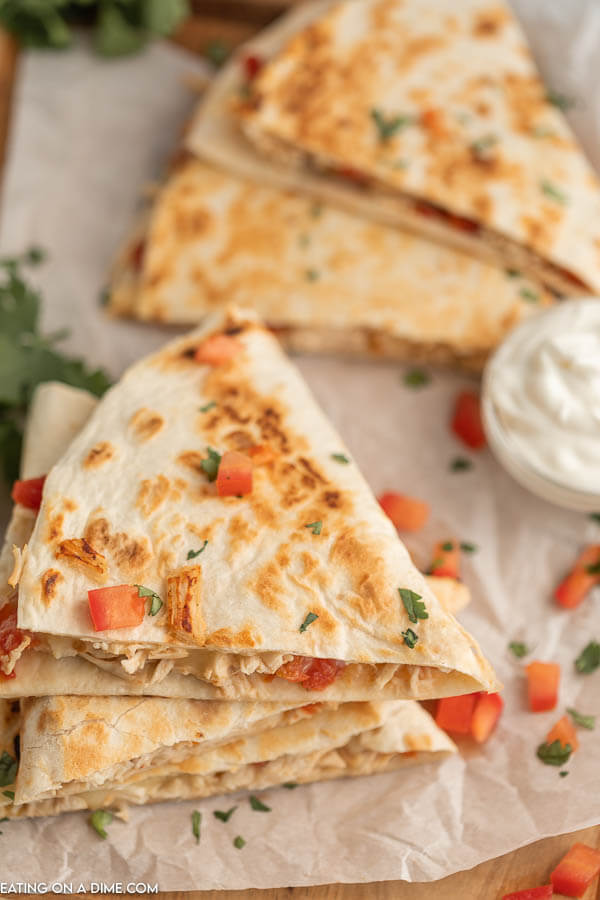 How to freeze:
If you have leftover chicken, just simply put in an airtight freezer container for up to 6 months. We typically don't usually freeze this chicken as we love having chicken for a quick meal as we head out the door.
This chicken can be uses in so many different ways. Since my boys are always trying to eat a lot of protein, I tried to always have this chicken prepared for them.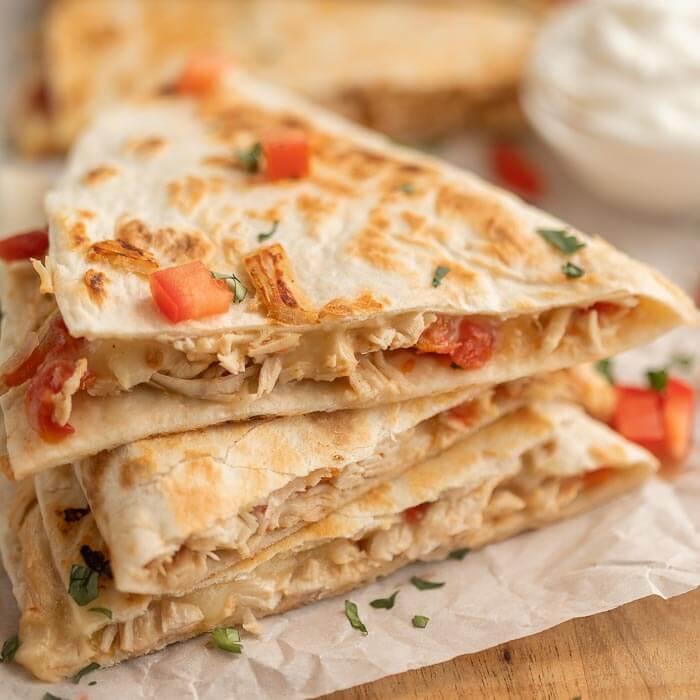 How to make a shredded chicken quesadilla
We like to serve it with sour cream and salsa. Sometimes, I will set out a bunch of different toppings and everyone can just get what they like. Some of our other favorites include: green onion, pico de gallo and homemade cheese dip.
More quesadilla recipes
Print this Easy Chicken Quesadilla Recipe below:
Crockpot Chicken Quesadillas Recipe
This crockpot chicken quesadilla recipe is so easy and packed with tons of flavor. Slow cooker chicken quesadilla recipe will be a new favorite. It's perfect for busy nights. Learn how to make chicken quesadillas.
Ingredients
2

boneless skinless chicken breasts

1

can

diced tomatoes with green chilis

(10 oz)

2

Tbsp

Taco Seasoning

(½ packet of Taco Seasoning)

1/2

onion chopped

6

Flour Tortillas

(Burrito Size)

2

cups

Monterrey Jack Cheese

(shredded)
Instructions
Place chicken, tomatoes, taco seasoning and onions in the crockpot. Cook on low for 6 to 8 hours, or high 3 to 4 hours. Shred the chicken and stir.

Spoon mixture onto flour tortilla.

Top with the Monterey Jack cheese. Fold in half.

Cook on a heated griddle for a few minutes until it begins to brown. Flip.

Continue until all the quesadillas are prepared.

Serve with your favorite toppings and enjoy!
Recipe Notes
*Refrigerate the leftovers in an air tight container for up to 5-7 days. 
*I love using Monterey Jack cheese in this recipe but this recipe would also be delicious with cheddar cheese or pepper jack cheese as well.  
Nutrition Facts
Serving
6
g
,
Calories
291
kcal
,
Carbohydrates
20
g
,
Protein
20
g
,
Fat
14
g
,
Saturated Fat
8
g
,
Polyunsaturated Fat
1
g
,
Monounsaturated Fat
5
g
,
Trans Fat
1
g
,
Cholesterol
58
mg
,
Sodium
526
mg
,
Potassium
358
mg
,
Fiber
2
g
,
Sugar
4
g
,
Vitamin A
459
IU
,
Vitamin C
8
mg
,
Calcium
338
mg
,
Iron
2
mg
More Crock Pot Chicken Recipes: