This post may contain affiliate links. If you make a purchase through links on our site, we may earn a commission.
This easy cheese quesadilla recipe is perfect for an easy lunch or dinner. It is crispy on the outside and ooey gooey on the inside. Get this on the table in 5 minutes or less.
Cheese quesadilla recipe
There is just something so yummy about a classic cheese quesadilla. The simple ingredients make this so easy to prepare but everyone always loves it.
You only need 3 ingredients and 2 of those consist of cheese. The next time you are tempted to get fast food on a busy weeknight, make this instead. I guarantee it is faster and tastes better too.
Everyone will love it.
Ingredients:
Burrito Size Flour Tortillas
Shredded Cheddar Cheese
Shredded Monterey Jack Cheese
How to make a cheese quesadilla:
First, heat the griddle or a large nonstick skillet. We used medium heat.
Then, put the tortillas on the griddle or skillet. Next, evenly divide the shredded cheese or sprinkle it onto one half of each tortilla.
After you add cheese to the uncooked tortillas, fold the tortilla in half. It should look like a moon shape.
Now, just cook the quesadillas for 1 to 2 minutes on each side. Flip the quesadilla and cook the other side. The quesadilla should be golden brown on each side.
Let the quesadilla cool slightly and cut into thirds.
What to serve with quesadillas:
Favorite toppings: sour cream, salsa, onion, pico de gallo, guacamole and diced tomato. Hot sauce is also tasty.
Salsa or sour cream for dipping.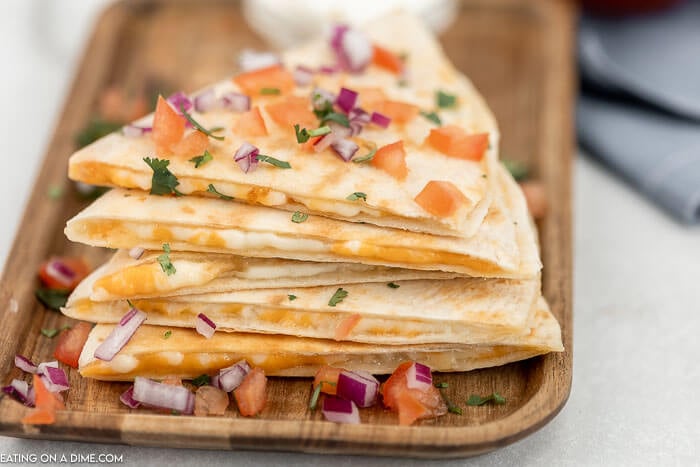 How to store:
Let the cheese quesadillas cool completely. Place inside a container with an airtight lid.
Store in the fridge up to 3 days.
How to reheat leftovers:
The oven is the best way to reheat leftovers so they will still be crispy. Place on a baking sheet and put in a 325 degree oven for 10 minutes.
Reheating times may vary so keep a close eye on them. You just want the tortilla to be crispy and the cheese to be melted. It will not take long.
Another option is to reheat them in the microwave for 60 seconds. However, this method will not result in a crispy tortilla.
Can you freeze?
Yes, you can freeze these. It is best to flash freeze them first on a baking sheet. After about an hour in the freezer, they should be good to go.
This will ensure they do not stick to each other. You can easily grab one when ready to eat.
Then place them inside a freezer container. I suggest placing wax paper in between the quesadillas.
They will last up to 2 months in the freezer.
When you are ready to enjoy, no need to thaw. You can take them straight from the freezer to the microwave or oven to reheat. Just keep in mind it will take longer to reheat if frozen.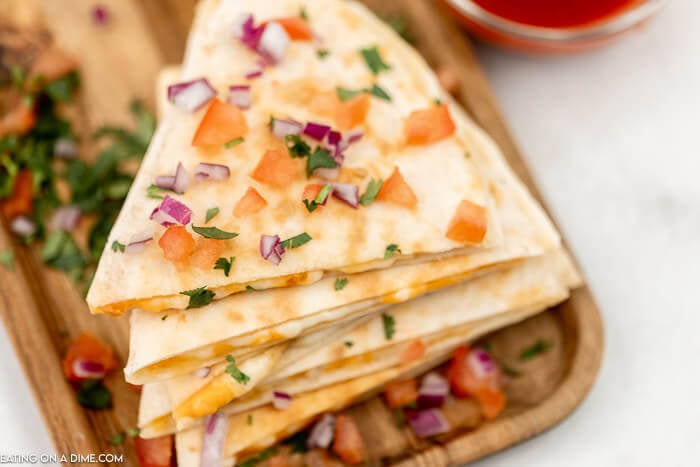 Best Cheese for Quesadilla:
We prefer to use a blend of cheddar and Monterey Jack Cheese. The combination is so delicious.
Feel free to use your favorite type of cheese in this easy recipe.
It is also best to use freshly grated cheese. While you can use pre-shredded, it does not melt as smoothly.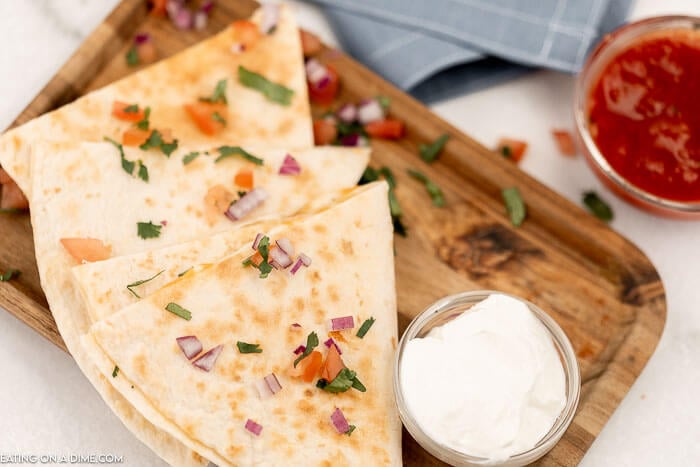 Tips for cheese quesadilla recipe:
It is best to eat this right away. You only want to allow it to cool for a few minutes as the cheese will get hard as it set.
Flour tortillas work best to make a cheese quesadilla. You can use corn tortillas if you prefer though.
Variations:
Protein: add shredded chicken, ground beef or shrimp to this recipe.
Veggies. Add your favorite vegetables to the cheese mixture. Some yummy ideas include: mushrooms, onion, bell pepper and spinach.
Sour Cream. Sometimes I like to add dollops of sour cream on top of the cheese inside the tortilla. It makes a creamy quesadilla once cooked.
Beans. Add black beans or pinto beans to the cheese mixture.
Pice de gallo. Not only is this a tasty topping, it is so yummy cooked inside the quesadilla.
It is so easy.
This tex mex dinner idea is so simple but really delicious. You can make this authentic Mexican inspired quesadilla in minutes.
Print The Best Cheese Quesadilla Recipe:
Cheese Quesadilla
This easy cheese quesadilla recipe is perfect for an easy lunch or dinner. Get this on the table in 5 minutes or less.
Instructions
Heat a griddle or large non stick skillet over low-medium high heat.

Place the tortillas on a griddle or non stick skillet. Then evenly divide the cheese or sprinkle it onto one half of each tortillas. Then fold the tortilla in half (into a moon shape).

Cook the quesadillas for 1-2 minutes on each side until the quesadilla is golden brown on each side.

Cool slightly, cut into thirds and serve with your favorite toppings and dippers of your choice.
Nutrition Facts
Calories
529
kcal
,
Carbohydrates
16
g
,
Protein
30
g
,
Fat
38
g
,
Saturated Fat
23
g
,
Polyunsaturated Fat
1
g
,
Monounsaturated Fat
11
g
,
Cholesterol
110
mg
,
Sodium
860
mg
,
Potassium
147
mg
,
Fiber
1
g
,
Sugar
2
g
,
Vitamin A
1001
IU
,
Calcium
861
mg
,
Iron
2
mg
More Quesadilla recipes: