This post may contain affiliate links. If you make a purchase through links on our site, we may earn a commission.
Crockpot Chicken Chili is filling and very inexpensive to make. Toss everything into the slow cooker for an easy but delicious meal without much work.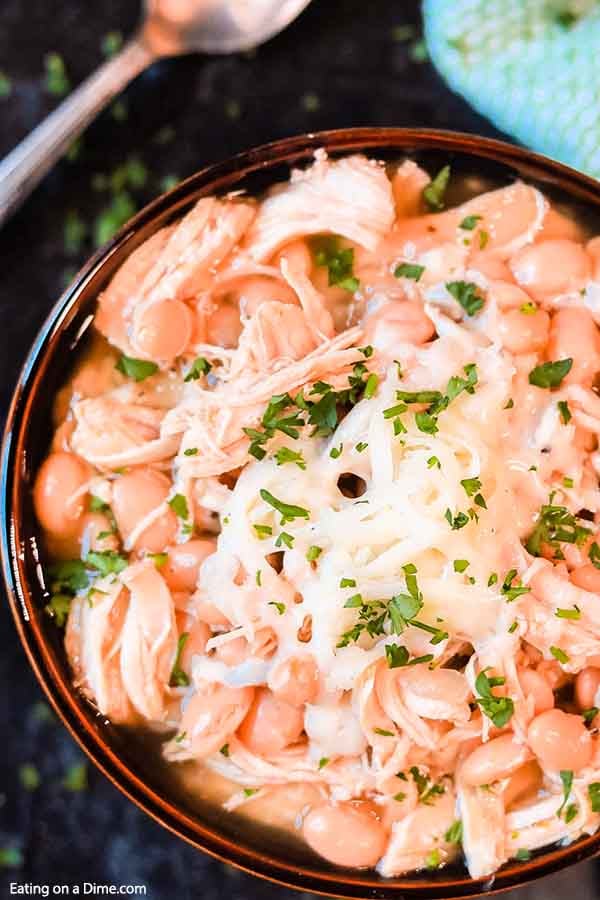 Crockpot Chicken Chili Recipe
Crockpot White chicken chili is by far one of my family's favorite soup recipes. Even my kids LOVE this crockpot white chicken chili recipe because the beans practically disappear with the chicken.
Now, if you have kids who don't like beans, smash them up before you put them in the crockpot. They won't even know they are in there.
Plus they will still get the extra nutrients from the beans. This is a win for mom.
This recipe is super easy and perfect for game day, your next chili cook off or family dinner.
I love that you can feed a large crowd and not spend a ton of money. Plus, it is the best comfort food.
Why we love this:
It is the easiest toss and go recipe.
The entire meal is inexpensive.
You can feed a crowd easily.
It tastes great with very little work.
Ingredients you need
Boneless Skinless chicken breasts. You can also use chicken thighs. We have even mixed both together.
chicken broth. Vegetable broth is also a tasty substitute for chicken stock.
salsa verde. This adds amazing flavor. You can buy store bought or make this quick homemade salsa verde recipe.
shredded cheese. You can use any type you prefer. Some tasty options include: Monterrey Jack, Cheddar and Pepper Jack cheese.
How to make crockpot chicken chili
This recipe is one of the easiest recipes you will ever make. Anybody can cook this.
Just toss all of the ingredients except the cheese in the slow cooker. If you can toss ingredients into the slow cooker, you can make this.
Then cover and cook. Let the crock pot do all of the work. It is that simple to enjoy a great meal.
Keep reading for the full recipe.
What to serve with white chicken chili?
Toppings. Our favorites include: sour cream, shredded cheese, crushed tortilla chips, corn chips, saltine crackers, onion, shredded cheese and hot sauce.
Tip: If you are serving this for Super Bowl or a party, set up a topping bar. It is fun and a great way for everyone to customize their bowl of white chicken chili recipe.
What is the best way to shred the chicken?
It will be really tender from slow cooking all day. You can easily use two forks to shred the chicken.
However, my favorite way is to use my mixer to shred chicken. It is so quick and helps to make the chicken the perfect texture.
Stretch your meat budget.
This recipe only calls for 2 chicken breasts so it is already frugal. However, you can stretch the meat even more.
Just add an extra can or 2 of beans. You may need to also add extra chicken broth.
Not only is this frugal but also a great way to make it go further if extra guests show up. Sometimes the kids have friends over and they stay for dinner. This little tip helps in a pinch.
Plus, no one ever seems to notice. The flavor is great.
Can you freeze White Bean Chicken Chili recipe?
Yes, and you have a couple of options.
You can place all the ingredients in a freezer bag and toss in the freezer. Then just dump the ingredients still frozen into the crockpot. You will have everything you need all ready to go for an easy meal.
The other option is to freeze the extra left over soup into individual meal portions for a quick and warm lunch. I do this all the time and it so convenient. Just make sure to use freezer containers or bags. I often use freezer bags because they take up less space since they lay flat.
It will keep up to 2 months in the freezer if stored properly. You can enjoy soup for a quick meal any day of the week.
Can you make this recipe in the instant pot?
Yes, you can.
Just increase the chicken broth to 2 cups.
Put the chicken in the instant pot.
Add everything else on top. (Except for the toppings.)
Set the pressure to high for 25 minutes.
Remove the chicken and shred. Add back to the soup an stir it all together.
For full directions, try Instant Pot White Chicken Chili Recipe.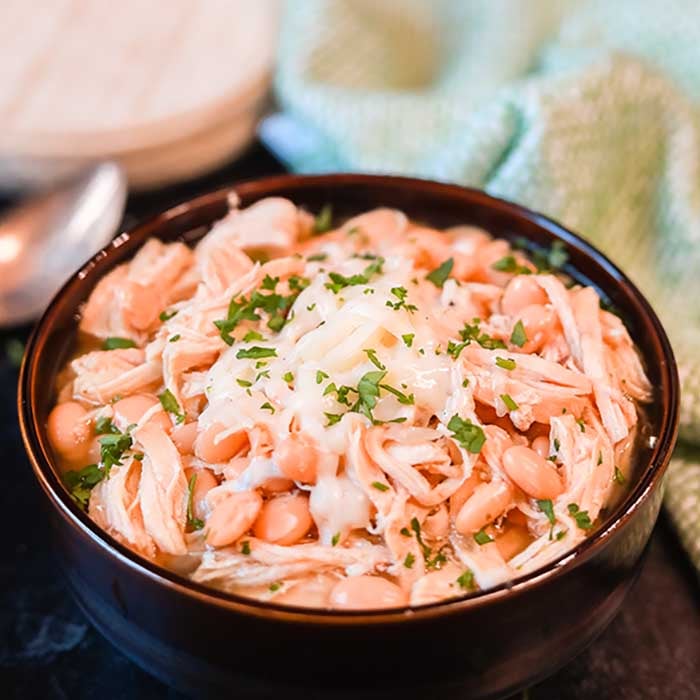 Tips for white chicken chili crockpot recipe:
Cream cheese. For a creamier soup, add 4 ounces cream cheese after the chili cooks. Turn on low for 15 minutes. You just want it to melt and then stir it all together.

If you plan to freeze this soup uncooked, do not add the cream cheese prior to freezing.
Rotisserie chicken. You can use leftover chicken in this recipe. It is a great way to use rotisserie chicken. Shred it and place in the soup.

If using cooked leftover chicken, reduce the time as it will only need to be heated and the seasonings blended together.
Diced tomatoes. While it will not be a traditional white chicken chili, you can add a can of diced tomatoes if you want. The flavor is delicious.
Green chilies. You can substitute the Salsa Verde for a can of green chiles.
Thicken the chili. If you prefer a thicker consistency, mix a tablespoon of cornstarch with 3 tablespoons chicken broth.

Pour into the soup and mix everything together. Use the low setting until it is the desired thickness.
Leftover turkey. Swap the chicken for leftover shredded turkey. It is just as delicious and a great way to make the most of what you have.
Spice things up. Add diced jalapeno peppers to the soup if you like things spicy.
Vegetarian. Skip the meat all together and add an extra can of beans and a can of diced tomatoes.

Corn is also delicious and you can use canned or frozen. Also, substitute the chicken broth for vegetable broth.
Crockpot white chicken chili is so easy.
Talk about an easy dinner. If you used the entire jar of Salsa, you could make 5 to 6 dinners in a matter of a few minutes for your freezer. Then you are set for a day when you are simply too tired to cook.
It does not take any extra work once you have doubled the recipe. It is a great recipe and you will enjoy having this in the freezer.
We love to grab a container out for lunches during busy weeks. No one is tempted to eat out with such delicious things readily available.
You will save time and money. Plus, this sure tastes better than take out. With so many easy variations and substitutions, this recipe will work for the entire family.
Make crockpot chicken chili recipe.
This is such an easy meal, inexpensive and always a hit. You can easily feed a large crowd and not spend a ton of money or time.
Print white bean chicken chili crockpot recipe:
Crockpot White Chicken Chili Recipe
Crockpot White Chicken Chili is a family favorite around here and so easy to prepare. You can make this meal for under $5 making this a frugal meal idea.
Ingredients
2

boneless Skinless Chicken Breasts

2

cans of white beans

(Do not drain)

1

cup

chicken broth

1/2

onion

chopped

1/2

Cup

Salsa Verde

2

tsp

cumin

1

tsp

salt

1

tsp

pepper

2

cups

Shredded Monterrey Jack Cheese

Toppings
Instructions
Put all the ingredients in the crock pot except for the Monterrey jack cheese.

Cover and cook on low for 6-8 hours.

Serve topped with the Shredded Monterrey Jack Cheese.

Enjoy!
Nutrition Facts
Calories
350
kcal
,
Carbohydrates
29
g
,
Protein
28
g
,
Fat
13
g
,
Saturated Fat
8
g
,
Cholesterol
58
mg
,
Sodium
788
mg
,
Potassium
850
mg
,
Fiber
7
g
,
Sugar
2
g
,
Vitamin A
427
IU
,
Vitamin C
2
mg
,
Calcium
385
mg
,
Iron
5
mg
More crockpot chili recipes