Crockpot White Chicken Chili is a family favorite around here and so easy to prepare. Even better, you can make this meal for under $5 making this a super frugal dinner idea!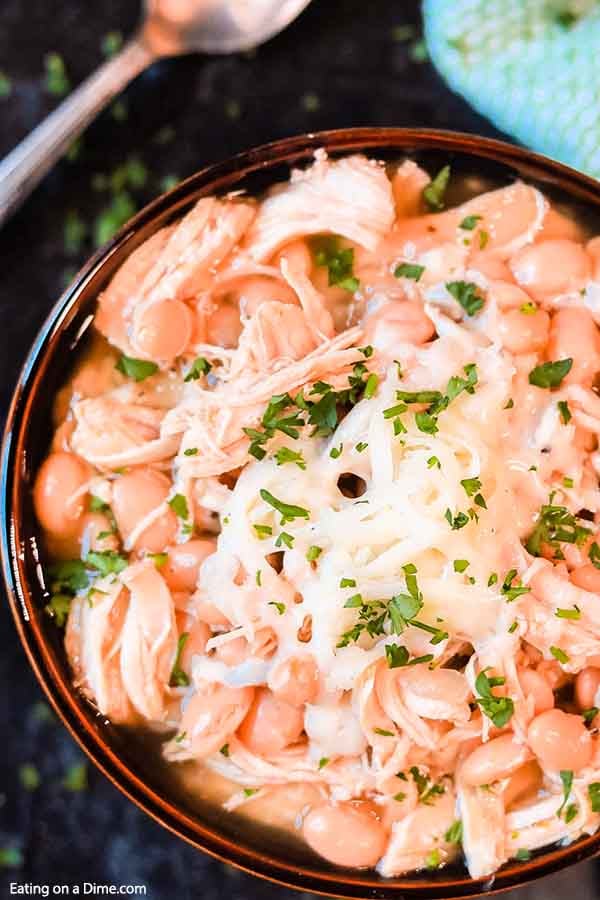 Crockpot White Chicken Chili
Crockpot White chicken chili is by far one of my family's favorite soup recipes. Even my kids LOVE this crockpot white chicken chili recipe because the beans practically disappear with the chicken.
Now, if you have kids who don't like beans, smash them up before you put them in the crockpot. They won't even know they are in there.
Plus they will still get the extra nutrients from the beans. Win win!
Now in this recipe you need to canned beans. However, we like to make our own canned beans. We cook them from scratch in the crockpot and then freeze them.
Our family actually prefers the texture of homemade beans than canned beans. They are a bit softer.
This recipe is super easy and perfect for game day, your next chili cook off or family dinner.
The Salsa Verde gives this white bean chicken chili fabulous flavor!
It is not spicy at all so this crockpot white chicken chili is very kid friendly. The best part about this recipe is it is VERY frugal friendly.
I bought Salsa verde without a coupon for $2. It will last me at least 5 or 6 meals.
If you make the beans yourself (like I do), this meal will be even cheaper. It is a win all around.
Can you freeze white chicken chili recipe?
You could easily place all the ingredients in a freezer bag and toss in the freezer. Then just dump the ingredients still frozen into the crockpot.
Talk about an easy dinner! If you used the entire jar of Salsa, you could make 5 to 6 dinners in a matter of a few minutes for your freezer. Then you are set for a day when you are simply too tired to cook!
OR… you can freeze the extra left over soup into individual lunches for a quick and warm lunch. I do this all the time!
It does not take any extra work once you have doubled the recipe. It is a great recipe and you will enjoy having this in the freezer.
We love to grab a container out for lunches during busy weeks. No one is tempted to eat out with such delicious things readily available.
You will save time and money. Plus, this sure tastes better than take out!
How much does this cost?
Less than $3 to make! Seriously!!!
The beans cost me $.50 for 2 cans, because I make my own. The onion is less than a quarter.
The chicken breasts are about $2 for them both. Woohoo! Dinner on the table for under $5 – that is the way we like to cook!
What ingredients do you need to make white chicken chili crockpot recipe?
chicken breasts
white beans
chicken broth
onion
salsa verde
cumin
salt and pepper
shredded Monterrey Jack Cheese
How do you make white chicken chili recipe crock pot?
This recipe is one of the easiest recipes you will ever make. Anybody can cook this!
You literally just toss all the ingredients except the cheese in the slow cooker.
Cover and cook and that is it! So very simple!
Keep reading for the full recipe.
What is good to serve with white bean chicken chili crock pot?
sour cream
shredded cheese
crushed tortilla chips
corn chips
crackers
green onion
hot sauce
cheddar cheese
Just use whatever your family likes! We also really like this easy homemade cornbread with the chili.
You can also try Cheddar Jalapeno Cornbread Recipe for a little extra kick. This chili is so good and the kids have fun choosing their toppings.
This is such an easy meal, inexpensive and always a hit. You can easily feed a large crowd and not spend a ton of money or time.
It is a great recipe all around!
Tips for Crockpot White Chicken Chili:
One of my favorite time saving tips is to use a small food chopper or food processor to quickly and easily chop onions for this chili.
If you do not have one of these, I highly recommend them. They are such a time saver and you can get the veggies really fine.
I usually just chop the entire vegetable and freeze what I don't need. It's so nice to be able to just take the diced onion out of the freezer for recipes.
This is how I meal prep and I also do this same for green bell pepper. It's so quick and easy and helps get dinner on the table fast.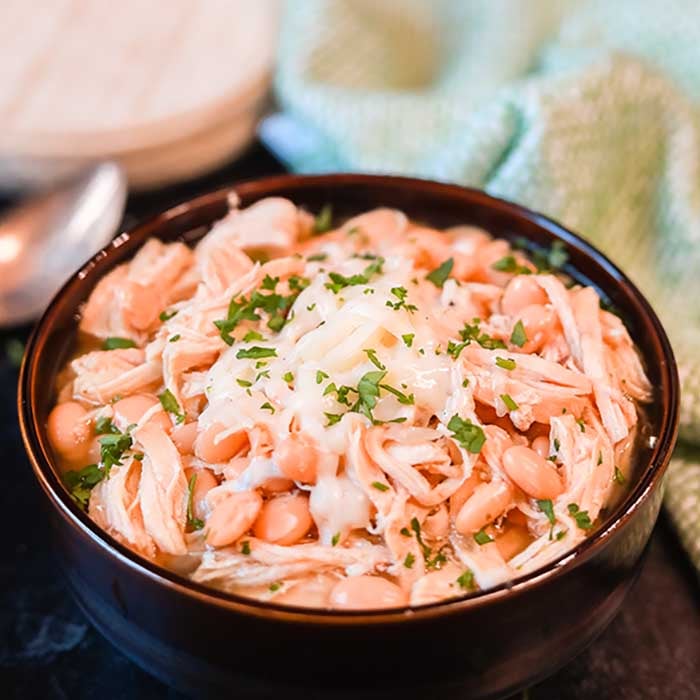 Make sure you have a good slow cooker to make this crockpot white chicken chili.
If you are in the market for something new, I really love my Ninja cooker. The nice thing about this is you can brown the meat in the same slow cooker for recipes that call for that and have fewer pans to clean up.
It is so handy to just have the one pan to clean. It has become of my favorite kitchen appliances.
I also really like this crockpot as well. I use this all the time and it's great.
My favorite feature is that you can lock the lid down. This is awesome for when you need to take the crockpot somewhere.
I often use the slow cooker to take dishes to potluck events and this feature is amazing! There are several others on sale here.
Another favorite is this programmable crock pot for when I am am not at home all day. I love coming home to a nice meal ready and waiting!
I also like to use crock pot liners to make clean up a breeze. These are worth every penny and save a ton of time.
Make Crockpot white chicken chili for an inexpensive but delicious meal idea.
This recipe only calls for two chicken breasts so it is a great way to stretch your meat budget. I have used chicken thighs or a mix of chicken thighs and chicken breasts and it was also delicious.
I often just use what I have in the freezer or what is on sale at the grocery store. We love simple recipes like this and everyone looks forward to when this recipe is on the menu plan for that week.
By shopping when things are on sale I save money on groceries and it really helps our budget. Saving money and feeding a big family can be accomplished.
Trust me, I have 8 kids.
Once I find a meal everyone loves and it is frugal friendly, I keep it on the regular menu plan rotation!
In fact, I cut our grocery bill by 50% off by following these 8 Tips for for Saving Money on Groceries by Menu Planning! Save that money for a family vacation or maybe just some wiggle room in the budget.
Easy recipes like this keep my family happy and my grocery budget in good shape. This is how I keep our grocery budget reasonable.
Print this Crockpot white chicken chili recipe below:
Crockpot White Chicken Chili Recipe
Crockpot White Chicken Chili is a family favorite around here and so easy to prepare. You can make this meal for under $5 making this a frugal meal idea.
Ingredients
2

boneless Skinless Chicken Breasts

2

cans of white beans

(Do not drain)

1

cup

chicken broth

1/2

onion

chopped

1/2

Cup

Salsa Verde

2

tsp

cumin

1

tsp

salt

1

tsp

pepper

2

cups

Shredded Monterrey Jack Cheese

Toppings
Instructions
Put all the ingredients in the crock pot except for the Monterrey jack cheese.

Cover and cook on low for 6-8 hours.

Serve topped with the Shredded Monterrey Jack Cheese.

Enjoy!
Nutrition Facts
Calories
350
kcal
,
Carbohydrates
29
g
,
Protein
28
g
,
Fat
13
g
,
Saturated Fat
8
g
,
Cholesterol
58
mg
,
Sodium
788
mg
,
Potassium
850
mg
,
Fiber
7
g
,
Sugar
2
g
,
Vitamin A
427
IU
,
Vitamin C
2
mg
,
Calcium
385
mg
,
Iron
5
mg
Check out these chili recipes:
Try these other easy crock pot chicken recipes: