This post may contain affiliate links. If you make a purchase through links on our site, we may earn a commission.
Crock Pot Green Chili Stew Recipe has so much flavor and the salsa verde really takes the stew to the next level. If you are looking for a delicious and easy stew recipe, this is a great dinner idea everyone will enjoy.
Crock Pot Green Chili Stew Recipe
Stew recipes are always a family favorite around here but we wanted to try something different. If you are looking for something other than the traditional stew recipes, give this green chili pork stew, green chile chicken soup or our Slow Cooker Pork Stew Recipe a try.
The pork is really tender and delicious and the potatoes are so hearty. Everything combines for an amazing stew that you are going to want more of!
Green Chili Pork Stew Recipe:
You are going to love this twist on the traditional stew. This stew is loaded with chunks of pork, potatoes and onions. It is topped with the Salsa Verde sauce that helps combined all the flavors for an amazing stew recipe.
Cooking the pork in the crock pot allows it to be so tender that it literally melts in your mouth. It is the perfect soup for those cold fall days when all you want to do is curl up on the couch.
This stew has become a family favorite and it is requested several times a month during the winter.
A good Crock Pot is a must!
If you are in the market for something new, I really love my Instant Pot Aura Crockpot. The nice thing about this is you can brown the meat in the same slow cooker.
However any type of crock pot will work for this easy pork stew recipe.
Ingredients for green chili pork stew:
Lean Pork Chops
Flour or Cornstarch
Salt and Black Pepper
Minced Garlic
Yellow Onion
White Potatoes
Salsa Verde or Green Chile Sauce
Chicken Broth
Fresh Green Cilantro to top
How to make Crock Pot Green Chili Stew recipe:
In a large bag coat the pork chops with the flour. We like to season the pork with a little salt and pepper before placing in the bag.
Place at the bottom of the crock pot.
Season with salt, pepper, minced garlic. Add the onion and potatoes on top.
Pour the salsa verde over the potatoes and pork.
Pour chicken broth on top.
Cover and cook on low until potatoes and browned pork is tender.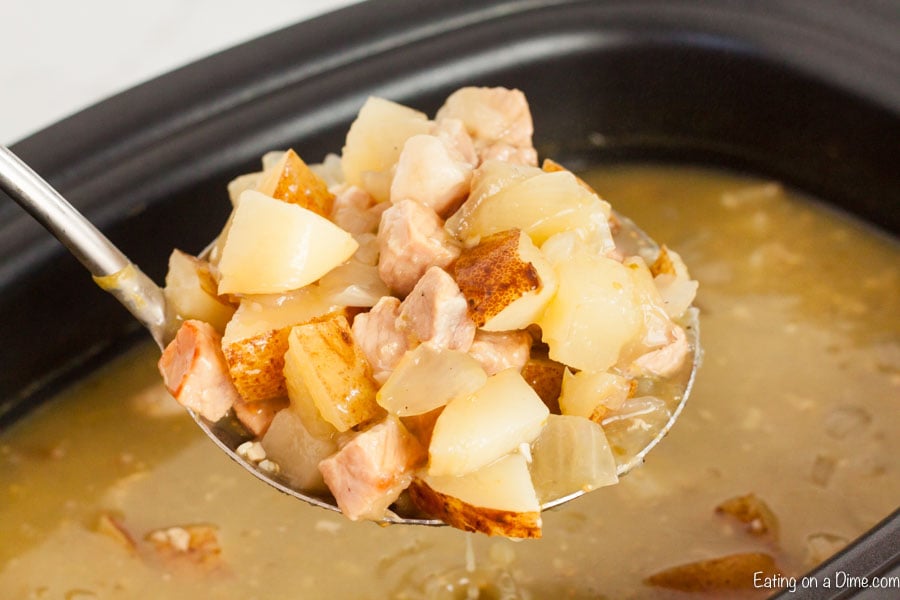 Top with cilantro and serve with warm flour tortillas. It is that easy and so delicious!
How to thicken the stew?
If you prefer a thicker stew, you can by adding about 2 tablespoons corn starch to cold water in a separate bowl. Make sure you mix well so there are no lumps.
Then pour this mixture into your stew and mix. Cook for additional 10 minutes and this should thicken your stew. It does not change the taste of your stew.
What to serve with green chili stew:
Topping Ideas:
Shredded Cheese
Sour Cream
Fresh Lime Juice
Cilantro
Diced Green Onions
How to make Green Chili Stew on the Stovetop:
Green Chili Stew is the perfect stew to make on your stovetop. It is great because if you don't have time in the morning you can easily cook it when you get home. This is also a great recipe to meal prep for the week.
Following the same steps for the crock pot version, I will still coat the pork with flour in a zip lock bag. In the large stock pot, I will add in a little onion and cook the onion and garlic. Then toss everything in the large pot except the potatoes and cook. Bring to a boil on high heat and simmer on medium heat for about 45 minutes.
Finally, add in the potatoes in the last 15 minutes to cook until they are tender.
Do you have to use Pork Chops?
This recipe calls for pork chops but you could easily substitute pork roast or leftover shredded pork. It is very easy to use what you already have. We love recipes that we can change but still get a good result.
The potatoes help to stretch the meat and make the meal so filling and delicious. This recipe calls for white potatoes but you easily use Yukon Gold Potatoes or Red Potatoes.
Use what you have and make this amazing and tasty meal. It is so delicious. We love this recipe and it has always turned out great.
Tips for the best Green Chili Pork Stew:
The tender pork and diced tomatoes are so delicious and the best comfort food. Try adding diced tomatoes to the green enchilada sauce for a change. We love recipes that we change up.
We have used the fire roasted tomatoes before and it really was so yummy with the chicken broth and pork stew.
This recipe like many calls for diced onions. Another time saving tip is to use a small food chopper or food processor to quickly and easily chop the onions.
Add in some chile peppers for a spicier stew. Or some chopped jalapeno's would give it the extra kick of spice.
If you don't have any pork chops, you can use a pork shoulder or a a pork roast. Just cut into bite size pieces before cooking
If you want a more authentic green chili, you can buy fresh green chilies. Then roast the green chilies until the outside is dark. Once done roasting peel the skins off, and dice up and add it into the chili.
If you are not a fan of pork, you can use ground beef instead.
Give this yummy green chile pork stew slow cooker recipe a try this week.
Print this hatch green chile stew recipe below:
Crock pot Green Chili Stew Recipe
Crock Pot Green Chili Stew Recipe has so much flavor and the salsa verde really takes the stew to the next level. Give this green chile stew recipe a try.
Ingredients
1

pound

lean pork chops cut into ½" pieces

1/4

cup

flour or cornstarch

1

teaspoon

salt

1

teaspoon

freshly ground black pepper

1

tablespoon

minced garlic

1/2

yellow onion chopped into ½ " pieces

4

cups

diced potatoes about 2 large white potatoes

28

oz

can salsa verde or green chile sauce

4

cups

chicken broth

Cilantro to top
Instructions
In a large bag coat the pork chops with the flour.

Place at the bottom of the crock pot.

Season with salt, pepper, minced garlic.

Place the onion and potatoes on top.

Pour the salsa verde over the potatoes and pork.

Pour chicken broth on top.

Cover and cook on low for 6-8 hours, until potatoes and pork is tender.

Top with cilantro and serve with warm flour tortillas
Nutrition Facts
Calories
290
kcal
,
Carbohydrates
33
g
,
Protein
24
g
,
Fat
6
g
,
Saturated Fat
1
g
,
Cholesterol
50
mg
,
Sodium
1438
mg
,
Potassium
1288
mg
,
Fiber
4
g
,
Sugar
9
g
,
Vitamin A
827
IU
,
Vitamin C
22
mg
,
Calcium
54
mg
,
Iron
6
mg
Try these other easy stew recipes:
Check out these easy crock pot pork recipes: