One pot meals are such a time saver around here and this Crock Pot Pork Chop Dinner does not disappoint. Everything you need for dinner is in the slow cooker including flavorful pork, potatoes and green beans.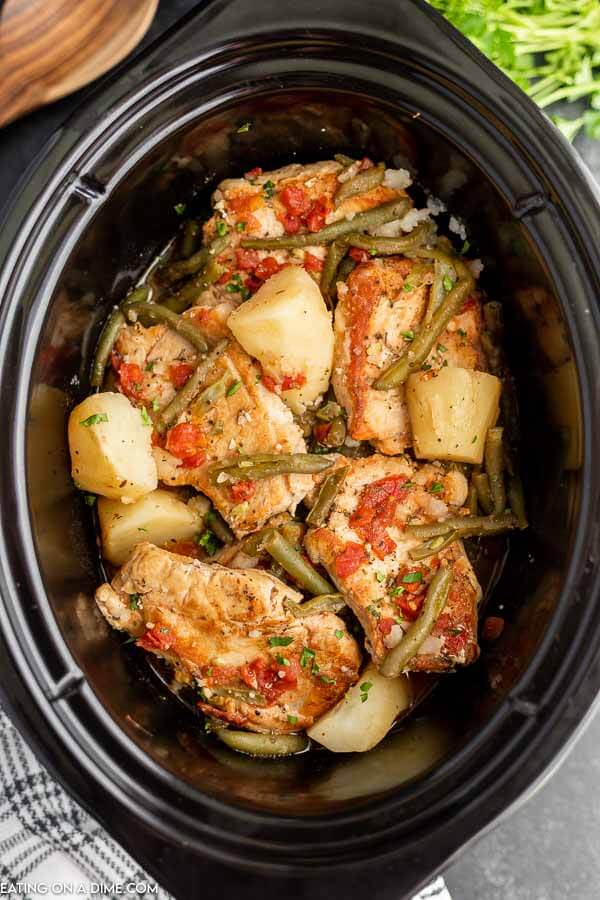 Crockpot Pork Chop Italian Seasoning Recipe:
Dinner is a breeze when you make these easy crock pot pork chops. Come home to dinner ready and waiting for your family to enjoy. Italian Crock Pot Pork Chops is easy to make with simple ingredients.
This is the best recipe to make when you are super busy and need to be able to have dinner as soon as you get home. You don't have to make separate side dishes because the potatoes and green beans provide a complete meal with the pork.
Enjoy a really amazing meal even on busy weeknights with this delicious and easy crock pot pork chops recipe. This is the best meal and so quick and easy. Perfect family dinner or for a crowd.
Italian Pork Chops with Tomatoes:
If you are looking for a simple meal that everything cooks in the slow cooker, make this Italian Pork Chop slow cooker recipe. Adding in the diced tomatoes gives the pork chops so much flavor.
I love that this recipe only requires a few ingredients and dinner is done. We usually make this when everyone is busy with practices and school activities. Every one can grab a healthy complete meal as they head out the door.
Ingredients:
Boneless Pork chops
potatoes
Frozen Green Beans
Diced Tomatoes
Italian Seasoning
Minced Garlic
Salt and Pepper
How to make Italian pork chops in crock pot:
Add everything to the Slow Cooker – Toss all the potatoes in the slow cooker and lay the pork chops on top. Next, layer the green beans and tomatoes.
Add Seasoning – Top with the seasoning and that is all you do. This is truly a toss and go recipe and so easy to prepare.
Cook on low – Cook on low and come home to dinner ready and waiting. We love to top with Parmesan cheese.
Serve and Enjoy – Serve immediately while warm and enjoy. Seasoned pork chops with salt and pepper.
How Long to Cook Pork Chops in a Slow Cooker:
This recipe does not take long to make. We like to cook on low for about 6 to 8 hours and come home to a hot meal. You can also cook on high for 3 to 4 hours if you prefer.
Recipe Variations
Slow Cooker Pork Chops and Vegetables -Try using frozen mixed veggies.
Slow Cooker Pork Chops and Gravy -Mash the potatoes and top with gravy. Yum!
Add onions and garlic for even more flavor. I love the onions with the potatoes.
Try adding cream of chicken soup for a change.
Use chicken broth instead of water for even more flavor.
You can use tomato sauce instead of diced tomatoes.
Italian Pork Chops Recipe Tips:
Searing Pork Chops – There is no need to sear pork chops prior to putting them in the slow cooker. Save time and clean up by just cooking everything in the slow cooker.
Cook on Low – When we cook in the slow cooker, we recommend cooking on low. The meat is always more tender and it seems be more flavorful. Cooking on low allows for the meats and ingredients cook together perfectly.
Vegetables – You can add in other vegetables your prefer. I used frozen green but you can use other frozen vegetable such as a mixed vegetable medley.
Saucy – We prefect to have extra sauce to pour over the top of the potatoes and pork chops. But do what your family prefers.
Skillet – You can make this recipe in a skillet of medium high heat with olive oil.
What to Serve with Crock Pot Italian Pork Chops:
Mashed Potatoes – My kids love mashed potatoes. So instead of adding the potatoes to this recipe, I make a separate batch of mashed potatoes.
Steamed Vegetables – You can steam some broccoli or squash which goes perfectly with these Italian Pork Chops.
Easy Homemade Dinner Rolls – Serving dinner rolls is a must. We list to get every last drop of the italian sauce and these dinner rolls are the best to do that with.
Easy Meal Idea:
Slow Cooking Recipes Pork Chops are easy and kid friendly. Using the crock pot is the perfect to make this easy meal. We like to prepare this meal in a freezer bag and then place it directly in the crock pot.
Slow Cooker Pork Chops are frugal and so tender and delicious. Pork chop crock Pot is an easy recipe and delicious are sure to be a hit. This crock pot recipe is the perfect weeknight dinner.
Print Recipe here for Crockpot Italian Pork Chop dinner:
More easy crock pot pork chop recipes: