Easy Crock Pot Pork Chops is such a simple and delicious recipe. Toss this Easy Crock Pot Pork Chops recipe in your crock pot and dinner will be ready and waiting!
Easy Crock Pot Pork Chops
You really can't get an easier recipe as this and it is so delicious. I got it from my sister and this is a regular in our menu.
We loved it and the kids loved it even more! Anytime I make a recipe that the entire family loves, I am always impressed!

The pork chops were so tender and it really was an amazing meal. It feels so good to prepare a healthy and delicious meal for my family that is simple and budget friendly.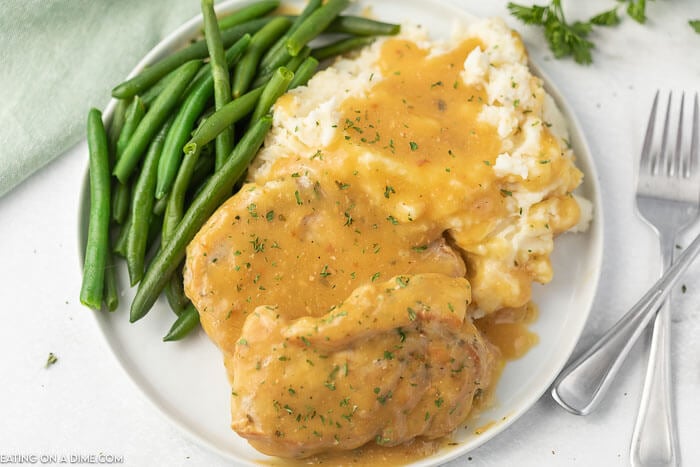 Easy Crockpot Pork Chops is easy!
We like to serve this with pasta and spoon the yummy tomato sauce over the pasta. Delicious!
It can also be served with rice and that is really tasty too. Sometimes I switch it up to give us all a change.
Do you know how to freeze rice? We do this all the time and it's so handy to pull out of the freezer to go with meals like this.
It really helps to get dinner on the table quickly and without a lot of stress. Yeah!
Easy Crock Pot Pork Chops Recipe is also good with garlic bread. Once I learned how to freeze garlic bread, it's so easy to grab and reheat.
I'm sure it is not as healthy when served with bread but it sure is good. 🙂 I dip the yummy garlic bread in the tomato sauce to soak up every last bit.
You will need a crock pot for this easy Slow Cooker Pork Chops Recipe.
If you are in the market for a new crockpot, this one is my favorite. I use this all the time and it's great.
My favorite feature is that you can lock the lid down. This is awesome for when you need to take the crockpot somewhere.
I often use the slow cooker to take dishes to potluck events and this feature is amazing! There are several others on sale here.
Another favorite is this programmable crock pot for when I am am not at home all day. I love coming home to a nice meal ready and waiting!
I also like to use crock pot liners to make clean up a breeze. These are worth every penny and save a ton of time.
This is especially helpful during busy weeks of school and activities. You can just lift the liner out and toss it. So easy!
Ingredients for Easy Pork Chops Crock Pot:
Pork Chops
Cream of Chicken Soup
Dry Ranch Seasoning Mix
Chicken broth
How to make Easy Crock Pot Pork Chops:
Place pork chops in the crockpot. Can be frozen if you would like,
In a mixing bowl, whisk together the cream of chicken soup, ranch seasoning mix and chicken broth.
Pour this mixture on top of the pork chops in the crock pot.

Cover and cook on low for 5-7 hours or on high for 2.5-3.5 hours until the pork has an internal temperature of 165 degrees F.
The meat will be fork tender and can easily cut with a fork. It's delicious and such a great recipe.
Serving ideas for Crock Pot boneless pork chops:
Serve over pasta or with potatoes. We also like it with rice.
This recipe is very versatile and it's easy to serve it with many different things. You can even just eat this meal by itself if trying to eat low carb.
Our favorite is Crock Pot Pork Chops and Potatoes!
It's a delicious and hearty meal that everyone loves. So quick and easy.
Pork Chop Crock Pot recipes easy variation ideas:
Throw in some baby potatoes in the crock pot under the pork chops.
Throw in carrots.
Serve over pasta.
Serve with rice.
Serve with mashed potatoes.
This is a great way to feel like you are eating something different without doing much work. My kids think I fixed an entirely new recipe and all I did was change what it's served with.
I do this with a lot of recipes that we enjoy. It allows me to fix recipes everyone likes but they don't get tired of the same old meals.
It's amazing what switching up the sides will do or throwing in a few different ingredients.
Print this Easy Crock Pot Pork Chops recipe below:
This is the best slow cooker pork chops!
It is packed with flavor and so easy you won't believe it! We love using the crock pot because it makes it so easy.
Plus, the meat is so very tender from being slow cooked all day. However, you can bake this in the oven if you forget to throw it in the slow cooker in enough time.
Pork Chop Slow Cooker Recipes easy dinner idea is the best.
Since the entire family loves this recipe, I cook it frequently. It is definitely a part of our normal menu rotation.
This recipe is so easy and quick, it sure keeps us from getting take out in a pinch.
In fact, I cut our grocery bill by 50% off by following these 8 Tips for for Saving Money on Groceries by Menu Planning! Save that money for a family vacation or maybe just some wiggle room in the budget.
It's so nice saving money and serving a meal that the entire family will enjoy. Plus, it does not require hours in the kitchen.
Learning how to save money on groceries has really helped our budget.
Let us know what you think about this meal once you try it. I bet your family will love it.
It's just so simple and delicious and healthy too! This recipe is all around a winner.
Try these other Easy Pork Chops Crock Pot recipes:
Be sure to check out all of our delicious Crock Pot Recipes here.