This post may contain affiliate links. If you make a purchase through links on our site, we may earn a commission.
Crock pot pork chops recipe is a frugal and tasty weeknight meal. The pork is so tender and really easy to make. This is our favorite way to cook pork chops.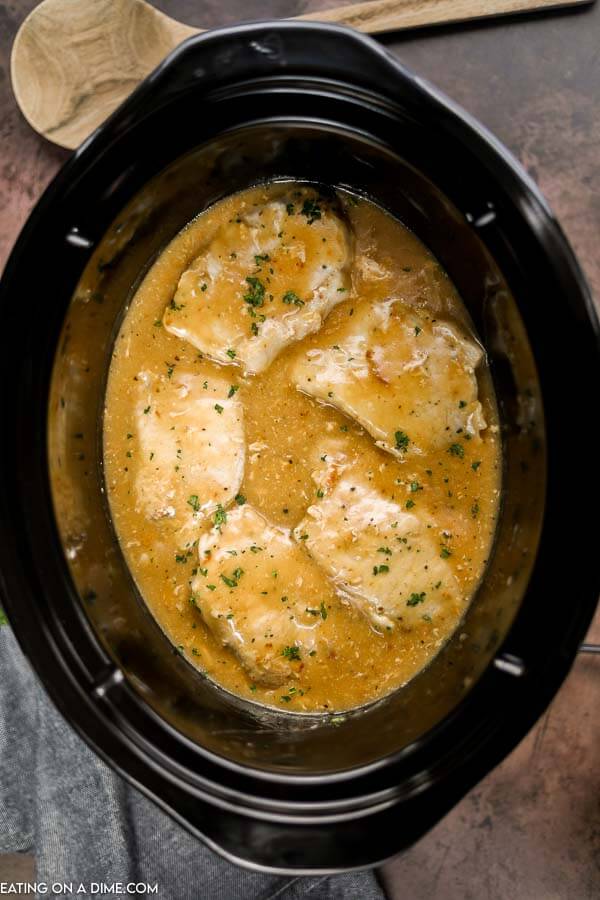 Crock pot pork chops recipe
You know I am always looking out for an easy recipe and frugal weeknight meal. If you know me, you know we love crock pot pork chops. This recipe is no different and does not disappoint.
Each bite is really tender from being slow cooked and the flavor is the best. Once you make pork chops like this, you will see why our family loves it so much.
A good Crock Pot is a must!
I also really like this crockpot. I use this all the time and it's great. My favorite feature is that you can lock the lid down. This is awesome for when you need to take the crockpot somewhere.
I often use the slow cooker to take dishes to potluck events and this feature is amazing! Another favorite is this programmable crock pot for when I am am not at home all day. I love coming home to a nice meal ready and waiting!
I also like to use crock pot liners to make clean up a breeze. These are worth every penny and save a ton of time.
Next time you want to enjoy delicious and super tender pork chops make sure you try this recipe! Make sure you check out all our frugal crock pot recipes.
Crock Pot Pork Chops Ingredients:
Pork Chops
Cream of Chicken Soup
Pork Gravy Mix
Chicken Broth
Pepper
Cornstarch Slurry
Water
How to make Crock Pot Pork Chops:
Prepare your Pork Chops – Place pork chops in slow cooker. You can brown then first if you want, but I never do. I normally toss them in the crock pot frozen.
Mix together ingredients – Whisk together remaining ingredients and pour over pork in the crock pot. If you prefer, you can also sprinkle in some garlic powder.
Cook your Pork Chops – Cover and cook on high for 4 hours or low for 7 hours until pork is fork tender. Cook time could vary.
How to make Crockpot Pork Chop and Gravy:
We love to make a gravy when preparing these pork chops. Especially serving over mashed potatoes or rice. Follow these steps to make a thicken the gravy:
To make a a thicker sauce of mix 1 tablespoon of cornstarch and ¼ cup water and whisk until smooth.
Add cornstarch mixture to some of the liquid from slow cooker and heat to boiling whisking until thickened. Easy!
What to serve with slow cooker pork chops?
There are so many different sides that you can serve with Pork Chops and Gravy. Here are some of our favorites.
Serve with Pasta – Our family enjoys this easy 4 ingredient Parmesan Pasta. So yummy if you are craving comfort foods.
A complete meal idea – Serve with mashed potatoes and green beans. It is simple but delicious.
Add some Broccoli – Sometimes we also add a simple side salad or steam broccoli in the microwave for another easy side idea.
White Rice is a family favorite –My family loves it with white rice. We actually keep this in the freezer so it is so easy on busy nights.
Asparagus is a great option – This meal is also good with asparagus. This oven roasted asparagus is a family favorite and it is very simple and quick to make.
Add some bread – We love serving with rolls. It is just what you need to get all the gravy that is left on your plate.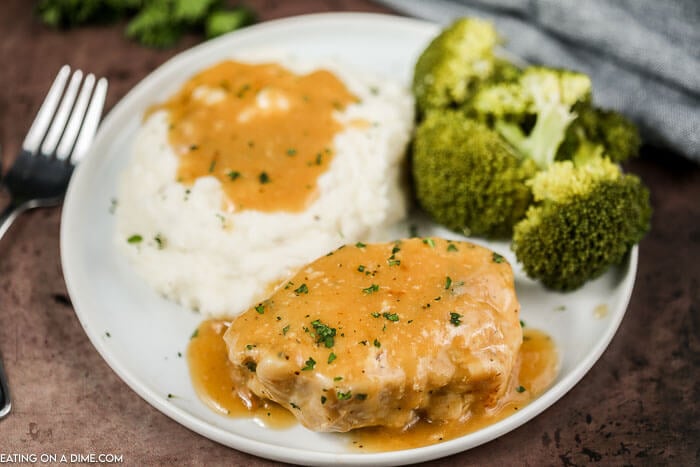 How to cook Bone-In Pork Chops?
If you have Bone-In Pork Chops instead of boneless, you can still make this meal. The ingredients and the process is still the same you will just want to cook for an extra hour.
Some people prefer the bone-in pork chops to cook in the crock pot. They think they don't dry out as fast as the boneless pork chops. I have cook both of them in the crock pot and they have turned out perfectly.
Can I make this in the Instant Pot?
Yes, you can make Instant Pot Pork Chops and Gravy. Using the instant pot has been a game changer for my family. I still love using the crock pot for slow cooker recipes when I didn't set something out for dinner, it has saved me.
Slow Cooker meals are still a family favorite especially coming home and dinner is done and smells so good.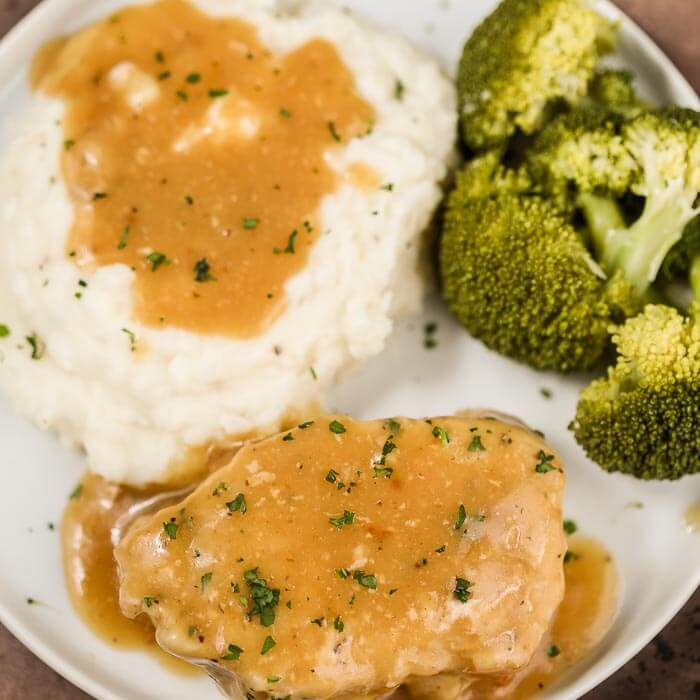 What to Do With Leftover Pork Chops?
One of our favorite ways to enjoy leftover pork chops and gravy is to make an open faced sandwich. This is so easy and you can just use normal loaf bread.
Add the pork chops, gravy and mashed potatoes to a slice of bread. Open faced sandwiches are so delicious and very easy. The kids think they are eating an entirely new meal and don't even realize it's leftovers.
I like to drizzle even more gravy on top to let it soak into the bread. The gravy is so good.
How to store leftovers:
We love leftovers at our house. We usually don't have that many since my family is large. But occasionally we do, and this is the perfect meal to store leftovers.
Store in an airtight container in the refrigerator for up to 2 days. This is one of my husbands favorite meals to have leftovers. He loves taking the leftovers to lunch the next day. I store in individual containers for an easy grab and go in the morning.
Print Recipe here for Slow Cooker Pork Chops and Gravy:
Crock Pot Pork Chops and Gravy
Crock pot pork chops recipe is a frugal and tasty weeknight meal. The pork is so tender and really easy to make. The sauce is amazing.
Instructions
Place pork chops in slow cooker.

Whisk together the cream of chicken soup, pork gravy mix, chicken broth and pepper. Pour this mixture on top of the pork chops in the crock pot.

Cover and cook on low for 6-8 hours or on high for 3-4 hours until the pork is cooked through. The pork should have an internal temperature of 145 degrees F. Cooking times will vary based on the thickness of the pork chops.

Stir together the cornstarch and water in a small bowl.

Stir this mixture into the crock pot for the last hour of the cooking time if cooking on low or 30 minutes if cooking high to thicken the gravy.

Serve warm over mashed potatoes or noodles. Enjoy!
Recipe Notes
Refrigerate the leftovers in an air tight container for up to 4-5 days.  
Nutrition Facts
Calories
266
kcal
,
Carbohydrates
6
g
,
Protein
30
g
,
Fat
12
g
,
Saturated Fat
4
g
,
Polyunsaturated Fat
2
g
,
Monounsaturated Fat
5
g
,
Trans Fat
1
g
,
Cholesterol
94
mg
,
Sodium
565
mg
,
Potassium
561
mg
,
Fiber
1
g
,
Sugar
1
g
,
Vitamin A
100
IU
,
Vitamin C
3
mg
,
Calcium
21
mg
,
Iron
1
mg
More Crock Pot Pork Chops: