This post may contain affiliate links. If you make a purchase through links on our site, we may earn a commission.
Lots of gravy and tender pork chops make this Crock Pot Smothered Pork Chops recipe the best comfort food. It is delicious served over mashed potatoes and a very easy recipe.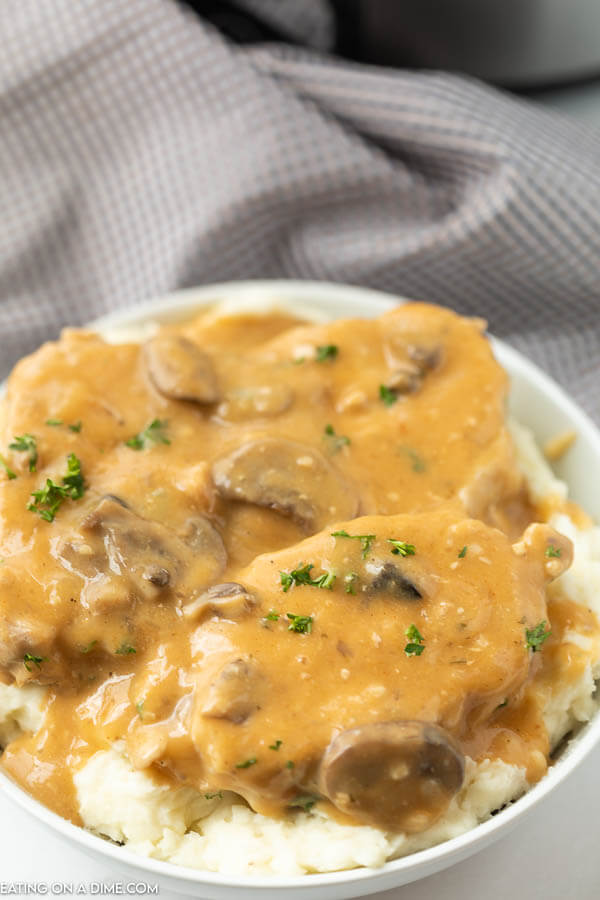 Smothered Pork Chops Slow Cooker:
Your family is going to love this easy Slow Cooker Pork Chops recipe. It is super easy to make and the perfect comfort food to come home to. We love serving it over mashed potatoes but can easily be served over rice.
The pork chops are cooked in a creamy gravy sauce that is perfectly served over your pork chops. The pork chops come out so juicy and flavorful cooking in the slow cooker all day.
This recipe is sure to become a family favorite.
How to cook bone in Pork Chops in the Crock Pot?
When making this recipe, I usually cook boneless pork chops. But you can definitely use bone in pork chops.
Bone in pork usually take a little longer to cook. I would cook closer to the 8 hour mark to ensure that your pork chops are done.
Ingredients:
Boneless Pork Chops
Sliced Mushrooms
Sliced Onions
Cream of Mushroom Soup – We love this easy homemade cream of mushroom soup.
Cream of Chicken Soup – Try homemade cream of chicken.
Beef Broth
Minced Garlic – Garlic powder can also be used.
Paprika
Pepper
How to make crock pot smothered pork chops:
First, put the pork chops in the crock pot. Place the mushrooms and onion all over the pork. This is going to give it so much amazing flavor.
Second, get a mixing bowl and mix the cream of chicken and cream of mushroom together with the broth and seasonings to make the brown gravy. I like to use a whisk to make sure everything is mixed well.
Next, pour the liquid into the crock pot.
Finally, cover the crock pot and cook on low for 6-8 hours. You can also cook on high if you prefer for 3-4 hours. The pork needs to have an internal temperature of 165 degrees. Pork Chops will come out golden brown.
Why are my smothered pork chops tough?
Pork Chops are a lean cut meat. If they are not cooked properly they could turn very tough. Even a few minutes to long could result in tough meat. Rather you are grilling, baking or using the crock pot be sure that you cooking the correct amount of length.
We like using a meat thermometer to ensure that they do not turn dry. Cooking in the crock pot should prevent the pork chops turning tough. As the crock pot allows you for to cook slowly so that you get the most tender pork chop.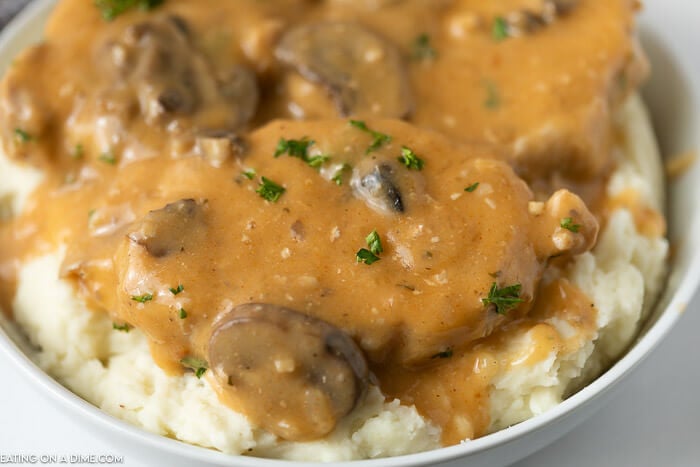 How to freeze:
Put all ingredients in your labeled freezer bag and place in the freezer.
Place the contents of the bag into the crockpot (ingredients can be thawed or frozen) and cook on low for 6-8 hours.
We love to make freezer meals to enjoy during busy weeks. You might want to use these Freezer bag holders. If you love freezer meals, try out our Lazy Day Cooking Club where we can help you make delicious dinners in minutes instead of hours.
It is like having another set of hands in the kitchen and really helps fill the bags.
Tips for smothered pork chops:
Most of my recipes are created in a 6 quart crock pot, but I love my 4 quart crock pot for small dishes. Now, if you work away from home, then I suggest you get a programmable crock pot so you can have it cook for the perfect amount of time.
Crockpot liners- So handy and makes cleanup a breeze.
You can use bone in pork chops instead of boneless. I like to use what is on sale or already in the freezer.
I would not use the thin pork chops as they will fall apart when serving. We like using the thick pork chops as the meat comes out fork tender.
For an even creamier sauce, you can add in heavy cream.
An onion soup mix packet is full of flavor and can be added in place of chopped onion if you have it.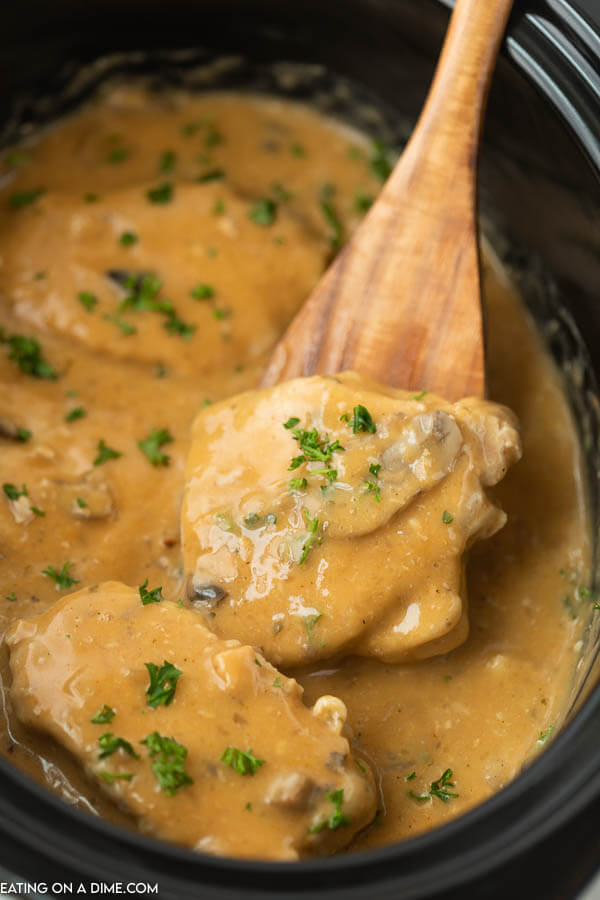 The entire family loved it!
Our kids loved this recipe. They were not sure at first since it didn't look that great. But once they tasted how tender and flavorful the pork chops and gravy were they were hooked.
Now it is something they ask for again and again. I love when the entire family enjoys a recipe. I think your family will deem this a success as well!
What to serve with smothered pork chops:
You are going to love how good the gravy come out. You are going to love this recipe, so make sure you add it to your weekly menu.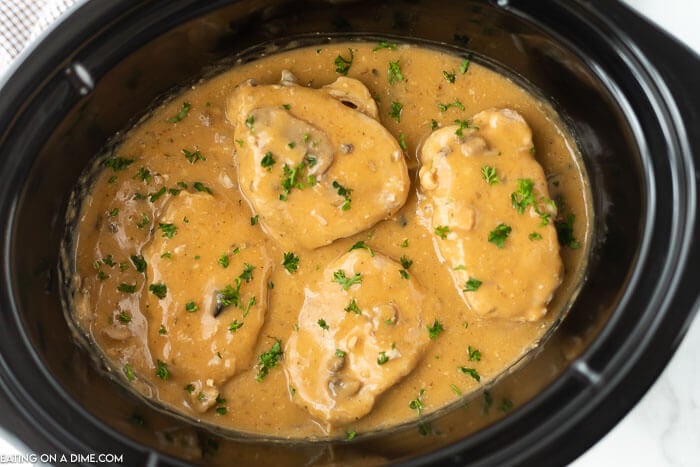 How to store leftovers:
We love leftovers at our house. We usually don't have that many since my family is large. But occasionally we do, and this is the perfect meal to store leftovers.
Store in an airtight container in the refrigerator for up to 2 days. This is one of my husbands meals to have leftovers.
Crock pot Smothered Pork Chops
Try this easy crock pot smothered pork chops. These crock pot smothered pork chops are delicious and super easy to make. 
Instructions
Place the pork chops in the bottom of a 6 quart crock pot. Place the mushrooms and onions are top of the pork in the crock pot.

Pour this mixture into the crock pot.

Cover and cook on low for 6-8 hours or on high for 3-4 hours until the pork has an internal temperature of 165 degrees F.

Serve over rice, mashed potatoes or noodles.

Enjoy!
Recipe Notes
You can also use bone-in pork chops for this recipe.
If the sauce is too thin, whisk together 2 tablespoons cornstarch with ¼ cup of cold water (or milk) then stir in. Cook on high without the lid for 30 minutes until the sauce has thickened. 
Nutrition Facts
Calories
295
kcal
,
Carbohydrates
8
g
,
Protein
34
g
,
Fat
13
g
,
Saturated Fat
5
g
,
Cholesterol
96
mg
,
Sodium
809
mg
,
Potassium
734
mg
,
Fiber
1
g
,
Sugar
1
g
,
Vitamin A
250
IU
,
Vitamin C
1
mg
,
Calcium
20
mg
,
Iron
2
mg
More pork chop crock pot recipes: