This post may contain affiliate links. If you make a purchase through links on our site, we may earn a commission.
Oven Roasted Green Beans make the best side dish in minutes and only require a few simple ingredients. Serve it with baked chicken or fish for a delicious dinner.
Oven Roasted Green Beans:
Up until now, green beans was the only veggie that my family just had to have canned. This roasted Green Beans recipe is now our favorite way to cook green beans.
Roasted Green Beans in the oven is now the only way my family will eat green beans. I have made this recipe with fresh green beans and even frozen green beans. They have tasted wonderfully every time.
You are going to love this easy side dish with these easy step by step recipe card. This green beans recipe is flavorful and made with simple ingredients. They can easily be made for a holiday side dish or a weeknight meal.
Do Green Beans need to be Blanched before Roasting?
No, there is no need to blanched the fresh green beans before roasting them. Simply just wash and trim the ends and place on a baking sheet. Season and place in the oven.
Green beans taste better fresh and you can easily change the seasoning or add other vegetables to your roasting pan.
Ingredients
Fresh Green Beans
Olive Oil
Minced Garlic (Try garlic powder if that is all you have on hand.)
Salt and Pepper
How to Roast Green Beans:
Step 1 – Heat oven and trim green beans – First, preheat the oven to 400 degrees. While the oven is preheating, cut the ends off the green beans. Make sure they are washed really good.
Step 2 – Combine Seasoning – Second, mix the olive oil and garlic together.
Step 3 – Place green beans on baking sheet – Next, put the green beans on a baking sheet. Make sure they are spread out really good in a single layer.
Step 4 – Season Green Beans – Grab the bowl with the olive oil mixture and drizzle it all over the green beans. Sprinkle the salt and black pepper all over.
Step 5 – Roast the Green Beans – Finally, put the green beans in the oven. I like to cook them until they are slightly brown.
Step 6 – Serve and enjoy – Serve and enjoy this simple side dish. It really is so delicious.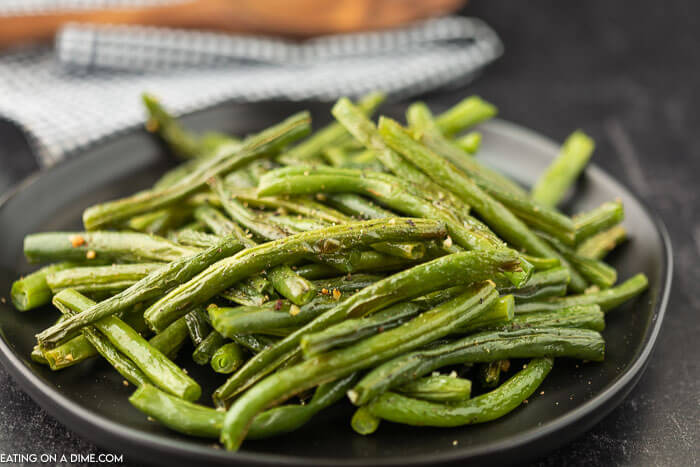 How to Trim Green Beans:
Get about 15 green beans and place on a cutting board. Line the green beans up in a uniform manner lengthwise. It doesn't have to be perfect.
Take a Sharp Knife and with one holding the green beans and then cut the end off the green beans. I try to get right above the tip and cut.
Then line up the other end of the green beans and cut the other side of the green beans.
Roasted Green Bean Variations:
Seasoning – Season with red pepper flakes if you like a little extra heat.
Parmesan Cheese – Add grated Parmesan cheese to the green beans.
Add in Vegetables – For an easy roasted vegetable side dish, mix in slice mushrooms, carrots, or zucchini.
Chopped Bacon – Top the green beans with chopped bacon for added flavor.
Lemon Juice – Lemon juice is a delicious option to squeeze over the top of the roasted green beans.
Italian Seasoning – We like to change the seasoning when we prepare these oven roasted green beans. Italian Seasoning blend is always our first option. It is loaded with flavor and makes the green beans taste amazing.
You will love roasted green beans. Each bite is tender crisp and delicious. This is probably our favorite recipe for roasted vegetables.
Recipe Tips:
Prepare Green Beans – Before baking the green beans, we recommend trimming off any bad ends. We also like to make sure they are washed really well.
Seasoning – For the best flavor of green beans, season thoroughly. Adding the drizzle of oil helps to make the texture crispy.
Baking Green Beans – Bake green beans until they are golden brown. Bake for about 15 minutes and half way through, shake the pan to ensure that all sides get cooked.
How to Store Leftovers:
Place any green beans that you have leftover inside an airtight container. They will keep up to 5 to 7 days.
Leftovers reheat well for lunch or another dinner. For this reason, we often make extra to enjoy later.
What Temperature do you Roast Green Beans at?
Depending on your oven, we usually bake at 400 degrees to 425 degrees. This high temperature cooks the green beans perfectly. We like a crispy texture.
Are Green Beans Healthy?
Yes, green beans are healthy. They are rich in vitamin c and help fight inflammation. This green vegetable is an inexpensive side dish that can be served many different ways.
What to Serve with Green Beans?
Can Green Beans be made on the Grill?
Yes, you can make green beans on the grill in a foil pack. We grill a lot in the summer and this is one of my favorite side dish to prepare on the grill. If you need step by step tips to have the best side dish, make Foil Pack Green Beans.
Delicous Roasted Fresh Green Beans
Roasted Green Beans are definitely the best way to eat fresh green beans. Don't eat canned anymore, because Roasted Green Beans are just as easy and packed with flavor.
Instructions
Preheat oven to 400 degrees F.

Cut the ends off of the green beans and wash them thoroughly.

Mix the olive oil and mince garlic together in a small bowl.

Lay the green beans out on a baking sheet.

Drizzle the olive oil mixture over the green beans.

Season with the salt and pepper.

Cook for 15-20 minutes until the green beans are browned slightly.

Serve immediately and enjoy!
Recipe Notes
You can also season with approximately ¼ tsp of Red Pepper Flakes if you like spicy or top with ¼ cup shredded Parmesan cheese for cheesy garlic green beans! 
Nutrition Facts
Calories
54
kcal
,
Carbohydrates
8
g
,
Protein
2
g
,
Fat
2
g
,
Saturated Fat
1
g
,
Sodium
152
mg
,
Potassium
244
mg
,
Fiber
3
g
,
Sugar
4
g
,
Vitamin A
783
IU
,
Vitamin C
14
mg
,
Calcium
44
mg
,
Iron
1
mg
More Easy Green Bean Recipes: