Oven roasted green beans make the best side dish in minutes and only require a few simple ingredients. Serve it with baked chicken or fish for a delicious dinner.
Oven roasted green beans
I just had to snag some fresh green beans at the store the other day. Now, they were not the best price, but they looked oh so beautiful.
If you know me, then I think (or used to think) fresh green beans are disgusting. I don't know why – but they are waxy and hard to eat.
Not anymore! Now that I have tried these delicious and amazing green beans in the oven, I can't get enough! Not only is this side dish delicious but it is so easy!
Up until now, green beans was the only veggie that my family just had to have canned. This roasted Green Beans recipe is now our favorite way to cook green beans.
I have made this recipe with fresh green beans and even frozen green beans. They have tasted wonderfully every time.
You are going to love this easy side dish!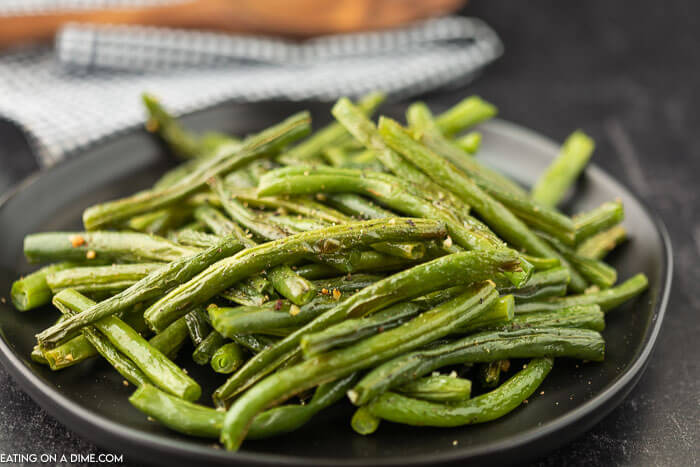 Roasted green beans taste amazing!
After kicking and screaming (yes, I am a bit dramatic) and refusing to try fresh green beans, I am an addict. 😉 I cooked fresh green beans last night once again and everyone loved them. Every time… SUCCESS!!

They are crispy, but not waxy and the flavor is amazing – The flavor will shock you because we are not using any fancy seasonings here.
I am finally a fresh green bean fan! Woohoo! I think that means, I am a big girl now, right?
Ingredients
fresh green beans
olive oil
minced garlic (Try garlic powder if that is all you have on hand.)
salt and pepper
How to roast green beans:
First, preheat the oven. While the oven is preheating, cut the ends off the green beans. Make sure they are washed really good.
Second, mix the olive oil and garlic together.
Next, put the green beans on a baking sheet. Make sure they are spread out really good in a single layer.
Grab the bowl with the olive oil mixture and drizzle it all over the green beans. Sprinkle the salt and pepper all over.
Finally, put the green beans in the oven. I like to cook them until they are slightly brown.
Serve and enjoy this simple side dish. It really is so delicious.
Other options you might like to try:
Season with red pepper flakes if you like a little extra heat.
Add grated Parmesan cheese to the green beans.
You will love roasted green beans. Each bite is tender crisp and delicious. This is probably our favorite recipe for roasted vegetables.
What can you serve with green beans?

Try roasted fresh green beans!
This recipes is really that simple and is the perfect side dish. They look so fancy, so they would also be great when you have company over.
Now, I am thinking about cooking these on the grill – what do you think?
You might also like this Crock Pot Cheesy Potato Casserole Recipe! It's another yummy potato recipe that is great with just about anything!
Money Saving tip:
Make sure you download our free What's in Season? Calendar of Fruits and Vegetables in Season printable that will show you when you will find produce at its lowest price. That is the best way to save money next time you are making these baked green beans.
I have learned over the years that shopping and cooking based on sales really helps our grocery budget. It adds up over time and makes a big difference in our budget.
It helps keep the grocery budget reasonable and feed a large family. By shopping when things are on sale I save money on groceries and it really helps our budget. Saving money and feeding a big family can be accomplished.
I cut our grocery bill by 50% off by following these 8 Tips for for Saving Money on Groceries by Menu Planning!
Print this oven roasted green beans recipe below:
Delicous Roasted Fresh Green Beans
Roasted Green Beans are definitely the best way to eat fresh green beans. Don't eat canned anymore, because Roasted Green Beans are just as easy and packed with flavor.
Ingredients
1

pound

Fresh Green Beans

2

tsp

Olive oil

1

tsp

minced garlic

1/4

tsp

Salt

1/4

tsp

pepper
Instructions
Preheat oven to 400 degrees F.

Cut the ends off of the green beans and wash them thoroughly.

Mix the olive oil and mince garlic together in a small bowl.

Lay the green beans out on a baking sheet.

Drizzle the olive oil mixture over the green beans.

Season with the salt and pepper.

Cook for 15-20 minutes until the green beans are browned slightly.

Serve immediately and enjoy!
Recipe Notes
You can also season with approximately ¼ tsp of Red Pepper Flakes if you like spicy or top with ¼ cup shredded Parmesan cheese for cheesy garlic green beans! 
Nutrition Facts
Calories
54
kcal
,
Carbohydrates
8
g
,
Protein
2
g
,
Fat
2
g
,
Saturated Fat
1
g
,
Sodium
152
mg
,
Potassium
244
mg
,
Fiber
3
g
,
Sugar
4
g
,
Vitamin A
783
IU
,
Vitamin C
14
mg
,
Calcium
44
mg
,
Iron
1
mg

Typically fresh green beans are at their lowest price in the summer months, like June. Stock up so you can enjoy them all summer long. However, sometimes you can find them on sale in the winter months. If you can't find a great deal, remember, frozen green beans are a frugal alternative and they cook nicely in this recipe.
More easy side dish recipes:
More easy green bean recipes: