This post may contain affiliate links. If you make a purchase through links on our site, we may earn a commission.
Sauteed green beans make an easy side dish in less than 10 minutes. They are sautéed to perfection with the perfect blend of garlic.
Sauteed green beans
If you think green beans are boring, try this flavor packed recipe and be prepared to change your mind. This recipe has just enough garlic flavor and olive oil to make the green beans so tasty.
The seasoning is not overwhelming and mild and perfect. The green beans are not mushy and cooked just enough. I think you will love them.
Since you are using olive oil, this dish is also dairy free. The next time you are looking for a gluten free and dairy free option, try these yummy green beans.
This is a great example of home cooked and fresh food that is inexpensive and effortless.
How to cook fresh green beans:
First, wash the green beans really good.
Next, trim the ends off the beans.
Sauté with your favorite seasonings along with oil and butter for 5 to 6 minutes.
Let's make easy Sauteed Green Beans with Garlic.
It is the perfect side dish and super easy. Whether you call them string beans or green beans, this recipe is a must try and gluten free.
Ingredients:
Fresh Green Beans – Trim green beans first.
Minced Garlic – You can substitute garlic powder.
How to make Sautéed Green Beans
First, add the oil to a large skillet. Heat over Heat the oil in a large pan over medium high heat.
Once the oil is hot, add the green beans. Then cook until the beans get soft and start to brown a little bit. This normally takes about 5 to 6 minutes.
Add the garlic. Cook the green beans for another minute to blend the garlic with the beans.
Finally, remove from the heat. Salt and pepper to taste. Serve and enjoy these garlic green beans.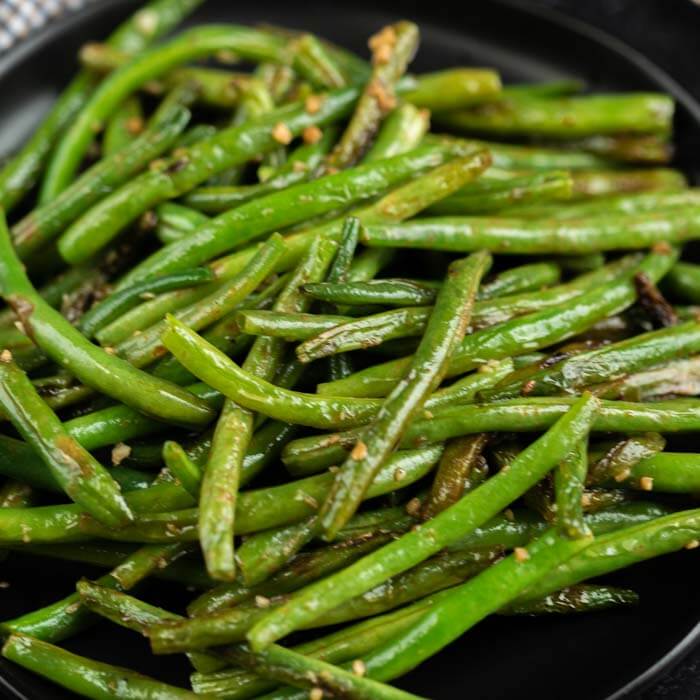 What can I season green beans with?
If you don't like garlic, these sautéed green beans will still be great without it! Just omit the garlic.
Onion is another good seasoning. You can use 1 teaspoon of onion powder in this recipe. I have have used a ¼ cup of fresh onion diced and sautéed with the green beans until translucent.
Bacon is always a great idea. Cook a couple pieces of bacon in the skillet. Discard all but 1 tablespoon of oil and use this instead of the olive oil. Cook the green beans as normal.
Fresh herbs add another flavor that is delicious. Try using fresh herbs such as parsley, basil or oregano.
Lemon juice and garlic make a good combination.
Toasted almonds that are sliced.
Grated Parmesan cheese. I prefer to use fresh but use what you have on hand or prefer.
Tips:
It is not necessary to blanch green beans prior to sautéing. However, if you prefer a soften green bean, you may want to add this step. Just boil them for 3 minutes and then immediately put them in an ice bath so they stop cooking.

You can sauté as normal after this step. Blanching also helps to keep the green beans that bright green color.
Fresh is best but frozen green beans can be used. Allow the beans to thaw first. Finally, cook the green beans as normal.

This is a nice option if you need to save a little time with ready to cook green beans. You won't have to trim the ends off the green beans.
How to store leftovers:
Place any green beans that you have leftover inside an airtight container. They will keep up to 5 to 7 days.
Leftovers reheat well for lunch or another dinner. For this reason, we often make extra to enjoy later.
How to reheat?
Reheat leftovers in the skillet until heated through. You can also use the microwave for 1 to 2 minutes.
Either method will work. You can use your preferred heating method.
Can you make in advance?
Yes, you can. Parboil the green beans the night before you plan to use them. Keep them in the fridge.
The day you are ready to serve, reheat in a skillet with the oil and seasonings as normal.
The best Sautéed Green Beans Recipe
This recipe is so simple that it is hard to believe how delicious and flavorful it is. Give it a try and taste how amazing it is.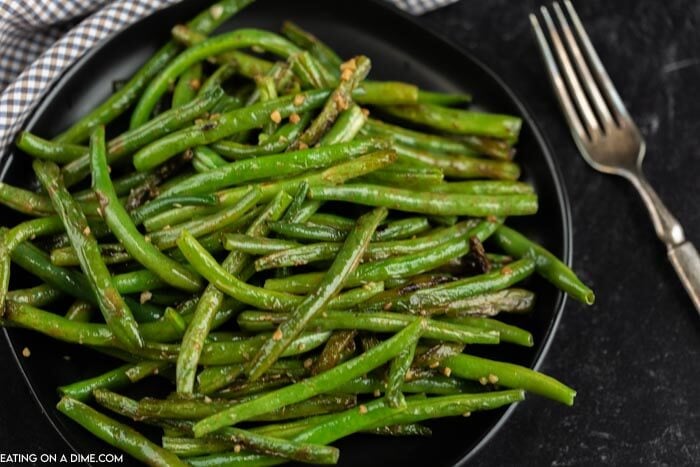 What to serve with green beans
Brown Sugar Skillet Chicken – You only need 3 ingredients and 20 minutes to make this skillet chicken recipe. The brown sugar sauce is so tasty.
Skillet Honey Mustard Chicken – Each bite of this recipe is sweet and tangy while being so easy to prepare. Get dinner on the table in just 15 minutes and your family will love this meal.
Print this Sautéed Green Beans Recipe below: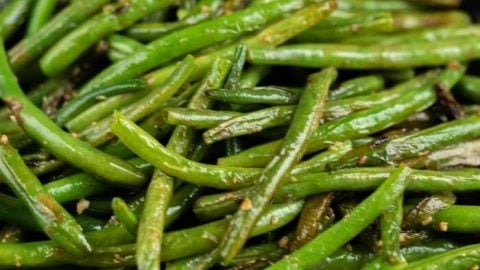 Sautéed Green Beans
Sautéed green beans make an easy side dish in less than 10 minutes. They are sautéed to perfection with the perfect blend of garlic.
Instructions
Heat the oil in a large pan over medium high heat.

When the oil is hot, add in the green beans and cook until the beans are soft and started to brown in some areas (approximately 5-6 minutes).

Add in the garlic and cook for 1 more minute to incorporate the garlic.

Remove from the heat and season with the salt.

Serve warm and enjoy!
Nutrition Facts
Calories
68
kcal
,
Carbohydrates
8
g
,
Protein
2
g
,
Fat
4
g
,
Saturated Fat
1
g
,
Polyunsaturated Fat
1
g
,
Monounsaturated Fat
3
g
,
Sodium
298
mg
,
Potassium
245
mg
,
Fiber
3
g
,
Sugar
4
g
,
Vitamin A
783
IU
,
Vitamin C
14
mg
,
Calcium
45
mg
,
Iron
1
mg
More easy side dish recipes: