Brown sugar chicken has only 3 ingredients and turns out delicious in 20 minutes. The brown sugar sauce is tasty and perfect over rice.
Brown sugar chicken
I am so excited to share this amazing recipe for brown sugar chicken. This is the best chicken and you will not believe how simple it is.
It was one of those nights, when I was in the mood for something new, but had no idea what to make. Brown Sugar Skillet chicken was born!
I had no idea what to make for dinner one night and I had chicken and a skillet ready to go. I just stared at my pantry and created this yummy chicken dish.
Our family has been eating it ever since. It is simply amazing.
If you like bacon, try our brown sugar bacon wrapped chicken. Yum!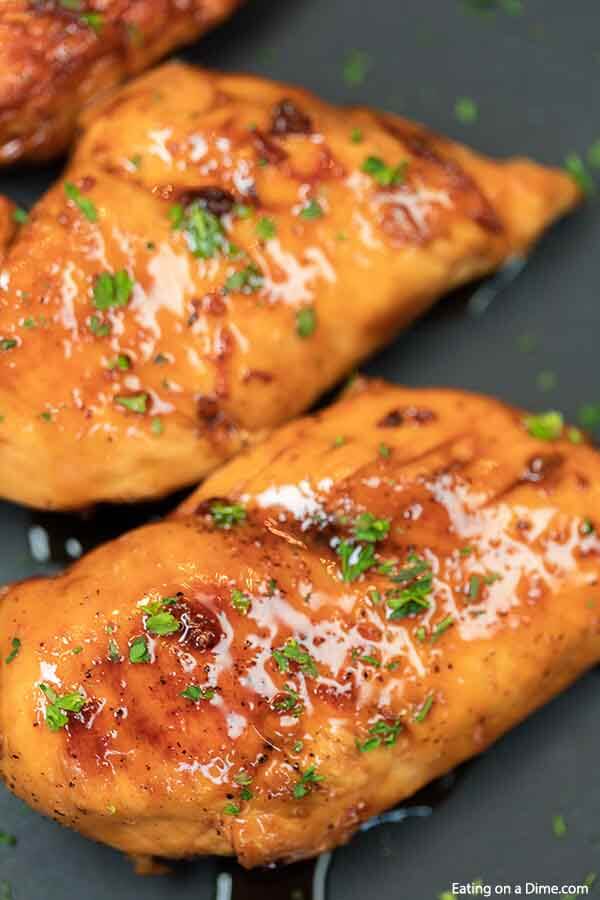 Everyone will love brown sugar skillet chicken.
I thought I would share it with you because it is definitely frugal. 😉 There are only 3 ingredients – brown sugar, water and chicken!
You can't get any simpler than that. It is perfect for busy weeknights and sure to be a hit all around. This recipe is the best!
You need a good skillet!
We use a cast iron skillet and it's perfect for this recipe. I have the Lodge cast iron skillet but you can see all the different brands here.
Cast iron is amazing! You can make so many different recipes and they are great for skillet recipes.
If you are not already cooking with one, you should! They are amazing and the food cooks so evenly.
Don't be hesitant to use cast iron because it really is simple to use and maintain. It cooks the food so evenly and recipes turn out great.
Let's get started!
This chicken dish is so simple and easy.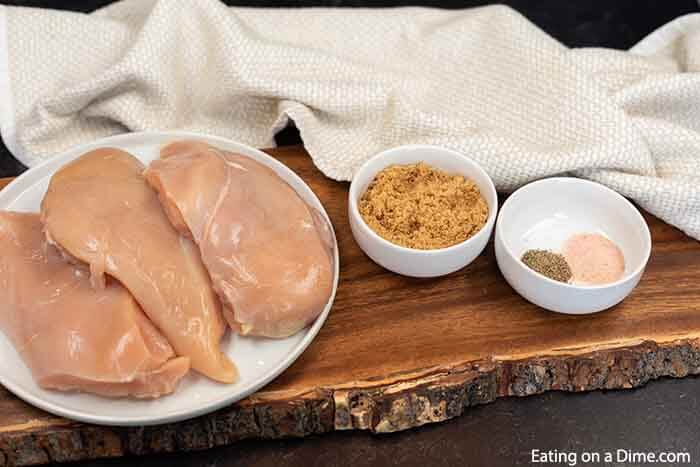 Ingredients for garlic brown sugar chicken:
How to make brown sugar chicken in a skillet:
First brown the chicken on both sides. You want to get them nice and brown so you get the brown crispy stuff on the pan. That makes EXTRA flavor in your sauce.
I seasoned with salt and pepper too.
Next dump in your brown sugar and water and stir so the brown sugar melts.
Bring to a small boil – cover with a lid (turn to medium low) and let simmer for 10 minutes until the chicken is cooked through and the sauce has thickened. I also flipped the chicken a few times.
Garlic brown sugar chicken is fabulous!
The results were fabulous! It is definitely a delicious chicken coated in a sweet sauce of deliciousness! YUM! From start to finish this chicken was ready in 20 minutes and it was so easy to make!
What to serve with brown sugar skillet chicken?
This recipe is delicious served with white rice. You can learn how to freeze rice and you can make this meal even easier.
I love to grab the rice from the freezer in the morning and when we come home it is all ready to reheat and serve. We do this for lots of meals and it helps on busy weeknights.
Other ideas include Quick & Easy Baked Beans and Sweet Honey Corn Bread. Yum!
It is also delicious with mashed potatoes and microwaved steamed broccoli.
The brown sugar sauce tastes amazing over the rice or mashed potatoes.
This meal is also good with asparagus. This oven roasted asparagus is a family favorite and it is very simple and quick to make.
Save money with this simple dinner idea.
Takeout can be tempting on busy nights but easy recipes like this help to save money. I love knowing I can make this easy baked chicken dish in minutes.
My family gets to enjoy a great meal and I saved money. Fast food isn't always fast or good but it is definitely expensive. We get to enjoy much better food at home.
Everyone loves all of the brown sugar and garlic flavor in this delicious chicken. Sometimes we even add minced garlic and it is so tasty.
You can also add chicken broth instead of water if you prefer. Just use what you have in this chicken breasts recipoe.
We have even substituted chicken thigh for chicken breasts. It is still amazing and super easy.
Print this easy skillet chicken recipe below:
Brown Sugar Skillet Chicken
This Brown Sugar Skillet Chicken recipe is delicious and can be on the table in only 20 minutes! You probably have all the ingredients in your pantry.
Ingredients
3

Boneless Skinless chicken breast

Filet them or slice them to chicken tenders

2

tbsp

Olive Oil

¼

cup

brown sugar

½

cup

water

salt and pepper to taste
Instructions
In a large skillet heat oil over medium heat. Add in chicken.

Brown both sides and season with salt and pepper (3-5 minutes per side).

Stir together the brown sugar and water until well combined.

Add the brown sugar mixture to the pan and bring to a boil.

Then reduce the heat. Cover and simmer for 10 minutes. Flipping the chicken regularly.

Then let the chicken and sauce sit for approximately 5 minutes to allow the sauce to thicken. Serve with your favorite sides.
Nutrition Facts
Calories
181
kcal
,
Carbohydrates
13
g
,
Protein
24
g
,
Fat
3
g
,
Saturated Fat
1
g
,
Cholesterol
72
mg
,
Sodium
136
mg
,
Potassium
436
mg
,
Sugar
13
g
,
Vitamin A
34
IU
,
Vitamin C
1
mg
,
Calcium
17
mg
,
Iron
1
mg
Try these other easy skillet chicken ideas:
Try these other chicken recipes: