Try these brown sugar substitutes when you need to replace brown sugar in a recipe. 10 of the best brown sugar substitutes you need to know.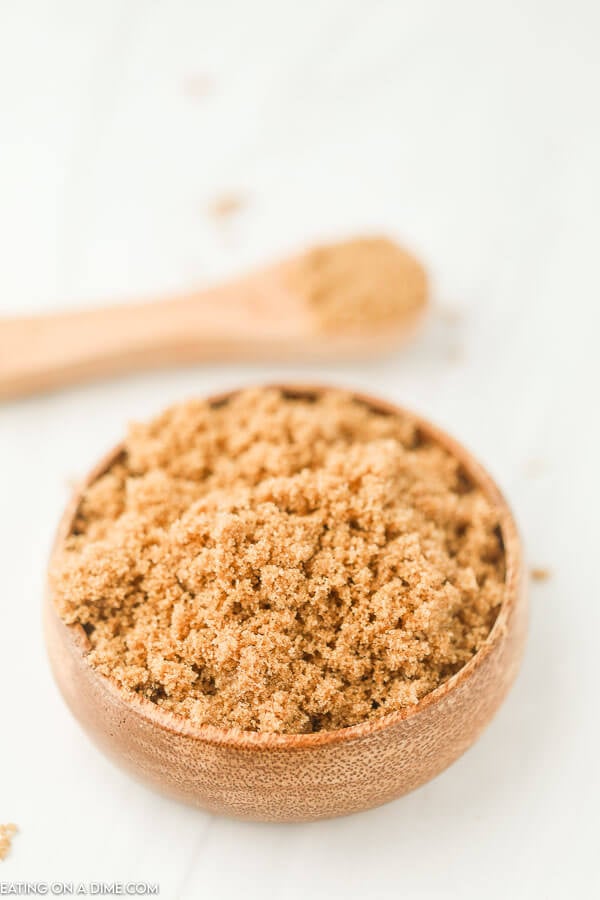 Brown sugar substitutes
The next time a recipe calls for brown sugar and you are out, utilize these substitutes. Any of these ingredients can be substituted for brown sugar in baked goods.
Keep reading for easy tips and tricks.
What is brown sugar?
Brown sugar is a combination of white sugar and molasses. The molasses contribute to its rich flavor and dark color.
Brown sugar adds a richness to recipes that is really delicious.
Light Brown Sugar vs Dark Brown Sugar
The color of the brown sugar is directly related to the amount of molasses. Dark Brown Sugar has more molasses in it and tastes sweeter and richer.
Whereas, Light Brown Sugar has a lower amount of molasses. It is lighter in color and not as rich tasting as its counterpart.
Can you substitute brown sugar for white sugar?
In baking, you can feel free to substitute brown sugar for white sugar. Just keep in mind, the texture may change. Also, the appearance once baked might be darker.
Brown sugar has a higher moisture content due to the molasses. This results in a softer, chewier chocolate chip cookie that is also slightly puffy.
Using white sugar will result in a thinner and crispier cookie.
Easy substitutes for Brown Sugar
1. White Sugar
Equal amounts of white sugar can be substituted for brown sugar in recipes. The texture might be slightly more crispy once baked using white sugar.
You may need to modify the cooking time as the edges of the cookies will get crispy.
Simply substitute with a 1:1 ratio in recipes. If your baking recipe calls for 1 cup of granulated sugar then use 1 cup of white sugar.
2. Homemade brown Sugar
You can quickly and easily make your own brown sugar. The homemade version is very simple to make and turns out great. You can easily add a tablespoon of molasses at a time to get the desired outcome.
I think you will be pleasantly surprised how easy it is to make homemade brown sugar.
3. White Sugar and liquid sweetener
This is very similar to homemade brown sugar. However, it uses slightly different ingredients such as honey, agave nectar or maple syrup.
Any of these liquid sweeteners would work and you can use what you have on hand.
4. Coconut Sugar
Derived from a coconut palm, this substitute is very similar to brown sugar. Palm sugar can be substituted equally for brown sugar using a 1:1 ratio.
For example, if you need a cup of brown sugar, you can use a cup of coconut sugar in the recipe.
5. Turbinado Sugar
While the texture is different, turbinado sugar can be used in place of brown sugar. However, it is not as fine as brown sugar. I would suggest using this as a garnishment.
It is tasty sprinkled on top of desserts, oatmeal, parfaits and more.
6. Date Sugar
Try this substitute for a healthier alternative. It uses dehydrated dates and makes a great substitute if you are avoiding processed sugars.
This is a healthy substitute that tastes amazing.
7. Maple Syrup
Due to the liquid form of this ingredient, it is best used as a substitute in no bake recipes. It is perfect to use in sauces that call for brown sugar.
Due to the sweetness of maple syrup, I would not recommend a 1:1 ratio when substituting. You will need slightly less of the maple syrup.
8. Maple Sugar
The texture is different in maple sugar. This is best used in no bake recipes or for topping. It is delicious on oatmeal or used as a garnishment in recipes.
10. Raw Sugars
This type of sugar contains minimum brown sugar in it. If you plan to use this as a substitution, make sure to add additional liquid to offset the missing molasses and moisture content.
While raw sugar is brown in color, it has very little brown sugar in it.
Best brown sugar substitutes
Give these 10 easy substitutes a try. The next time you need a brown sugar alternative, any of these ideas would work great.
There are ideas for baking and non baking substitutions. It is so easy when you have lots of great substitutions to try.
You might want to print this list out and keep it handy in the kitchen. It is a great reference guide for baking.
More Baking Tips: