This post may contain affiliate links. If you make a purchase through links on our site, we may earn a commission.
We have gathered The Best Substitute for Cornstarch if you are out. These replacements will still thicken your soups and sauces.
Best Substitute for Cornstarch:
Cornstarch is an essential ingredient and hard to replace. These substitutes will help you to keep your soups and sauces from being watery and not thick. We use cornstarch a lot especially during the holidays and for a lot of our comfort foods and stir fries.
These 4 substitutes will help you save your Thanksgiving gravy or your Chicken Noodle soup when you realized you were out of cornstarch. Not only is cornstarch used for soups, we also use it in a lot of our baking recipes.
What is Cornstarch?
You may not use Cornstarch very much, but it is an important ingredient when making soups, sauces, pie filling and gravies.
Made from ground corn kernels, Cornstarch is a powdery starch. Cornstarch is naturally gluten-free, but is loaded with carbs. It is used to thicken sauces and stews and used in many baking recipes.
When used in baking cookies and cakes tender and puddings and custards to set.
Easy Cornstarch Substitute:
Cornstarch is a staple ingredient in my kitchen but sometimes we run out and not realize it. It is a budget friendly ingredient that is often in our gravy recipes. You don't need a lot when adding to the sauces and gravy.
There are many different substitutes that can help thicken your gravy, but the easiest substitute is all-purpose flour. It is identical in color and it essentially does the same that cornstarch would do.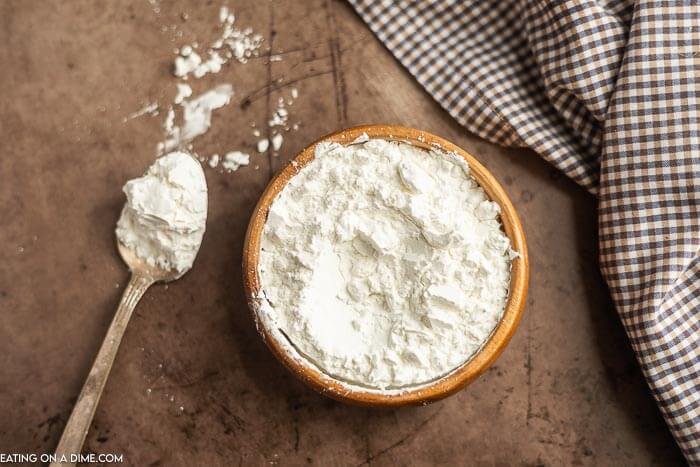 Can I Substitute Flour for Cornstarch?
Yes, you can substitute All Purpose Flour for Cornstarch. It is probably the easiest and best substitute since it is a common pantry ingredient.
1. All Purpose Flour:
All Purpose Flour is the easiest replacement for cornstarch. It is a pantry staple ingredient, so you always know if you need to replace it. This white powder is also used as a thickening agent, so it is an ideal replacement.
Substitute 2 tablespoons of flour for 1 tablespoons cornstarch
Flour works the same, if you want to add water to the flour to avoid any clumps before adding to a recipe. The major difference using flour instead of cornstarch is that it isn't gluten free.
2. Arrowroot Powder:
Arrowroot powder is a great substitute if you are looking for a gluten free option. It is becoming a popular substitute for baking. This is a great option when you don't want to change the flavor like some of the cornstarch substitute could do.
Substitute 2 tablespoons of arrowroot powder for 1 tablespoons cornstarch
Arrowroot Powder can easily be found at your local grocery store.
3. Potato Starch:
Potato starch may not be easily found at your local store but it can be found at specific health food stores. It is a great option if you are looking for a gluten free option, but it isn't low carb.
Potato starch is made from potatoes that are smashed, dried and milled into fine powder to make potato starch.
Substitute 1 tablespoons Potato Starch for 1 tablespoon of Cornstarch
The main difference in potato starch when adding to your gravy, it doesn't take much. Add small amounts of potato starch so it doesn't thicken to much.
3. Almond Flour:
Almond flour is a very common ingredient especially you have a gluten intolerance. It is similar to regular flour especially using as a thickening ingredient.
When using almond flour it does have a nut flavor unlike using regular flour. So we use as a substitute mainly in our baking recipes and stews that pair well with the nut flavor.
Substitute 1 Tablespoon Almond Flour for 1 Tablespoon of Cornstarch
Almond flour doesn't easily clump like wheat flour, so we usually just mix right in to our stew.
4. Ground Flaxseed:
Ground Flaxseeds have become a popular pantry ingredient over the years. It is called a super food because of the health benefits it offers. It has also been used a substitute for eggs in many vegan dishes.
Ground flaxseeds has a thick gel like consistency when mixed with water. Make sure to use ground flaxseeds when mixing with the water. When using ground flaxseeds as a substitute for cornstarch, mix 2 tablespoons of ground flaxseeds with ½ tablespoon of cold water.
This mixture will thicken so it can be added to your recipe.
Other Substitutes for Cornstarch:
Here are other options that you may have in your pantry that would work as a substitute.
Xanthan Gum – A great substitute but a little goes along. Start off in a small amount and add in slowly.
Psyllium Husk – Another substitute for a gluten free option. You will need ½ the amount that the recipe calls for cornstarch.
Rice Flour – This option is similar to regular flour. But it is a gluten free option.
Tapioca Flour – Similar to potato starch, it is a great replacement but is not low carb.
Tapioca Starch – Great cornstarch replacement but add in slowly.
Guar Gum – This substitute is a lot like xanthan gum, a lot goes along way when adding to thicken you sauces.
More Ingredient Substitutions: