This Tex Mex Chicken Skillet Recipe is super easy to make and packed with lots of southwestern flavor. Enjoy this meal alone or with rice for a meal the entire family will love in only 20 minutes.
Tex Mex Chicken Skillet Recipe
This easy skillet meal comes together quickly in just 20 minutes. Dinner will be a breeze when you make Tex Mex Chicken Breast.
If you are looking to jazz up plain chicken, this recipe is a must try. The tomatoes combine with all of the seasonings and the cheese is melty and delicious.
It is the perfect recipe for when you need dinner fast but not a lot of time to cook it. We have thrown this together on busy weeknights between work and activities and it was super easy.
No need to grab take out when you can fix this amazing meal in less time and money. Your family is going to love this tasty meal.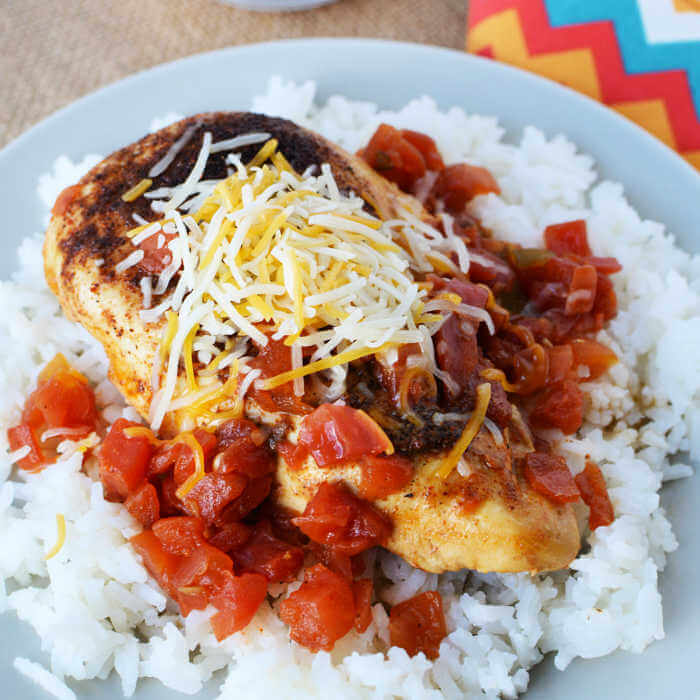 Try Southwestern Chicken and Rice Skillet!
You can add rice and it is so good with the chicken. I love to grab the rice from the freezer and just reheat in the microwave to make dinner even easier.
Learn how to freeze rice and you can make this meal even easier. We do this for lots of meals and it helps put together a quick meal.
If you are not freezing rice, you should be. We are always looking to make life easier around here.
Chicken Skillet Variations:
If you are eating low carb, just enjoy the chicken alone. It is so hearty and delicious.
I have also shredded the chicken and made a salad with it. It is so good!
This is one of those recipes that can be enjoyed lots of different ways to please the entire family. It is one of our favorite meals to enjoy.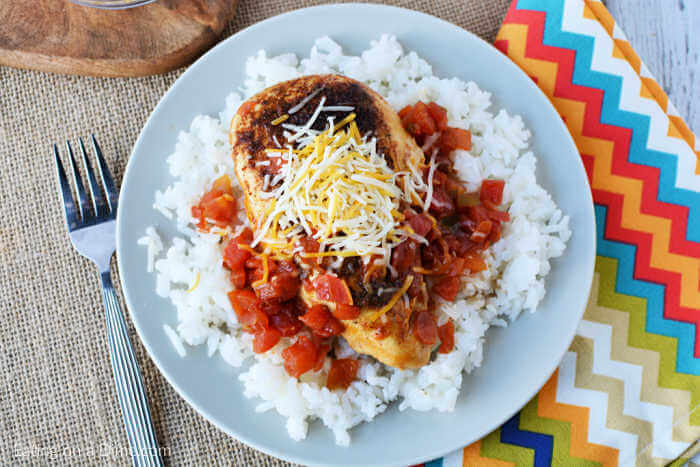 We love easy skillet recipes!
This recipe can truly work for the entire family. It is sure to impress!
I threw this together last week and was quite surprised. This one is a keeper for sure.
Everyone loved it, and I loved it because I had dinner on the table in under 30 minutes! You can't beat that!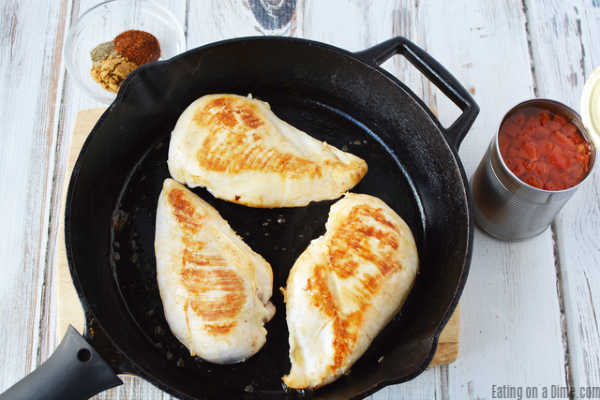 Ingredients you need:
chicken breasts
diced tomatoes with green chilis
seasonings
shredded cheese
See how easy it is? You are going to love having such a quick recipe to make.
Make sure you have a good skillet for Tex Mex Chicken Skillet Recipe!
We use a cast iron skillet and it's perfect for this recipe. I have the Lodge cast iron skillet but you can see all the different brands here.
Cast iron is amazing! You can make so many different recipes and they are great for skillet recipes.
If you are not already cooking with one, you should! They are amazing and the food cooks so evenly.
Add the chicken and it cooks so quickly in the skillet over medium high heat. It has the best flavor from the chili powder and other seasonings.
With a little chili, cumin, pepper and salt, it is so easy to season this chicken.
Pour the tomatoes over the chicken. It is looking good!
Cook stirring and blending all the wonderful flavors together.
Reduce heat and let everything simmer. It comes together in just minutes.
You literally can have an amazing meal in under 30 minutes.
Topping ideas:
Spoon the sauce over the chicken and rice and top with cheese. Delicious!
The cheese is optional but we love topping out chicken with cheese. It is melted and delicious from being in the skillet and makes this recipe even better.
Sometimes I will also top with a little sour cream and season with salt and pepper. Yum!
I served this on top of my Spanish rice that I had in the freezer. You could serve it over plain rice or just by itself.
We have even used pasta and it was delicious with the chicken.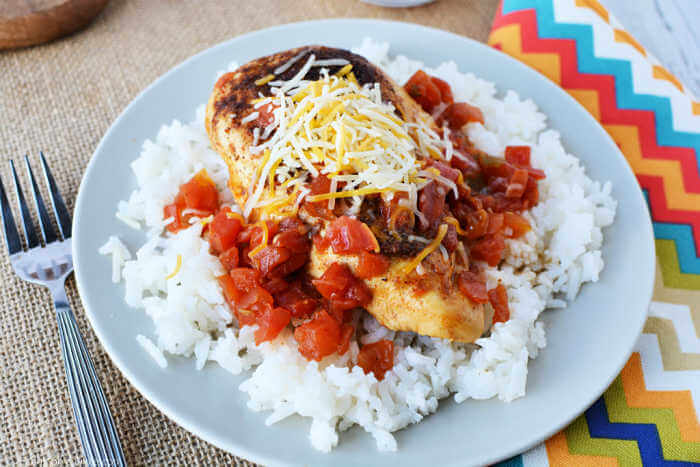 You can bake this:
The skillet is amazing but sometimes for a change we bake this dish together. Whether you use rice or pasta, put it all together in a baking dish.
Top with a generous amount of cheese and bake at 400 degrees for 30 minutes or until everything is cooked through.
What else goes with Tex Mex Chicken Skillet Recipe?
We love using what we have and trying new things.
Try adding some of these ingredients for a change:
frozen corn
black beans
diced onion sauteed in olive oil
green bell pepper
garlic powder
chicken broth (this is great to create more broth if needed.)
Try using chicken thighs in this recipe. It is just as tasty.
We love to use what we have and it helps us save money and keep our grocery budget low. Shop what is on sale or use what is in your freezer!
Leftover ideas:
If we have any chicken leftover, I like to shred it for chicken tacos or burritos later in the week. In fact, we love it so much that I have made extra just to have leftovers. 🙂
My kids love it so it does not go to waste and we have another really simple meal to enjoy. It freezes well too and I can grab it for a quick lunch or dinner during the week.
Your family will love this quick and easy recipe. It is amazing and so easy to make.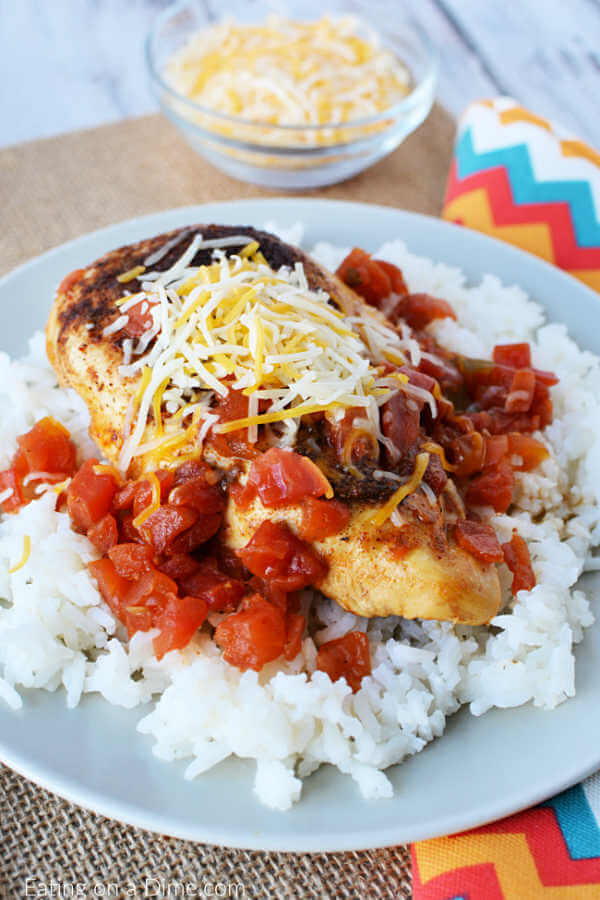 Print this Tex Mex Skillet Chicken Breast recipe below:
Tex Mex Chicken Skillet
Tex Mex Chicken Skillet Recipe is so easy to make and has tons of southwestern flavor. Enjoy with rice for a quick meal in 20 minutes your family will love.
Ingredients
3

boneless skinless chicken breasts

1

can of diced tomatoes with green chilis

½

can of water

1

tsp

cumin

1

tsp

chili powder

pepper and salt to taste

shredded cheese

optional
Instructions
Cut the chicken in half lengthwise. That way the chicken is "thinner" -or you could pound them out.

Place in a large skillet and cook over med-high heat.

Wait to flip until it is nice and brown.

Brown the other side. Meanwhile season with chili, cumin, pepper and salt.

Pour in tomatoes and water. Bring to a boil.

Cover and reduce heat. Allow to simmer for 10 minutes.

Serve over rice. Spoon the sauce over the chicken and rice and top with cheese. Delicious!
Nutrition Facts
Calories
131
kcal
,
Protein
24
g
,
Fat
3
g
,
Cholesterol
72
mg
,
Sodium
139
mg
,
Potassium
434
mg
,
Vitamin A
165
IU
,
Vitamin C
1.4
mg
,
Calcium
9
mg
,
Iron
0.7
mg
Try these other cast iron skillet chicken recipes: