This post may contain affiliate links. If you make a purchase through links on our site, we may earn a commission.
Balsamic chicken recipe is so easy to make and you only need 3 ingredients. Make this for a quick dinner idea that tastes amazing in only 20 minutes.
Balsamic chicken recipe
Dinner doesn't have to difficult and it doesn't have to be boring either. This Balsamic chicken recipe is fast, has very few ingredients, and tastes amazing.
Not only will the adults love it, but the kids gobble it up every time too. Win win!
Seriously you can't go wrong with this delicious meal. Make it this week! Your family will go crazy over it.
This is a great recipe and sure to impress. It is definitely a must try.
If you need dinner in a hurry, this recipe only takes 20 minutes and 3 ingredients. However, it will taste like you spent much more time on this delicious meal.
Balsamic chicken skillet is so easy!
I love to make skillet meals. They are so easy and make dinner time great.
They come together quickly and really help to get dinner on the the table fast.
I promise it is possible to make an amazing dinner for your family in minutes. If you are running from work to school and lots of activities, give this recipe a try for a great meal idea in minutes.
Our family loves this chicken and everyone gets excited when they find out it is for dinner. It is that good. 🙂
Ingredients for Balsamic chicken:
chicken breasts
Balsamic vinegar
Brown sugar
Add a little water and you have some seriously good chicken. Seriously good!
I told you it was so very simple! You will have an amazing meal with just those simple ingredients.
Everything comes together to make a delicious glaze and the chicken is so tender. You are going to love this easy meal.
How to make Skillet balsamic chicken:
The trick to any amazing skillet chicken recipe is to make sure you completely BROWN the chicken on both sides. You want that chicken nice and brown. It adds a lot of flavor without any extra seasonings.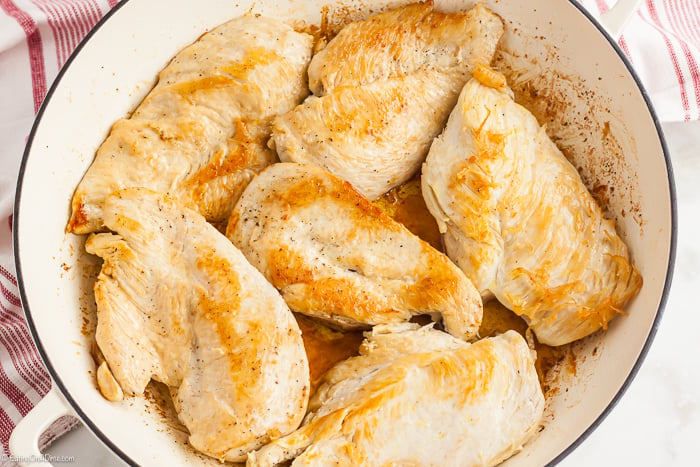 Once you add in the balsamic and the brown sugar you flip the chicken a few times, let it simmer and enjoy!
It really is that easy to make balsamic chicken breast skillet.
Keep reading for the full recipe but it really is that simple. Just 3 ingredients and you have a fabulous meal.
This is easy enough to put together at the last minute and dinner will still turn out fabulous. Whether you need a simple family dinner or something for company, this meal is sure to be a hit.
The glaze is just amazing. Once you try it, you will see because it comes together for a thick and amazing glaze.

What to serve with balsamic chicken skillet recipe:
Just keep it simple! Dinner does not have to be complicated. You will love these easy side dishes with this chicken.
Once you learn some of these simple recipes, you will see how easy dinner can be. We keep things frugal and easy around here.
No one has time for complicated or expensive ingredients.
Try balsamic chicken marinade with chicken thighs for another great meal.
This delicious marinade is also great with chicken thighs. We have cooked both and it was so delicious.
Just use what you have. We often use what we have in the freezer or what is on sale that week.By shopping when things are on sale I save money on groceries and it really helps our budget.
Saving money and feeding a big family can be accomplished. Everyone loves this delicious dish so it is on our permanent menu plan rotation.
I try to keep chicken in the freezer. Anytime I spot a sale, I grab it and freeze it.
It is so nice always having things to use and knowing that I got a good deal on it. It is a win all around.
Since this meal is so easy to change or adapt to what you have on hand, it will save you time and money. In fact, I cut our grocery bill by 50% off by following these 8 Tips for for Saving Money on Groceries by Menu Planning!
Save that money for a family vacation or maybe just some wiggle room in the budget. Easy recipes like this keep my family happy and my grocery budget in good shape. This is how I keep our grocery budget reasonable.
Plus, being able to throw this together quickly and easily really helps to avoid the temptation of getting take out. Everyone is much happier with a delicious home cooked meal anyway.
Take out these days is not that fast and costs a small fortune. It is even more if you have 8 kids like I do.
Everyone will love this easy balsamic chicken one pan meal with just 3 ingredients.
Anytime you need a quick meal, give this easy recipe a try. It is so amazing and delicious for the best meal ever.
The flavor is so awesome. It is hard to believe that it is only 3 ingredients. So yummy!

Make sure you have a good skillet for balsamic chicken recipe.
We use a cast iron skillet and it's perfect for this recipe. I have the Lodge cast iron skillet but you can see all the different brands here.
Cast iron is amazing! You can make so many different recipes and they are great for skillet recipes.
If you are not already cooking with one, you should! They are amazing and the food cooks so evenly.
Don't be hesitant to use cast iron because it really is simple to use and maintain. It cooks the food so evenly and recipes turn out great.
Let us know what you think about this balsamic chicken recipe.
The brown sugar and balsamic vinegar give the chicken such an amazing flavor. I just love the balsamic glaze!
Whether you use chicken thighs or chicken breasts, it is so delicious and a great chicken recipe. Our family loves this!
Try balsamic chicken and let us know if your family loved this recipe. It is favorite around here.
The chicken is cooked in less than 20 minutes and is tender and delicious. You can also try using honey for a delicious honey balsamic recipe.
We have even used Italian seasoning and olive oil. You can't go wrong with this meal and it just has the best flavor.
Print this balsamic chicken skillet recipe below:
Balsamic Chicken recipe
This easy Balsamic Chicken recipe can be made in the skillet in under 20 minutes. It is packed filled with flavor with only 3 ingredients!
Ingredients
3

boneless skinless chicken breasts

¼

cup

Balsamic vinegar

¼

cup

water

1/8

cup

brown sugar
Instructions
In a skillet, drizzle oil.

Filet the chicken so they are thinner (or pound them)

Place in the skillet and season with pepper. Allow to brown

Flip and allow to brown again.

Add brown sugar, balsamic, and water.

Bring to a simmer, and cover.

Allow to simmer for about 10-15 minutes or until the chicken is cooked through.

make sure you are flipping the chicken to coat.

Remove the lid and let all the juice cook out.

Serve with your favorite sides.
Nutrition Facts
Calories
74
kcal
,
Carbohydrates
2
g
,
Protein
12
g
,
Fat
1
g
,
Saturated Fat
1
g
,
Cholesterol
36
mg
,
Sodium
69
mg
,
Potassium
221
mg
,
Sugar
2
g
,
Vitamin A
17
IU
,
Vitamin C
1
mg
,
Calcium
6
mg
,
Iron
1
mg
Skillet recipes make dinner a breeze and this easy Skillet Pasta and Sausage recipe does not disappoint.
Try these other easy balsamic recipes:
Try these other easy skillet recipes: