This post may contain affiliate links. If you make a purchase through links on our site, we may earn a commission.
Balsamic Chicken Crock pot Recipe looks and sounds incredibly fancy but it is very simple. It's so tasty and the slow cooker makes this meal a breeze. This meal is great for a weeknight dinner or to meal prep for your lunches for the week.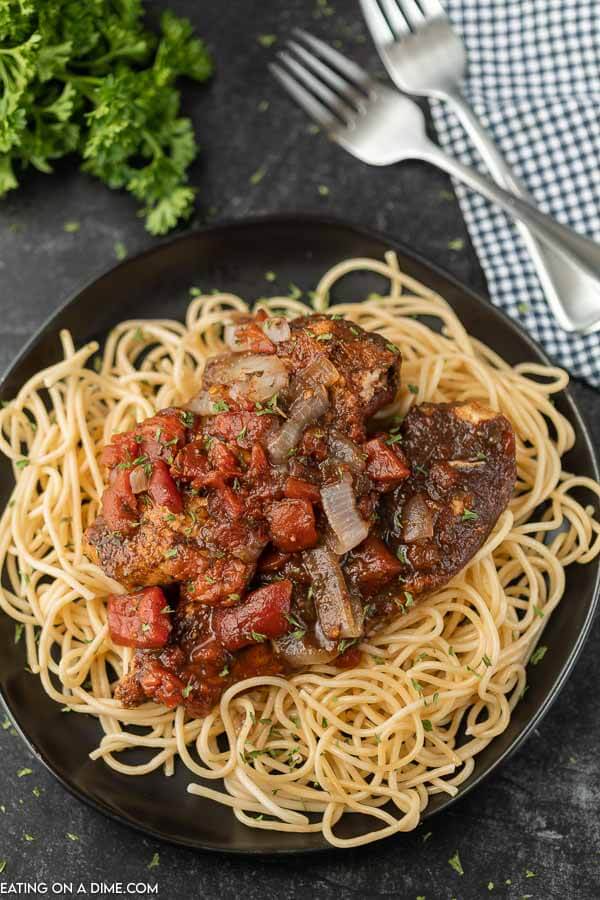 Slow Cooker Balsamic Chicken Recipe:
This Slow Cooker Balsamic Chicken recipe is the perfect busy weeknight meal. It has simple ingredients that you probably already have. The combination of the ingredients make this simple recipe so flavorful.
My family are a big fan of balsamic. We can eat it by the spoonful. So slowly cooking my chicken in the crock pot with the balsamic sauce makes it the most flavorful, tender chicken you have ever eaten.
I love that this recipe is so easy to make. You can add in vegetables to make it a complete meal. You can add in potatoes, green beans and carrots. The balsamic vinegar really marinates in the vegetables making them taste amazing.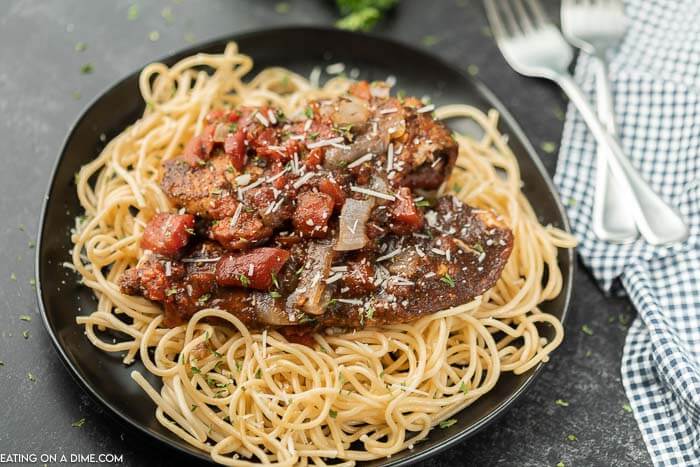 Let the Crock Pot do all the work!
This Crock pot Chicken recipe is simply amazing. I love being able to just sit back and have the slow cooker do all the work!
Making chicken in the crock pot can get boring, but adding in balsamic vinegar and a can of diced tomatoes will makes this meal come together. The sweet and tangy sauce really helps jazz up boring chicken.
We love making our meals in the crock pot and this meal is no exception. Years ago, I had been looking for recipes for balsamic chicken for a while, but just couldn't find any that I thought would work for the crock pot.
I finally made my own delicious recipe, and the family loved it. We have been cooking it for years.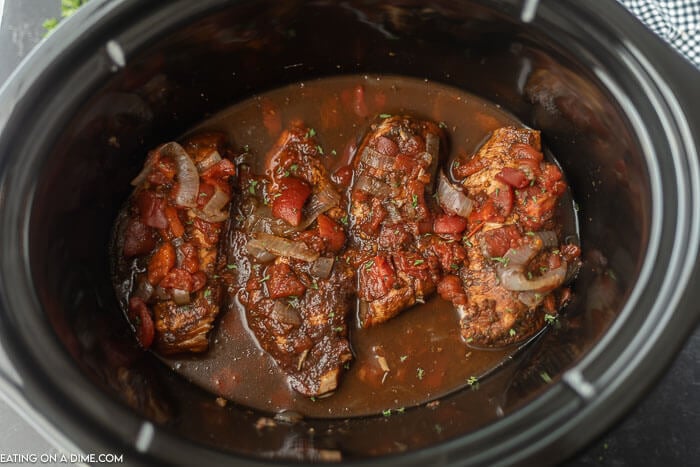 You need a crock pot for this Balsamic Chicken Slow Cooker Recipe.
There are some really good ones on sale right now. If you work all day, you may want to invest in a programmable crockpot.
Now if you want to save yourself even more time (don't we all?) then I really recommend these Crockpot liners. They make clean up a breeze.
Instead of scrubbing and washing the pot, you can just toss the liner. It is practically no clean up.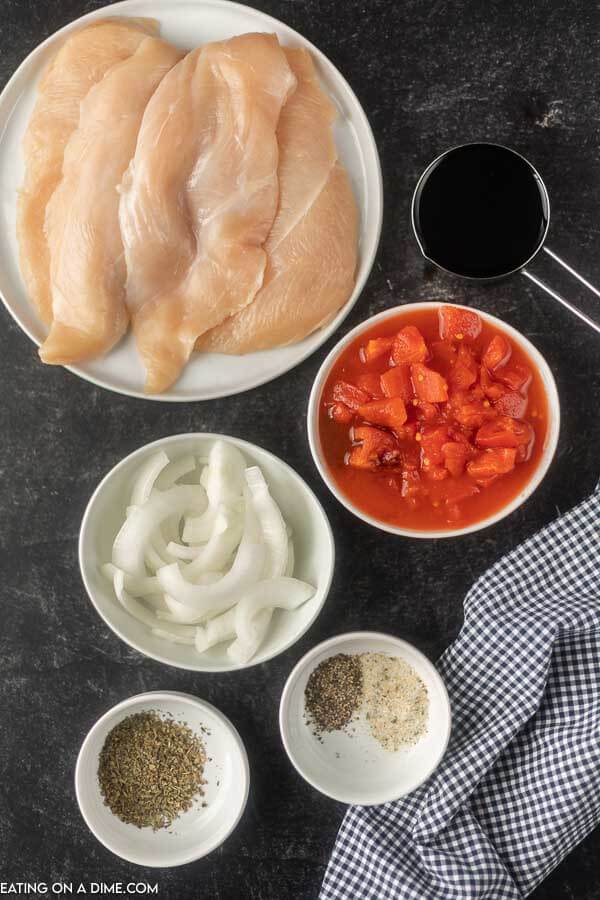 Crock Pot Balsamic Chicken ingredients:
How to make Balsamic Chicken Slow Cooker recipe:
Grease Crock Pot – It is important to swirl a little bit of olive oil in the bottom of the crockpot.
Add Chicken Breast – Place chicken breasts in the bottom of crockpot.
Add onion – I usually chop or slice my onion before adding to the crock pot
Season the Chicken – Season the chicken with Garlic, Salt and pepper and Italian Seasoning
Don't forget the Tomatoes – Add in the can of tomatoes. You can use crushed tomatoes if you prefer.
Add in the Balsamic – Pour Balsamic vinegar over it all
Cover and Cook – Cook on low heat for 6 to 8 hours or cook on high for 4 hours. Cooking time will vary.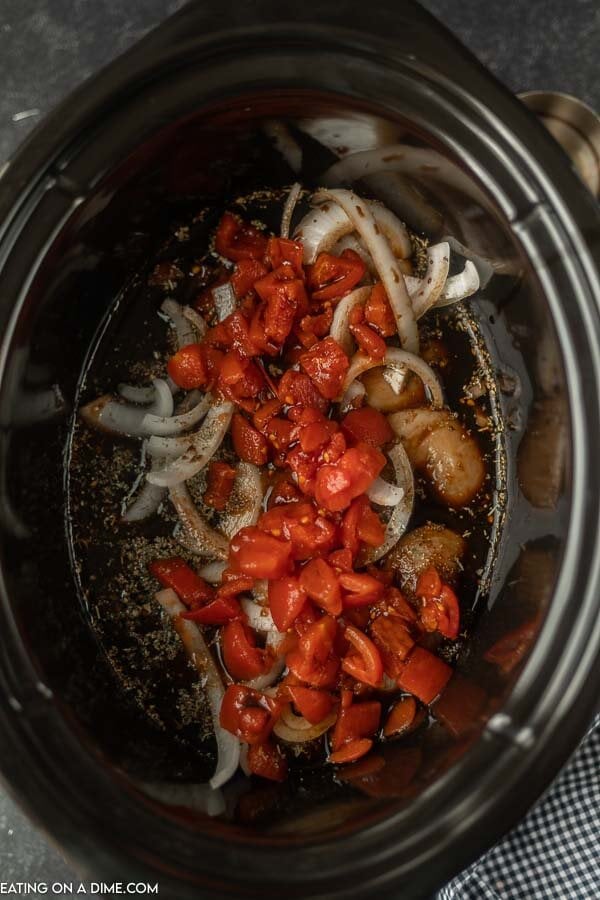 What to serve with Slow Cooker Balsamic Chicken:
There are many sides that you can serve with this easy balsamic chicken recipe. These are some of our favorites.
My family enjoys this most served with pasta and green beans to make it a complete meal. Any type would work. Use what you have.
I just love the balsamic sauce spooned over the noodles with a little Parmesan cheese. The parmesan cheese makes it extra tasty.
Another favorite side is some mashed potatoes and a side of roasted broccoli.
If you are watching your carbs, you can always serve this chicken over some zucchini noodles for a healthier option.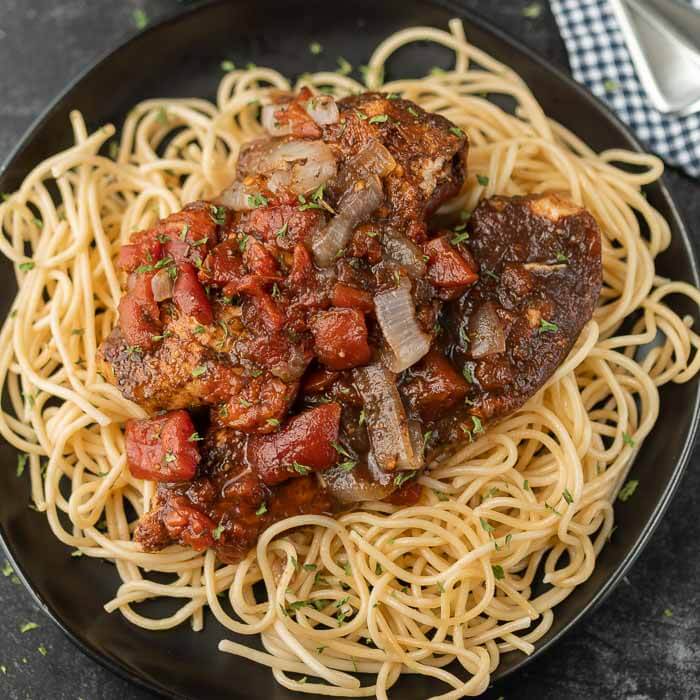 You can also make low carb Balsamic Chicken:
Just serve it over spaghetti squash instead of spaghetti and make it extra healthy. You will be amazed at how good this chicken is over the spaghetti squash. When I am eating low carb this is my preferred way of eating this meal.
This is also a very good Weight Watchers Slow Cooker Balsamic Chicken recipe. It is so healthy and delicious.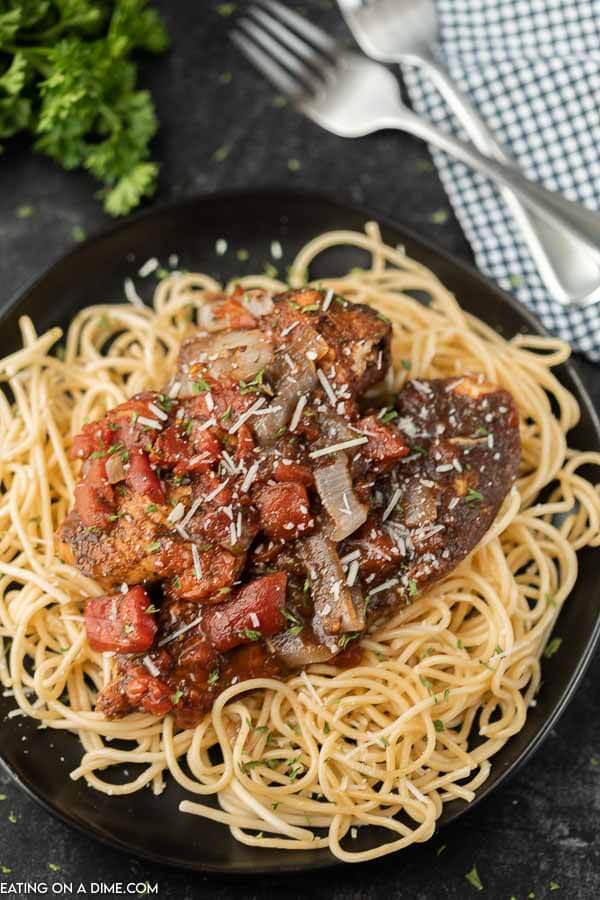 Cooker Balsamic Chicken & Vegetables
You can add in carrots, green beans and make it a dinner in one pot. It's a great way to pack in extra veggies. Also cut up some potatoes to add to your crock pot.
The flavor from the balsamic makes the veggies taste so delicious. They are just packed with amazing flavor.
Variation Ideas:
You can use frozen chicken breast. Chicken thighs work great too.

Instead of using diced tomatoes, you can use crushed tomatoes. I have even added a can of diced can of green chiles.
Sometimes I will also sprinkle fresh parsley over the balsamic chicken. The extra touch of green looks so nice.
Place chicken on top of pasta. Make sure you spoon the sauce, onions and the tomatoes over your pasta. All of that delicious sauce is my favorite part.
This Balsamic chicken also makes a great sandwich. We like serving it on some hoagies for a quick lunch.
Wrap the chicken in a tortilla for an easy lunch idea.
This slow cooked chicken is very good and one of our favorite meals. You can add a little chicken broth if you want more broth to put over the pasta.
Add in a little more balsamic vinegar and chicken broth so you can pour more over your noodles.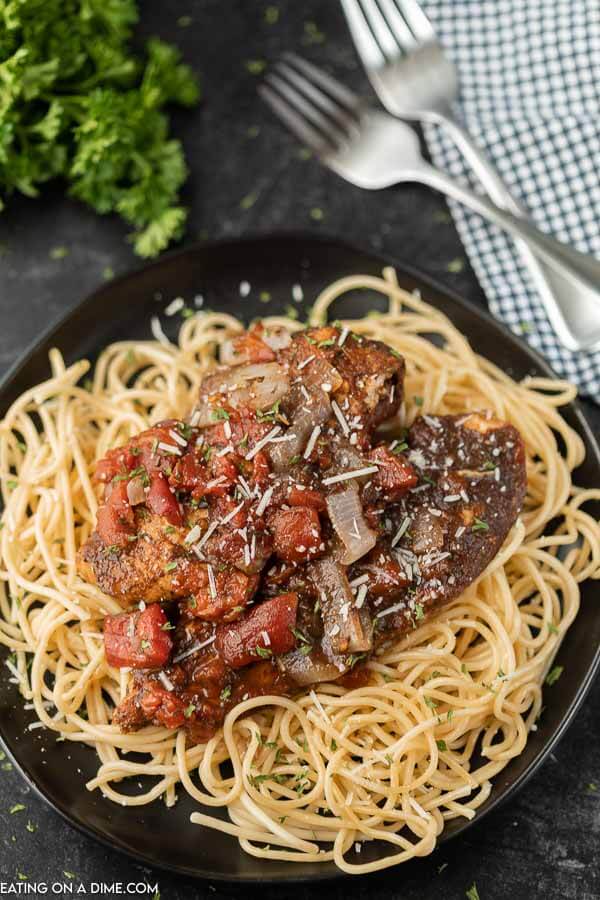 How to freeze and reheat:
Place all the ingredients in a one gallon freezer bag and freeze. When ready to cook this meal, run warm water over the bag.
Next, slide out the ingredients and place in the crock pot.
Cook according to the directions. This makes a very easy freezer meal idea!
We actually made 10 Crock Pot Freezer meals in under an hour! Having meals in the freezer makes our weeks so much less hectic.
You know those weeks where you are running from school to endless activities? Those are the days I am so grateful to pull one of these meals out of the freezer.
How to store leftovers.
Once your balsamic chicken has cooled, store in an airtight container. I like to do individual containers so it is easy for my husband to grab as he walks out the door.
Since this last for about 5 days in the refrigerator, this is a great meal to prepare ahead of time. Dish the balsamic chicken over a bed of pasta in a container and you have lunch for the week.
Another way, I like to meal prep this chicken is to shred it so that it is ready to be placed in a lettuce wrap or to top my garden salad. We think it is best leftover as all the balsamic has really marinated into the chicken.
Try these Balsamic Chicken Recipes:
They are all so delicious and have that amazing balsamic vinegar sauce. Yum! You must try these recipes if you love balsamic like we do. It is so good and easy too.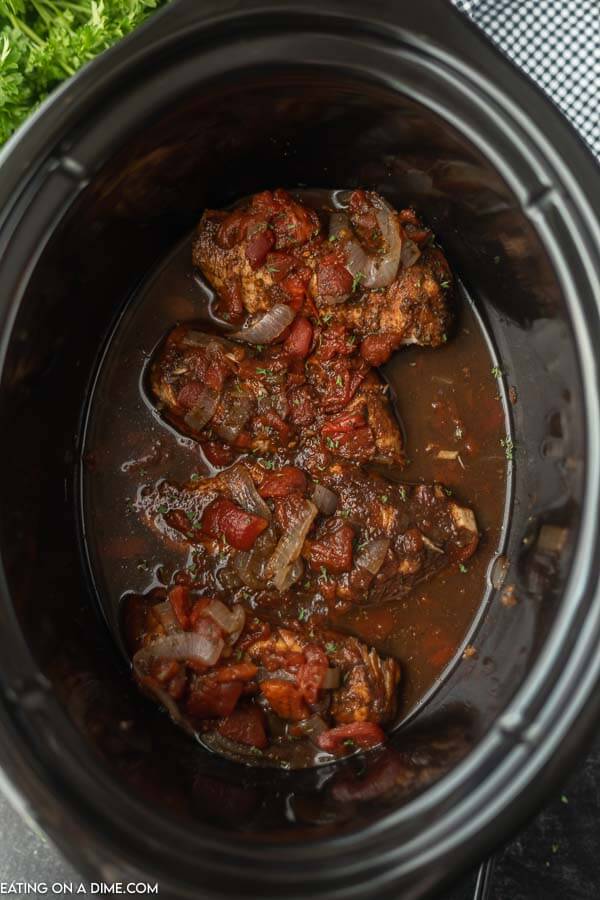 Print this Slow Cooker Balsamic Chicken Recipe below:
Crock Pot Balsamic Chicken recipe
This Crock Pot Balsamic Chicken recipe is easy to make. The balsamic flavor combined with the tomatoes is delicious. Try Balsamic Chicken Crock Pot recipe.
Instructions
Place chicken breasts in the bottom of crockpot.

Season with the garlic salt and pepper.

Toss in the can of tomatoes

Pour Balsamic vinegar over it all

Cook on low for 6 to 8 hours or high for 3-4 hours.

Serve as is or over your favorite type of pasta. Enjoy!
Recipe Notes
I love serving this over pasta but it tastes great as is too. 
*Refrigerate the leftovers in an air tight container for up to 5-7 days. 
*I used fresh chicken for this recipe but this recipe works great with frozen chicken as well.  If using frozen chicken, I would increase time by 30 minutes.  
Nutrition Facts
Calories
200
kcal
,
Carbohydrates
15
g
,
Protein
26
g
,
Fat
3
g
,
Saturated Fat
1
g
,
Polyunsaturated Fat
1
g
,
Monounsaturated Fat
1
g
,
Trans Fat
1
g
,
Cholesterol
72
mg
,
Sodium
725
mg
,
Potassium
765
mg
,
Fiber
2
g
,
Sugar
10
g
,
Vitamin A
211
IU
,
Vitamin C
15
mg
,
Calcium
79
mg
,
Iron
2
mg
More Crock Pot Chicken Recipes: