Crock Pot Chicken Alfredo is crazy easy to make and so amazing. You can enjoy delicious Crock Pot Chicken Fettuccine Alfredo any day of the week thanks to the slow cooker!
Crock Pot Chicken Alfredo
We just ate this easy and delicious recipe – Crock pot Chicken Alfredo. The entire family including the picky ones completely cleaned off their plate.
In fact, some licked the plates cleaned. I might have been one of them. Yep… it was that good.
Now this recipe is crazy easy… crazy easy, but your family will never know how easy it is because it is packed with flavor. I love it because it freezes great too.
Scroll down to the bottom of the post to see how you can turn this into an easy freezer meal. This meal is sure to be a hit!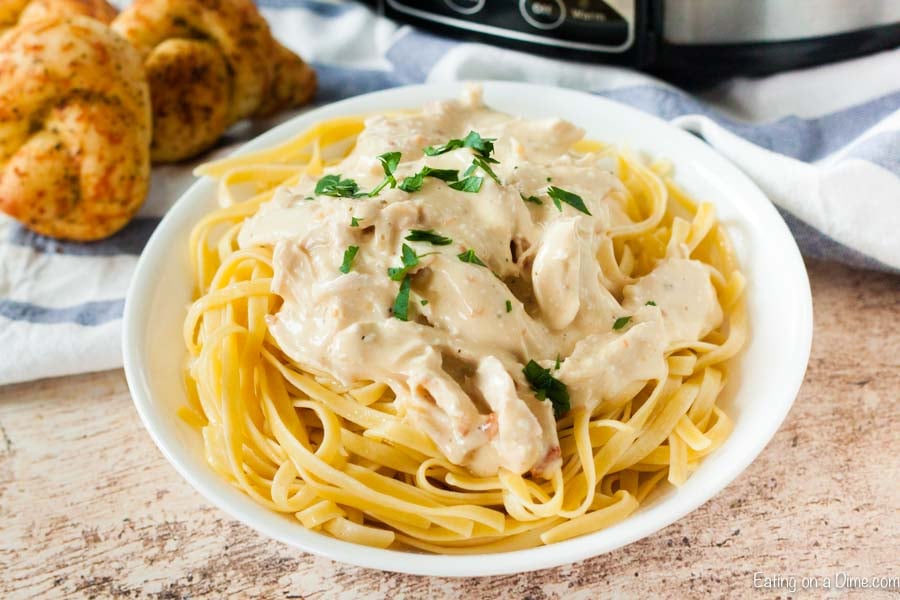 Make sure you have a good crock pot to make Slow Cooker Chicken Alfredo recipe.
If you are in the market for something new, I really love my Ninja cooker. The nice thing about this is you can brown the meat in the same slow cooker which is so convenient.
It is so handy to just have the one pan to clean. It has become of my favorite kitchen appliances.
I also really like this crockpot as well. I use this all the time and it's great.
My favorite feature is that you can lock the lid down. This is awesome for when you need to take the crockpot somewhere.
I often use the slow cooker to take dishes to potluck events and this feature is amazing! There are several others on sale here.
Another favorite is this programmable crock pot for when I am am not at home all day. I love coming home to a nice meal ready and waiting!
I also like to use crock pot liners to make clean up a breeze. These are worth every penny and save a ton of time.
What do you need to make Crock Pot Chicken with alfredo sauce?
Cream of Chicken Soup (you can also try our homemade version)
Italian Dressing Mix
Cream Cheese
Chicken Breasts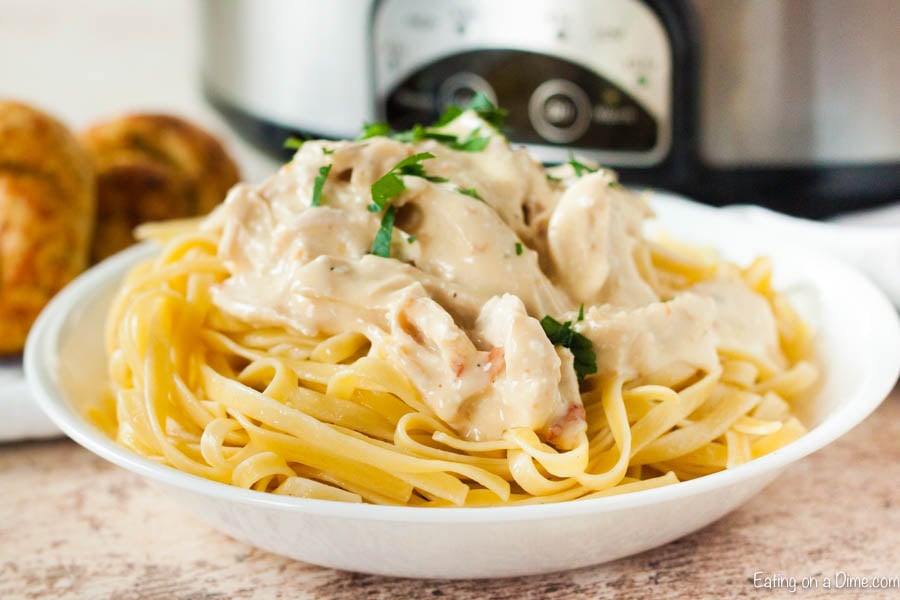 This crock pot chicken alfredo pasta is so simple but tastes amazing!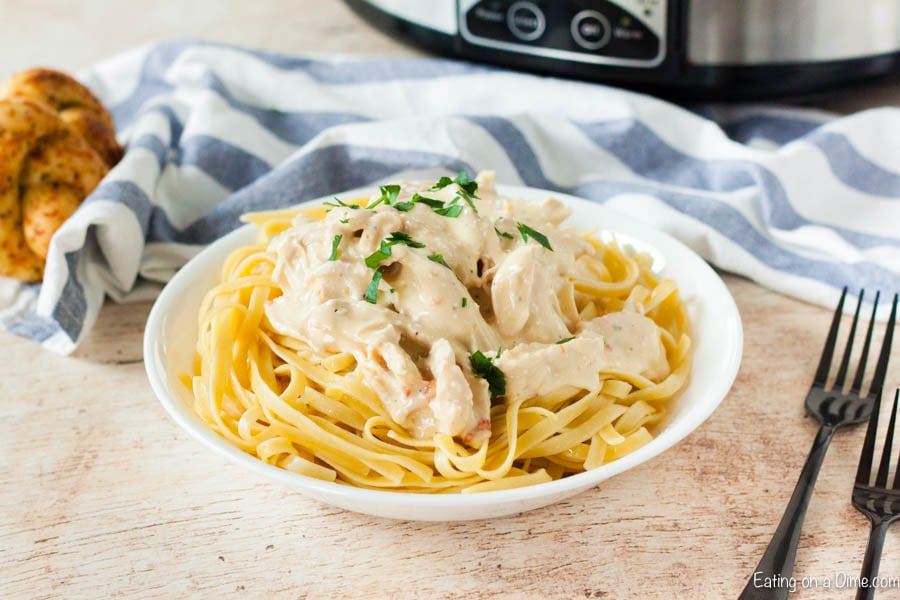 How to make chicken alfredo in a crock pot?
Place the chicken in the bottom of the crock pot.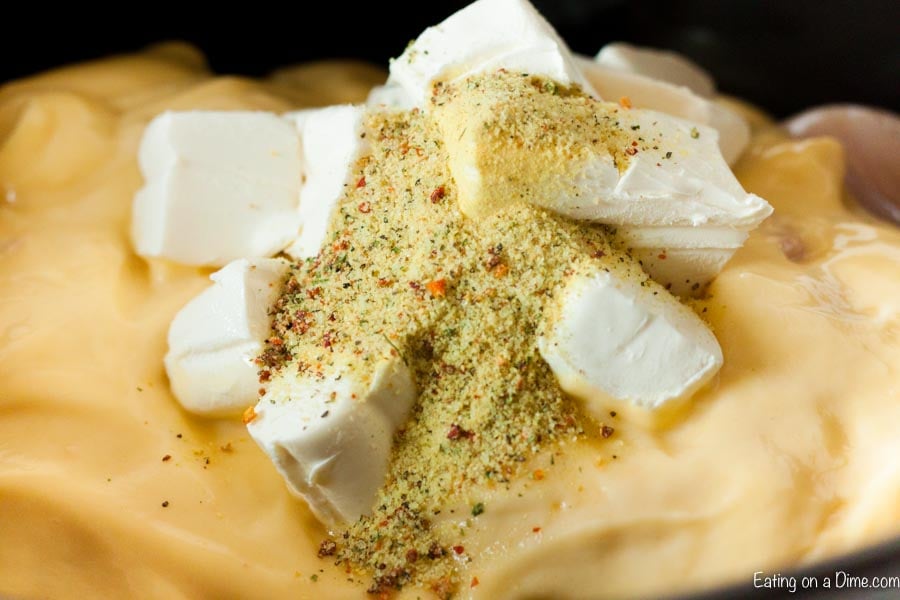 Pour all the other ingredients on top. It is that easy to make this recipe!
Let the slow cooker do all the work and come home to the best dinner.
We like to shred the chicken before serving. Stir the sauce before serving and serve over fettuccine noodles.
Keep reading for the full recipe.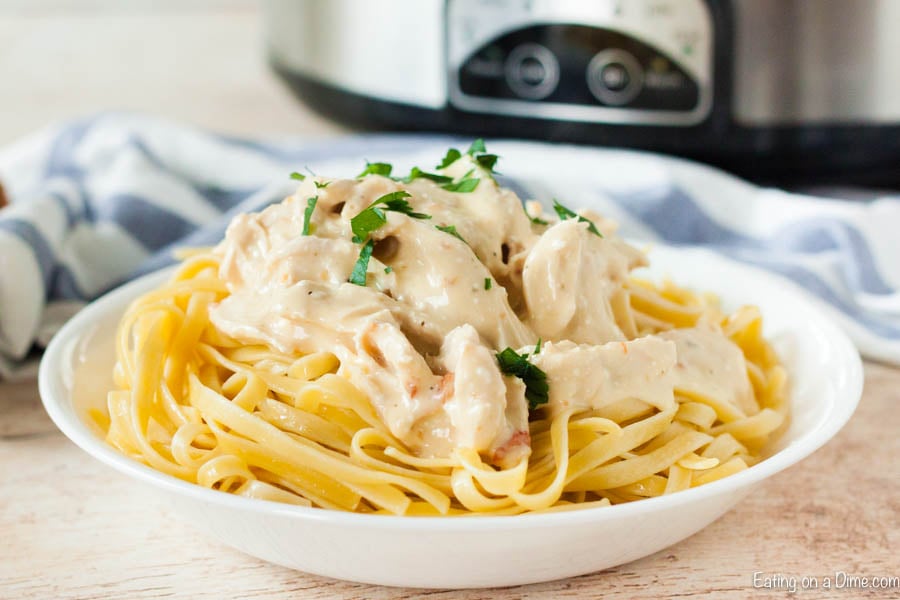 You can freeze Crock pot chicken alfredo.
It is very simple to freeze this recipe. Just put all of the ingredients in your labeled freezer bag and place in the freezer.
No need to cook anything. This is another way to get dinner on the table fast during busy weeknights.
When you are ready to enjoy this freezer meal, simply place into the crockpot (ingredients can be thawed or frozen) and cook on low for 6-8 hours.
Shred the chicken and serve over fettuccine noodles.
What to serve with crock pot chicken alfredo?
We served ours with salad and it was such an easy and delicious dinner. The alfredo sauce is so amazing so you will want something to dip into that yummy cheesy sauce.
We love Garlic Bread Cheese Sticks Recipe and it is perfect for getting every last bit of that amazing sauce.
You could also try Roasted Green Beans or learn how to steam broccoli in the microwave for a super easy veggie side dish.
We love to keep things simple around here so we can get dinner on the table fast.
Can you slow cook heavy cream?
You can but the trick is not to add it too early. Ingredients such as heavy cream, sour cream and cheese need to be added toward the end of the cooking process in the slow cooker.
These items shouldn't be added initially when cooking in the crock pot. It is best to add these in the last 30 minutes or so of cooking.
Can you keep chicken Alfredo warm in a crock pot?
Yes, you can use the warm setting on the slow cooker to keep the alfredo sauce warm.
Slow cooker chicken alfredo substitution ideas:
Feel free to substitute chicken thighs for the chicken breasts in this recipe. It is just as tasty and a great way to save a little money.
Spice things up and mak eblackened chickened alfredo recipe .
We are big fans of using what we have or can grab on sale at the grocery store. By cooking like this, it really helps me to save money on groceries.
It is a huge help to our budget. I cut our grocery bill by 50% off by following these 8 Tips for for Saving Money on Groceries by Menu Planning!
Save that money for something else! You can use shrimp and that would be amazing as well.
Try making crock pot chicken alfredo with broccoli for another idea. The broccoli is great and adds a pop of color too.
This recipe reminds me of olive garden chicken alfredo crock pot version.
If you love Olive Garden alfredo, try this recipe for a cheaper alternative at home. This slow cooker chicken alfredo from scratch is so tasty and always a big hit.
Our entire family loves slow cooker alfredo from scratch. This recipe is definitely a family favorite!
Print this Crock Pot Chicken Alfredo RECIPE below:
Crock Pot Chicken Alfredo
Crock Pot Chicken Alfredo is easy to make and delicious. You can enjoy Crock Pot Chicken Fettuccine Alfredo any day of the week thanks to the slow cooker!
Ingredients
2

cans

Cream of Chicken Soup

you can also try our homemade version

1

Italian Dressing Mix

8

oz

Cream Cheese

2

cups

Water

4-6

Chicken Breasts
Instructions
Place the chicken in the bottom of the crock pot.

Pour all the other ingredients on top.

Cook on low for 6 – 8 hours or on high 3-4 hours.

Stir the sauce and serve over fettucini noodles. We liked the chicken shredded and mixed in with the sauce.
Nutrition Facts
Calories
429
kcal
,
Carbohydrates
12
g
,
Protein
38
g
,
Fat
25
g
,
Saturated Fat
11
g
,
Cholesterol
149
mg
,
Sodium
1313
mg
,
Potassium
679
mg
,
Sugar
2
g
,
Vitamin A
810
IU
,
Vitamin C
2
mg
,
Calcium
67
mg
,
Iron
2.2
mg
Try these other easy slow cooker recipes:
Now this is just one of our MANY frugal and fabulous crock pot recipes that you want to try. Check out more crock pot recipes here.