This post may contain affiliate links. If you make a purchase through links on our site, we may earn a commission.
Crock Pot Chicken Alfredo is crazy easy to make and so amazing. You can enjoy delicious Crock Pot Chicken Fettuccine Alfredo any day of the week thanks to the slow cooker!
Crockpot Chicken Alfredo Recipe:
We just ate this easy and delicious recipe – Crock pot Chicken Alfredo. The entire family including the picky ones completely cleaned off their plate. In fact, some licked the plates cleaned. I might have been one of them.
Tender and juicy chicken is mixed with easy alfredo sauce and then cooked in your slow cooker. If you love chicken alfredo as much as my family, try this Copycat Olive Garden Chicken Alfredo Pasta.
This creamy dish is made with simple ingredients but still is packed with a ton of flavor. Mix with fettuccini noodles, add a side of garlic bread and salad for a complete meal.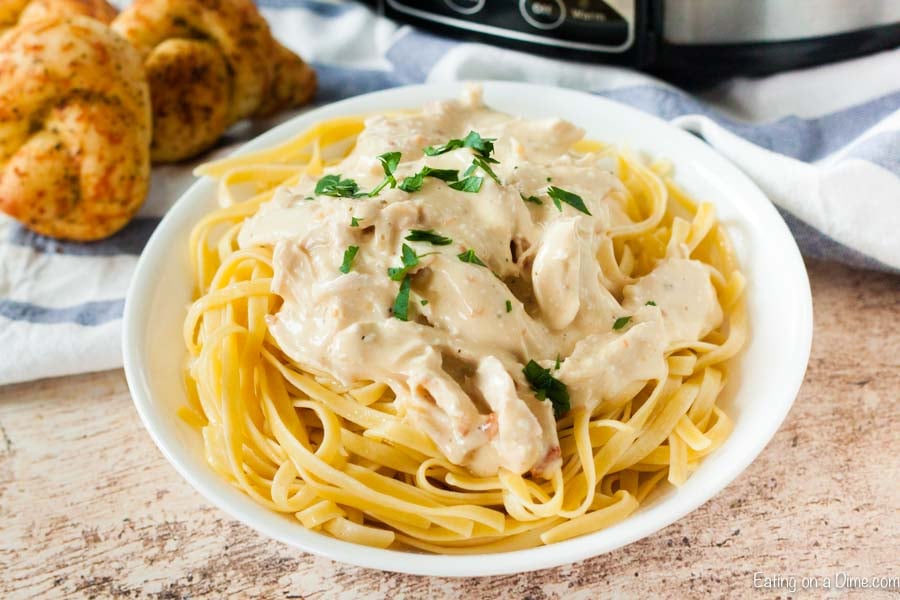 How to Shred Crock Pot Chicken:
Making chicken in the crock pot is the best way to use it for different recipes. Shredding chicken can easily be shredded by using a Kitchen aid Mixer. Shredding the chicken with a mixer saves you so much time.
The chicken comes out perfectly shredded and can be used in many different ways. We like to make a batch of shredded chicken at the beginning of the week and use it in different recipes.
Ingredients needed for Crock Pot Chicken Alfredo:
Cream of Chicken Soup (you can also try our homemade version)
Italian Dressing Mix
Cream Cheese
Boneless Skinless Chicken Breasts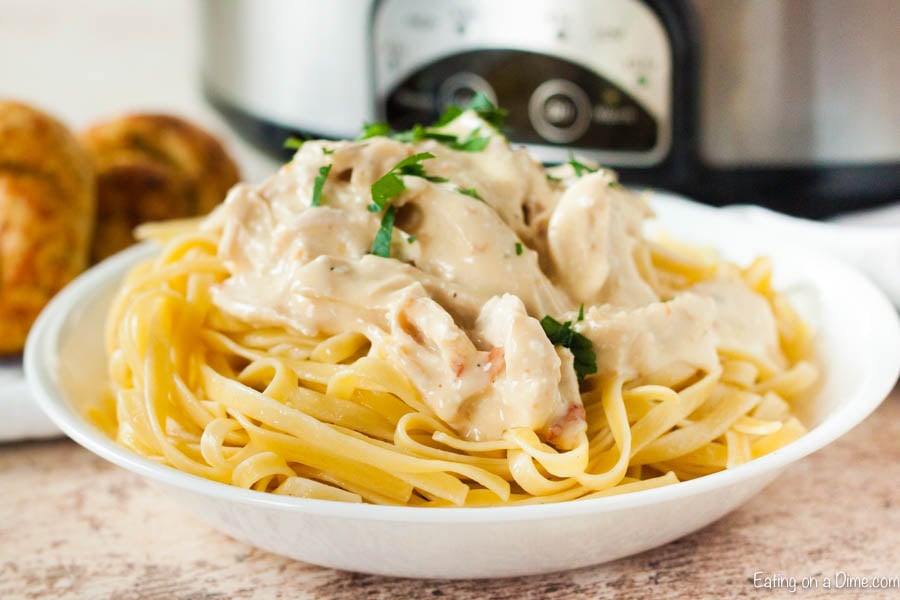 How to Make Chicken Alfredo in a Crock Pot:
Add Chicken to Slow Cooker – Place the chicken in the bottom of the crock pot.
Add Ingredients the remaining Ingredients – Pour all the other ingredients on top. It is that easy to make this recipe.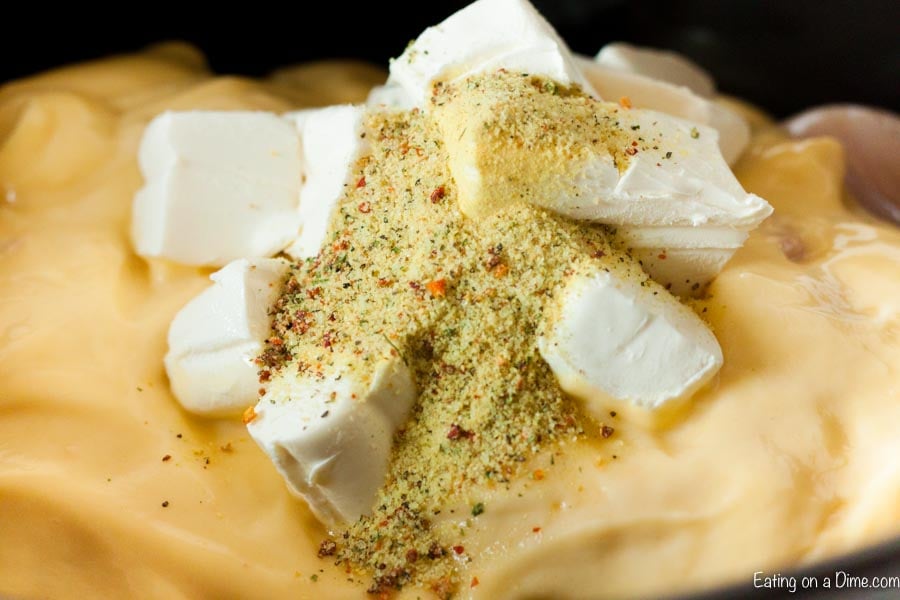 Cook in the Slow Cooker – Let the slow cooker do all the work and come home to the best dinner. Cook on low for 6 – 8 hours or cook on high for 2 hour to 4 hours. Cooking time will vary.
Remove the Chicken – We like to shred the chicken before serving. Add shredded back into crock pot.
Serve and Enjoy – Stir the sauce before serving and serve over fully cooked fettuccine noodles. We like to season with black pepper and salt.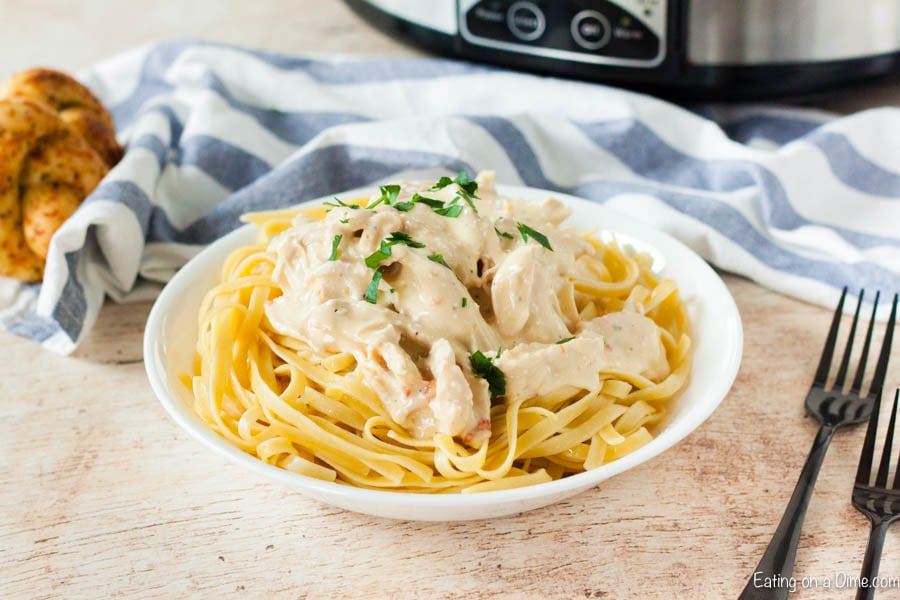 You can Freeze Chicken Crock Pot Alfredo:
It is very simple to freeze this recipe. Just put all of the ingredients in your labeled freezer bag and place in the freezer. There is no need to cook anything. This is another way to get dinner on the table fast during busy weeknights.
When you are ready to enjoy this freezer meal, simply place into the crockpot. Ingredients can be thawed or frozen and cook on low for 6-8 hours.
Shred the chicken and add over pasta.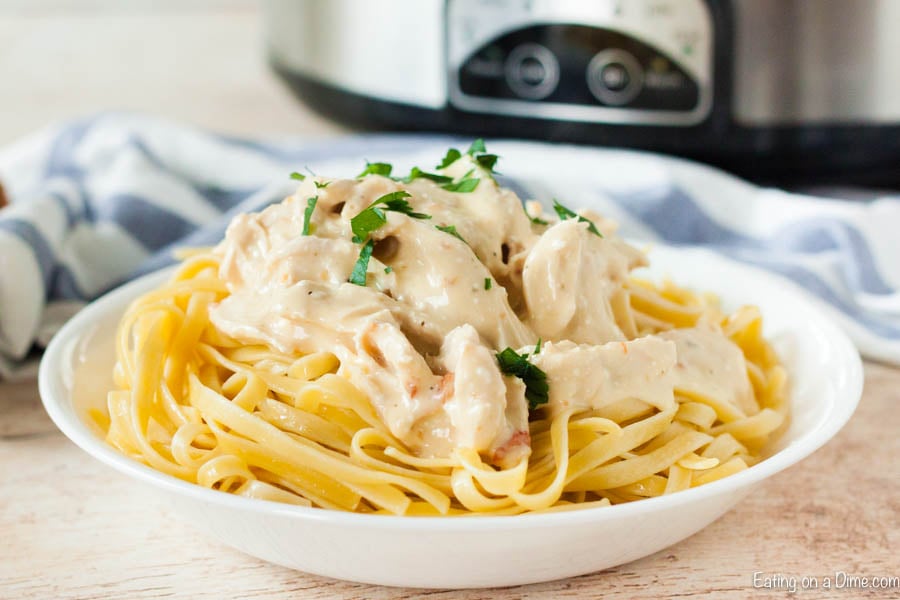 What to Serve with Chicken Alfredo Crockpot Recipe?
Green Salad – We served ours with salad and it was such an easy and delicious dinner.
Garlic Bread – The alfredo sauce is so amazing so you will want something to dip into that yummy cheesy sauce. We love Garlic Bread Cheese Sticks Recipe and it is perfect for getting every last bit of that amazing sauce.
Green Vegetable – You could also try Roasted Green Beans. Or learn how to steam broccoli in the microwave for a super easy veggie side dish.
We love to keep things simple around here so we can get dinner on the table fast.
Tips for Slow Cooker Chicken Alfredo:
Cook Pasta – Make sure to cook pasta to al-dente. Once I am done cooking the pasta, I remove it from the stove so the pasta doesn't overcook.
Chopped Parsley – Before serving we like to sprinkle some chopped parsley over the top of the cooked chicken alfredo.
Cooked Chicken – If you already have cooked chicken, this is a great recipe to use it in. We love cooking a bunch of chicken at the beginning of the week and use it in many different recipes.
Add in Broccoli. If you are trying to get your family to eat more vegetables, I love to add in chopped broccoli. I make sure that it is cut in small pieces so it is easy to eat.
Can you keep chicken Alfredo warm in a crock pot?
Yes, you can use the warm setting on the slow cooker to keep the alfredo sauce
Variations:
Vegetables – This crock pot recipe is easy to stir in some spinach, kale, or broccoli.
Pasta – You can use different pasta. Bowtie pasta, rigatoni, penne pasta are always good options.
Change Protein – If you prefer, you can use different proteins. Try using shrimp, sausage, or salmon.
Add in Bacon – If we have bacon already cooked, you can also mix in some chopped bacon. It pairs well with the chicken.
Heavy Cream – To make it creamier, you can add in heavy cream and chicken broth.
Garlic Powder – For added flavor, you can add in a teaspoon of garlic powder.
Olive Garden Chicken Alfredo Crock Pot Version:
If you love Olive Garden alfredo, try this recipe for a cheaper alternative at home. This slow cooker chicken alfredo from scratch is so tasty and always a big hit.
Our entire family loves slow cooker alfredo from scratch. This recipe is definitely a family favorite!
How to Store:
Storing leftovers is easy to do. Simply place your leftover chicken alfredo in an airtight container once it has cooled to room temperature. Then place in the refrigerator.
Chicken Alfredo will still good for about 3 – 5 days. I do not recommend freezing this recipe.
Easy Chicken Alfredo Recipe:
This delicious recipe is loaded with chicken, pasta, and creamy sauce for a meal that is out of this world. No need for a bunch of different side dishes and complicated recipes.
Put a little freshly grated parmesan on top and you are ready for the best meal.
Print this Crock Pot Chicken Alfredo Recipe below:
Crock Pot Chicken Alfredo
Crock Pot Chicken Alfredo is easy to make and delicious. You can enjoy Crock Pot Chicken Fettuccine Alfredo any day of the week thanks to the slow cooker!
Instructions
Place the chicken in the bottom of the crock pot.

Pour all the other ingredients on top.

Cook on low for 6 – 8 hours or on high 3-4 hours.

Stir the sauce and serve over fettucini noodles. We liked the chicken shredded and mixed in with the sauce.
Nutrition Facts
Calories
429
kcal
,
Carbohydrates
12
g
,
Protein
38
g
,
Fat
25
g
,
Saturated Fat
11
g
,
Cholesterol
149
mg
,
Sodium
1313
mg
,
Potassium
679
mg
,
Sugar
2
g
,
Vitamin A
810
IU
,
Vitamin C
2
mg
,
Calcium
67
mg
,
Iron
2.2
mg
More Crock Pot Chicken Pasta Recipes: