Crock Pot Chicken Cacciatore sounds fancy but it is so simple to make in the slow cooker. If you are looking for a one pot meal that has the best chicken, mushroom and tomato sauce, this recipe is a must try.
Crock Pot Chicken Cacciatore
Once you prepare this easy chicken cacciatore crock pot recipe, you will make it all the time! The tomato sauce is so hearty and delicious with tons of tender chicken and mushrooms.
Each bite is amazing. Even if you don't like mushrooms, you might be surprised just how delicious this combination is.
There is something so tasty about everything combined into just the best sauce to serve over pasta. You have to give this a try.
You are going to love having something so easy but amazing to fix even during busy weeknights. Everyone will enjoy coming home to a wonderful meal after a busy day.
Let's bring back family dinner time! Easy recipes like this make it possible and they are budget friendly!
WHAT DOES THE WORD CACCIATORE MEAN?
Cacciatore means to be prepared with or containing tomatoes, mushrooms, herbs, and other seasonings. This is the most delicious combination and your family will love it!
You need a good slow cooker to make this chicken cacciatore crock pot RECIPE.
We love crock pots around here. I have several and they get tons of use.
If you are in the market for something new, I really love my Ninja cooker. The nice thing about this is you can brown the meat in the same slow cooker for recipes that call for that.
It is so handy to just have the one pan to clean. It has become of my favorite kitchen appliances.
I also really like this crockpot as well. I use this all the time and it's great.
My favorite feature is that you can lock the lid down. This is awesome for when you need to take the crockpot somewhere.
I often use the slow cooker to take dishes to potluck events and this feature is amazing! There are several others on sale here.
Another favorite is this programmable crock pot for when I am am not at home all day. I love coming home to a nice meal ready and waiting!
I also like to use crock pot liners to make clean up a breeze. These are worth every penny and save a ton of time.
What are the ingredients for crock pot chicken cacciatore RECIPE?
chicken thighs
crushed tomatoes
red and green bell peppers
onion
dried oregano
bay leaf
cremini mushrooms
salt and pepper
fettuccine
HOW DO YOU MAKE SLOW COOKER CHICKEN CACCIATORE?
While this recipe sounds and looks fancy, it is actually so simple to make. Just toss the chicken, tomatoes, veggies and seasonings in the slow cooker.
Let it cook on low all day and that is it!
It is one of the easiest meals to prepare ever. Plus, so delicious.
Keep reading for the full recipe. It is so simple!
What to serve with crock pot chicken cacciatore?
You can serve chicken cacciatore over fettuccine noodles. We also like to serve it with a simple side salad or Easy Grilled Broccoli.
Also, we love Garlic Bread Cheese Sticks Recipe. These are perfect to dip in the yummy tomato sauce! So good!
You can get every last drop of that delicious sauce!
Do you need a dessert to serve but don't have much time? Try this amazing Crockpot Lava Cake Recipe.
It is the best dessert and so easy. The chocolate is so decadent and the lava topping is amazing with chocolate chips and chocolate pudding.
Top it all off with vanilla ice cream and it is SO delicious! We love slow cooking!
Other ideas to try with crock pot chicken cacciatore:
You can use other types of pasta instead of fettuccine- linguine, bow tie, penne or whatever you have!
Serve over mashed potatoes. (We love this quick and easy Pressure Cooker Mashed Potato Recipe.)
Try serving over rice.
You can save even more time and learn how to freeze rice. I love to grab the rice from the freezer in the morning and when we come home it is all ready to enjoy.
We do this for lots of meals and it helps put together a quick meal. Give it a try!
It is so easy and helpful for busy weeknights. You can also use brown rice. Learn how to cook brown rice in the microwave for a quick side.
Use an assortment of bell peppers. Yellow bell peppers look gorgeous and taste amazing.
Try using chicken breasts or chicken tenderloin instead of chicken thighs.
As you can see, this recipe is easy to change to suit what you have on hand or prefer. Make it your own!
CAN SLOW COOKER CHICKEN CACCIATORE BE MADE WITH OTHER MEATS?
Yes, the cacciatore sauce is delicious with other types of meat. While chicken is the meat traditionally used, beef is really delicious as well in this recipe.
Let us know what you try!
TIPS FOR CROCK POT CHICKEN CACCIATORE:
This recipe like many calls for onions and peppers Another time saving tip is to use a small food chopper or food processor to quickly and easily chop the onions and bell peppers.
If you do not have one of these, I highly recommend them. They are such a time saver and a great way to meal prep.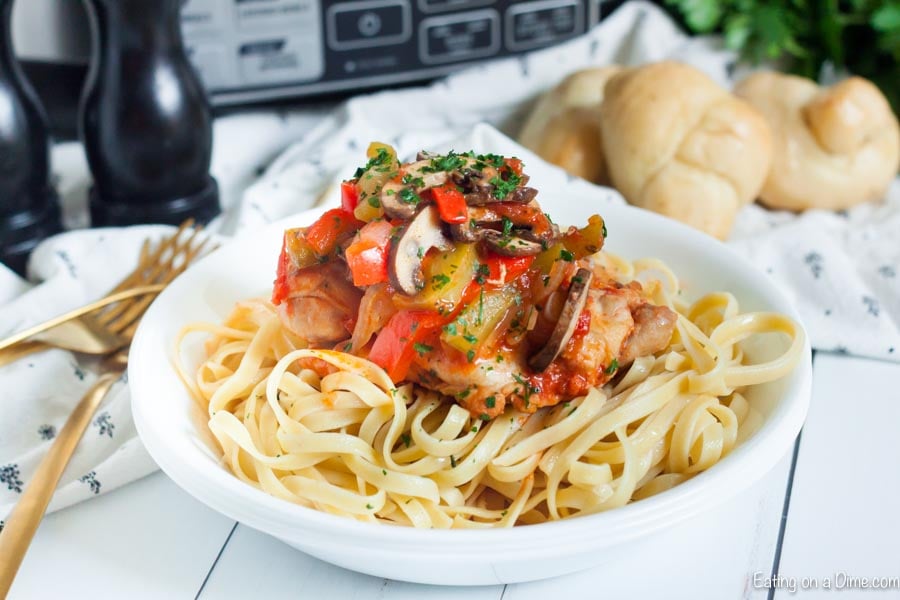 I usually just chop the entire vegetable and freeze what I don't need. It's so nice to be able to just take the diced onion out of the freezer for recipes.
This is how I meal prep and a huge help during busy weeknights. It's so quick and easy and helps get dinner on the table fast.
Learn and how to freeze onions and also how to freeze peppers to save so much time in the kitchen!
Also, feel free to make this dish your own. If you like a little extra heat, add red pepper flakes to the dish.
This goes great with the Italian seasoning and diced tomatoes and tomato sauce. If you are short on time, cook on high to reduce the cooking time.
You simply can't go wrong with this amazing meal.
Slow cooker chicken cacciatore is versatile and easy to make.
Since this recipe is so easy to substitute for other things, it is very versatile. You can easily use what you have on hand.
You can easily substitute boneless skinless chicken breast for the chicken thighs and this recipe would still be delicious. Another idea is to took a mix of both.
This is a great way to help your budget and it will still turn out perfectly. Both options are awesome. Just use what you have.
Lots of different types of pasta would be great. I forgot to buy fettuccine once and used spaghetti noodles.
You can literally use what you have in your pantry and it will be awesome. Give it a try!
I am all about using what is on sale at the grocery store or that I already have in the freezer. I cut our grocery bill by 50% off by following these 8 Tips for for Saving Money on Groceries by Menu Planning!
Save that money for something else or to give you family wiggle room in the budget. No need to spend tons of money grabbing take out.
You are going to love being able to enjoy meals like this and the money and time you will save!
Easy recipes like this keep my family happy and my grocery budget in good shape. This is how I keep our grocery budget reasonable.
Plus, being able to throw this together quickly and easily really helps to avoid the temptation of getting take out. Everyone is much happier with a delicious home cooked meal anyway.
Take out these days is not that fast and costs a small fortune. It is even more if you have 8 kids like I do.
I would much rather eat out because we want to and not because I forgot to plan for dinner. That way when we do eat out, we can really enjoy it.
We are trying to be intentional in what we do and how we spend our time and money. It makes such a difference!
Plus, family dinner time is something we all now look forward to. It is so special hearing about everyone's day and having the entire family together.
It is so rare these days but easy meals like this make it simple to get everyone around the dinner table!
This recipe is a family favorite around here!
Once you try this, you will see why it is one of our favorite chicken recipes. You can even try making it in the instant pot if you prefer.
It is a great recipe and our entire family loved this recipe. You can quickly and easily serve your family this amazing meal with very little work.
The slow cooker does all the work and all you have to do is toss and go. You can come home to dinner ready and waiting.
It is hard to believe but it is that simple and easy! Dinner will be a breeze when you make this easy meal.
Throw everything in the slow cooker and gather your family for an amazing dinner. It is so simple and so delicious and helps to make family dinner possible.
Crock pot chicken cacciatore takes the stress out of dinner time!
You won't be tempted to grab take out with such an easy recipe to prepare. Not only will you save money and time but your family will enjoy a tasty dinner.
This recipe is a must try and one of our favorites. I just know you are going to love it and the entire family will go crazy over it!
We have served this for guests and they loved it too. This recipe is special enough for dinner parties but simple enough to make during busy weeknights.
Everyone can sit and talk about their day while enjoying a nice meal. You will save time, money and eliminate stress!
I hope you will give this recipe a try. Make sure to leave a comment and let us know what your family thought about it.
Your family will love it as much as we do. I am certain. 🙂
Print this crock pot chicken cacciatore recipe below:
Crock Pot Chicken Cacciatore
Crock Pot Chicken Cacciatore sounds fancy but it's easy to make. If you want a meal with the best chicken, mushroom and tomato sauce, try this recipe.
Ingredients
8

chicken thighs

boneless

2

can crushed tomatoes

15 oz

1/2

red bell pepper

sliced

1/2

green bell pepper

sliced

1/2

large onion

sliced

1

tsp

dried oregano

1

bay leaf

8

oz

cremini mushrooms

1

teaspoon

salt

1

teaspoon

pepper

16

oz

fettuccine
Instructions
Chicken tomatoes, peppers, onion, seasonings and mushrooms all go in the crock pot. Cover and cook on low for 6-8 hours.

Meanwhile cook fettuccini according to directions.

Serve over fettuccini
Nutrition Facts
Calories
776
kcal
,
Carbohydrates
69
g
,
Protein
46
g
,
Fat
36
g
,
Saturated Fat
10
g
,
Cholesterol
252
mg
,
Sodium
742
mg
,
Potassium
1216
mg
,
Fiber
6
g
,
Sugar
9
g
,
Vitamin A
849
IU
,
Vitamin C
34
mg
,
Calcium
102
mg
,
Iron
5
mg
Try more delicious crockpot chicken recipes:
Check out these other easy crockpot recipes: