This post may contain affiliate links. If you make a purchase through links on our site, we may earn a commission.
If you are looking for a healthy but delicious side dish, try this Zucchini Noodles Recipe. Not only is this a tasty option but it is so easy to make.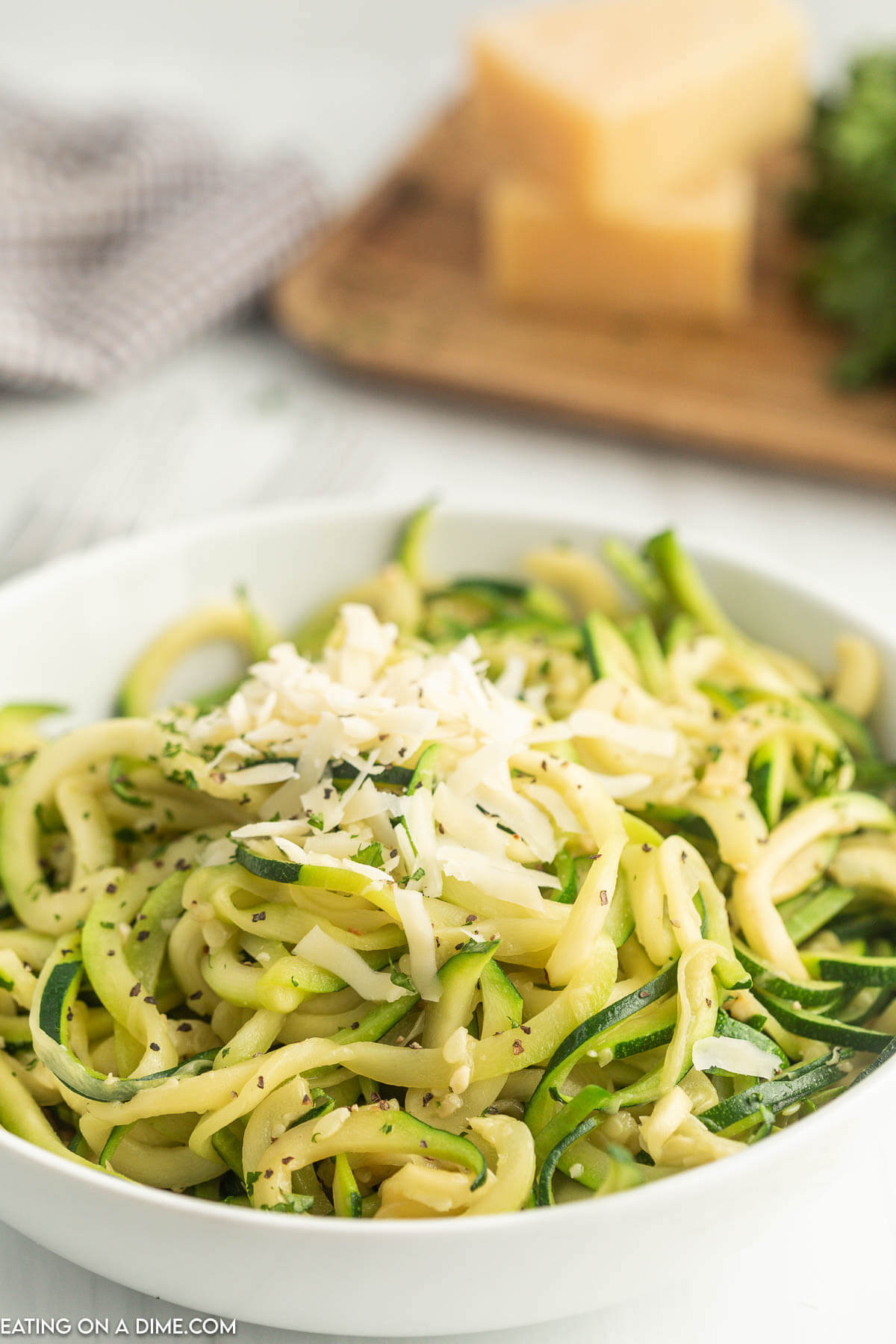 Easy Zucchini Noodles Recipe:
Learn how to make Zucchini Noodles that are low carb, gluten free and a great substitute for regular pasta. These zucchini noodles are easy to make and are delicious served with your favorite pasta sauce or seasoning.
These steps will show you how to cook the noodles tender but not soggy. They taste delicious and blended with a sauce or other seasoning you will love the way they taste.
Serving zoodles helps to get in more vegetables and lowers the amount of carbohydrates that your family is eating. This one simple swap has been a game changer for my family. These zucchini noodles are kid approved.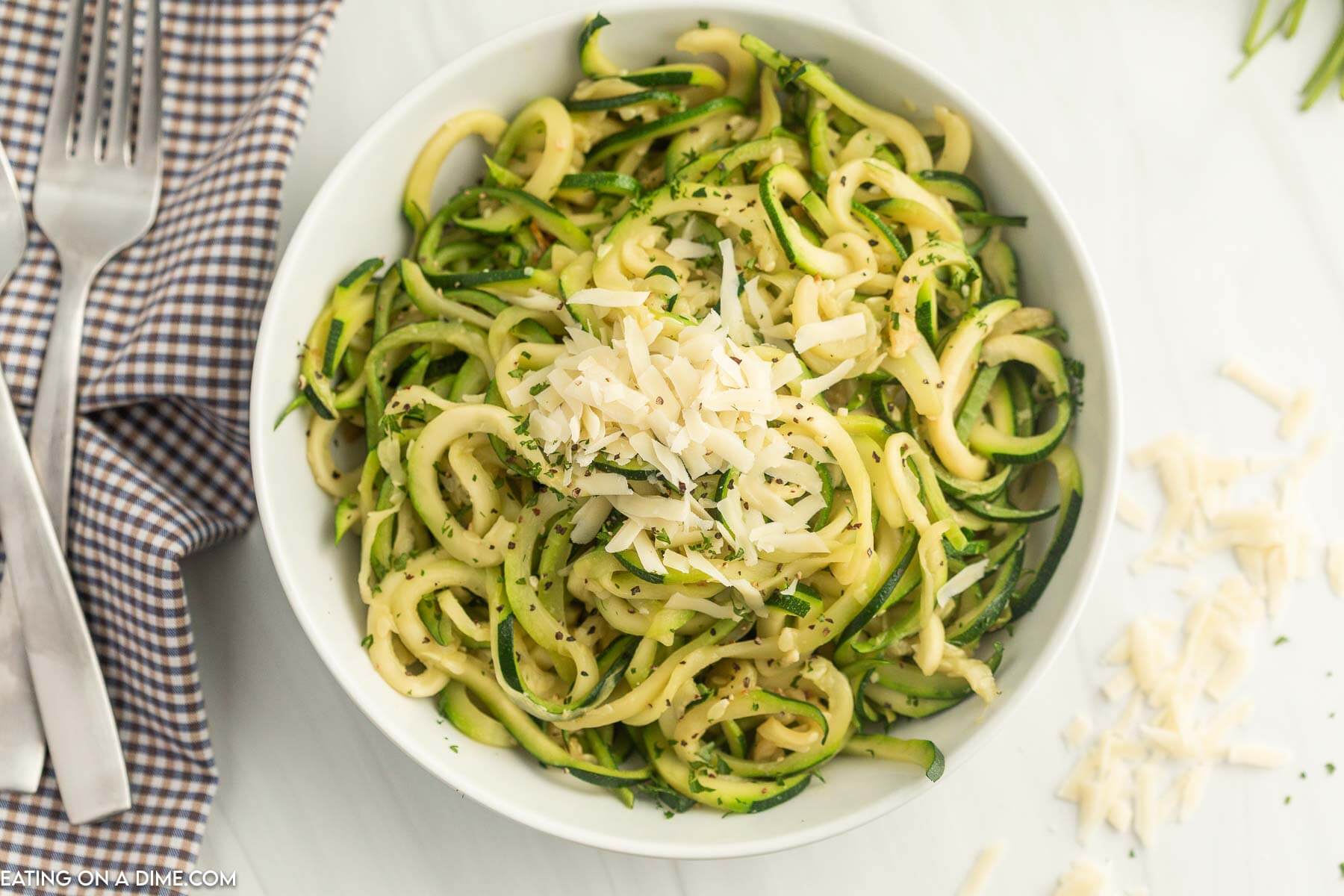 What are Zoodles?
Zoodles is a zucchini that has been spiralized and cut into noodles with a special tool. This a great alternative to regular noodles and combined with pasta sauce, your kids will love them.
It is a gluten-free alternative to your regular pasta side.
Are Zucchini Noodles good for you?
Yes! This is a really healthy and delicious option to traditional pasta.
Try Zucchini noodles recipe keto friendly version and see how delicious healthy can be. The entire family will love these and not even realize how healthy they are eating.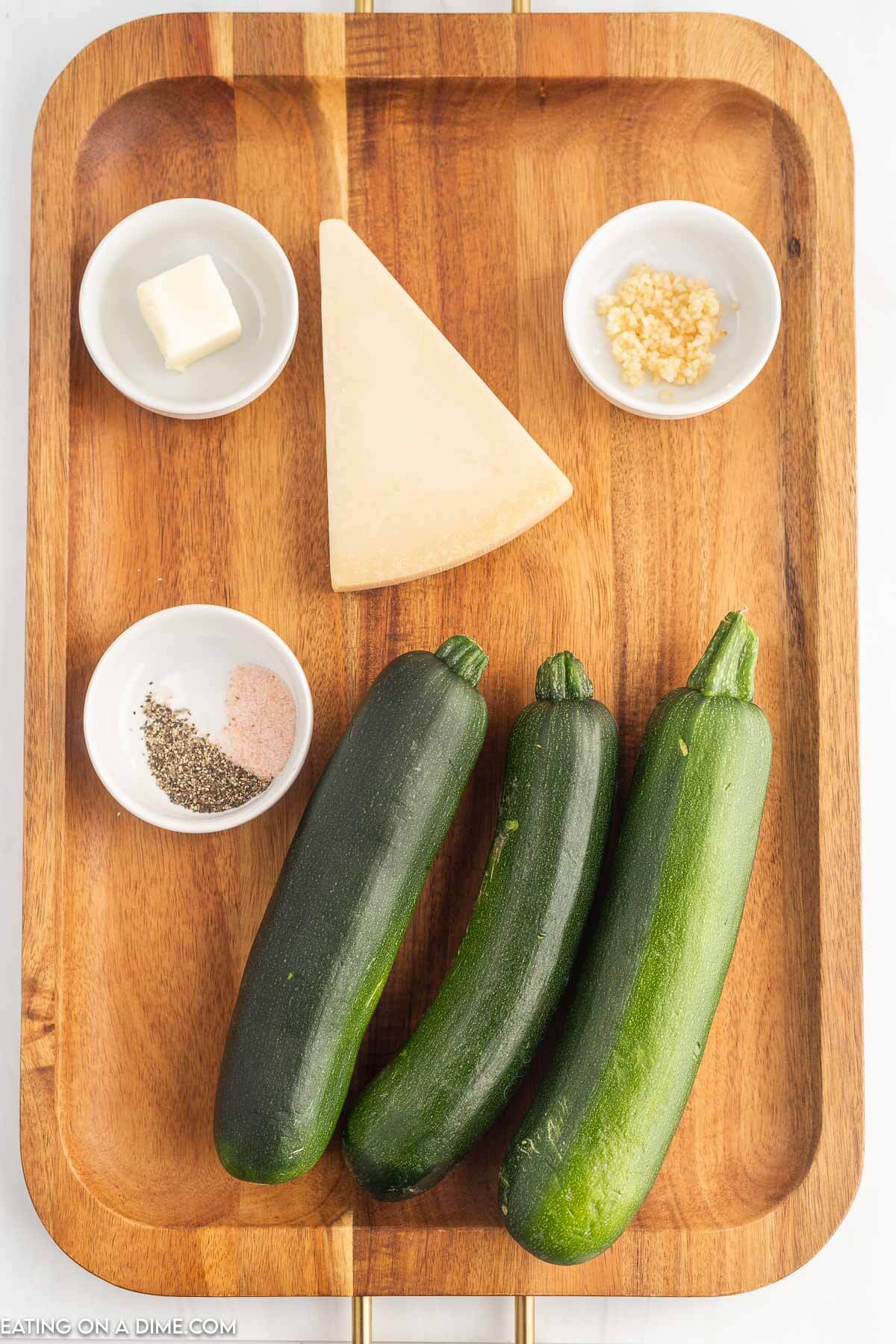 What do I need to make this Zoodles Recipe?
Fresh Zucchini
Butter
Minced Garlic
Salt and Pepper
Parmesan Cheese
Parsley (optional)
How to Make Zucchini Noodles?
You will need a spiralizer to make the zucchini noodles. I ordered my spiralizer from Amazon for a great deal.
Step 1 – Place zucchini in spiralizer – It is so easy. You just place the zucchini in the handheld spiralizer and cut the noodles.
Step 2 – You can also use a Vegetable Peeler or a Julienne Peeler – You can also use a vegetable peeler if you do not have a spiralizer just yet.
How to Cook Zucchini Noodles on Stove:
After you have cut the noodles, it only takes a few minutes to cook the zucchini noodles. This is such a quick and easy recipe.
Step 1 – Cook Noodles – Saute the noodles in a large skillet in the butter and garlic. It will smell amazing.
Step 2 – Top with seasoning – Literally, this takes less than 5 minutes. The noodles are cooked al dente and perfectly crisp. I love to top with Parmesan cheese.
You will love having this healthy option for dinner. Plus, it is inexpensive and simple.
How do you Make Zucchini Noodles not Soggy?
Zucchini pasta continues cooking after you remove it from the heat. This can lead to soggy noodles if you over cook the zucchini.
These noodles are not very good when they are overcooked and mushy. It really only takes 3-5 minutes to cook the noodles.
Make sure to stay close by so the noodles do not overcook. Just cook for a few minutes and they will be perfect.
Zucchini Noodle Tips:
Other Vegetables – If you love these zoodles so much, try making noodles out of other vegetables or fruits. We recommend carrots, sweet potatoes, apples, or pears.
Baking Noodles – If you prefer, you can bake your noodles on a baking sheet. Line a baking sheet with parchment paper and place the noodles on the baking sheet. Season with sea salt and bake at 200 degrees for about 10 minutes.
Zoodle Length – Using a spiralizer to cut the noodles you may end up with long noodles. We recommend using kitchen spears to cut them. This will allow the zoodles to be easier to eat and give you more zoodles.
Prepare ahead of time – You can easily prepare your zoodles ahead of time. Just make sure to store in the refrigerator in a container with a paper towel. They will last about 3 days.
Serving Size – When preparing your zucchini, we recommend using a larger zucchini. To prepare how many zucchini you will need, plan on 1 medium size zucchini per person.
Peeling Zucchini – You do not need to peel the zucchini before placing in the spiralizer. The skin on the zucchini has added health benefits that I like to have.
Other ways to Prepare Zucchini Noodles:
There are other ways to prepare zucchini noodles other than cooking in a skillet.
Enjoy them Raw – You can simple spiralize the noodles and eat them raw. They will be crispy and you even enjoy them cold or warm. You can even add your favorite seasoning.
Microwave Zucchini – This is a quick and easy to enjoy cooked noodles. Place the spiral zucchini in a microwave safe bowl. Heat in the microwave for about a minute. If you need longer time, heat in 30-second intervals.
Boil Zucchini – Prepare a pot of water and place on your stovetop and allow the water to boil. Place your zucchini in the boiling water and cook for about a minute. This is a quick and easy way to enjoy zoodles.
Do Zucchini Noodles taste like Noodles?
Zucchini Noodles do not taste exactly like regular pasta but if prepared and seasoned correctly, you will be surprised how delicious they really are.
More Seasoning Variations:
Diced Chicken – Top the spiralized zucchini with diced chicken for a complete meal idea. We like to use the garlic, parmesan cheese and chicken for a delicious meal.
Bacon Bits – Top the zoodles with bacon bites for a delicious side dish.
Olive Oil – Cook the noodles in olive oil instead of butter for a light option.
What to Serve with Zoodles?
Alfredo Sauce – There is nothing better than alfredo sauce and noodles. Make your favorite dish a little lighter by pouring this homemade sauce over zoodles. In about 30 minutes dinner will be done.
Homemade Spaghetti Sauce – My kids will clean their plates when I serve the zoodles with this homemade spaghetti sauce recipe. You can even add in hamburger meat to make it more hearty. The perfect sauce for all your pasta recipes.
Marinara Sauce – I love this easy marinara sauce recipe. It taste delicious served over the marinara sauce. Simple ingredients makes this recipe so delicious and the perfect weeknight dinner.
How to Store Leftovers:
If you have leftover zoodles you can easily store in an air tight container. We recommend placing a paper towel to soak up any moisture in the container. Place the zoodles in the container and store in the fridge for up to 3 days.
I like to meal prep for the week and these zoodles make it easy to do so. I usually add a side of pasta sauce or chicken and it is a perfect lunch on the go.
How to Reheat:
We usually just reheat in the microwave with our sauce over the top. But you can easily reheat the zoodles in a skillet for just a minute or two for a delicious side.
Simple Zucchini Noodles:
If you are looking for ways to cut carbs or just want to try to feed your family more vegetables, make these zoodles. I like to get my kids to help make the zoodles because they think it is so fun.
Serve with your favorite pasta sauce or noodles for a delicious weeknight dinner idea.
Print this Zucchini Noodles Recipe below:
Zucchini Noodles Recipe
If you're looking for a healthy but yummy side dish, try Zucchini Noodles Recipe. Not only is this a tasty option, it is so easy to make this zoodle recipe.

Instructions
Place the zucchini in a spiralizer and cut the noodles.

In a large skillet heat the butter and minced garlic until melted.

Stir in the zucchini and toss with tongs, cooking for 3-5 minutes.

Remove from heat and season with salt, pepper, and parmesan cheese.

Sprinkle with minced parsley (optional) and serve immediately.
Recipe Notes
Watch the zucchini noodles as they cook quickly and you do not want them to get mushy.  
These are best served fresh as the zucchini noodles do get soft when they are stored. 
Nutrition Facts
Calories
58
kcal
,
Carbohydrates
4
g
,
Protein
2
g
,
Fat
5
g
,
Saturated Fat
3
g
,
Trans Fat
1
g
,
Cholesterol
11
mg
,
Sodium
456
mg
,
Potassium
265
mg
,
Fiber
1
g
,
Sugar
2
g
,
Vitamin A
329
IU
,
Vitamin C
18
mg
,
Calcium
39
mg
,
Iron
1
mg
The Best Zoodle Recipes: