This post may contain affiliate links. If you make a purchase through links on our site, we may earn a commission.
Try quick and easy Skillet Chicken Fajitas. It is delicious and perfect for a simple weeknight dinner or a date night in. Add some fresh homemade salsa and homemade white cheese dip for a great meal.

Skillet chicken fajitas
I love easy skillet dinners. This recipe for quick and easy cast iron skillet chicken fajitas is a family favorite.
Dinner can be ready in under 30 minutes. That is perfect for those crazy nights when you've been busy or gone all day. The next time you don't know how you're getting dinner on the table, make fajitas.
From young and old, the entire family loves this recipe and asks for it frequently. I'm certain you'll add this to your regular dinner rotation.
Ingredients for skillet chicken fajitas:
Boneless skinless chicken breasts. Cut these into strips.
Bell peppers. Julienned. I like to do two of each green, red, orange and yellow bell peppers.
Yellow onion. This needs to be a large onion peeled and cut into strips.
Canola oil. You can also use olive oil works for a healthier option.
lime juice. This is optional but adds so much flavor.
small flour tortillas. You can also use corn tortillas if you prefer.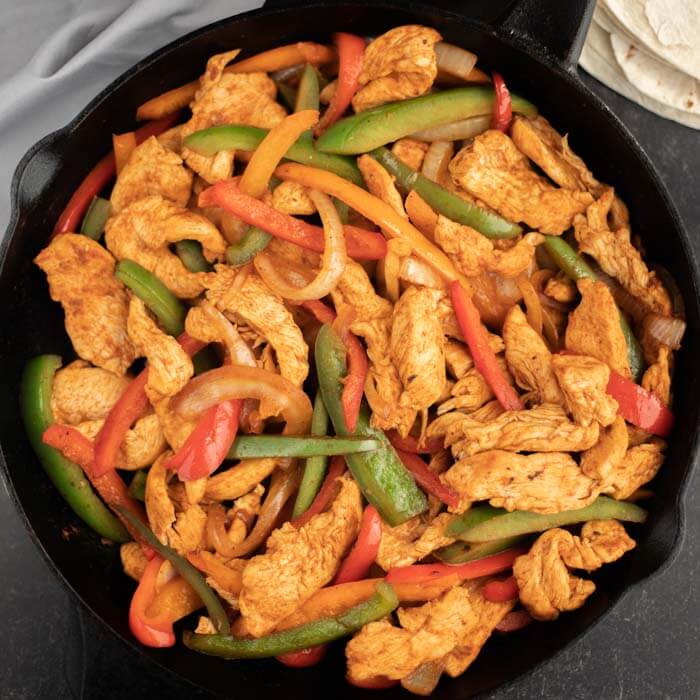 How to make cast iron chicken fajitas:
First, add the chicken to a large mixing bowl. Go ahead and add the seasonings on top. Stir to mix everything together. You can also make this in advance and marinate the chicken.
Next, pour the canola oil into the

cast

iron

skillet. Heat the oil in a skillet over medium high heat.
Then add the seasoned chicken to begin to cook in the oil. Let the chicken cook until it turns brown and the chicken is cooked through. The internal temperature of chicken should be 165 degrees.
Next, put the bell peppers and onions in the large skillet with the remaining seasoning. Now, stir to combine.
Cook the bell peppers until they are tender but you do not want them limp. Make sure to stir them occasionally so that they don't burn.
Once the vegetables have finished cooking, it is ready to serve. Salt and pepper to taste.

We like to squeeze fresh lime juice over the top before serving. It is so amazing and really enhances the flavor. It goes perfectly with the cumin chili powder and garlic powder.
How to heat up tortillas:
Oven:
-Preheat oven to 350 degrees.
-Wrap the tortillas in groups of five in foil.
-Warm in the oven at 350 degrees for 15-20 minutes.
Microwave:
-In groups of five heat in the microwave for 30 seconds or more as needed. (If more is needed heat in segments of 30 seconds each time),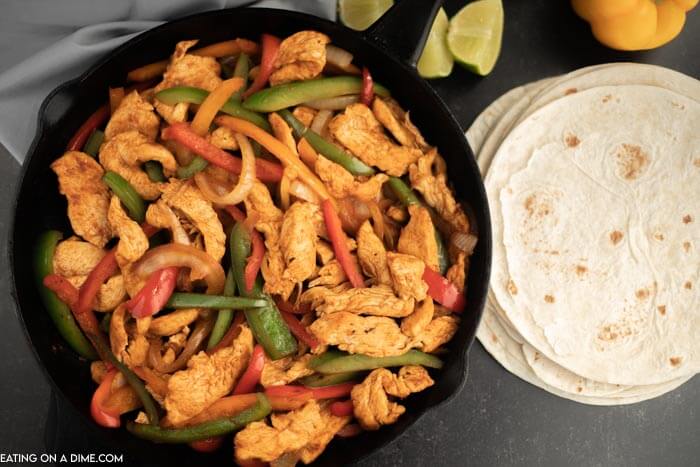 What to serve with chicken fajitas
How to store leftovers
Place leftover meat and veggies inside an airtight container. They will keep in the refrigerator up to 3 to 4 days. You can enjoy these for a quick lunch or another great dinner.
How to reheat
Spread the leftovers on a baking sheet. Place in the oven at 350 degrees for 10 to 15 minutes.
You can also reheat in a skillet over medium heat for 10 minutes. Don't reheat the fajitas too long or the veggies will get really limp.
Can I use chicken thighs instead of chicken breasts?
Yes, you can use boneless chicken thighs. Just keep in mind they take a little longer to cook.
The cooking time will need to be increased and the exact time will be based on the size of chicken thighs used. It is a great way to save a little money and chicken thighs are pretty tasty.
Meal prep tips:
You can freeze the marinated meat in a freezer bag or container. The chicken can be frozen up to 3 months. This will cut down on a few steps and you can just thaw and cook when ready.
The bell peppers and onions can be sliced the night before. When you come home from work, all you will need to do is cook them. It will be a big help only having to cook them.
Ideas for leftovers:
Fajita Salad. You can use a taco salad bowl or just use salad greens and top with the chicken and veggies.
Fajita bowls. Add rice, chicken and veggies and your favorite toppings.
We love to make more great meals out of the fajita meat and veggies. It saves time and our family loves it.
Sometimes, we actually make extra just to have leftovers. Everyone loves this meal and the flavor is delicous.
Variations:
Try other vegetables. Some ideas include: diced tomatoes, mushrooms, squash and zucchini.
How to care for your Cast iron skillet
I love using a cast iron skillet for this recipe. Make sure you learn How to Clean a Cast Iron Skillet and How to Season Cast Iron Skillet.
Print this recipe for cast iron fajita skillet:
Skillet Fajitas
Try this quick and easy Skillet Chicken Fajitas Recipe. It is delicious and perfect for a simple weeknight dinner or a date night in!
Ingredients
3

skinless boneless chicken breasts

large (cut into strips)

3

bell peppers

julienned (any colors will work).

1

large yellow onion

peeled and cut into strips

2

Tablespoons

canola oil

2

Tablespoons

Taco Seasoning

1

lime

juiced

12

small flour tortillas
Instructions
Add chicken to a large bowl and add the seasoning on top, stirring to mix.

Pour canola oil into the cast iron skillet and begin to heat on medium heat.

Add the seasoned chicken to begin to cook. Continue to cook the chicken until it turns brown and chicken is cooked through (5-7 minutes per side). I like to cut into a piece of chicken and make sure it is no longer pink on the inside.

Remove the chicken from the pan to a separate plate and set aside.

Add the pepper and onions to the skillet. Stir to blend all together.

Continue to cook until the peppers are tender (2-4 minutes) but not limp, stirring occasionally so that they don't burn.

When the veggies are done, add the chicken back to the pan! Squeeze fresh lime juice over the top before serving and enjoy!
Recipe Notes
*Refrigerate the leftovers in an air tight container for up to 5 days.  
*Serve with your favorite fajita toppings: shredded cheese, salsa, pico de gallo and sour cream! 
Nutrition Facts
Calories
317
kcal
,
Carbohydrates
38
g
,
Protein
18
g
,
Fat
10
g
,
Saturated Fat
2
g
,
Polyunsaturated Fat
2
g
,
Monounsaturated Fat
6
g
,
Trans Fat
1
g
,
Cholesterol
36
mg
,
Sodium
548
mg
,
Potassium
465
mg
,
Fiber
3
g
,
Sugar
6
g
,
Vitamin A
1964
IU
,
Vitamin C
82
mg
,
Calcium
78
mg
,
Iron
3
mg
More fajita recipes to try: