Never buy overpriced store bought packets of taco seasoning again. Learn how to make Homemade Taco Seasoning Recipe that is easy and budget friendly.
Homemade Taco Seasoning Recipe
We are so excited for you to try this DIY Taco Seasoning recipe. Once you see how easy it is, you will stop buying it at the grocery store. We love making this and it is super easy. The flavor is amazing and we all love it.
All of the recipes turn out great using this homemade taco seasoning mix. You won't find any crazy ingredients you cannot pronounce. I love being able to give my family homemade seasoning and it really only takes minutes to make. It is a win all around!
Great way to spice up your meats!
Just make a big batch and store in an airtight container. You will be set for awhile on taco seasoning mix. From seasoning ground beef to ground turkey, this taco seasoning recipes tastes amazing. My family loved the taco meat with this recipe.
We all prefer it to store bought taco seasoning. I have been slowly trying to make more and more things at home. I love that I don't have to worry about what is inside or any hidden ingredients.
You can know exactly what is going into the food you are eating. This is so comforting especially as a mom!
Simple ingredients and Simple Process!
Once you start making this and trying new things at home, you will see it does not take long. Sometimes, I hesitate to do things because I think it might be complicated or time consuming.
However, this homemade taco seasoning mix is really very simple and so fast to make. You are going to love it! We use a lot of seasoning with our recipes, and those packet seasoning can add up over time.
You are paying for convenience in a taco seasoning packets. Plus, I think it is so much better to make your own and you know everything that is in it.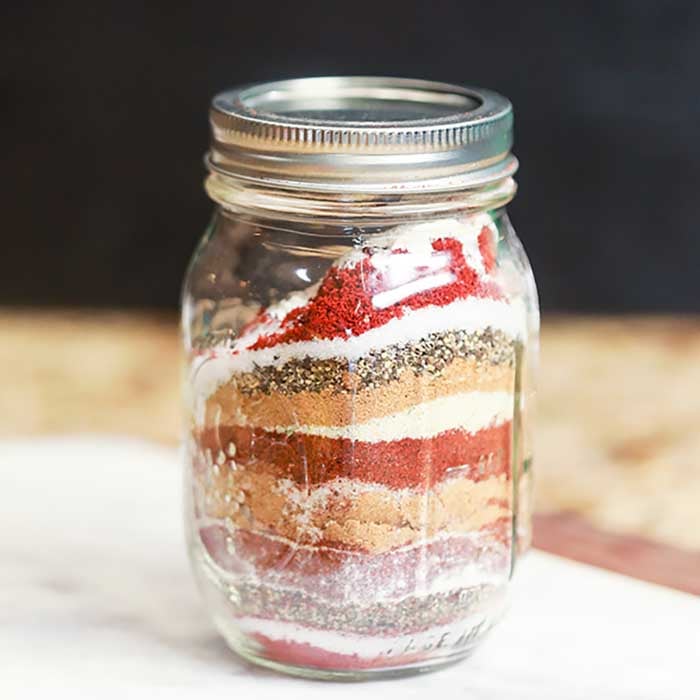 Do you love Tacos?
We love Taco Tuesday and Mexican Monday so our household uses a lot of taco seasoning. I love this Easy Crock Pot Taco Meat Recipe for busy weeknights and it is so handy having homemade taco seasoning on hand.
You are going to love making your own taco seasoning. I love having this on hand to use in my recipes.
Taco seasoning mix recipe from scratch!
With just a few different spices, you can easily make taco seasoning mix that tastes amazing. Plus, you will be happy that it is so easy to make.
Once you make this, you will wonder why you did not do it sooner.
What all do you need to make homemade taco seasoning mix:
Chili powder
Ground Cumin
Onion Powder
Garlic Salt
Pepper
Salt
Smoked Paprika
Cayenne or Red Pepper Flakes
I love knowing exactly what is in the taco seasoning mix. You won't find any extra ingredients or additives since you are making this at home.
How to make homemade taco seasoning:
This is so easy. All you do is mix all the ingredients including the garlic powder and onion powder up in a jar. It is that easy to make homemade taco seasoning!
You are going to love having taco seasoning to use for all your recipes. It is so handy having this at home and you will save a ton of time and money.
Great for gift giving!
This is the perfect homemade seasoning to give as a gift! Homemade gifts are my favorite gifts to make and receive. Everyone has so much these days and making this simple recipe will make someone day.
You can put in a mason jar, tie a ribbon around it, and put in a basket with a gift card. This would be perfect for your kids teachers, neighbor or that hard to buy for uncle.
How to use homemade taco seasoning for ground beef and other recipes:
Simply use 2 Tablespoons of your new homemade taco seasoning instead of a seasoning packet in a pound of ground beef.
It is that easy – one quick step and you have it ready to use it in any of your favorite recipes!
How to store homemade taco seasoning.
I like to use mason jars to store the taco seasoning mix in. The jars keep everything nice and fresh and they are inexpensive to purchase. Plus, you can reuse them for other things once you are finished. We love mason jars.
Generally I double or triple this recipe so I don't have to make it very often. You can use a container you already have or a mason jar and be set for the next taco night!
More Homemade Seasoning to try:
Here are some of our favorite seasonings to make at home.
Print this Homemade Taco Seasoning Recipe below:
How to Make Homemade Taco Seasoning
This delicious Homemade Taco Seasoning recipe is so easy to make. You will save a ton of money by making your own. Try out this Homemade Taco Seasoning.
Ingredients
1/4

cup

Chili powder

2

Tablespoon

Cumin

2

teaspoon

onion powder

2

teaspoon

garlic salt

4

teaspoons

pepper

4

teaspoon

salt

2

teaspoon

Paprika

1/2

teaspoon

cayenne or red pepper flakes
Instructions
Mix all the seasonings in a small bowl.

Transfer to a jar and reserve.

When you need taco seasoning, use 2 Tablespoons for a for a pound of meat (or just use 2 Tablespoons for any soup).
Recipe Notes
Make sure to label your jar so you can identify and find your seasoning easy!
Nutrition Facts
Calories
16
kcal
,
Carbohydrates
3
g
,
Protein
1
g
,
Fat
1
g
,
Saturated Fat
1
g
,
Sodium
2330
mg
,
Potassium
75
mg
,
Fiber
1
g
,
Sugar
1
g
,
Vitamin A
425
IU
,
Vitamin C
0.3
mg
,
Calcium
27
mg
,
Iron
1.6
mg
How to use Taco Seasoning:
More Homemade Seasoning Recipes: