This post may contain affiliate links. If you make a purchase through links on our site, we may earn a commission.
I love making my own seasoning mixes instead of using the store bought one. I love this Homemade Blackened Seasoning Recipe to use in some of my favorite recipes.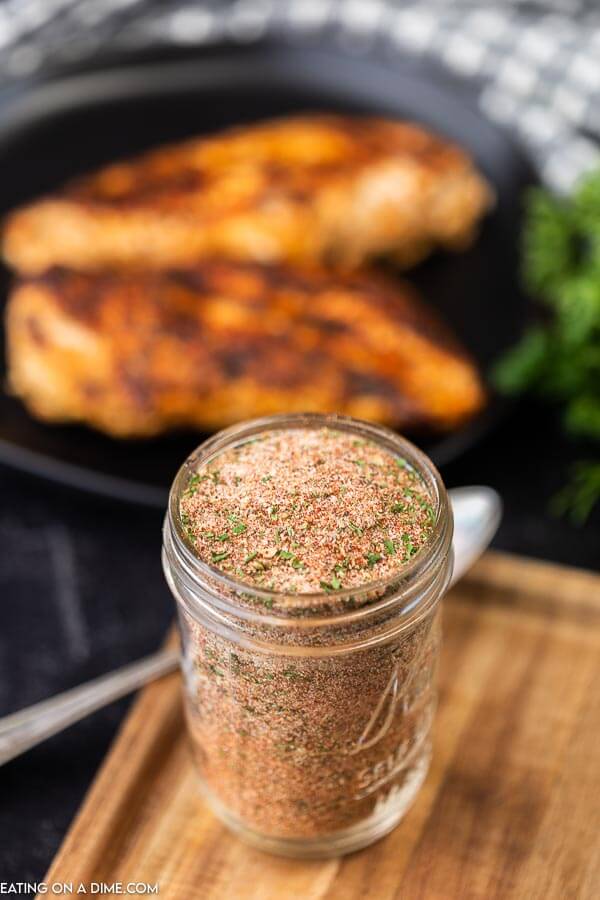 Homemade Blackened Seasoning is easy to make:
Homemade blackening seasoning is a quick and easy to make.
Do you ever go to a restaurant and have blackened chicken Alfredo or maybe blackened salmon and you wonder how they did it? How do they get it to look so good and taste amazing?
The secret is in the blackening spices and that is what I'm going to show you today.
Making your own blackened spices is a lot easier than you might think, so let's get started.
What is Blackened Seasoning?
Blackened is actually a term that describes a cooking process versus a seasoning. The cooking process is when chicken or fish is soaked in butter or oil and then dipped in seasonings.
Then it's cooked in a cast iron skillet on extremely high heat. The combination of the seasoning and the cooking process make the chicken or fish look black so that is how this seasoning was named.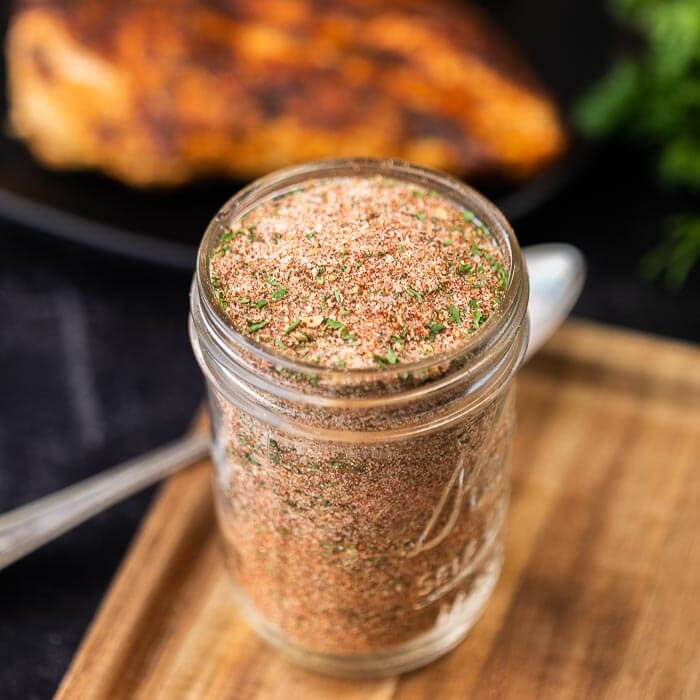 What is the difference between Cajun and Blackened Seasoning?
Both are seasoning mixes; however, cajun seasoning generally tends to be more spicier. Blackened seasoning does have some heat but if you have sensitivity to spice than I would choose the blackened seasoning over the cajun seasoning.
Ingredients for Blackening Seasoning
My favorite thing about seasoning mixes is that they are just a seasoning blend with spices that you probably already have in your pantry. Also, you might already have everything you need to make this easy seasoning mix.
Once I realized that it was made of ingredients that I already had, I knew there was no reason why I wouldn't be able to make my own. Here is what you need to create this easy blackened seasoning recipe.
Paprika or Smoked Paprika
Salt
Coarse Garlic Salt
Parsley
Onion Powder
Black Pepper
Cayenne Pepper
Oregano
How to Make Blackened Seasoning Recipe:
Ok, now that you have everything you need, let's get started with how to make this blackened seasoning mix.
Step 1 – First, combine all the ingredients in an airtight container. I like to use these small mason jars (or you can use these glass spices jars that even have the shakers on them) for my homemade seasonings.
Step 2 – Then mix together in a small bowl and save. I store this seasoning mix in an airtight container and store in a cool dry place.
How to Use Blackened Seasoning:
Season Meat – Use this blackened seasoning on your steak, pork chops or pork tenderloin.
Chicken – You can also use this seasoning on your fried chicken, boneless chicken thighs, or chicken breast.
Fish – This seasoning is also great on your favorite cooked fish.
Other Seasoning to Mix in:
If you prefer, you can add in different seasoning for added flavor.
Dried Thyme
Garlic Powder
Creole Seasoning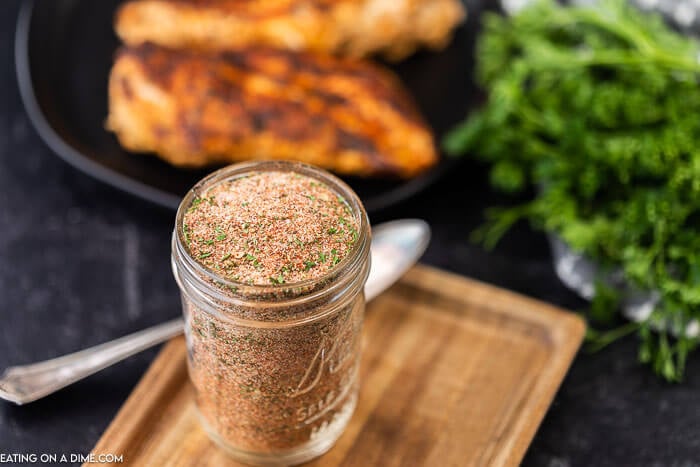 How do you Blacken Food:
Now that you have the needed seasoning, let's learn how to blacken food so that you can enjoy it.
To blackened food, first heat a skillet to a medium high temperature. We recommend using a cast iron skillet when blackening food.
Then dip the chicken or fish in melted butter or your favorite cooking oil. I have used olive oil before and it works great.
Then dip the chicken or fish in the blackened seasoning and flip it to make sure that both sides are completely covered in the seasoning.
Next place the chicken or fish directly in the cast iron skillet and cook each side for approximately 3 minutes until the chicken or fish is cooked through. The time may vary based on the size and type of food that you are cooking.
Also, be prepared for a lot of smoke and steam in the home since this process requires you to cook on high heat.
How to Store Homemade Blackened Seasoning:
Store this homemade seasoning in a mason jar that is air tight. We recommend storing in a cool dry place such as your pantry.
Tips for perfectly blackened food:
Don't use a non stick pan – use a high heat pan like a cast iron skillet (I love this cast iron griddle). Extreme heat needed for good blackening will destroy your non stick pan.
Make sure you have ventilation – it will get smokey. Blackening works great on your grill especially with the cast iron griddle that I love. This way you can keep in the smoke out of your home.
Coat your meat (chicken or fish) with non stick spray or oil before you rub the spice blend on it. It makes the seasoning stick better to get that beautiful crust.
Flipping meat – You want the the seasoning to get a beautiful crust, so you only want to flip it once. You will think it is going to burn, but it is just getting black.
Cooking – On high heat thicker fish will take about 3 minutes on each side, thinner fish (like tilapia) will take about 2 minutes on each side and chicken (filleted) will take about 4-5 minutes on each side. Set a timer so you have beautifully blackened fish or chicken.
Print the recipe for Homemade Blackened Seasoning:
Homemade Blackened Seasoning Recipe
Forget buying blackened spices when you can make this easy Homemade Blackened Seasoning Recipe at home for a lot less. Enjoy Blackened salmon and more!
Instructions
Combine all ingredients together in a small bowl and store in an air tight container.

Use ½ Tbsp on your favorite type of protein and enjoy!
Recipe Notes
This homemade seasoning should last 2-3 years as long as it's stored in a cool, dark place like a pantry.  
Nutrition Facts
Calories
5
kcal
,
Carbohydrates
1
g
,
Protein
1
g
,
Fat
1
g
,
Saturated Fat
1
g
,
Sodium
1047
mg
,
Potassium
28
mg
,
Fiber
1
g
,
Sugar
1
g
,
Vitamin A
280
IU
,
Vitamin C
1
mg
,
Calcium
10
mg
,
Iron
1
mg
Try one of these Blackened Recipes!
Once you have made this easy spice mix, I hope you try one of our favorite blackened recipes.
More Homemade seasonings