Save money and make Homemade Chili Seasoning. Not only is it super easy but it tastes amazing and takes just a few minutes.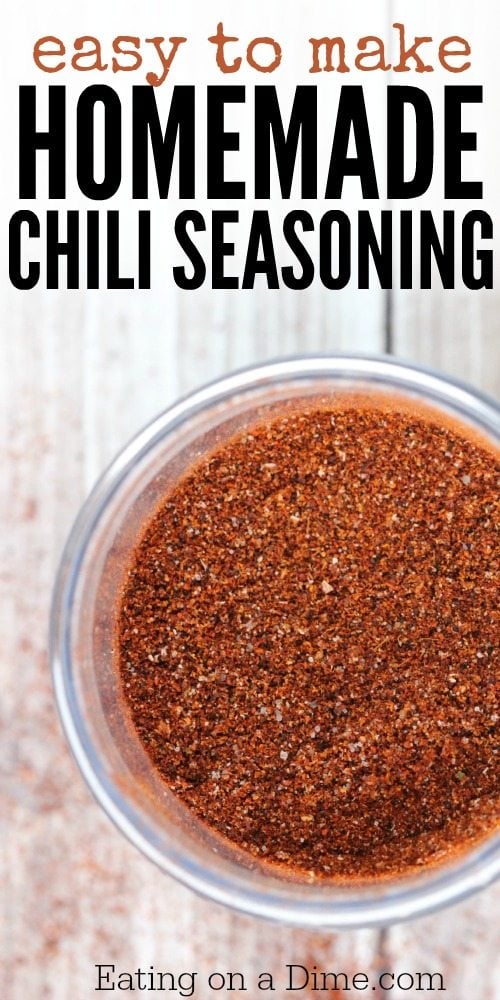 Homemade Chili Seasoning Recipe:
Cooler weather means chili around here. Whether it is Fall or winter, I love to make chili. We make ground beef chili in the crock pot, stove top or sometimes it is in a soup form. I combine a variety of ingredients to change up the traditional chili recipe.
Just like my homemade taco seasoning, I have been making homemade chili seasoning for a while. I like to make a big batch at one time so I will have it ready to go when I am making chili.
Once you see how simple and easy this is to make, you will make it all the time. Skip the store bought packs and make this in minutes at home!
How do you make chili seasoning from scratch?
This makes it just as convenient as having packaged chili seasoning, but it is much more frugal. I use a container just like this to store my chili seasoning in. I actually bought two at the same time so I could have one for my taco seasoning, too.
You will love the size of these containers because ypu can make a lot of homemade chili seasoning at once. Feel free to also use mason jars to store the chili seasoning mix in. The jars keep everything nice and fresh and they are inexpensive to purchase.
Generally I double or triple this recipe so I don't have to make it very often. You can use a container you already have or a mason jar and be set for the next time you make chili.
Skip the Store bought packets!
There is no need to purchase the store bought chili seasoning packets. This recipe shows you just how easy it is to make this chili seasoning. Plus it will save you money and time in the long run. You probably already have all the ingredients in your pantry now.
Those seasoning packets that you get at the store are loaded with unnecessary ingredients. Plus it is really high in sodium.
How do you store:
This homemade chili seasoning is flavorful, but it is not very spicy. Feel free to add more cayenne pepper if you like your chili more on the spicy end. This is a large batch of chili seasoning.
I like having it ready when I am making dinner, so I like to make a lot ahead of time. These containers hold 12 ounces, so this recipe fits inside perfectly. Just two tablespoons per batch of chili and you have amazing chili.
Ingredients for Homemade Chili Seasoning Recipe:
Chili Powder
Ground Cayenne Pepper
Salt
Onion Powder
Garlic Salt or Garlic Powder
Ground Cumin
Ground Black Pepper
How to make Homemade Chili Seasoning:
Mix all ingredients together including the salt and pepper. It is that easy. Get your kids involved to help.
Store in an air tight container in a cool dark place. This recipe makes 12 pots of chili.
I told you it was super easy. Can you believe how simple that was? If you can mix a few ingredients together, you can make this for sure!
How much seasoning to use?
It really depends on the recipe and the size of the batch that you are making. But usually we use 2 tablespoons per 1 pounds of meat to make chili.
I usually give my chili that I making about half way cooking a taste to see if it needs a little more seasoning. A little goes a long way and your chili will taste amazing!
Tips for great Homemade Chili Seasoning:
We love making this and it is super easy. The flavor is amazing and we all love it. All of the recipes turn out great using this homemade chili seasoning mix. You won't find any crazy ingredients you cannot pronounce.
I love being able to give my family homemade seasoning and it really only takes minutes to make. It is a win all around!
Just make a big batch and store in an airtight container. You will be set for awhile on chili seasoning mix.
We all prefer it to store bought seasoning. Get started today and stop buying those packaged chili seasoning mixes at the store.
Be sure to use chili spices that are fresh for the best flavor. If you have spices that have been sitting in your pantry for longer than 6 month, it is time to get some new ones.
Chili Powder seasoning can vary from brand to brand. So make sure you know which one you like and how spicy you want your chili.
We have also added in some smoked paprika for some extra spice.
Once you start making this and trying new things at home, you will see it does not take long. Sometimes, I hesitate to do things because I think it might be complicated or time consuming.
Chili Recipes to use our Homemade Seasoning:
Use this gluten free Homemade Chili Seasoning to make these easy recipes. This seasoning is great for chili but you can also use it as a taco seasoning or even sprinkle to roast some vegetables.
Print this easy chili seasoning mix recipe below:
Homemade Chili Seasoning
Making chili? Try this easy homemade chili seasoning. It tastes better than store bought and costs way less. Make this homemade chili seasoning today!

Ingredients
3/4

cup

chili powder

1/4

cup

ground cumin

1/4

cup

salt

2

tablespoon

onion powder

1

tablespoon

ground cayenne pepper

1

tablespoon

garlic salt

1

tablespoon

ground black pepper
Instructions
Mix all ingredients together.

Use 2 tablespoons of this homemade chili seasoning to make your chili for 1 lb of ground beef.

Store in an air tight container in a cool dark place.

This recipe makes 12 pots of chili.
Recipe Notes
This homemade chili seasoning is it just as convenient as having packaged chili seasoning, but it is much more frugal. And might I add, so tasty!
Nutrition Facts
Calories
6
kcal
,
Carbohydrates
1
g
,
Sodium
2940
mg
,
Potassium
26
mg
,
Vitamin A
175
IU
,
Vitamin C
0.6
mg
,
Calcium
8
mg
,
Iron
0.1
mg
More Homemade Spice Mixes: