This post may contain affiliate links. If you make a purchase through links on our site, we may earn a commission.
This easy Steak Seasoning Recipe is super easy to make and turns steaks into something amazing. Make a big batch to keep on hand when you need a good seasoning.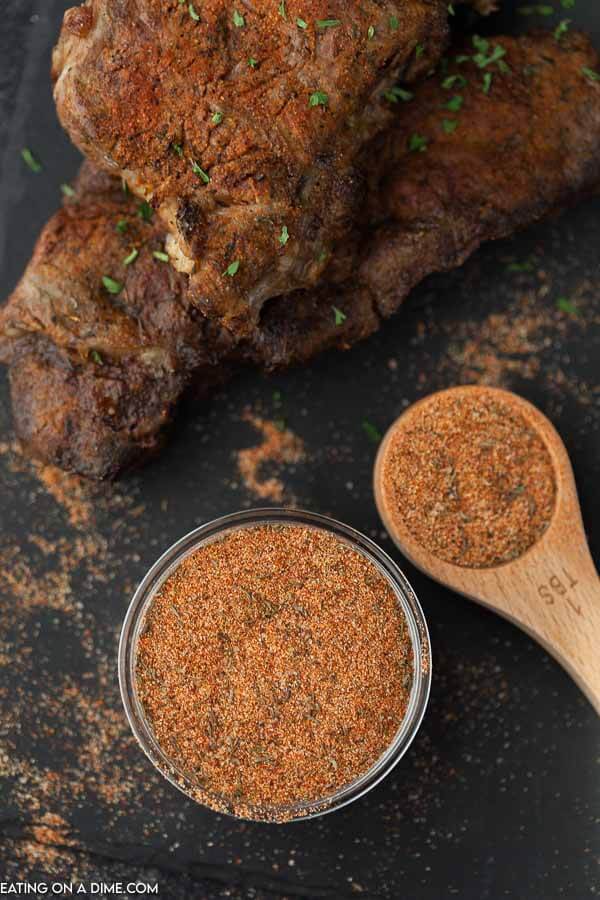 Best Homemade Steak Seasoning Recipe:
Our family loves a good steak. Over the years, I have perfected the perfect seasoning blend for steaks and wanted to share with all of you.
You probably already have most of these seasonings on hand and can make this in minutes. It keeps up to 6 months so you might want to make a double batch. I promise you will love it.
It is good on seasoning for steak but also roasts as well. The blend of seasoning gives the steak amazing flavor. You can turn inexpensive cuts of meat into fabulous meals with this steak seasoning.
It makes a huge difference and anytime I make it, everyone raves about it.
If you like homemade seasoning as much as we do, make this Homemade Blackened Seasoning.
What is a Steak Seasoning Rub?
A steak rub is a blend of spices that is added to the steaks. It can also be added to other cuts of meats or vegetables to enhance the flavor. You will be amazed by adding a rub can take your steak from bland to mouthwatering.
Anytime we grill, we love to add blend of spice or a wet rub for a delicious meat everyone enjoys.
Steak Seasoning Ingredients:
Salt and pepper
Garlic Powder
Paprika
Onion Powder
Dried Thyme Leaves
How to Make Steak Seasoning:
Step 1 – Combine Seasoning – It's so easy. Combine all the ingredients together in a small bowl.
Step 2 – Store Seasoning – Put the seasoning in an air tight container in a cool dry place. It will last for up to 6 months.
Steak Seasoning Recipe Tips:
Double the Batch – We recommend doubling the batch when you are making it. This seasoning can be used on many different things. We like to always have a jar ready to add to our recipes.
Storing – Make sure to store in a airtight container and place in your pantry. If stored properly this seasoning will last up to a year.
How to Season Steak:
Sprinkle the steak seasoning on the steak. I like to bring the steak to room temperature before cooking. Rub into the meat before pan frying or placing on the grill. You will love how it tastes.
If you do not want to use a dry rub for seasoning your steak, add a tablespoon of olive oil to the seasoning. Add the oil will make a paste to rub into the steak. Either way is good. Just do what you prefer. I prefer to add oil when I am making a grilled steak.
How to Store the Seasoning:
The seasoning blend needs to be stored inside an airtight container. We normally use a mason jar or reuse an old spice container.
Typically, I use a mason jar though because I always have several in the cabinet. They are easy to reuse and so handy.
Just use what you prefer.
How to Use Steak Seasoning:
Steaks – This seasoning blend is the best way to season steaks. Use the dry rub to rub on the steaks prior to grilling them, cooking on the skillet or roasting the steak.
Chicken – You can even season your chicken with this delicious seasoning. Generously seasoning the chicken prior to cooking.
Pork – Add the steak seasoning to your pork tenderloin, pork chops, or roast for amazing flavoring.
Turkey – Enhance your holiday turkey with this delicious seasoning. Before you place your holiday turkey in the oven, make sure to rub this steak seasoning all over.
Vegetables – This seasoning can also be used on vegetables. Sprinkle the seasoning on your foil pack vegetables or grilled vegetables.
Burgers – Skip the season salt and sprinkle the seasoning over the top of your burger patties before grilling.
Macaroni and Cheese – When making homemade macaroni and cheese, this seasoning would be delicious sprinkled on top. Mix it with your bread crumbs and generously sprinkle on top.
Scoop our a portion of the seasoning from the jar and generously cover your steaks with the seasoning. Really anything you put it on will add so much flavor. You can use less or more depending on your preference.
Variations:
This seasoning mixes is delicious just the way it is. But feel free to add in other seasoning to your preference. These are some of our suggestions.
Brown sugar
Smoked Paprika
Black Pepper
Kosher Salt
Red Pepper Flakes
Sea Salt
Dried Rosemary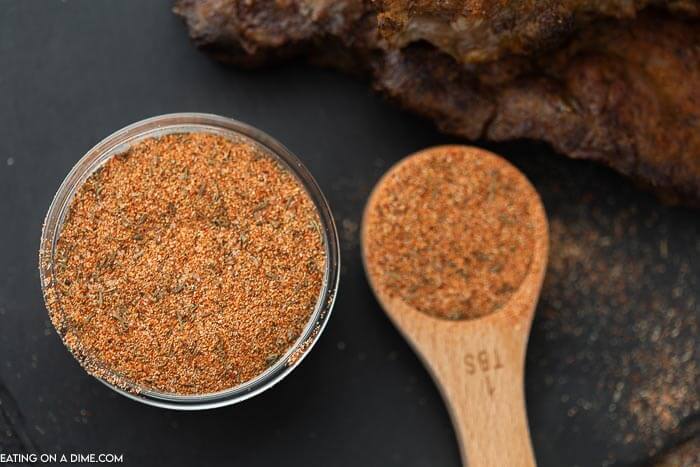 Copycat Montreal Steak Seasoning:
This spice blend is so delicious and similar to Montreal steak seasoning. Save a bunch of money and make this at home instead. You will absolutely love how the steak tastes.
With just a few different spices, you can easily make simple steak seasoning that tastes amazing. It takes minutes to prepare and all the ingredients are combine in a mixing bowl. Storing homemade spice mix is easy to do.
You are going to love having this steaking seasoning to use for all your grilling beef recipes. It's easy to have this on hand to save you time and money.
Print the Recipe for Homemade Steak Seasoning:
Steak Seasoning
This easy steak seasoning recipe is super easy to make and turns steaks into something amazing. Make a big batch to keep on hand.
Instructions
Combine all the ingredients together in a small bowl. That is it!

Put the seasoning in an air tight container in a cool dry place for up to 6 months.
Nutrition Facts
Calories
11
kcal
,
Carbohydrates
3
g
,
Protein
1
g
,
Fat
1
g
,
Saturated Fat
1
g
,
Sodium
583
mg
,
Potassium
52
mg
,
Fiber
1
g
,
Sugar
1
g
,
Vitamin A
320
IU
,
Vitamin C
1
mg
,
Calcium
12
mg
,
Iron
1
mg
More Easy Steak Recipes:
More Homemade Seasonings: