I love making my own seasonings instead of buying the pre-made packets. Now I have created a delicious Homemade Fajita Seasoning. It's easy to make and budget friendly as well!
Homemade Fajita Seasoning Recipe
I can't wait for you to try this copy cat mccormick fajita seasoning recipe! Once you see how easy it is, you will stop getting the store bought packets which will save you money!

Do you use seasoning packets a lot?
My family used to but not anymore! The cost of these packets can add up over time and really you are paying for convenience in a package. Plus, I think it is so much better to make your own so you know everything that is in it.
If you have tried my taco seasoning recipe, homemade blackened seasoning recipe or easy homemade chili seasoning recipe, I know you'll love this one as well. It's just as easy as these others and packed with tons of flavor. I can't wait for you to try it! 🙂
Let's learn how to make
homemade fajita seasoning
!
Everyone in my family loves Mexican food so we make fajitas a lot. I love this Quick Skillet Chicken Fajitas Recipe for busy weeknights and this Crock Pot Chicken Fajitas Recipe which only requires 4 ingredients.
Having some of this delicious fajita seasoning on hand makes preparing these 2 recipes even easier! I usually make a large batch of this seasoning recipe and store it in a air tight container like these mason jars (affiliate links) so I always have some available.
Generally I double or triple this recipe so I don't have to make it very often. This way you will be prepared for your next fajitas tacos night!
You are going to love making your own fajita seasoning. Now, let's get started!
It is easy to make fajita seasoning recipe from scratch!
With just a few different spices, you can easily make simple fajita seasoning that tastes amazing. Plus, it really is SO easy…I promise!
Once you make this, you will wonder why you did not do it sooner!
What all do you need to make homemade fajita seasoning mix?
Chili powder
Cumin
Onion Powder
Garlic Salt
Pepper
Paprika
Cayenne Pepper
My favorite part of this recipe is that I know exactly what is in this fajita seasoning. You won't find any extra ingredients or additives since you are making this at home. Also this spice blend tastes amazing together!
I have seen some fajita seasoning recipes that include corn starch. I have tried it both ways and I really don't think it's needed.
Also, if you are watching your salt intake, you can use garlic powder instead of the garlic salt. I generally use ¼ of the amount required for garlic salt with garlic powder instead. You'll still have the same great fajita flavor with less sodium.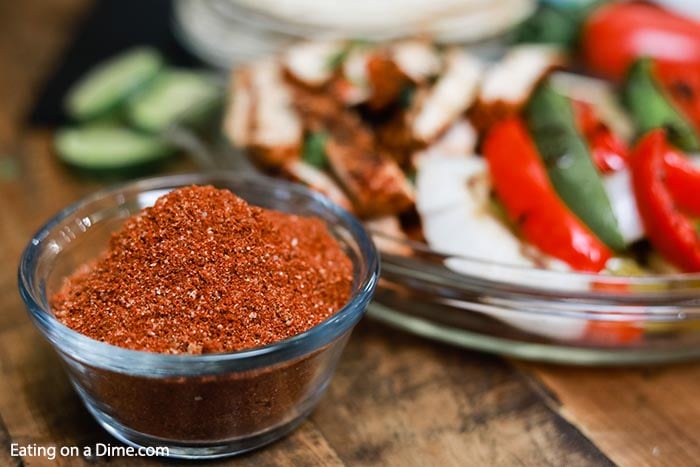 How to make fajita seasoning marinade.
This is the simple part. Are you ready?
All you do is mix all the ingredients up in a small bowl or jar of your choice. It is that easy to make homemade fajita seasoning!
You are going to love having this seasoning to use for all your recipes. It's easy to have this on hand to save you time and money when it's time to prepare delicious fajitas for dinner!
Now you know how to make fajita seasoning!
See..I told you this was easy to prepare. Now you'll have a delicious homemade fajita seasoning to use when you make all your favorite fajita recipes.
Keep reading for the full recipe.
How to use homemade fajita seasoning for steak fajitas and other recipes:
Simply use 2 Tablespoons of your fajitas seasoning mix instead of a seasoning packet. I usually mix this seasoning with some olive oil and your meat of choice to create a great marinade recipe for your meal.
You can easily use this recipe to create homemade chicken fajita seasoning or a great steak fajita seasoning recipe. This fajita seasoning tastes great on all types of meat so use it often. 🙂
Fajita Seasoning vs Taco Seasoning – What is the difference?
My fajita seasoning recipe has more chili powder in it than my taco seasoning recipe. I think that the additional chili powder gives it more of a tomato and smoky flavor that I love on my favorite fajita recipes.
The additional chili powder also gives the meat a nice reddish color which looks beautiful with the sautéed peppers and onions that is generally served with fajitas.
Can I use Fajita Seasoning in place of Taco Seasoning?
The short answer is yes. Since these seasonings are similar, you can use fajita seasoning in place of taco seasoning if you're currently all out. They both have a great Mexican flavor that can be used in many recipes.
What other recipes can you make with this homemade fajita seasonings?
This great recipe is very versatile. You can use it to jazz up any of your favorite Mexican dishes.
Of course, I use this anytime I make fajitas. I love making chicken fajitas with a skillet, crock pot or on the grill!
Also, use this homemade fajita seasoning to add delicious flavor to other great Mexican dishes. It would really jazz up this Easy Baked Enchilada Recipe or this Crock Pot Chicken and Rice Recipe.
Also, it would go great in this Crock Pot Chicken Fajita Soup. Get adventurous with this fajita seasoning recipe to add more delicious spices to your favorite recipes!
Get started today making homemade fajita seasoning!
All of the recipes turn out great using this homemade fajita seasoning mix. I love that I don't have to worry about the ingredients in a prepackaged seasoning pack and I know exactly what is going in the food I make for my family.
I love making homemade seasonings for my family and it really only takes minutes to make. That's a win-win for me!
From making my own beef fajita seasoning or a great chicken fajita seasoning recipe, this recipe has many uses in my kitchen.
We all prefer it to fajita seasoning Walmart option. Get started today and stop waisting money on those costly packets.
I have been slowly trying to make more and more of my own seasoning mixes at home. I love that I don't have to worry about what is inside or any other hidden ingredients.
This homemade fajita seasoning mix is really very simple and so fast to make. I hope you try it soon and leave us a comment to let us know what you think!
Jump to recipe below fo Homemade Fajita Seasoning:
Homemade Fajita Seasoning
You will love making your own homemade fajita seasoning. It's quick and easy to make and will taste great on all your favorite Mexican dinners.
Ingredients
1/4

cup

chili powder

2

tablespoons

ground cumin

2

tablespoon

paprika

2

tablespoon

garlic salt

2

teaspoon

pepper

2

teaspoon

onion powder

1

teaspoon

cayenne pepper
Instructions
Combine everything in a bowl. Stir to combine.

Store in an airtight container like a mason jar.

Use 1 tablespoon Fajita seasoning for every 1-2 pounds of chicken.
Recipe Notes
This is perfect for fajitas or just for an easy grilled chicken. You can also use on shrimp, pork or steak.
Nutrition Facts
Calories
19
kcal
,
Carbohydrates
3
g
,
Protein
1
g
,
Fat
1
g
,
Saturated Fat
1
g
,
Sodium
2331
mg
,
Potassium
111
mg
,
Fiber
1
g
,
Sugar
1
g
,
Vitamin A
1315
IU
,
Vitamin C
0.6
mg
,
Calcium
29
mg
,
Iron
1.9
mg
I love making my own seasoning mixes and this homemade blackened seasoning recipe is one of my favorites.
Enjoy Slow Cooker Steak Fajitas Recipe at home with very little work thanks to this recipe with just 5 ingredients.
If you like this great Homemade Fajita Seasoning Recipe, check out these other great Mexican Recipes!