This post may contain affiliate links. If you make a purchase through links on our site, we may earn a commission.
I love making my own seasonings instead of buying the pre-made packets. Now I have created a delicious Homemade Fajita Seasoning. It's easy to make and budget friendly as well.
Homemade Fajita Seasoning Recipe:
We love making homemade seasonings. They taste so much better and I know exactly what I am adding to the blend. I can easily add more of a seasoning or remove it. They are easy to make and easy to store.
Making Homemade Seasoning saves me time and money. The cost of these packets can add up over time and really you are paying for convenience in a package. I like the fact that I can add this seasoning to just about anything and it turns out so good.
All it takes is about 2 to 3 tablespoons per pound of meat and your fajitas will turn out amazing. I love being able to give my family homemade seasoning and it really only takes minutes to make. You might also like to try our steak seasoning recipe.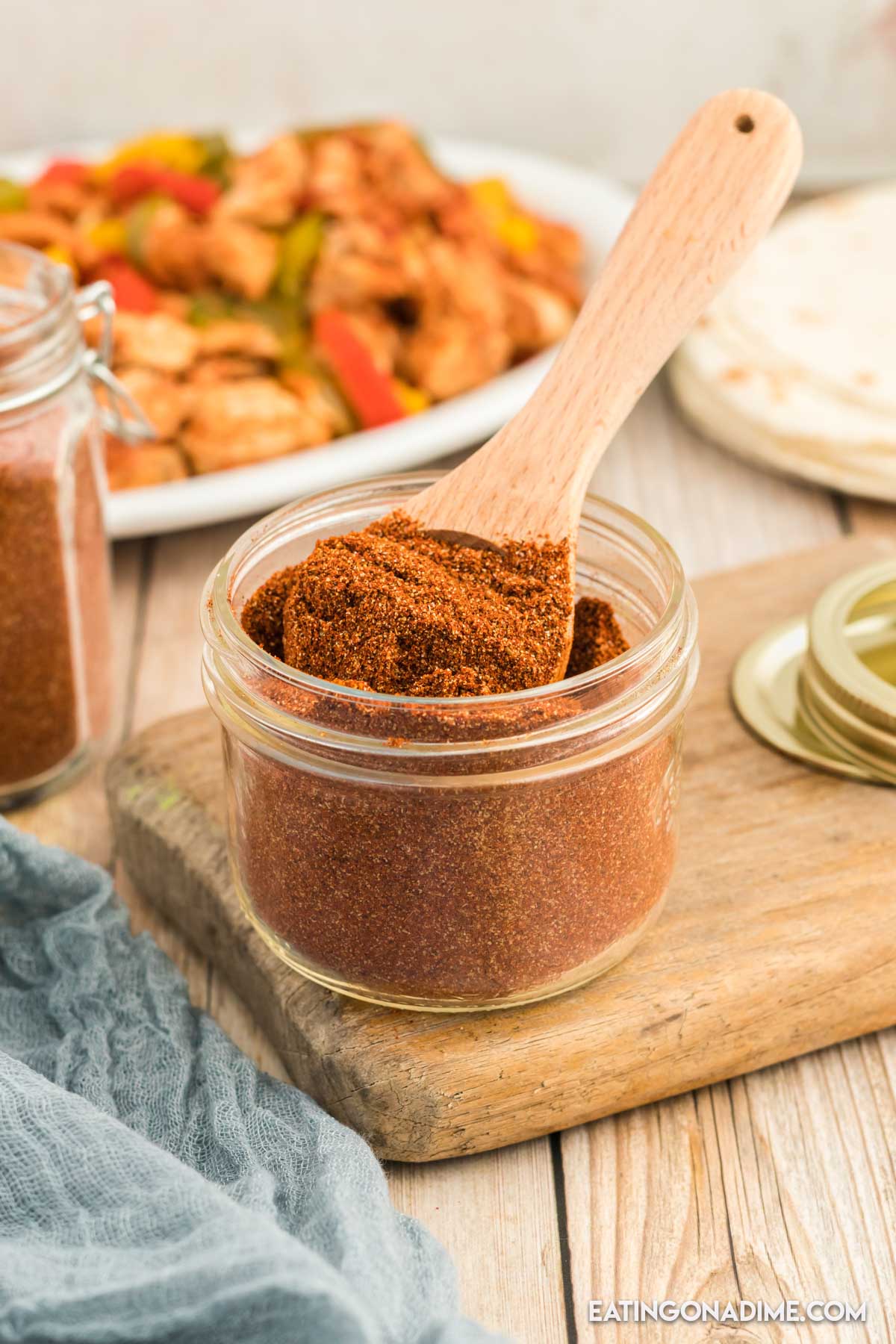 What is Fajita Seasoning Made of?
Fajita seasoning is usually made up of Mexican spices which includes cumin and chili powder. Plus other spices that include smoked paprika, garlic salt and onion powder. These seasoning can be adjust to what you like.
My favorite part of this recipe is that I know exactly what is in this fajita seasoning. You won't find any extra ingredients or additives since you are making this at home. Also this spice blend tastes amazing together.
I have seen some fajita seasoning recipes that include corn starch. I have cornstarch and I really don't think it is a necessary ingredient.
Also, if you are watching your salt intake, you can use garlic powder instead of the garlic salt. I generally use ¼ of the amount required for garlic salt with garlic powder instead. You'll still have the same great fajita flavor with less sodium.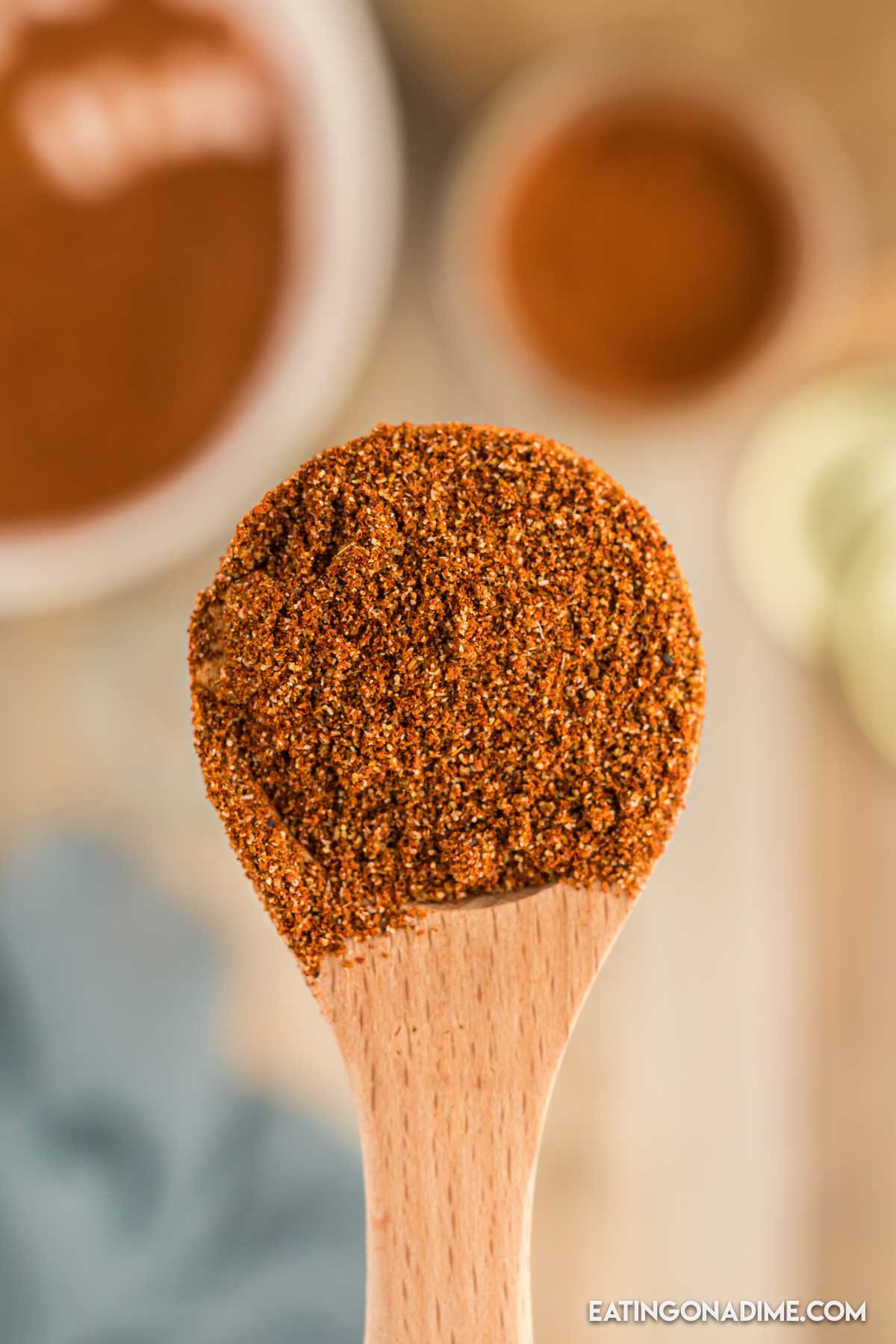 Why Make this Homemade Seasoning?
With just a few different spices, you can easily make simple fajita seasoning that tastes amazing. It takes minutes to prepare and all the ingredients are combine in a mixing bowl. Storing homemade seasoning is easy to do.
Prepare homemade seasoning is part of our weekly meal prep. This way I can easily add these seasoning to my recipes which saves me time and money.
You are going to love having this seasoning to use for all your recipes. It's easy to have this on hand to save you time and money. Perfect when it's time to prepare delicious fajitas for dinner!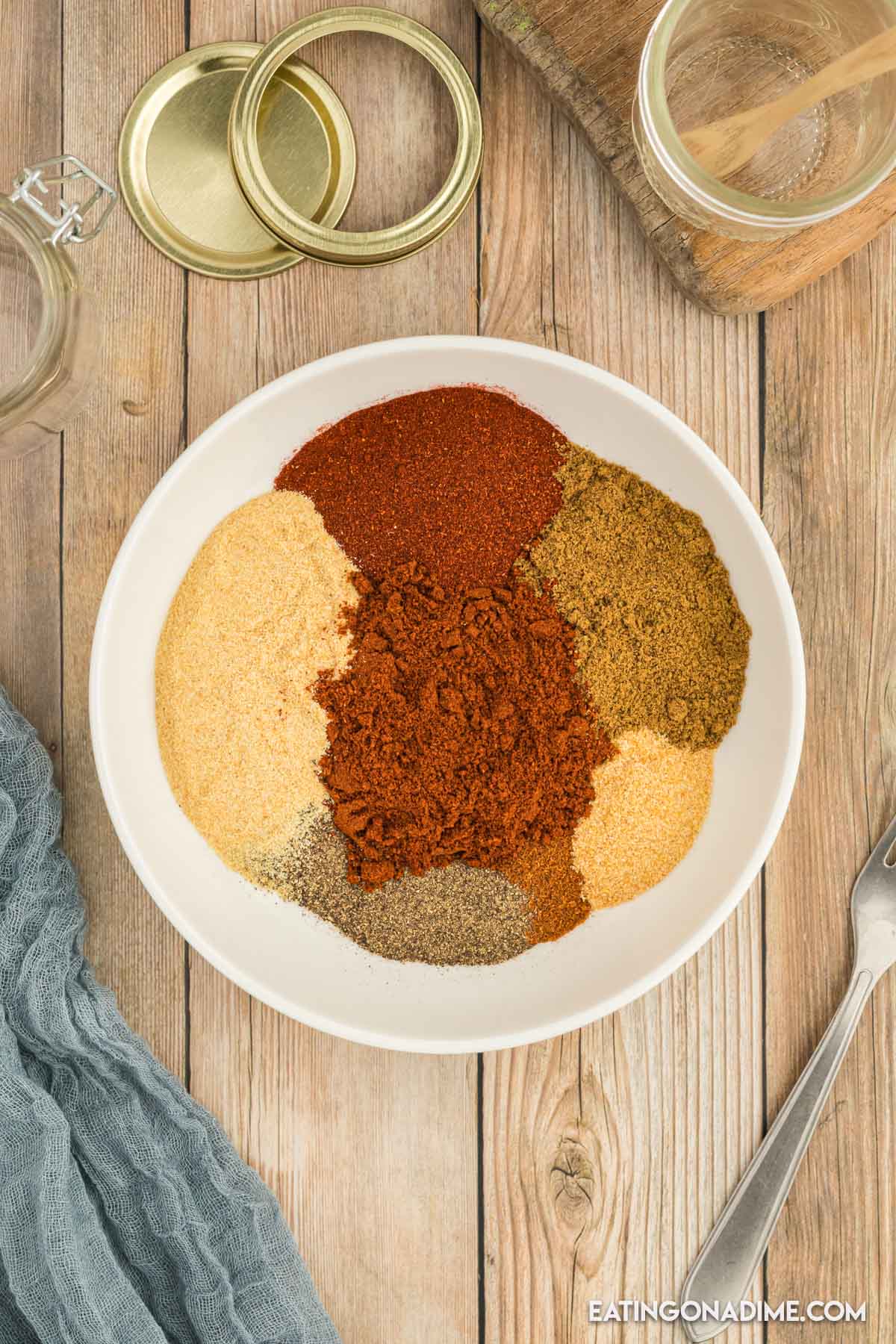 Fajita Seasoning Ingredients:
Chili powder
Cumin
Onion Powder
Garlic Salt
Pepper
Paprika
Cayenne Pepper
How to make Fajita Seasoning Marinade:
Gather all the ingredients – Combine everything in a small bowl. Stir to combine.
Store Properly – Store in an airtight container like a mason jar.
How to Use – Use 1 tablespoon spice mix for every 1-2 pounds of chicken.
How Long will it Last:
Homemade Fajita Seasoning will last about 4 months if stored properly. We recommend storing in a jar in a cool, dark place. We place ours in the pantry so it is easy to grab when we are making fajitas.
What to Serve Fajita Seasoning on?
There are many ways to use this Fajita Seasoning. Yes, it is great when you are making steak fajita's or chicken fajita's. But I have used it in many other ways and it came out so amazing.
Soup – If you are making a taco soup or a enchilada soup, add this seasoning. It gives it so much flavor.
Marinate – Add a dry rub to your chicken breast, shrimp, steak and use this fajita seasoning. Before placing your meat on the grill marinate you meat in this amazing dry rub. Let it sit for about 20 minutes before placing on the grill.
Roast Vegetables – Spice up your vegetables and sprinkle a tablespoon or two on your vegetables before putting in the oven.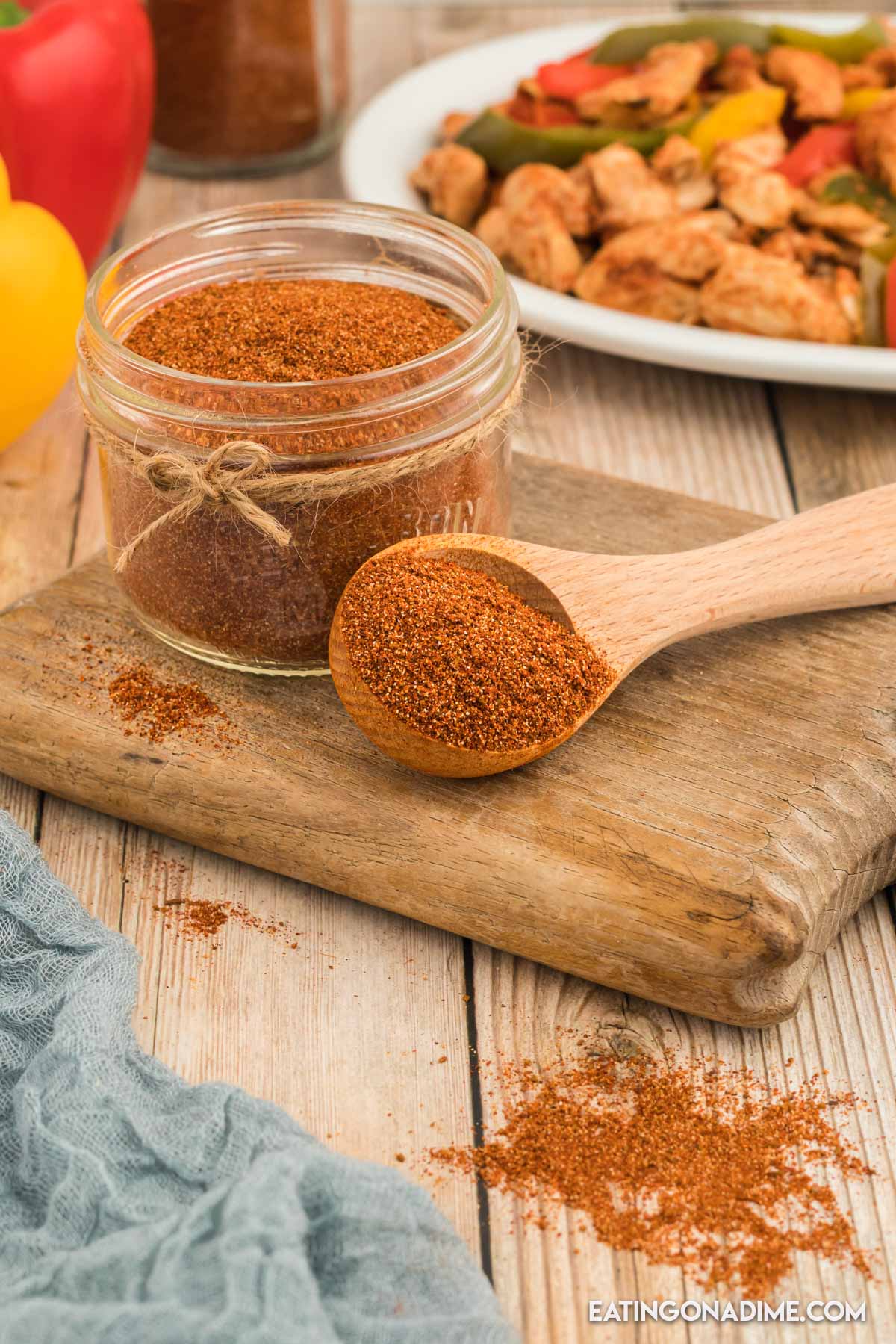 How much seasoning to use?
It really depends on the recipe and the size of the batch that you are making. But usually we use 1 tablespoons per 1 pounds of meat to make fajita.
You can adjust the amount of seasoning you add as you are cooking. I love the flavor of this seasoning, so I usually add a bit more.
The Best Chicken Fajita Seasoning Recipe:
Simply use 2 Tablespoons of your diy fajitas seasoning mix instead of a seasoning packet. I usually mix this seasoning with some olive oil and your meat of choice. This creates a great marinade recipe for your meal.
You can easily use this recipe to create homemade spice chicken fajita mix or a great steak fajita seasoning recipe. This fajita seasoning tastes great on all types of meat so use it often.
What is the difference of Fajita Seasoning vs Taco Seasoning?
My fajita seasoning recipe has more chili powder in it than my taco seasoning recipe. I think that the additional chili powder gives it more of a tomato and smoky flavor. It is the perfect flavor that I love on my favorite fajita recipes.
The additional chili powder also gives the meat a nice reddish color. It looks beautiful with the sautéed bell peppers and onions that is generally served with fajitas. Squeeze fresh lime juice over the fajitas for added flavor.
Can I use Fajita Seasoning in place of Taco Seasoning?
The short answer is yes. Since these seasonings are similar, you can use fajita seasoning in place of taco seasoning if you're currently all out. They both have a great Mexican flavor that can be used in many recipes.
If I am out of Fajita Seasoning or Taco Seasoning, I usually just use what I have. The ingredients are very similar and no one will know the difference.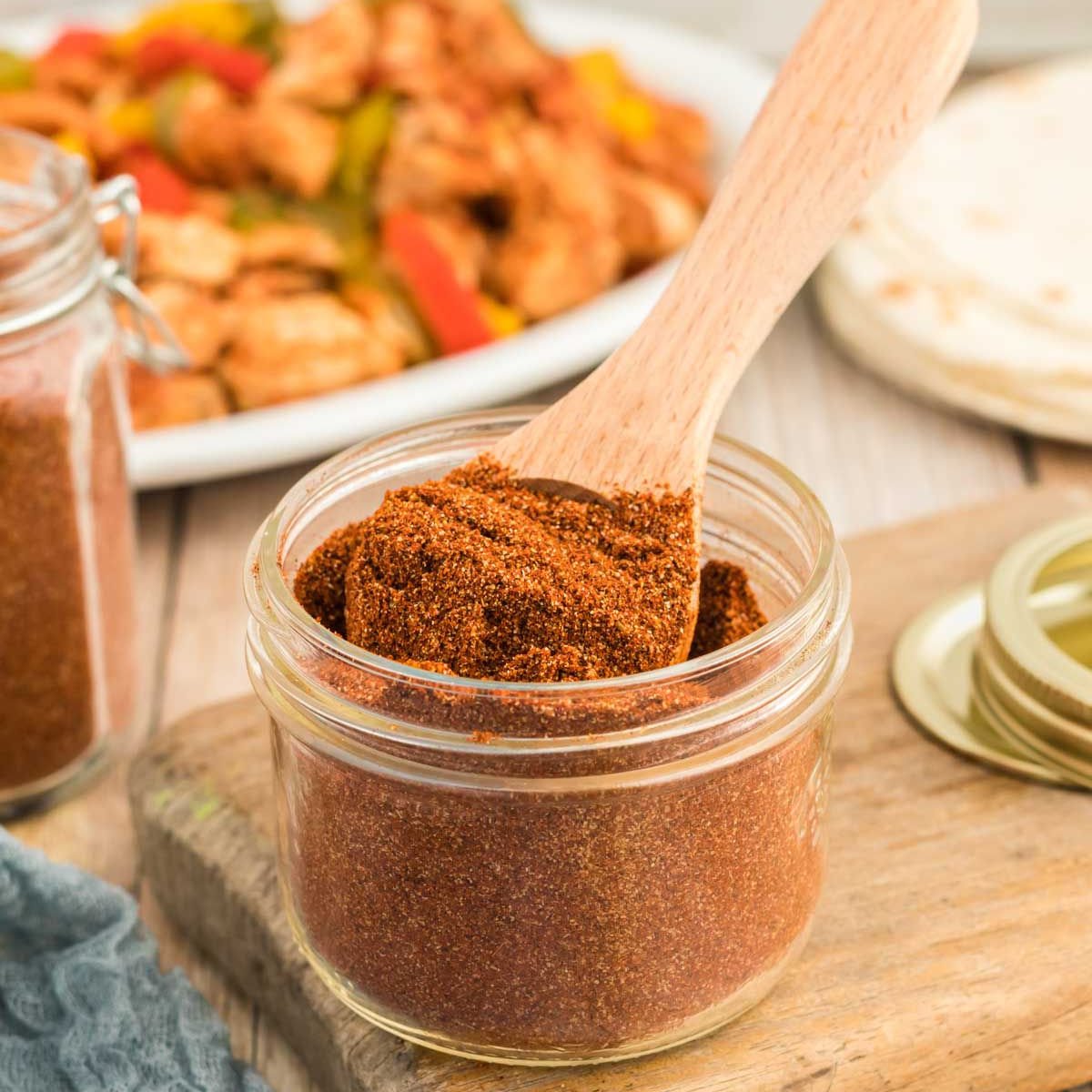 How to Store Seasoning:
Storing you Fajita Seasoning is easy to do. Once you have mixed the spices together, place in a spice jar or a mason jar. Make sure to place in cool, dark place in an area that you can see it to use.
Easy to Make Fajita Seasoning:
Once you start making this and trying new things at home, you will see it does not take long. Sometimes, I hesitate to do things because I think it might be complicated or time consuming.
However, this homemade fajita seasoning mix is really very simple and so fast to make. You are going to love it! We use a lot of seasoning with our recipes, and those packet seasoning can add up over time.
You are paying for convenience in a fajita seasoning packets. Plus, I think it is so much better to make your own and you know everything that is in it.
Print Homemade Fajita Seasoning recipe:
Homemade Fajita Seasoning
You will love making your own homemade fajita seasoning. It's quick and easy to make and will taste great on all your favorite Mexican dinners.
Instructions
Combine everything in a bowl. Stir to combine.

Store in an airtight container like a mason jar.

Use 1 tablespoon Fajita seasoning for every 1-2 pounds of chicken.
Recipe Notes
This is perfect for fajitas or just for an easy grilled chicken. You can also use on shrimp, pork or steak.
Nutrition Facts
Calories
19
kcal
,
Carbohydrates
3
g
,
Protein
1
g
,
Fat
1
g
,
Saturated Fat
1
g
,
Sodium
2331
mg
,
Potassium
111
mg
,
Fiber
1
g
,
Sugar
1
g
,
Vitamin A
1315
IU
,
Vitamin C
0.6
mg
,
Calcium
29
mg
,
Iron
1.9
mg
More Homemade Seasonings: