This post may contain affiliate links. If you make a purchase through links on our site, we may earn a commission.
Once you try this copycat Good Seasons Italian dressing mix, you'll pass by those seasoning envelopes at the grocery store! Not only does it make the best Italian Dressing, but it also makes an incredible vegetable dip and seasoning blend!
Many years ago I used to make my own Italian salad dressing using the Good Seasons seasoning packets. The flavor was always on point and it was one of our favorite dressing. All I had to do was mix some oil, water and vinegar and add contents of package, cover and refrigerate. So simple!
But, I realized that the same seasonings that were in that packet, I already had in my pantry. I was basically double buying the same seasonings and paying for convenience. So I decided to mix up my own copycat good seasoning Italian dressing mix and create my own dried spice blend! I'm so happy I did!
I love being able to make my own seasoning blends! Not only is it cheaper than the store-bought seasoning packets, but I am also able to control exactly what goes into them. All the natural flavor you love without added ingredients. No unneeded sugars, extra salt or gluten!
Originally I made this seasoning blend for Italian Dressing, but then I realized just how versatile it actually is since I have it on hand all of the time. You'll have fun finding new uses for this homemade Italian dressing mix!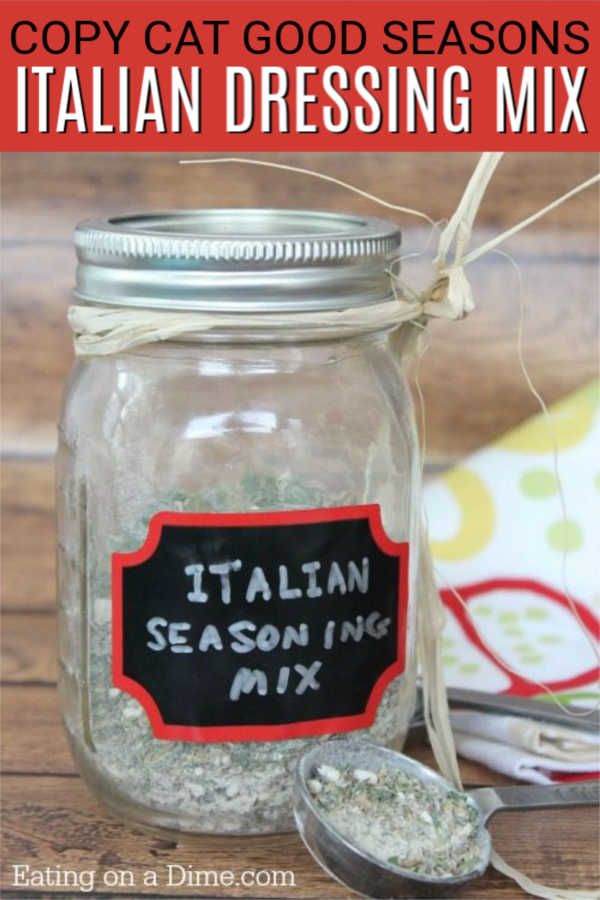 What kind of oil do you use for Good Seasons Italian dressing mix?
Typically I use either vegetable or canola oil when I am mixing up a batch of Italian Dressing. Mostly because they're both fairly inexpensive and mild in flavor. Olive oil would also be a good option. Really, you can use just about any mild oil that you have on hand.
How do you make Good Seasons Italian Dressing from Scratch?
It's simple! All you have to do is mix together a variety of herbs and spices you probably already have on hand. This recipe is big enough to make a bulk batch that you can have at the ready any time you need it. When you want to prepare fresh dressing, you just need to measure out approximately 2 tablespoons, which is about what comes in one seasoning envelope, and mix it with a combination of oil and vinegar.
Ingredients to Copycat Good Seasons Italian Dressing mix:
1 tbsp Garlic Powder
1 tbsp Onion Powder
1 tbsp Sugar
2 tbsp Oregano
1 tsp Black Pepper
1 tsp Basil
¼ tsp Ground Thyme
1 tbsp Parsley
¼ tsp Celery Salt
1 ½ tbsp Salt
To Make:
Combine all the ingredients in an airtight container, and store until ready to use.
To make Italian Dressing:
2 tbsp Dry Mix (above)
¼ cup Cider Vinegar (you can also use red wine vinegar)
2/3 cup Oil
2 tbsp Water
Combine all the ingredients above in a bottle and shake well. Shake each time before use.
Do you need to refrigerate Homemade Italian Dressing?
In order to maintain freshness refrigerate dressing once you've mixed the herbs and spices with the oil and vinegar. The oil will harden a little bit since it is cold, simply remove it from the refrigerator and allow it to get back to room temperature. Then give it a good shake just before using to combine all of the ingredients.
Other ways to use this CopyCat Good Seasons Italian Dressing Mix:
Mix 2 tablespoons of the mix with 16 oz sour cream for a delicious vegetable dip.
Sprinkle on top of potatoes before you cook them – you could even grill them. Combine 2 Tablespoons seasoning with ½ cup oil, shake potatoes in mixture and cook!
Sprinkle in your spaghetti sauce.
Add it your Italian soup – Try my Italian Sausage Tortellini Soup recipe here.
Add it to your zucchini or squash before you cook it.
Toss in a pinch of red pepper flakes for a Zesty Italian Dressing Mix. More spice? Red Bell Peppers, dried in the spice aisle, make it even zestier!
Make your own Teryaki Marinade by mixing 2 tablespoons of mix with ¼ cup cider vinegar, 3 tablespoons water, ½ cup oil and 1 tablespoon of both brown sugar and soy sauce.
This makes an amazing chicken marinade! Simply substitute ¼ cup water for the 2 tablespoons, and combine with ¼ cup oil, and ¼ cup balsamic vinegar and 2 tablespoons of seasoning mix. Pour over your chicken and marinate for at least an hour, but for better results, overnight.
Either way, this is a great addition to your pantry…. for a whole lot less than buying those overpriced seasoning packets from the store.
Make sure you also try out my Homemade Taco Seasoning recipe to save you even more money!
Poppy seed dressing recipe only has a few ingredients and takes just minutes to make.
Try these other Easy Copycat Recipes: