This post may contain affiliate links. If you make a purchase through links on our site, we may earn a commission.
We are going to learn a fun and easy recipe today that is sure to be a hit with your family. This McDonald's Shamrock Shake Recipe is so delicious and really simple to make.
Your kids will be thrilled to have this copycat version at home. Make it for just a fraction of the cost of whipping through the drive-thru at a local fast food restaurant.
This Shamrock Shake Recipe is easy to make!
This shake recipe is so simple and your kids will have a really special treat at home for St. Patrick's Day. Just make sure you use mint extract to make this Shamrock Milkshake and not peppermint extract. The mint extract and green food coloring is what gives this recipe all the flavor and festive St.Patty's Day look.
This shake whips up in just minutes and will quickly become a family tradition. The kids will love it and you will enjoy saving money! Sounds like a win-win to me!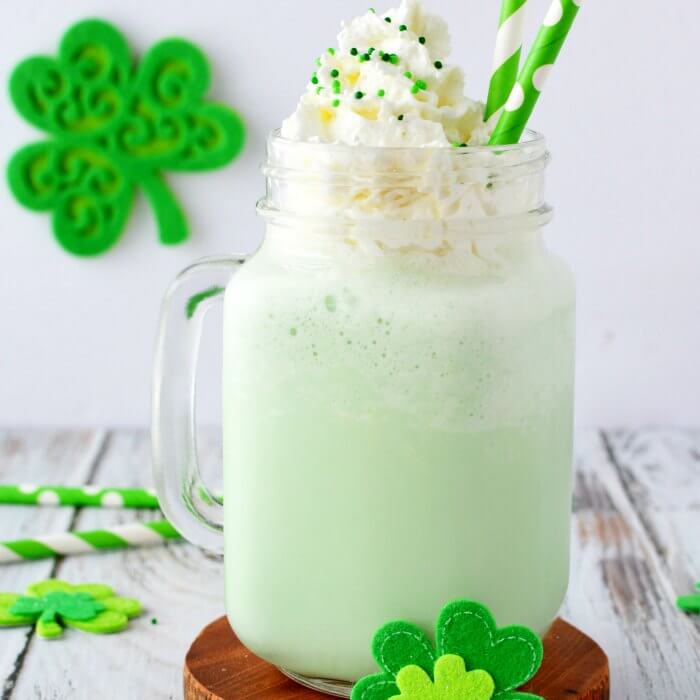 What is a Shamrock Shake?
A shamrock shake is a shake that is offered by McDonald's around St Patty's day. It has been quite popular of the years and it is a fun way to celebrate this holiday.
My daughter loves shamrock shakes but, sadly, they are available only for a limited time so we could only enjoy them toward the end of February through the beginning of March.
However, why should we have to be limited by a timeframe. Now we can make these delicious shamrock shakes at home and you can enjoy this delicious mint shake any time of year.
You will need a good blender to make this McDonald's Milkshake!
Currently, I use a Vitamix and I love it. It is old (like over 20 years old!) and is still going on strong.
This blender is an investment as it's not the cheapest, but it is one investment that does not disappoint. It will probably be the last blender you ever own. Amazon has several of them on sale right now for a great price.
If a Vitamix isn't in your budget currently, then I recommend a Waring professional blender. This blender works well too. It doesn't work quite as well as the Vitamix, but they are the next best thing for a much more reasonable cost. Amazon has several Waring blenders on sale right now.
Whatever blender that you decide on, either will work great to make this delicious green smoothie recipe.
What ingredients are needed to make Shamrock Shake Recipe Copycat:
1 cup vanilla ice cream
¾ cup of milk
½ teaspoon mint extract (not peppermint)
whipped cream
What is the difference between Mint Extract and Peppermint Extract?
I highly recommend that you use mint extract in this recipe. This is what gives this shake recipe a delicious mint flavor. Some recipes call for peppermint extract but I originally tried that and thought the shake tasted more like a candy cane.
I purchased the mint extract directly from amazon and keep it in my pantry so I easily have it available for when I want to create this delicious sweet treat for my family!
Directions to Make McDonald's Shamrock Shake:
I promise, this shake recipe is not complicated to make. First add the vanilla ice cream, milk and mint extract to a blender and blend well to throughly combine the ice cream, milk, mint extract together.
Then add a few drops of green coloring and blend well. This food coloring gives this shake the pretty green color so don't skip this step!
Next pour the shake into a glass and top with whipped cream and sprinkles.
Enjoy!
What would you top your Shamrock Shake with?
We usually top our shakes with whipped cream and the kids love the plain mint flavor. However, traditionally, McDonald's top theirs with whipped cream and a cherry. My kids are just not big fans of cherry so we just leave that part out.
I have also seen some people add chocolate syrup or chocolate chips to the shake and gently mix it throughout. The chocolate with the delicious mint flavor creates a delicious chocolate chip mint flavor that many love and enjoy.
There are tons of ways to make this green shake your own so your entire family will enjoy it!
Print your Shamrock Milkshake Recipe below:
Copy Cat Mcdonald's Shamrock Shake Recipe
You can make Mcdonald's Shamrock Shake Recipe at home! We love copycat recipes & this shamrock shake is so easy. This McDonalds milkshake will be a hit.
Ingredients
1

cup

vanilla ice cream

3/4

cup

white milk

1/2

teaspoon

mint extract

not peppermint

green food coloring

whipped cream

green sprinkles
Instructions
Add ice cream, milk and mint extract to blender and blend well.

Add food coloring and blend well.

Pour into a glass and top with whipped cream and sprinkles.
Recipe Notes
Enjoy this fun copy cat Shamrock Shake. Save money and make one of these at home!
Nutrition Facts
Calories
390
kcal
,
Carbohydrates
40
g
,
Protein
10
g
,
Fat
20
g
,
Saturated Fat
12
g
,
Cholesterol
76
mg
,
Sodium
184
mg
,
Potassium
504
mg
,
Sugar
37
g
,
Vitamin A
850
IU
,
Calcium
376
mg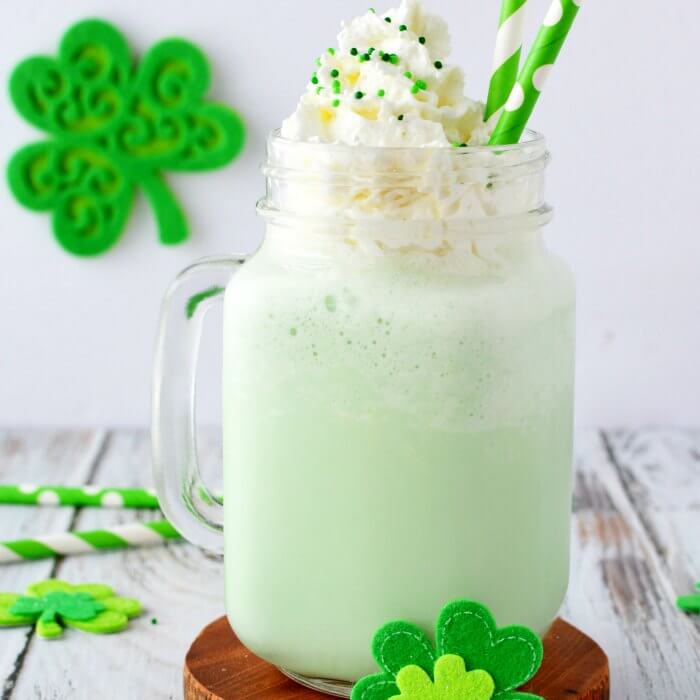 We love copycat recipes that allow us to have our favorite treats at home!
Surprise the kids with one of these fun Shamrock Shakes. It's wonderful anytime of year but would make a cool tradition to have on St. Patrick's Day. Give this a try and let us know what you think by leaving us a comment below.
Try these other fun copycat recipes:

More St. Patrick's Recipes