This post may contain affiliate links. If you make a purchase through links on our site, we may earn a commission.
Make this refreshing copycat passion tea lemonade recipe at home. Save money and enjoy your favorite drink in minutes for less.
You will love this Copycat Starbucks recipe.
This refreshing Copycat beverage is going to save you some money this Summer. Instead of heading to your local coffee shop, try out this easy Copycat recipe. It is so easy to make and you may have most of the items already in your pantry to make this drink.
Once I figured out how to make this, I was so excited. Of course I love to save money but it is just awesome being able to make this at home anytime the mood strikes. The drink is so refreshing and always hits the spot.
I can't wait for you to try it.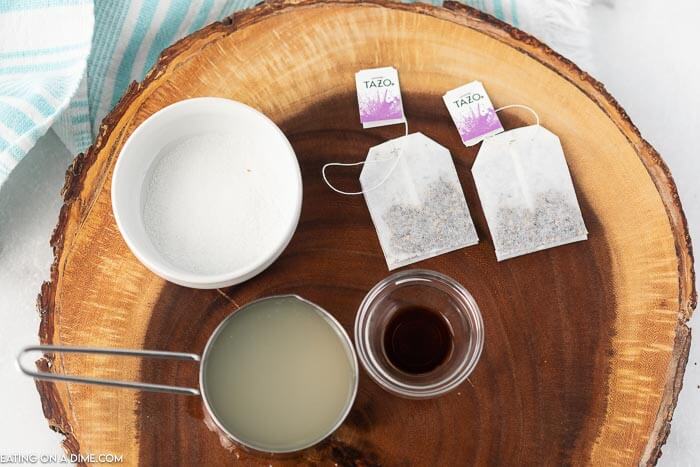 Here are the ingredients you need:
Water
Lemonade – I like Simply Lemonade but use what you prefer.
sugar
Vanilla
I'm sure you already have those in your pantry. Ok… you might not have the Passion tea bags, but you need to. It is so delicious!
I really think you will be pleasantly surprised how little time it takes to make this and how much money you save. It is so tasty and you can get your Starbucks fix anytime you want.
How to make passion tea lemonade at home:
1- First, bring the water to a boil. Easy!
2- Next, remove from the heat and add the tea bags, sugar and vanilla.
3 – Finally, let this sit for about 15 minutes.
4 – Take the tea bags out and refrigerate. I think it tastes best to do this for at least an hour.
5- Now, just make a glass to enjoy. Simply add ice to a tall container that you can close. I use one of the shakers that you make protein shakes in. Put 8 oz tea and 2 oz lemonade per each serving. Shake well to mix.
6- It is best served over ice. Enjoy!
Try passion tea lemonade recipes.
Making your own CopyCat passion tea lemonade is so simple. You will love the convenience of being able to make this at home. Try it today for a drink that will instantly refresh you.
CopyCat recipes are a great way to enjoy your favorite restaurant beverages and foods at home. By avoiding eating out, you are saving your family a lot of money.
The savings will really add up by trying different CopyCat recipes. By adding in new and fun recipes to your weekly menu, your family will WANT to stay home and eat more often.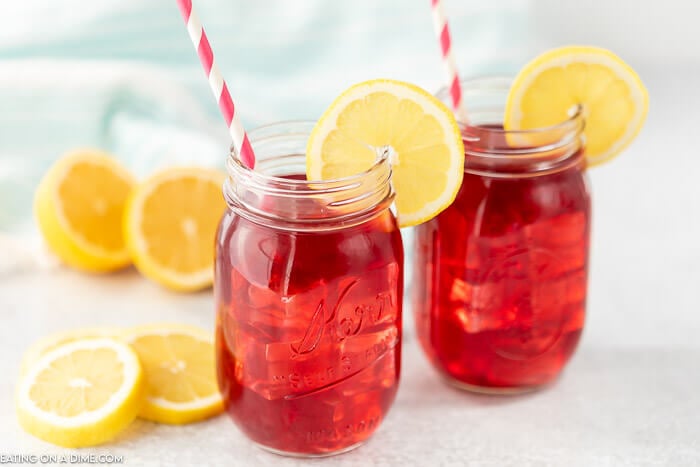 Passion tea lemonade is the best!
Iced passion tea lemonade is a favorite around here. The passion fruit has great flavor. You can use homemade lemonade or store bought. It is really simple and amazing either way.
It does not take long to brew the tea. This is really so easy and one of the best copycat recipes. If you love Starbucks drinks, this is a must try!
Be prepared to start making this all the time at home! It is that good and the savings will add up! It is a win all around. Come back and leave a comment once you try it.
I think everyone will really enjoy it.
Check out more copycat recipes .
Print this CopyCat Recipe today!
Copycat Starbucks Passion Tea Lemonade
This Copycat recipe is so easy to make and tastes amazing! Save money by making your own Starbucks Passion Tea Lemonade at home!
Instructions
Remove from heat add tea bags, sugar and vanilla.

Allow to sit for 15 minutes.

Remove tea bags and refrigerate for at least 1 hour.

Add ice to a tall closeable container. Add 8 oz tea and 2 oz of lemonade per serving. Shake well to mix.

Serve over ice and enjoy!
Recipe Notes
You can serve this warm but we love it served over ice! 
Nutrition Facts
Calories
45
kcal
,
Carbohydrates
11
g
,
Sodium
15
mg
,
Potassium
1
mg
,
Sugar
11
g
,
Calcium
7
mg
More Copycat Starbucks recipes
Try these other easy beverages: