Today we are making an Apple Spinach Green Smoothie Recipe. Just like my other recipes, it is easy to make. Healthy, delicious and full of flavor.
What are Green Smoothies?
Green smoothies are healthy smoothies. They are packed full of vitamins plus they are easy to make, gluten free and dairy free. Generally they are green because of spinach or kale that is mixed into the smoothie.
I like to blend spinach with varies of fruit that balances out the bitter flavor of spinach. This way it does not taste like I'm drinking spinach juice. Green smoothies are a great way to get all the nutrients of veggies without having to eat a ton of them!
If you like Green Smoothies as much as I do, make our Spinach Pineapple Smoothie Recipe or Healthy Blueberry Spinach Smoothie Recipe. These smoothies are delicious and made with simple ingredients.
These green smoothies are healthy as I prefer not to add any other sweeteners to my green smoothies. I want to keep them to be as natural and healthy as possible.
Can you add Spinach to Smoothies?
Yes, you can easily add spinach to smoothies. This is one of my favorite ways to make sure that I'm getting plenty of vegetables in my day. I can barely taste the spinach if it's blended with the right fruit.
Should I Cook Spinach before putting it in a Smoothie?
I use raw spinach in my smoothies. If you boil the spinach, you can cook out some of the nutrients.
For this reason, I blend raw fruits and vegetables in my smoothies. This ensures that I'm getting as much nutrients as possible.
How to Make Smoothie Packs:
Making smoothie packs makes morning time easier. These easy steps will save you time and money.
Pick your favorite fruit and place in quart size freezer bags.
When making the smoothie packs, you will not add in liquid.
Place packs in freezer.
When ready to make Smoothie Packs place the freezer bag contents and the liquid in the blender.
Blend fruit and liquid for a refreshing treat.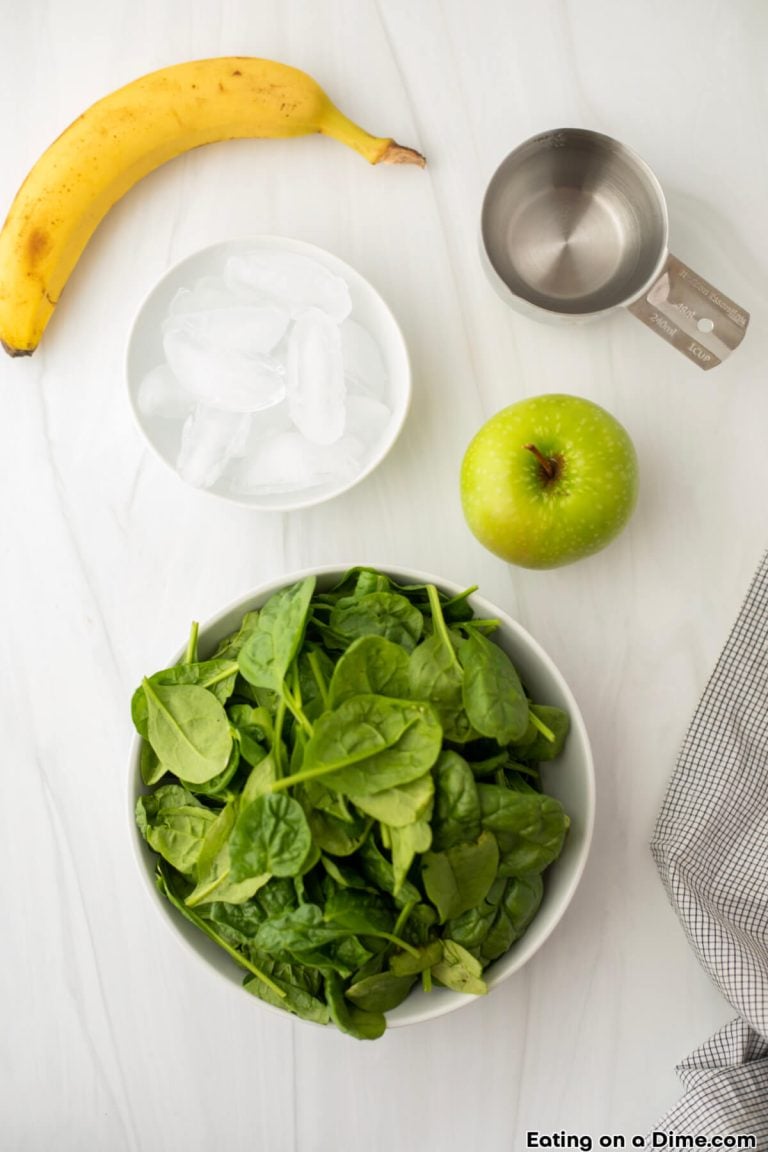 Ingredients for Spinach Apple Smoothie:
It's best to use natural ingredients if possible so you don't have any unnecessary sugar in the green apple smoothie. Also, the fruit adds all the sweetness that you'll need for this great recipe!
Ok, here is what you'll need to make this delicious apple spinach smoothie recipe.
Spinach – I use Baby Spinach
Cold Water
Ground Flax Seed (optional)
Green Apple
Banana – This can be a fresh banana or frozen banana.
Ice
How to Make Sour Apple Smoothie:
Ok, now that you're prepared with everything you need, let's jump to recipe for this delicious apple spinach smoothie.
Step 1 – First in a blender, place the water and spinach and blend until smooth. add in flax seed for more fiber now if you choose. I usually run it twice to get it nice and smooth.
Step 2 – Then add in the banana, the cut up apple, and ice. Blend until smooth.
Step 3 – If your smoothie is too thin, add more ice cubes and blend until the smoothie is the consistency that you prefer.
Step 4 – Then serve it immediately while it's still cold.
Keep reading for all the nutritional information and to print recipe below.
Variation Ideas:
If you would like this apple smoothie recipe to be creamier, add ½ cup of either milk or almond milk.
You can use Kale instead of Spinach if you prefer. I find that kale does not blend as easily but will give you tons of nutrients.
Sometimes, I add a little lemon juice as well to change things up on this recipe.
Add in any of your favorite fruits. I love adding frozen pineapple and frozen mango to this smoothie as well.
You can use chia seeds instead of the flax seed to your smoothie if you prefer to still keep your fiber.
How many people can say that they enjoy a whole cup of fruit and cup of spinach in one setting? I know I used to not be able to but not anymore!
Best Blenders for Smoothies:
Having a good blender is the key to making the best Smoothies.
Currently, I use a Vitamix and I love it. It is old and is still in great condition. This blender is an investment as it's not the cheapest, but it is one investment that does not disappoint. It will probably be the last blender you ever own.
If a Vitamix isn't in your budget currently, then I recommend a Waring professional blender. This blender works well too. It doesn't work quite as well as the Vitamix. They are the next best thing for a more reasonable cost.
Whatever blender that you decide on, either will work great to make this delicious green smoothie recipe.
Print this Apple Spinach Smoothie Recipe below:
More Healthy Smoothies: