This post may contain affiliate links. If you make a purchase through links on our site, we may earn a commission.
We have the absolute best party punch recipe and you only need 3 ingredients. Make this for birthday parties, baby showers and more for a delicious punch.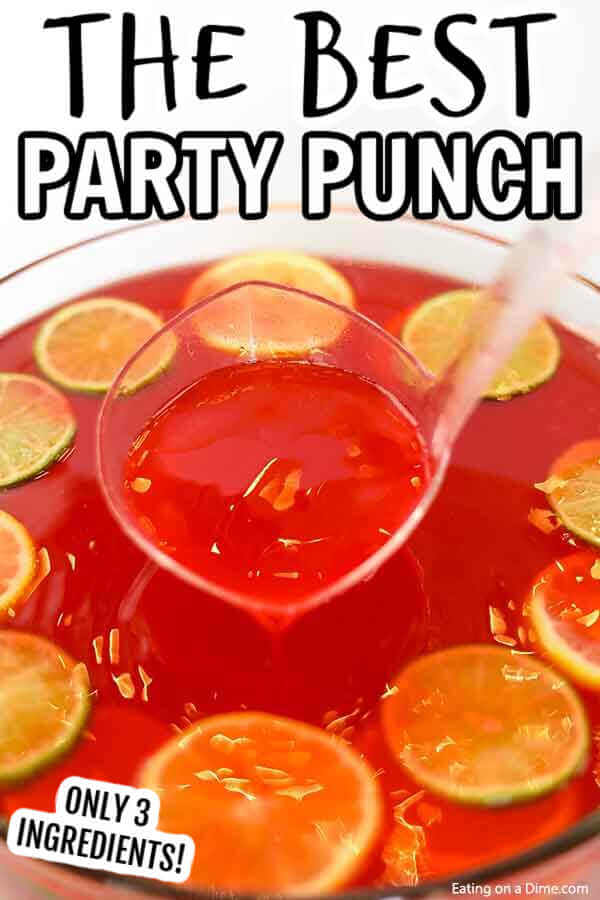 Best party punch recipe
I don't know about you but we love punch around here. We just celebrated my daughter's birthday and of course we made this party punch!
Every single birthday party we serve this punch. It is just simply fabulous and incredibly simple.
I don't know why I haven't posted it yet. It is really the best and super easy!
We also love this 2 ingredient easy sherbet punch recipe and Green Punch Recipe.
Punch is something you can make year round and is good regardless of the season or time of year. From birthday parties to holidays and summer cookouts and more. Punch is always a good idea. 🙂
Oh and everyone will ask you for the recipe, because they will love it that much!
It is so easy and really inexpensive that I don't mind making it all the time. I can't wait for you to try it because you will not believe how simple it is.
Party punch ingredients needed:
64 Oz Hawaiian Punch
12 oz Pineapple Juice
1 liter Ginger Ale
Just 3 simple ingredients! Anyone can make this punch recipe!
How to make the best party punch:
Mix all the ingredients together in a large bowl. That is all you do!
Serve over ice and enjoy!
Now another trick I sometimes do is to freeze a little bit of the punch in ice cube trays or you can use a muffin tin or any fun shape you have. I like to add this to the punch when I'm ready to serve it. This keeps the punch cold without diluting the flavor.
Plus, it looks so pretty floating.
Enjoy!
Once you try this, you will see how quick and easy it is. Plus, absolutely delicious. Yum!
You will need a pretty punch bowl or dispenser for the best party punch recipe!
If you don't have a punch bowl, you can usually find them on sale for a great deal on Amazon. I love this Artland Simplicity 8-Piece Punch Bowl Set and it comes with the bowl and cups! A fun punch bowl is a great investment and you can use it for years to come! 😉
If you prefer to use a beverage dispenser for the punch, I like these gorgeous beverage dispensers. The punch looks so pretty and you can still see the frozen ice cubes floating and sliced fruit.
You can also freeze the slices of fruit. Sometimes, we even freeze some of the fruit in the ice cubes. It is so pretty and practical too.
If you are making this for Christmas, you can freeze some in holiday shapes. We have made this for Valentine's Day and used heart shaped ice cubes from heart muffin tins.
Get creative and see what all is in your cabinets. I bet you find all sorts of stuff to use for fun shapes of ice cubes.
My favorite dispenser is on sale right now and it's so handy! You can put glasses on top and ice on the bottom. The chalkboard label is so cute too.
This is also great for baby showers or bridal showers. The punch looks so nice and it is inexpensive to make. You can make a lot of punch and not break the bank.
However you decide to serve the punch, it will be a hit. Punch is always so refreshing and delicious.
Tips for the best party punch recipe!
We used red Hawaiian Punch and ginger ale but you can easily swap these ingredients out. Feel free to use flavor of Hawaiian Punch that you like or need to match your theme. Blue, orange and pink taste great and look amazing.
You can also use Sprite, 7-Up or anything similar instead of the ginger ale. Any lemon lime soda will work.
Try cranberry juice or orange juice instead of pineapple juice. Yum!
Sometimes, I just use what is on sale or I already have. If you have been reading for awhile, you know I like to use what I have to save money. Plus, it saves time too.
We love simple recipes like this. In fact, I cut our grocery bill by 50% off by following these 8 Tips for for Saving Money on Groceries by Menu Planning!
Save that money for a family vacation or maybe just some wiggle room in the budget. It is amazing the things you can make just by shopping your pantry.
Give it a try! Let us know how it turns out and what flavor you decide to use for the punch.
The ideas are endless and you can make this delicious punch recipe for so many different occasions. However, it is simple enough just to make for movie night!
My kids love it so it is fun to surprise them with it. Once you make this, I bet you will want to make it for all sorts of occasions. It is that good and so easy.
Print the best punch recipe below:
World's Best Party Punch Recipe
We have the absolute best party punch recipe and you only need 3 ingredients. Make this for birthday parties, baby showers and more.
Instructions
Mix all the ingredients together in a large bow. Serve over ice or you can freeze some of the punch in ice cube trays and add to the punch on the day of your party so that the ice will add flavor to the punch when it melts.

Enjoy!
Recipe Notes
You can mix in fruit for serving but is not needed for the flavor of the punch.
Nutrition Facts
Calories
100
kcal
,
Carbohydrates
25
g
,
Protein
1
g
,
Fat
1
g
,
Saturated Fat
1
g
,
Sodium
15
mg
,
Potassium
236
mg
,
Fiber
1
g
,
Sugar
20
g
,
Vitamin C
2
mg
,
Calcium
15
mg
,
Iron
1
mg
Try these other easy punch recipes:
Checkout a few of our other fun beverages to try: